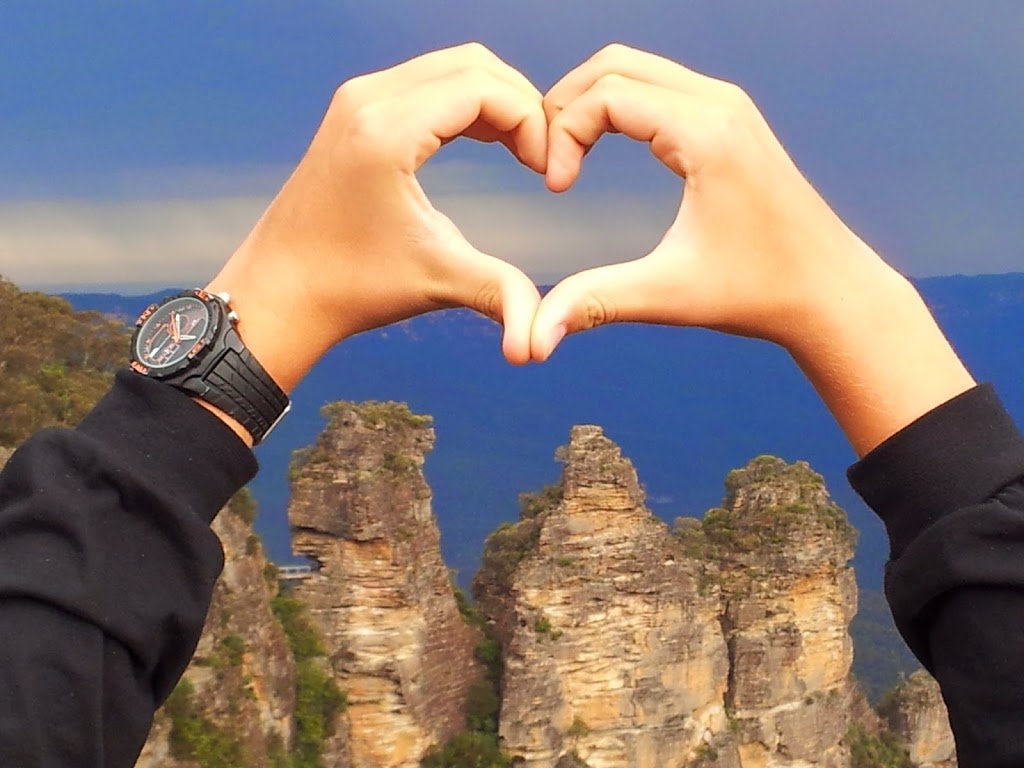 The Blue Mountains- Luke Love!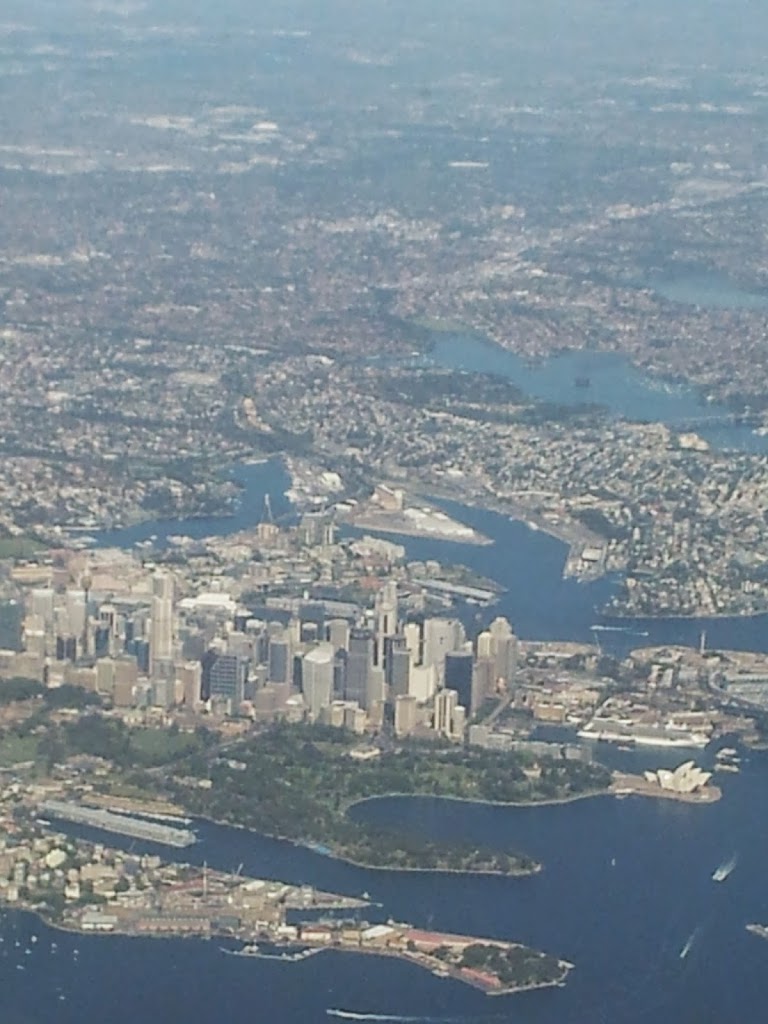 Sydney aerial
We've been busy down under, settled into the inevitable daily routines of school, work, meals, laundry…..just living life. But every so often a really great opportunity comes along and we try our best to grab it. I had scheduled a Royal Flying Doctors Aeromedical Retrieval course in Sydney. As school is in mid-session, we couldn't all get up and go. Thus, a father-son road trip with Luke was hatched. He missed a week of school, but gained a lifetime of new experiences and memories…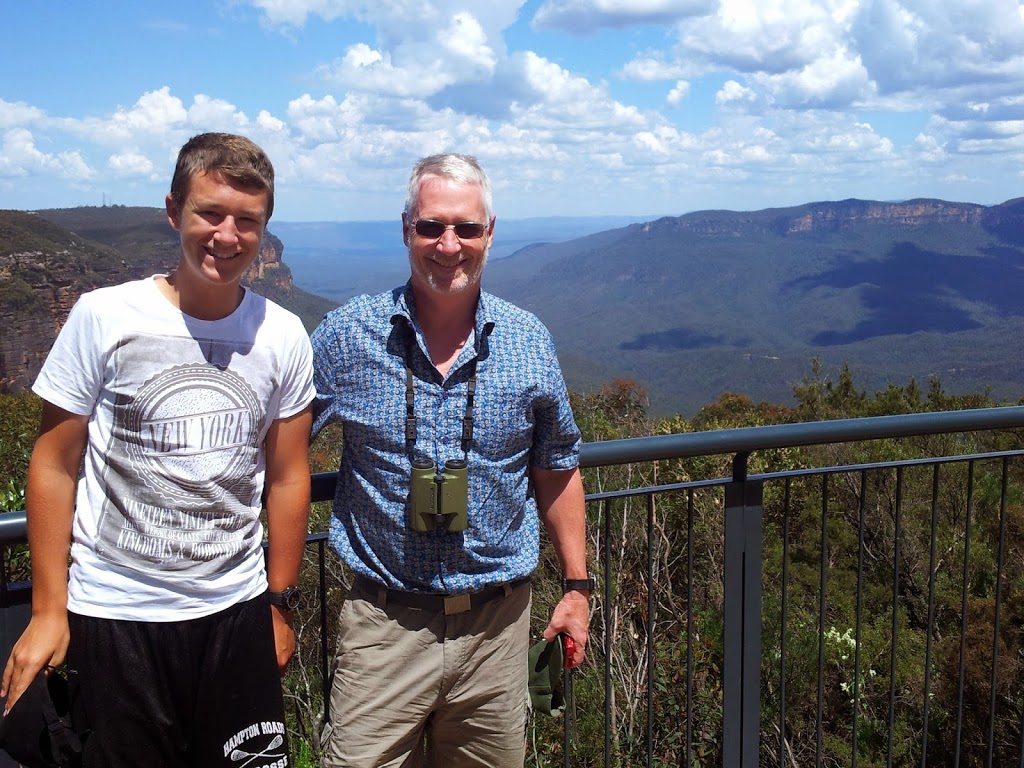 Wentworth Falls
Over Wentworth Falls
We left right out of Sydney airport and headed west into the Blue Mountains. Given that Sydney, at 4 million is, along with Melbourne, the largest population center in Australia by far, it's remarkable how quickly you leave the " Big Smoke" behind. Within 50 miles you are heading up into the vast Great Dividing Range; home to three major national parks covering over 2.5 million acres of mostly wilderness.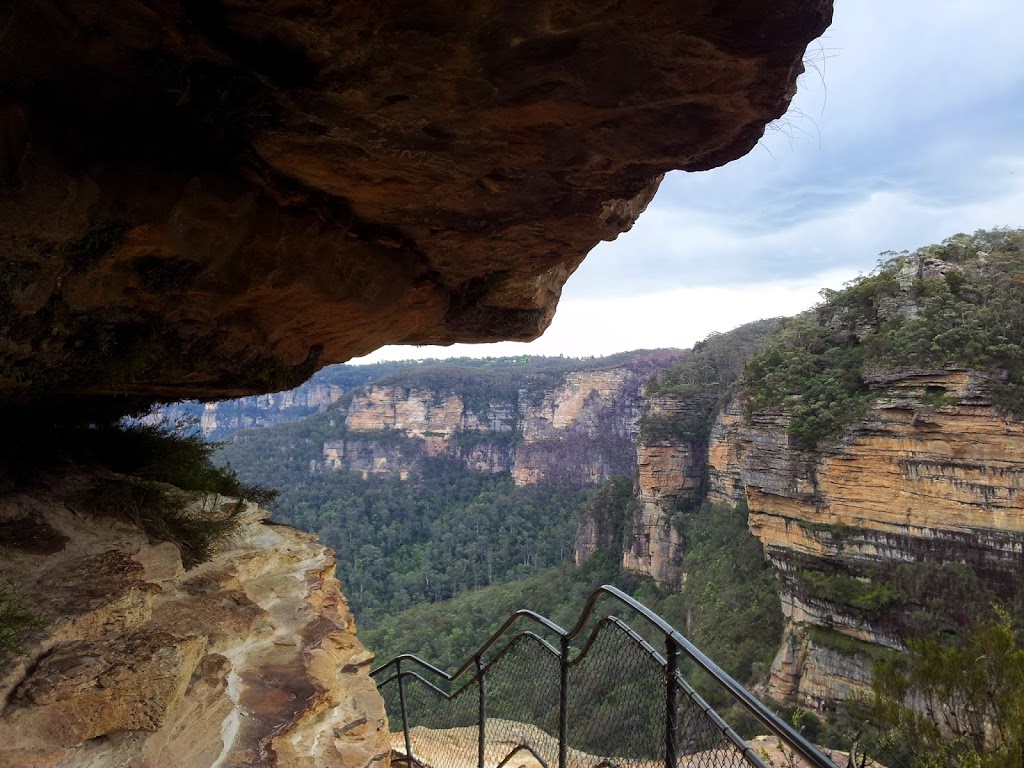 Rock n' rails abstract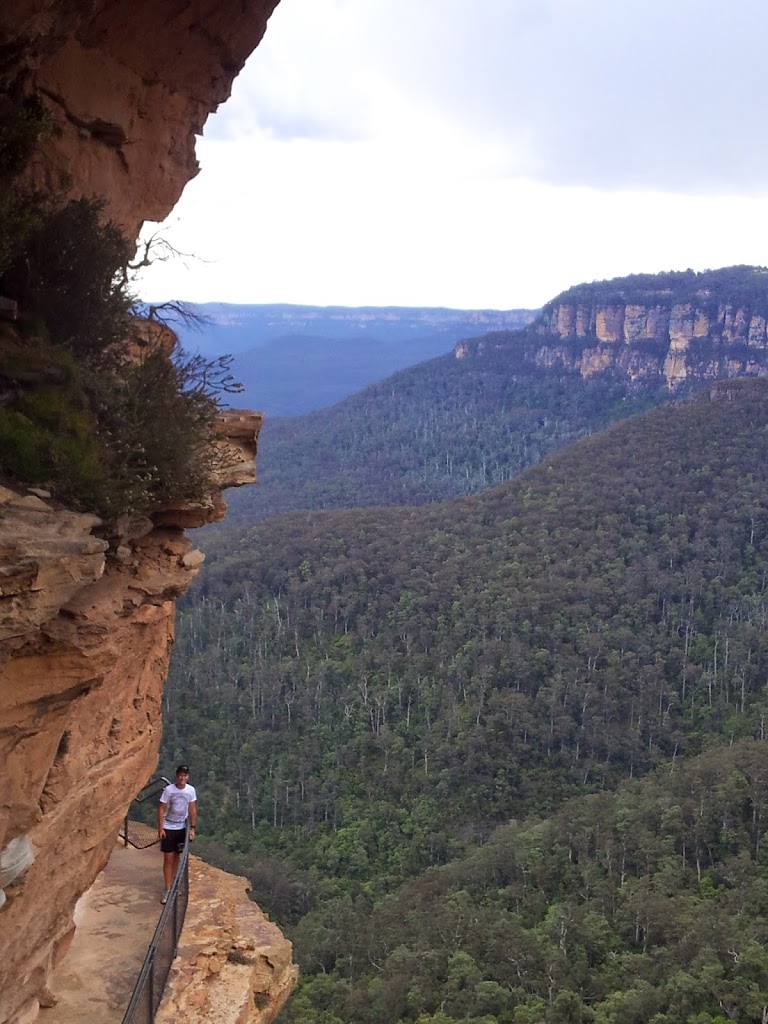 It's a long, sheer drop down!
The World Heritage listed Blue Mountains have been a summer playground for wealthy Sydney-siders for 150 years. The infrastructure and overlooks are all well laid out and safely constructed. In the small mountain hamlets of Leura, Katoomba, Blackheath and Mount Victoria you find impressively preserved Victorian-era hotels and country estates with formal English gardens. A bit of an Australian imagined version of the distant motherland. But if you veer off the established walkways a few hundred meters you are suddenly into the vast Australian bush, with treacherous 500m drop offs everywhere! As always in Australia, whatever your expectations, expect grander, vaster, more awesome…and they really are the most curious, variegated shades of blue! (Said to be due to suspended eucalypt oils refracting the sunlight BTW). Still, impressively, deeply blue….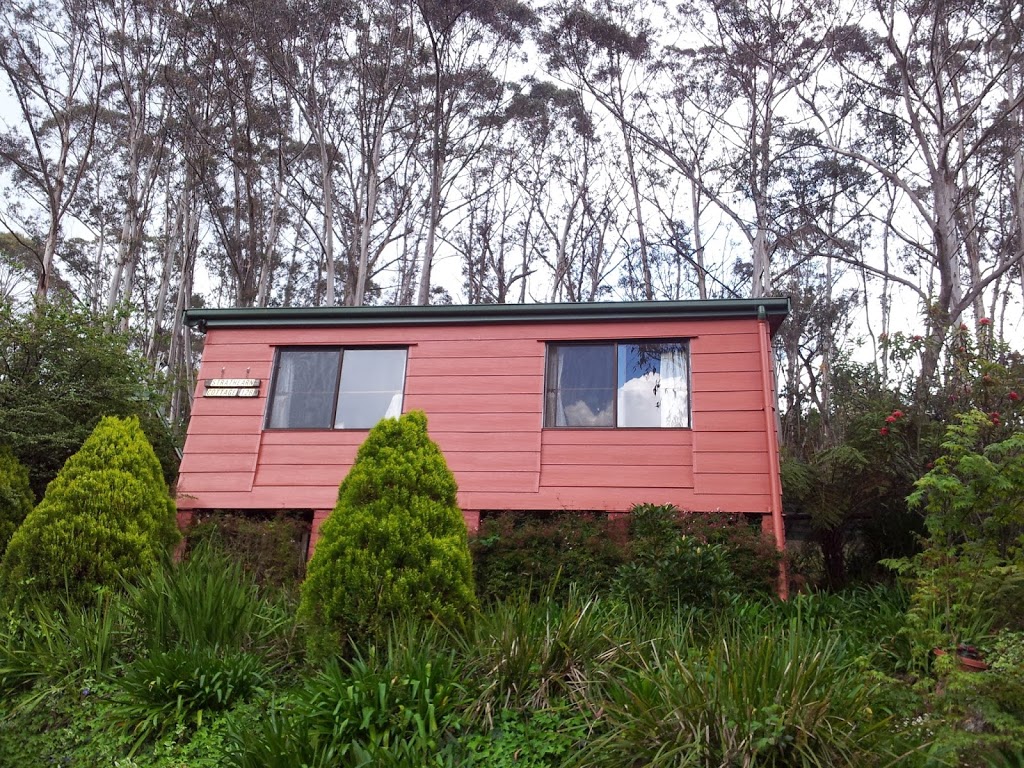 Strathearn Cottage, c 1930's
We had a good connection to a simple restored coalminer's cottage in Leura; Strathearn Cottage, circa 1930. Owned by our Cleveland landlady's sister, it made a handy and quaint base for exploring the region.
The weather was favorable, and on the first night we had fantastic views of the iconic Three Sisters in the evening light. Storms were rolling in, it was a mid-week evening and the place was deserted. Per-fect! Unfortunately, for many visitors the famously fickle Blue Mountain weather settles in and leaves the view limited to your basic grey cloudbank. Lucky!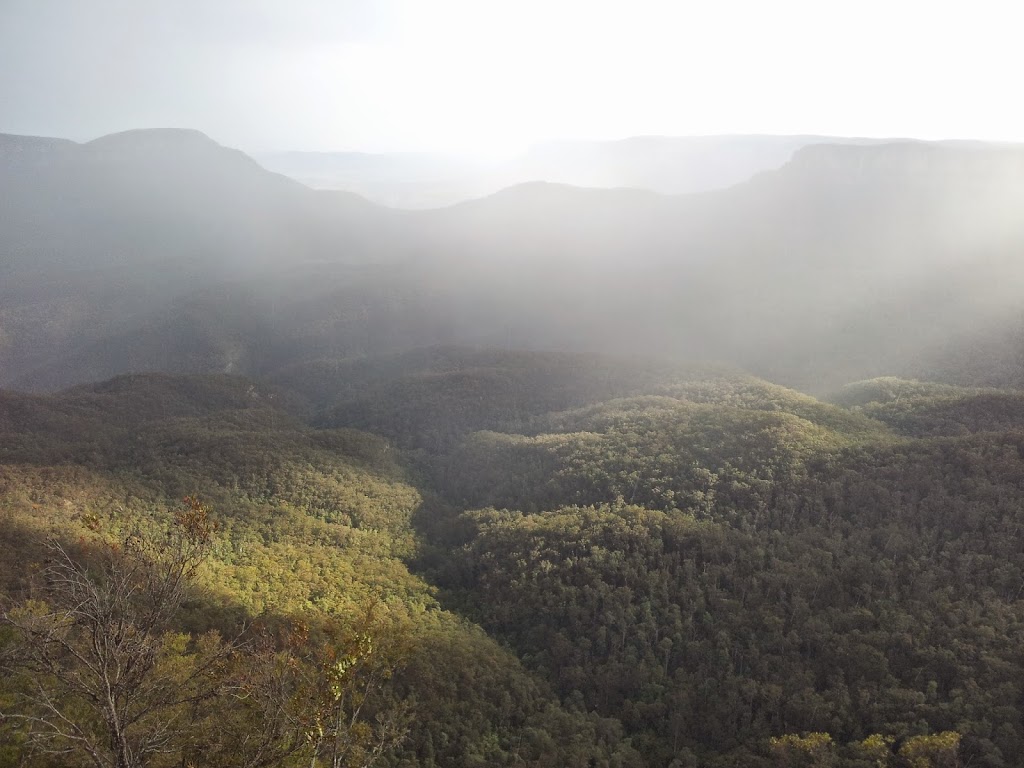 Storms approaching across the Jamison Valley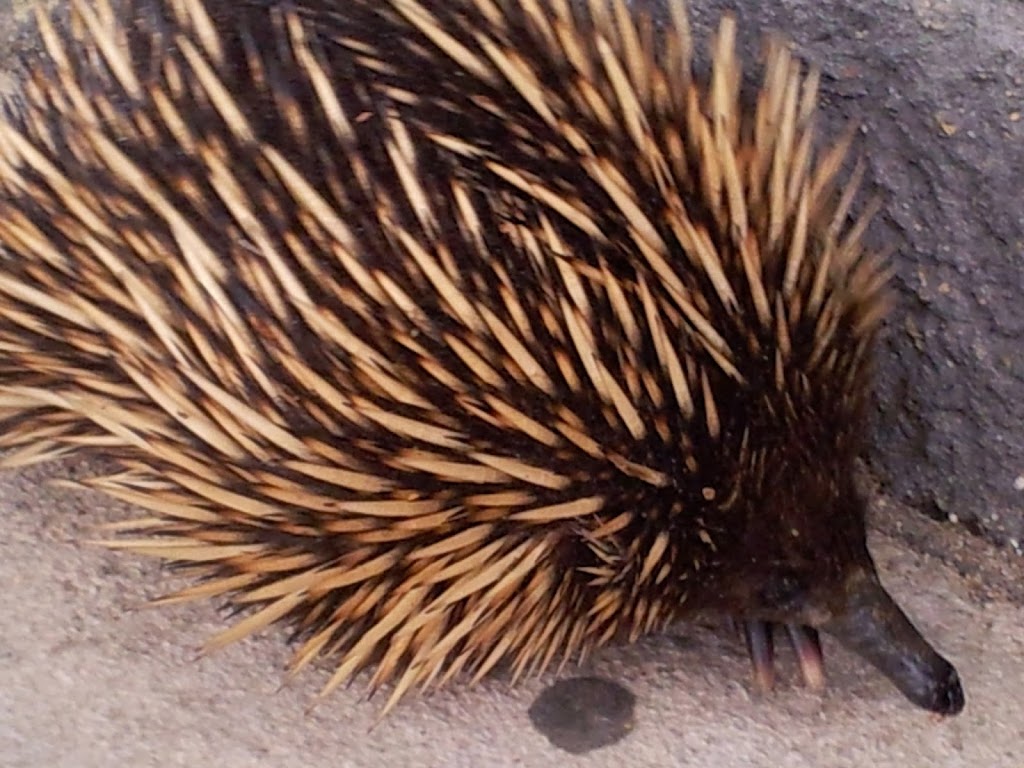 A curious local Echidna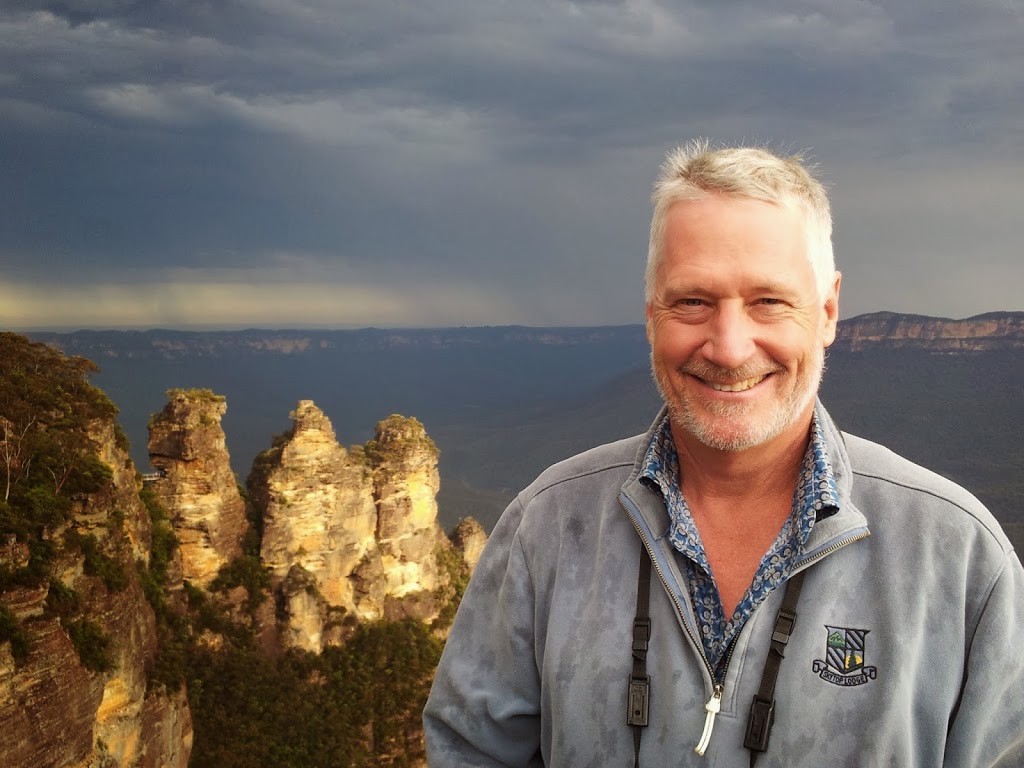 That's the money shot!
It's all in your perspective…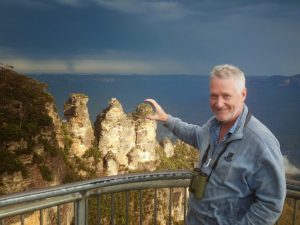 See, it's easy….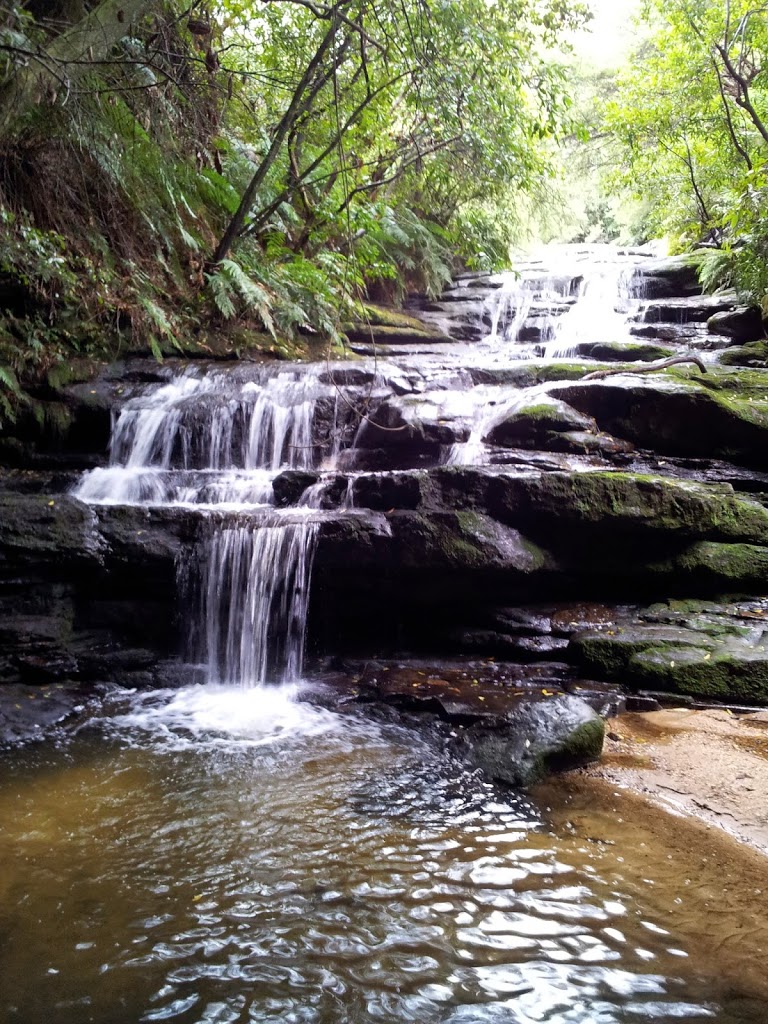 Leura cascades
Another wonderful feature of the Blue Mnts is the number of cascades flowing off the escarpments. Virtually every eroded canyon contains a creek, so water music is everywhere. And, as water supports life, every riparian stream side is a veritable cool fern grotto; tucked beneath the jagged sandstone cliffs overhead. Magical!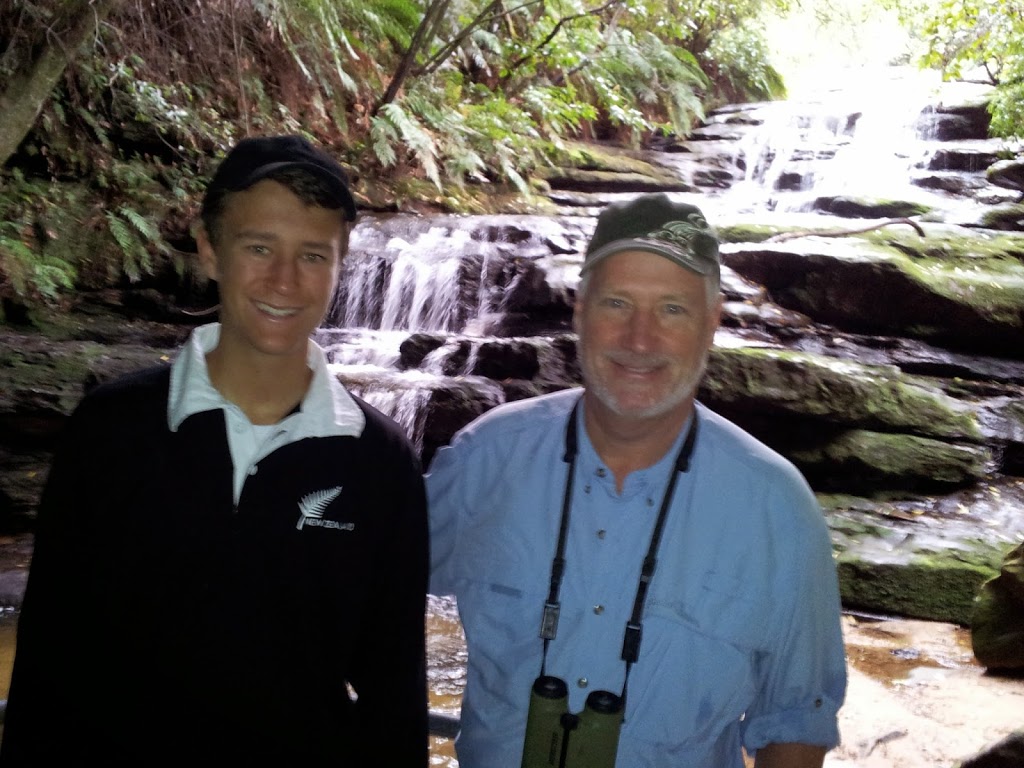 Adventure buds…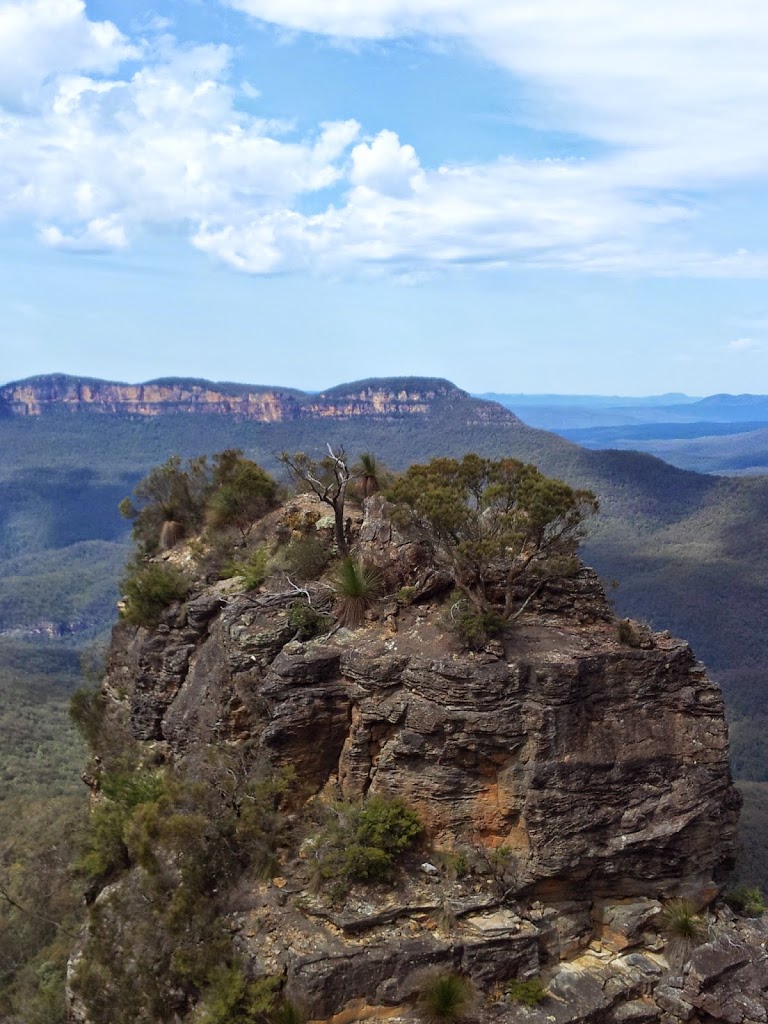 First Sister summit
That was so cool, the next am we were back at the Three Sisters to explore a bit more. There's a famous bridge out to the first Sister. But I never realized that you have to clamber down to it. Another surprise is how high off the valley floor it rises. The spires you see in the calenders is just the top of a ridgeline that falls away over 600-700 ft to the forest floor below.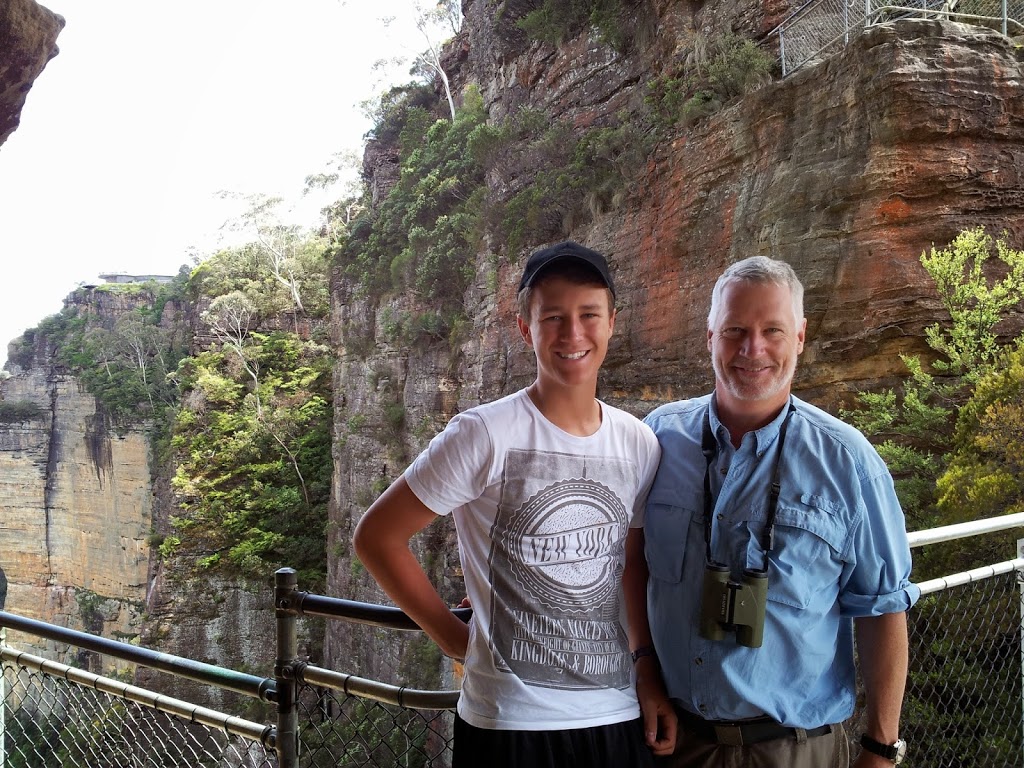 On the First Sister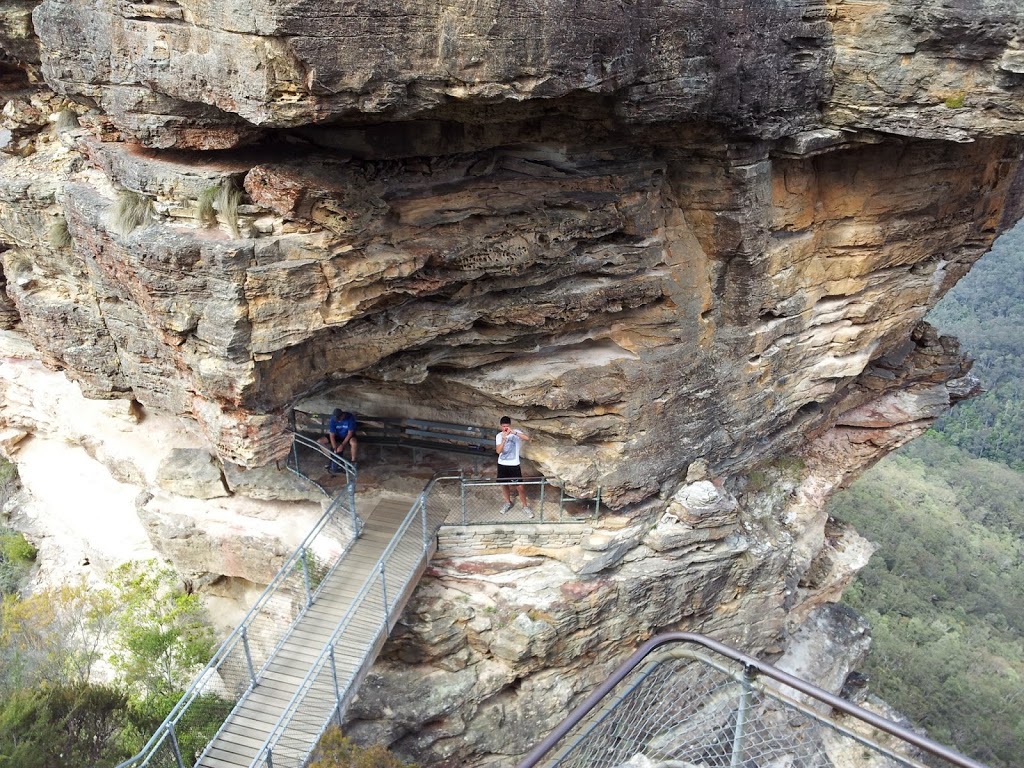 Luke across the little bridge, with a bench even…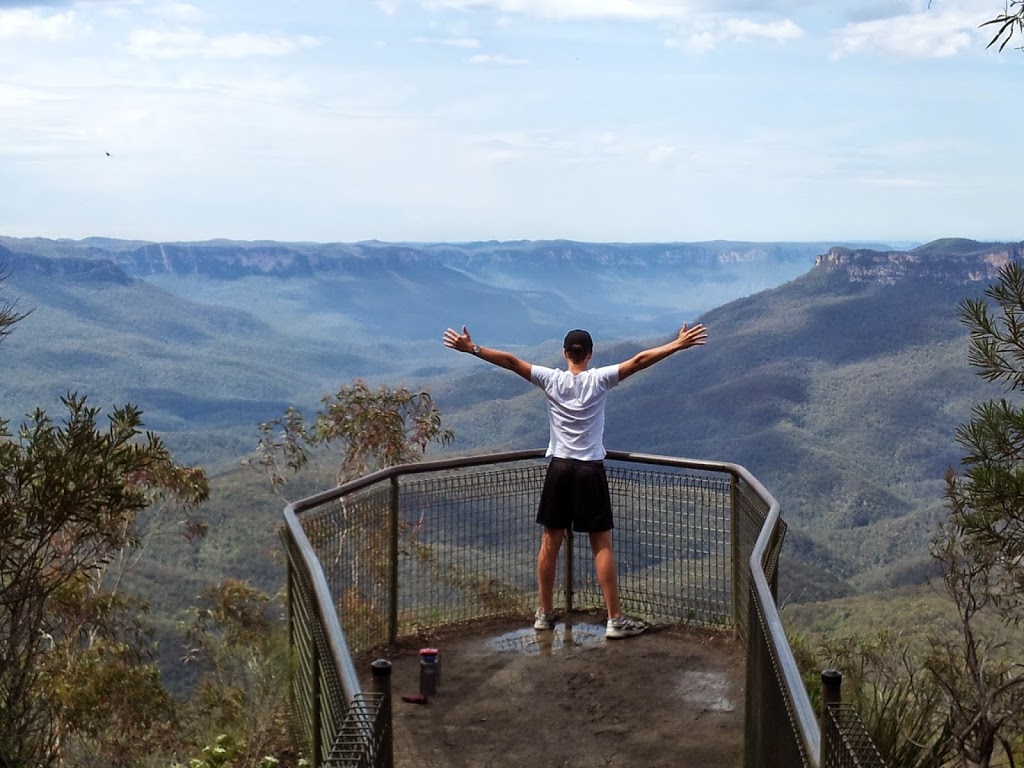 Flying over the Jamison Valley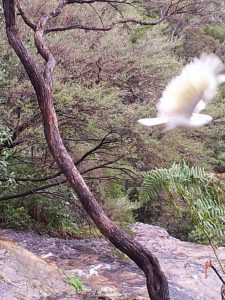 Cockatoo in flight
Ancient aboriginal face ?, rainforest pocket
We visited " Everglades" in Leura, the weekend home of a wealthy Sydney industrialist from the 1930's. It's now heritage-listed and has acres of formal gardens; manually hacked out of the stony mountain side over decades. Very impressive achievement! The Azaleas and Rhododendrons thrive in the cooler climate and were at peak bloom during our visit. Lucky!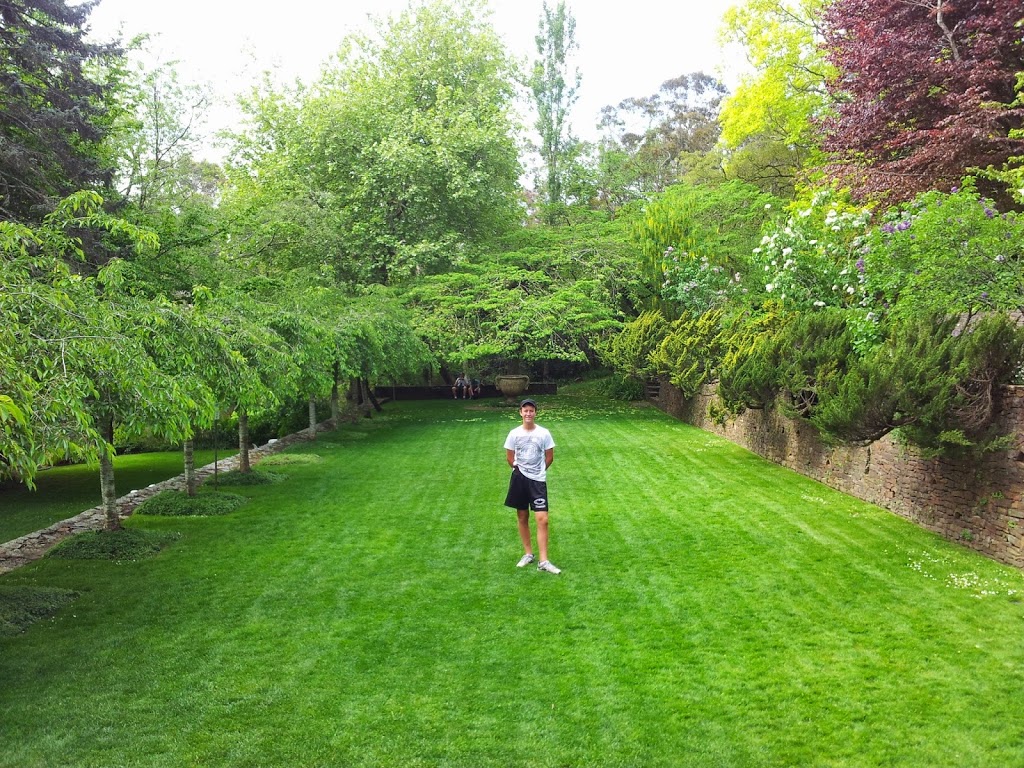 Luke at Everglades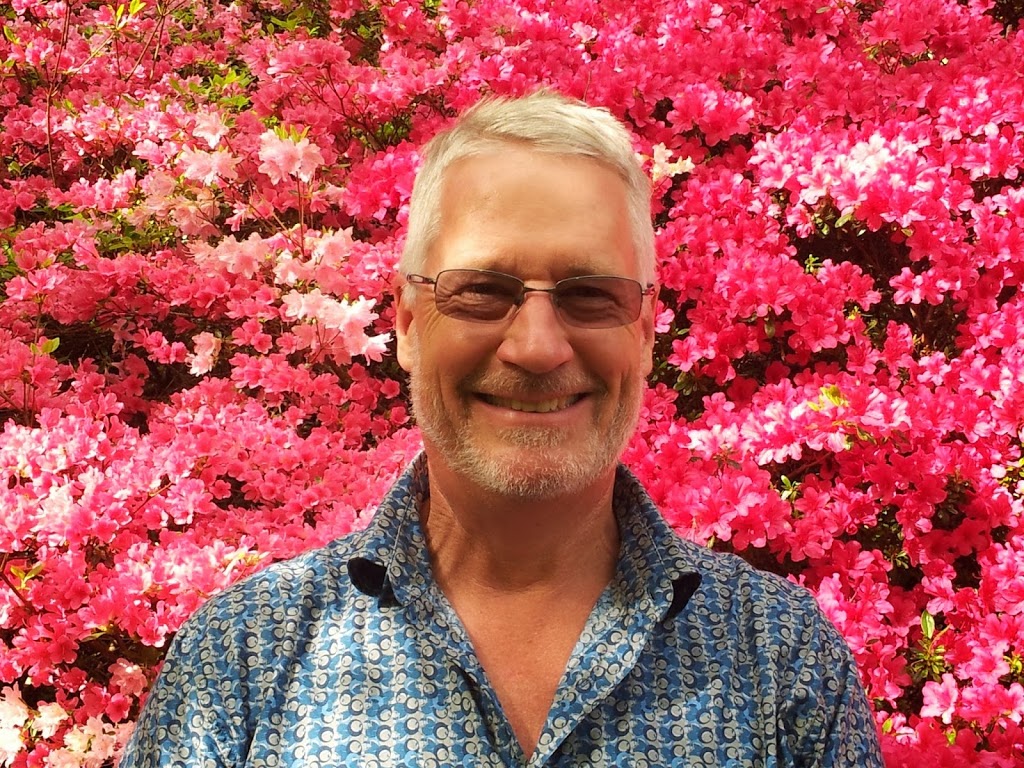 Feeling very floral…
Leura, NSW. A hip mountain town indeed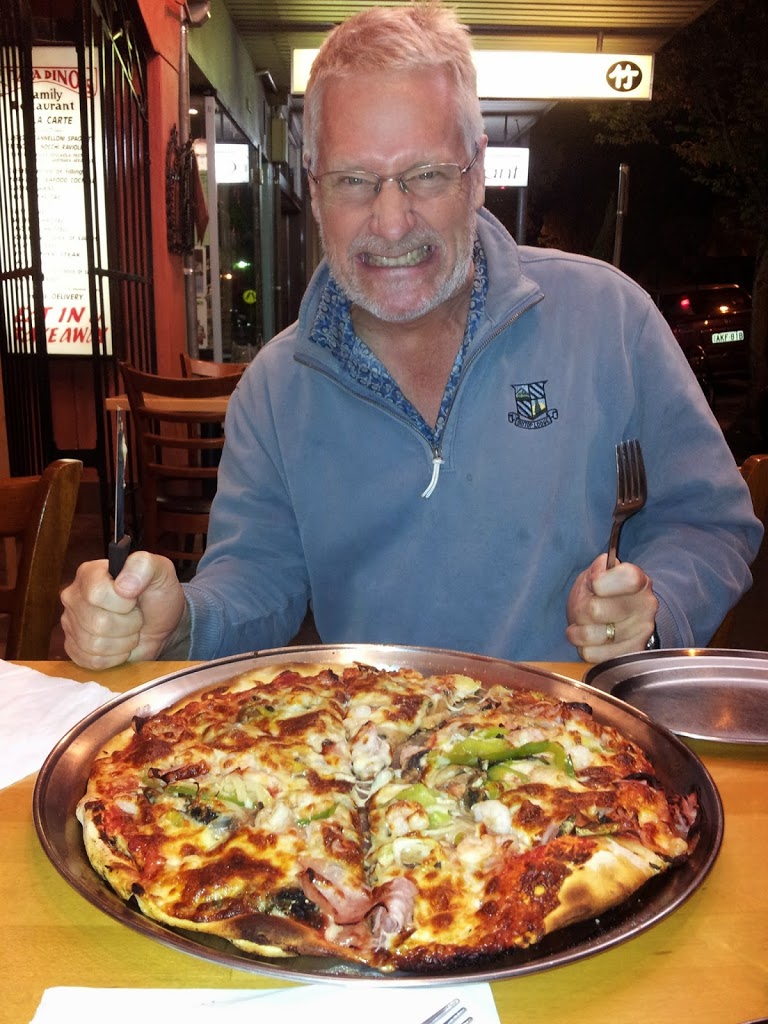 Now that's a PIZZA PIE!
In keeping with the well-heeled , resort-y feel of the area, the restaurants were really good. Even the basic Asian/ Malaysian places were top notch. We got a tip on Trip Advisor about a highly rated family pizza place in Katoomba. I walked in and saw a US style pizza oven, and wanted to cry. I said to the waiter, " You have a real pizza oven.." He apologized, " It's not wood-fired, only gas…" I then cried….What ensued was "the best Aussie pizza ever", an easy 8.5 on the USA scale. Real dough crust even…! It might seem a bit over the top, but Australia, while awesome in many, if not most respects, is certainly a pizza desert. Skinny, pre-formed frozen crusts cooked on toaster-like conveyor belts is the norm. Dominos counts as gourmet here….Sorry to obsess, but it's been a LONG three years counted in pizza-time. So, all love goes out to Papadinos Pizza, Katoomba, NSW.. Just go there…:-)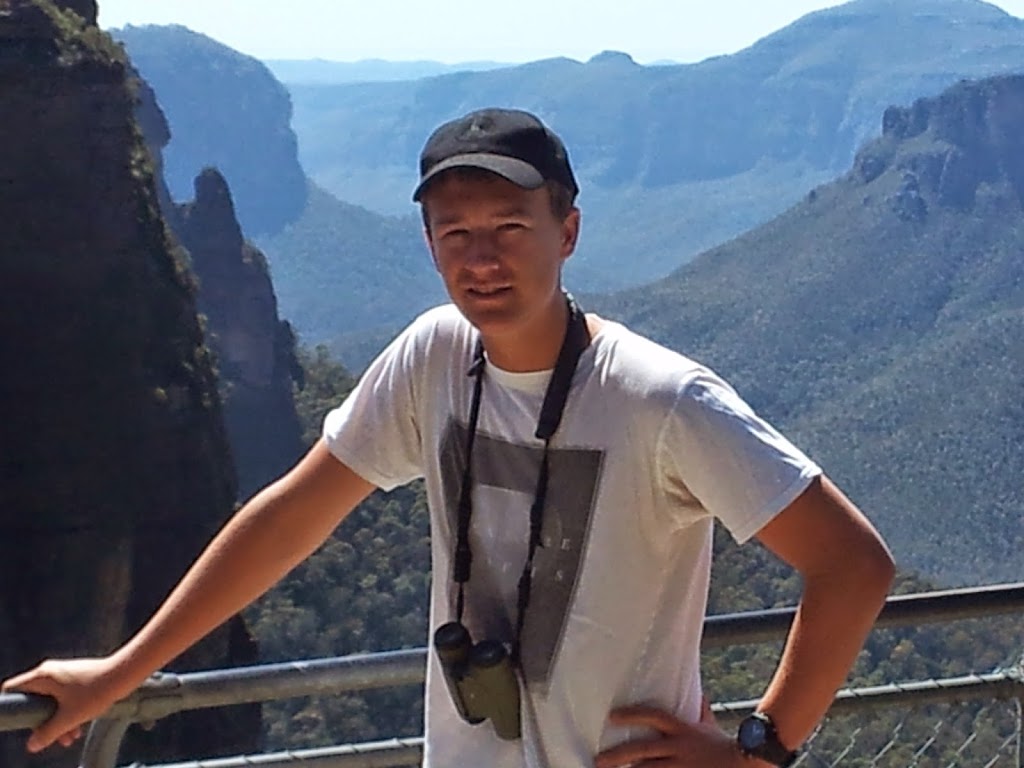 Working off the pizza at Govett's Leap, Grose Valley
Springtime in the Blues
Soon enough it was time to hit the road. We took an alternate high altitude route back to Sydney on the famous Bells Line of Road, a route laid down in the 1820's by a 17 year old surveyor named Bell. Still in use today, it's one of only two major routes crossing the Dividing Range west of Sydney. In fact, the rugged mountains, which rise to over 1100m (3600 ft) turned back successive expeditions; keeping the early settlers crowded on the eastern coastal plains of NSW for 25 years before finally being breached.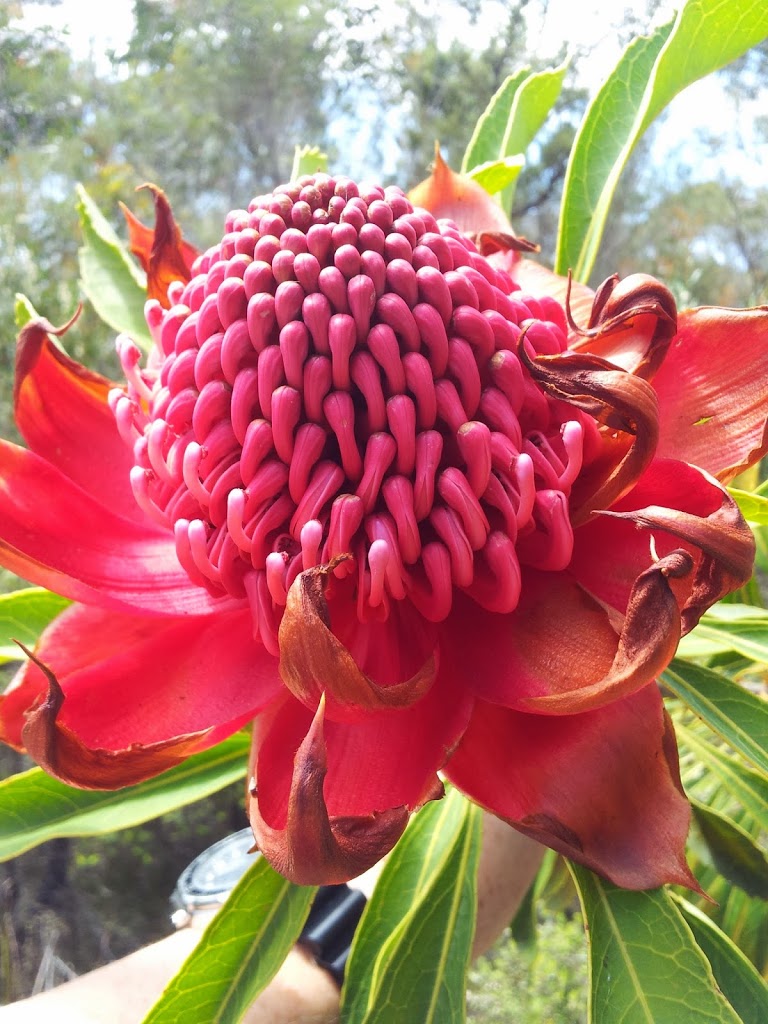 A Waratah, state flower of NSW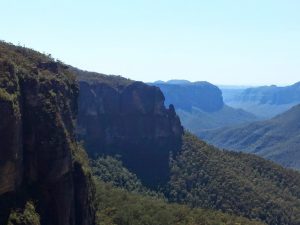 The sublime Grose Valley
A major destination is the Blue Mountains Botanic Garden at Mount Tombah, a cool climate annex of the vast Royal Botanic Garden in Sydney. It's free and very well done. Highly recommended for several hour's relaxing wandering and perhaps lunch.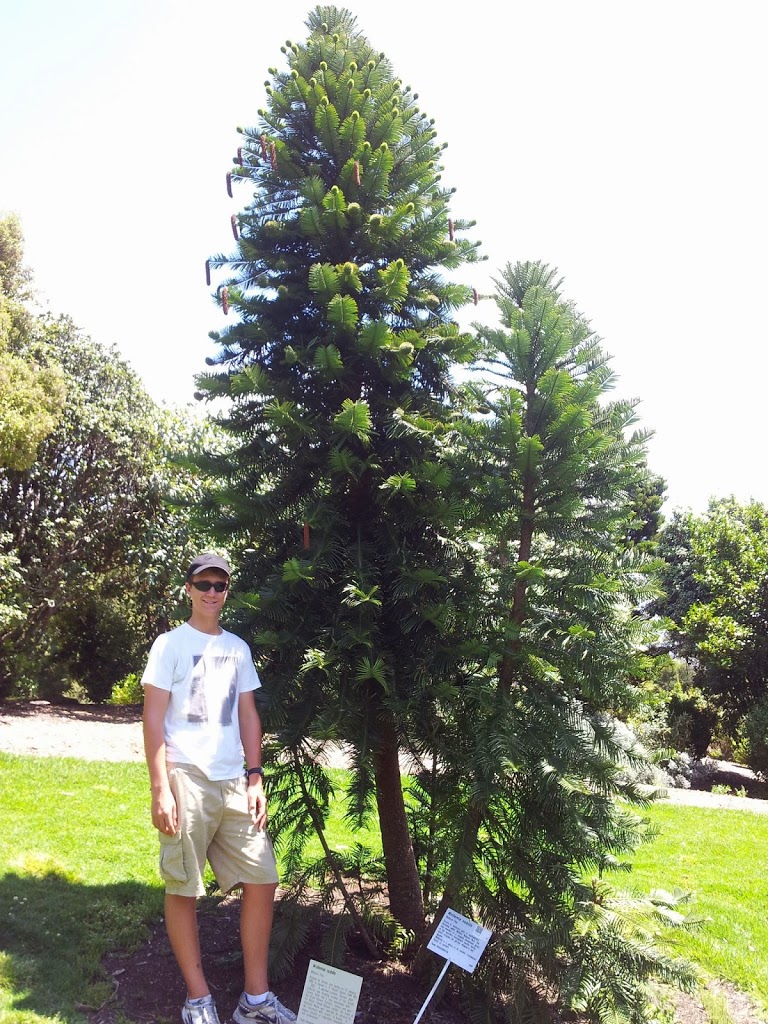 Wollemi Pine, a living dinosaur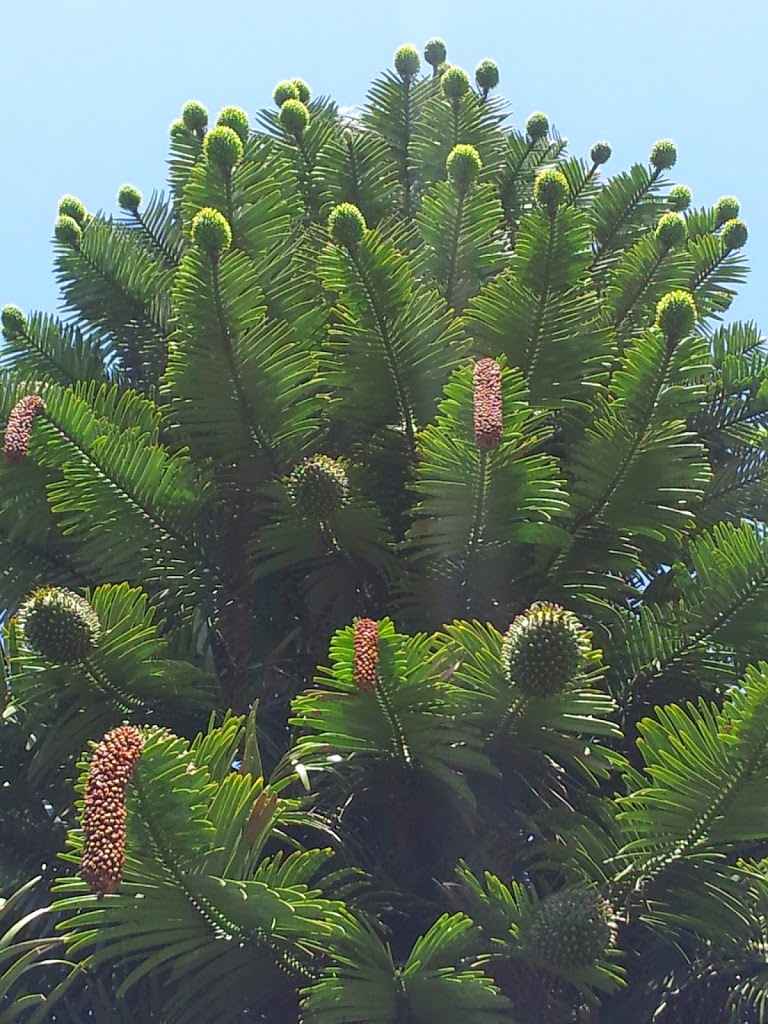 Wollemi Pine detail
Very near here, in the 1990's,the botanical world was stunned by the re-discovery of a genus of pine tree thought to be extinct for millions of years in a remote canyon. The Wollemi Pine has since been successfully transplanted to various locations in Australia. Imagine the botanic equivalent of a living dinosaur found thriving within 50 miles of Sydney! Australia, such a strange, remarkable continent!
Chillin' and grillin', Palm Beach, NSW
It would be easy to spend weeks, or months exploring the vast Blue Mountains, but our schedule carried us on back to Sydney. The conference was held at MacQuarie University, north of the CBD, so we had an opportunity to explore the fabled Northern Beaches that run up a narrow peninsula for 20-30 miles north from Manly near the entrance to Sydney Harbor, ( Port Phillip Bay).
Most of these beaches are pretty wild, and famous for surfing. So, each has a saltwater tide pool build below high water mark to allow for swim competitions and safety for families. They are refreshed on each incoming tide, and tend to be community social hubs.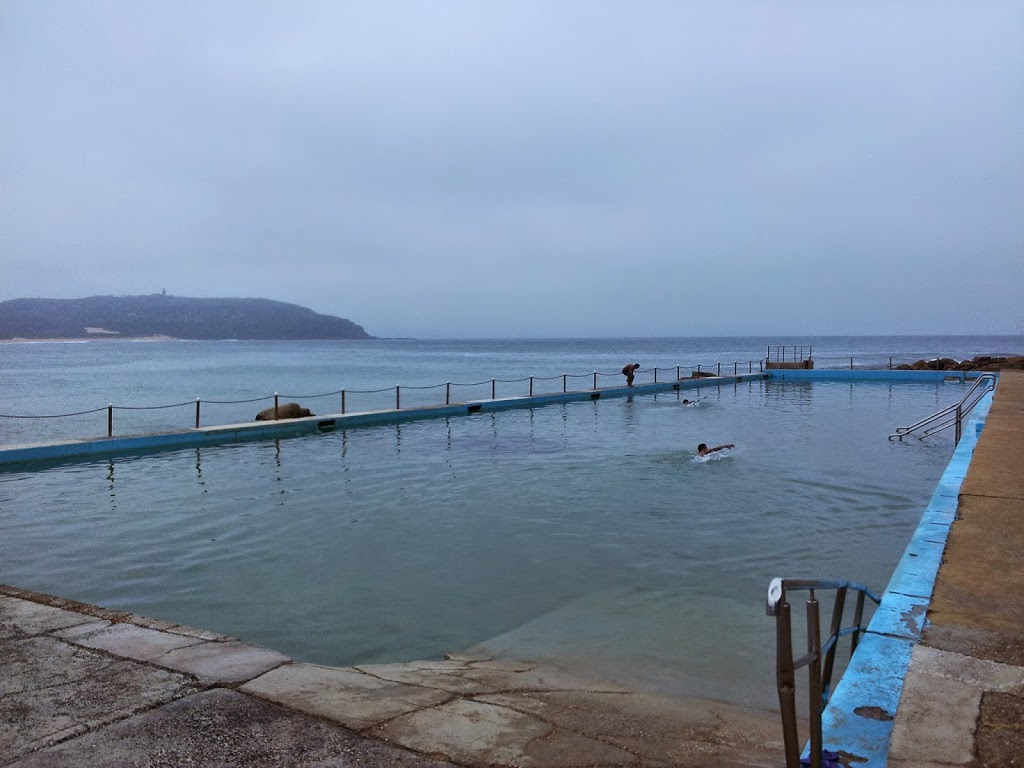 Saltwater tide pool, Palm Beach, NSW
Twilight, Northern Beaches, NSW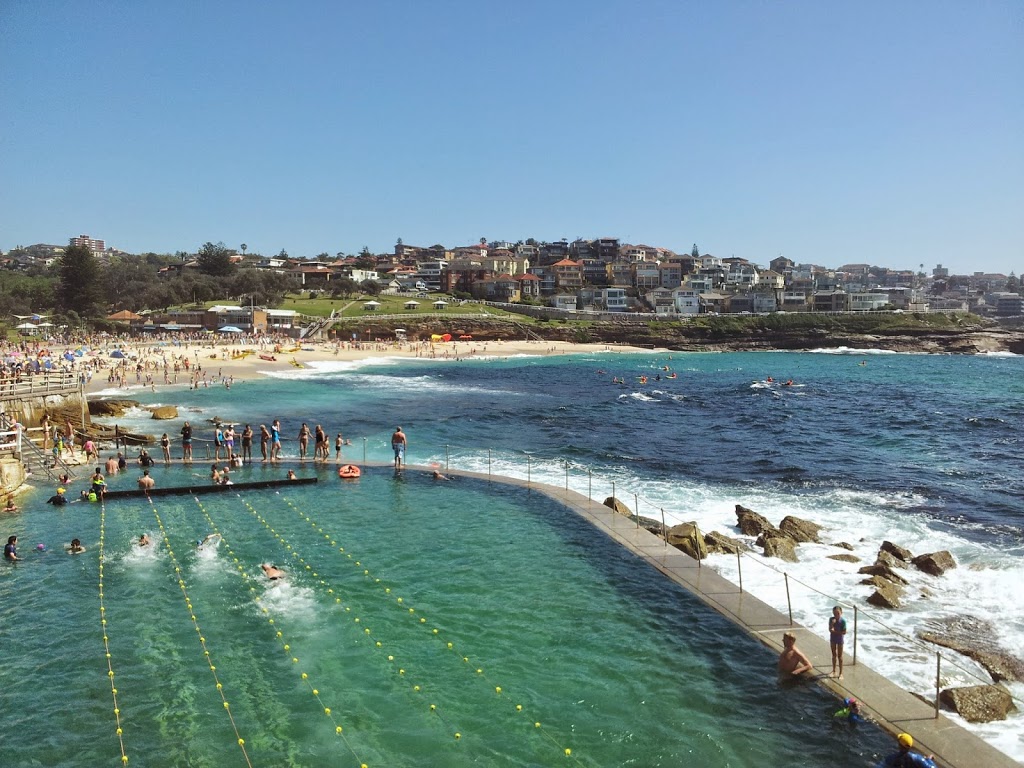 Bronte Beach Saltwater Tide Pool
We had a final day before the RFDS course started, so we headed for parts yet unseen, the Eastern Beaches of Sydney. Famous for the well known Bondi Beach, the coastline here feels somehow Mediterranean. Densely packed but livable, with small coastal headlands seperating distinct communities, each centered on crescent beaches and green public parks. Sweet as…!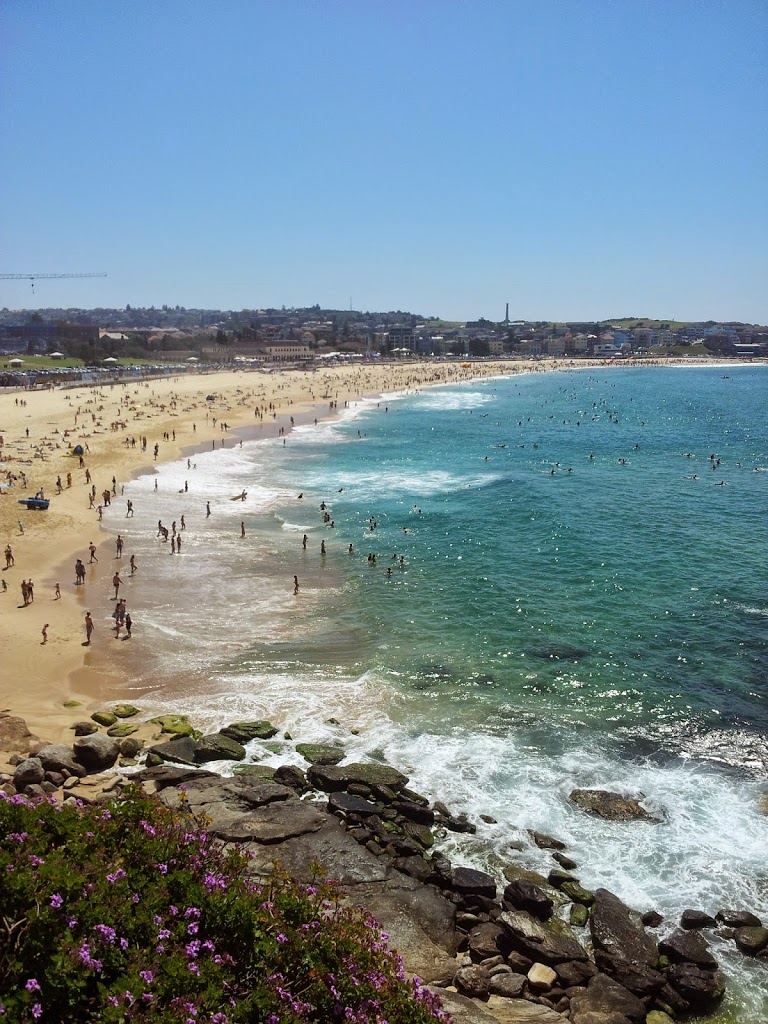 Bondi Beach overlook
We somehow stumbled upon opening weekend of "Sculpture By the Sea" a 2 week open air sculpture fest, running along the famous clifftop walk between Bondi and Tamarama Beaches. It was a bit busy, but the great weather and festive air made for a memorable outing. The sculptures really couldn't compete with the natural beauty of the stunning seascapes however. Lucky!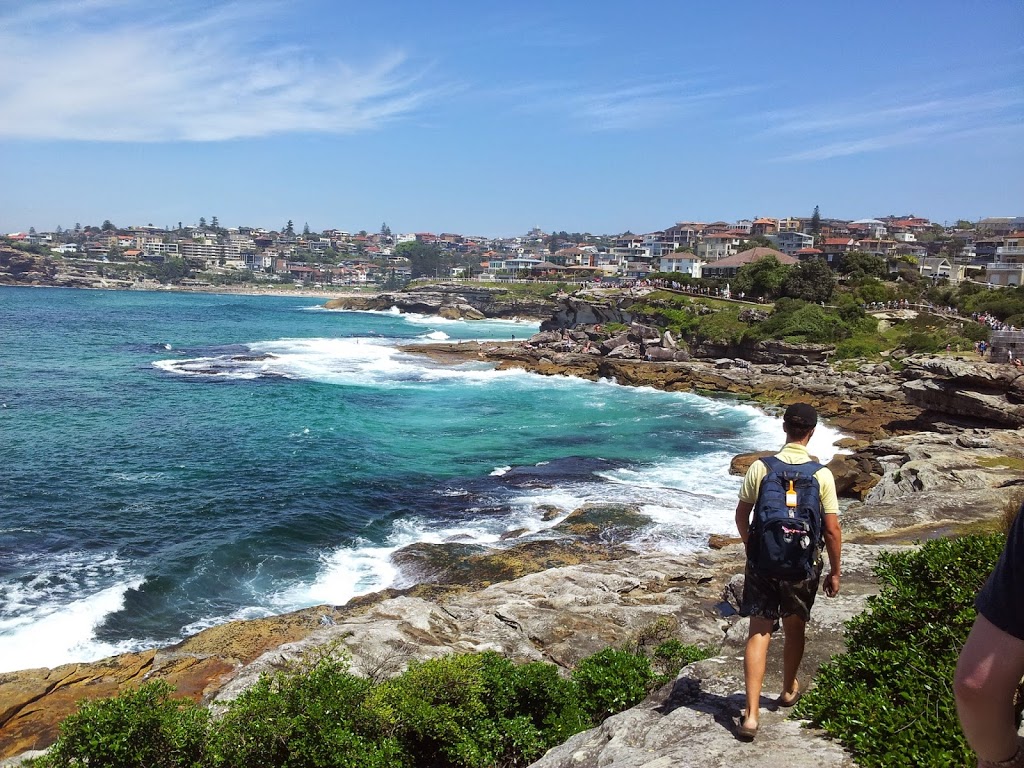 Luke on the Clifftop Walk, NSW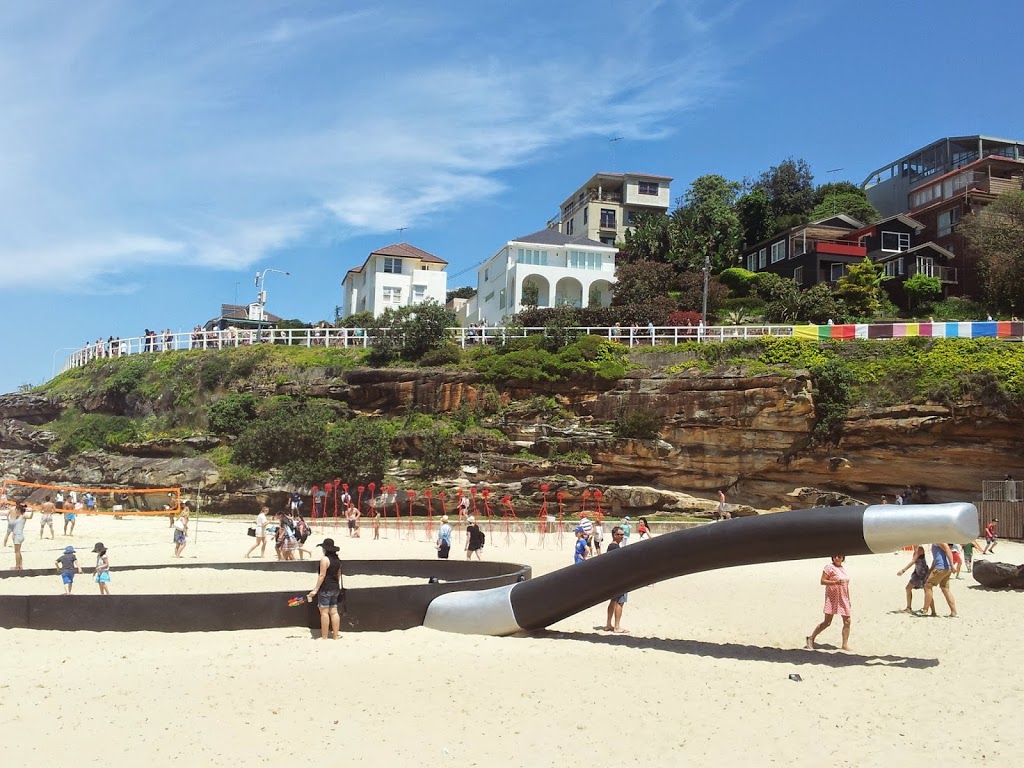 We're getting fried out here! Tamarama Beach, NSW
We headed into town for lunch and to explore the Rocks, inner harbor and Opera House. This was Luke's first trip to Sydney, and I'd only been once a few years ago. It's a vast, complex metropolis, so we only had time to hit the highest of the high points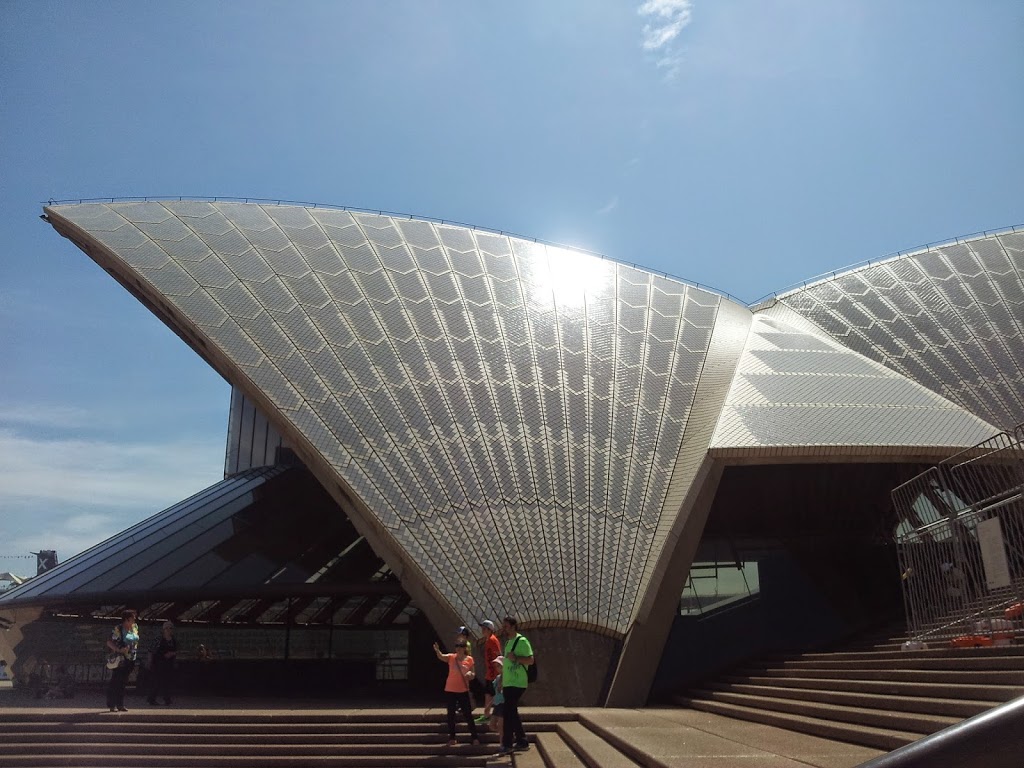 As stunning as ever, an iconic structure.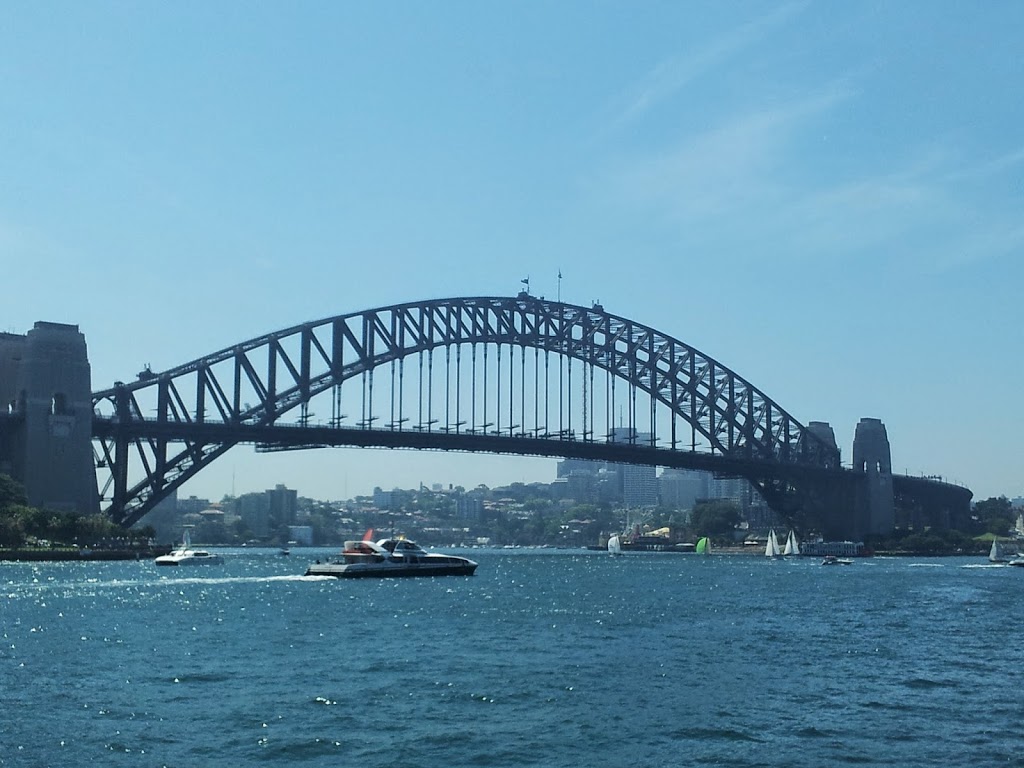 We did walk up onto the harbor bridge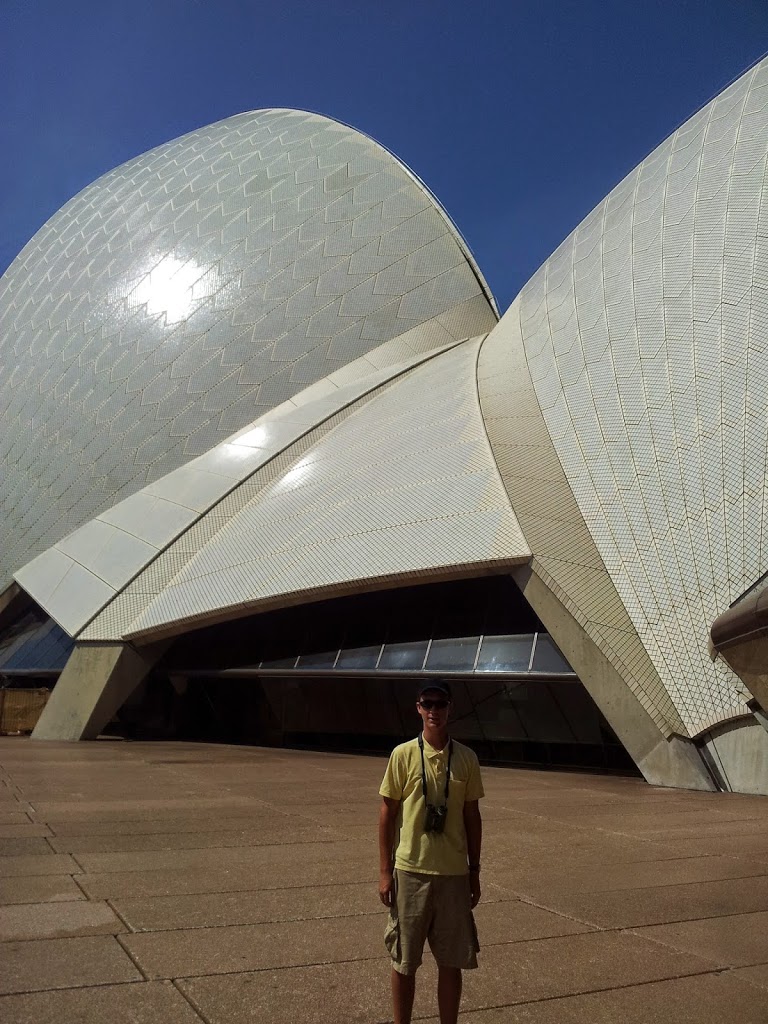 Futurism now!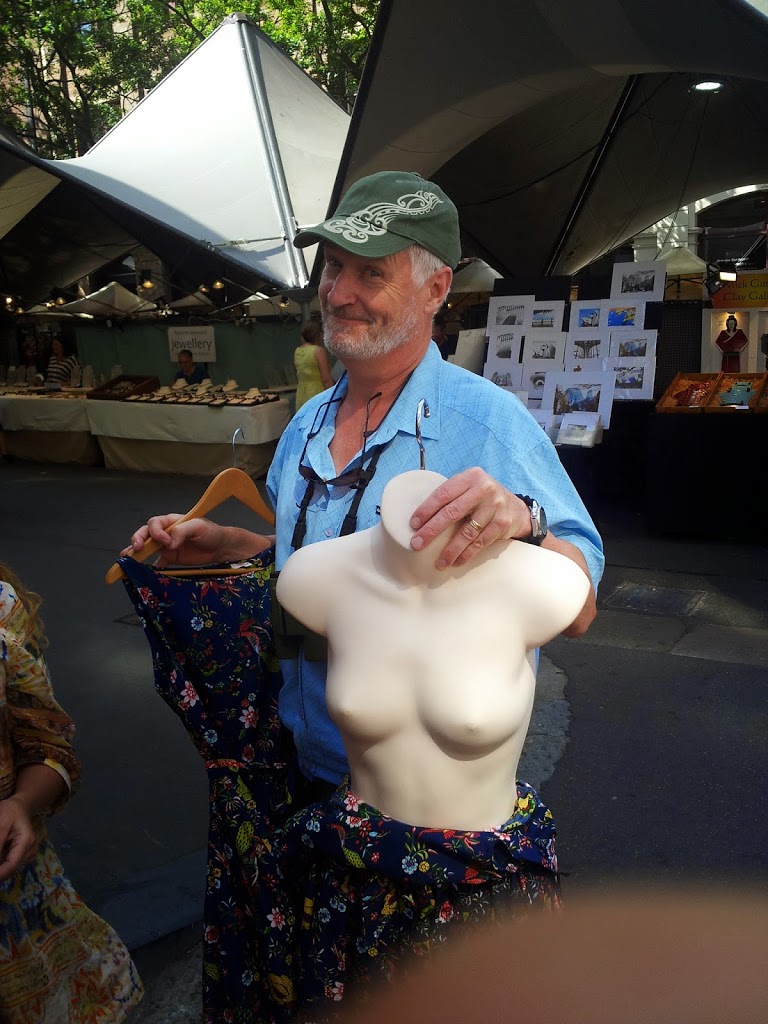 Checking out the mannequin. I actually bought the dress for Stephanie. Weird, huh…?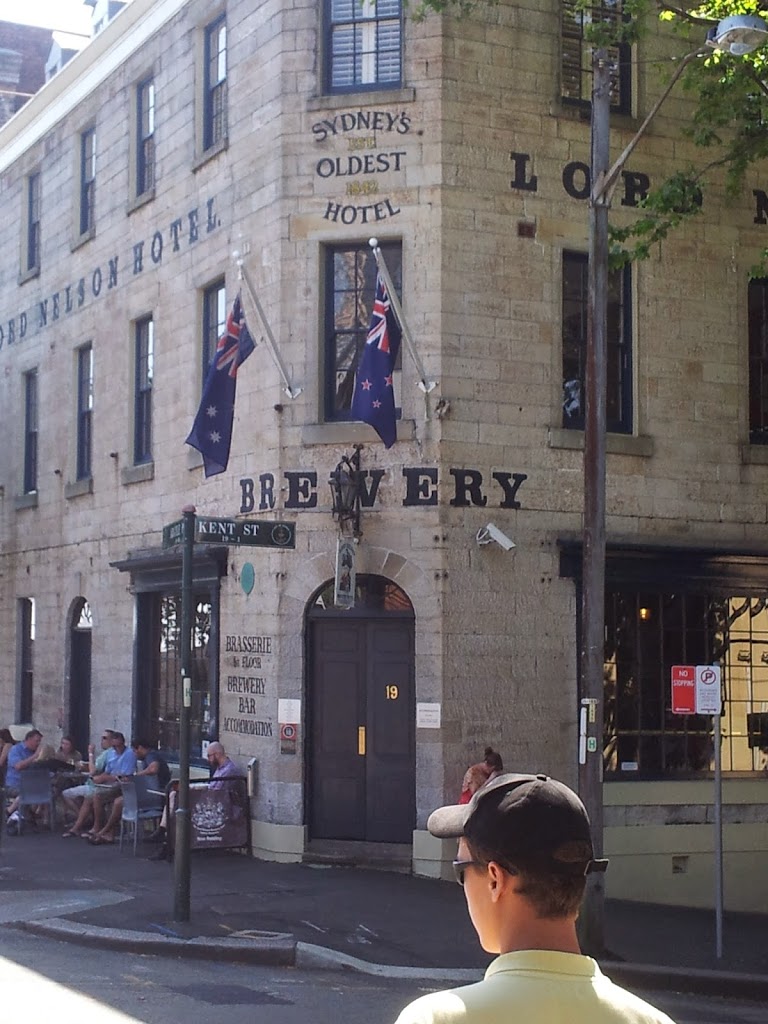 Praise the Lord!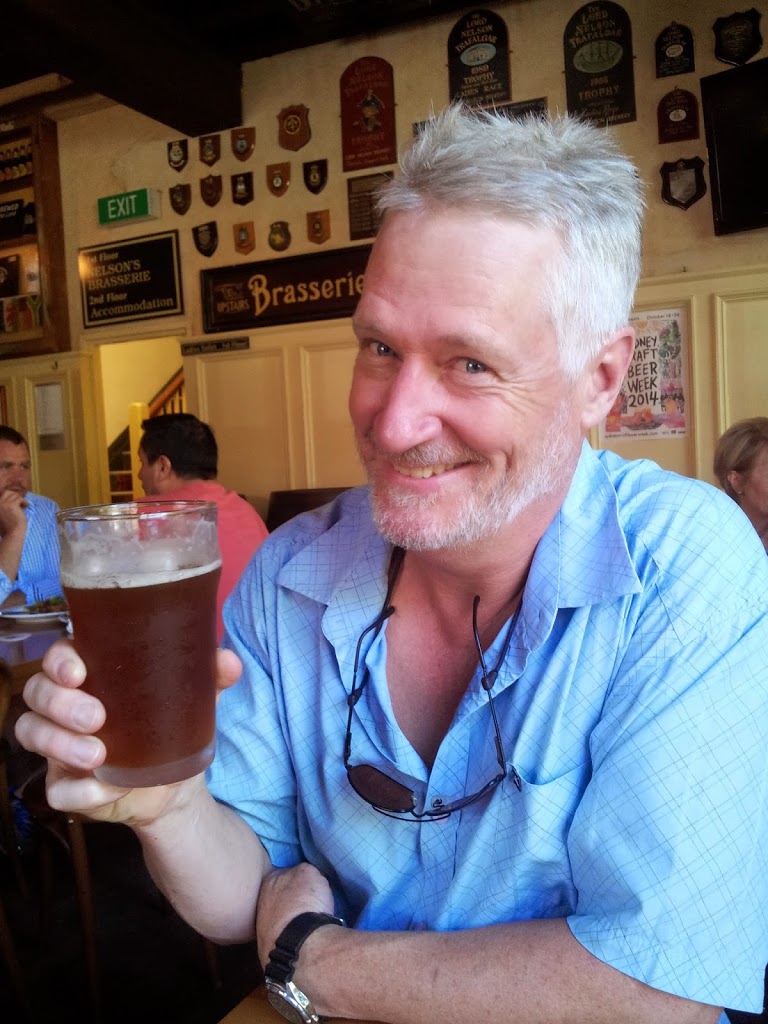 Lord Nelson Brewery respite!
The course was held at the MacQuarie University Graduate School of Management, a green oasis on the north side of Port Phillip Bay, only 20 minutes from Sydney CBD. The hotel rooms there open directly onto a large park. Highly recommended.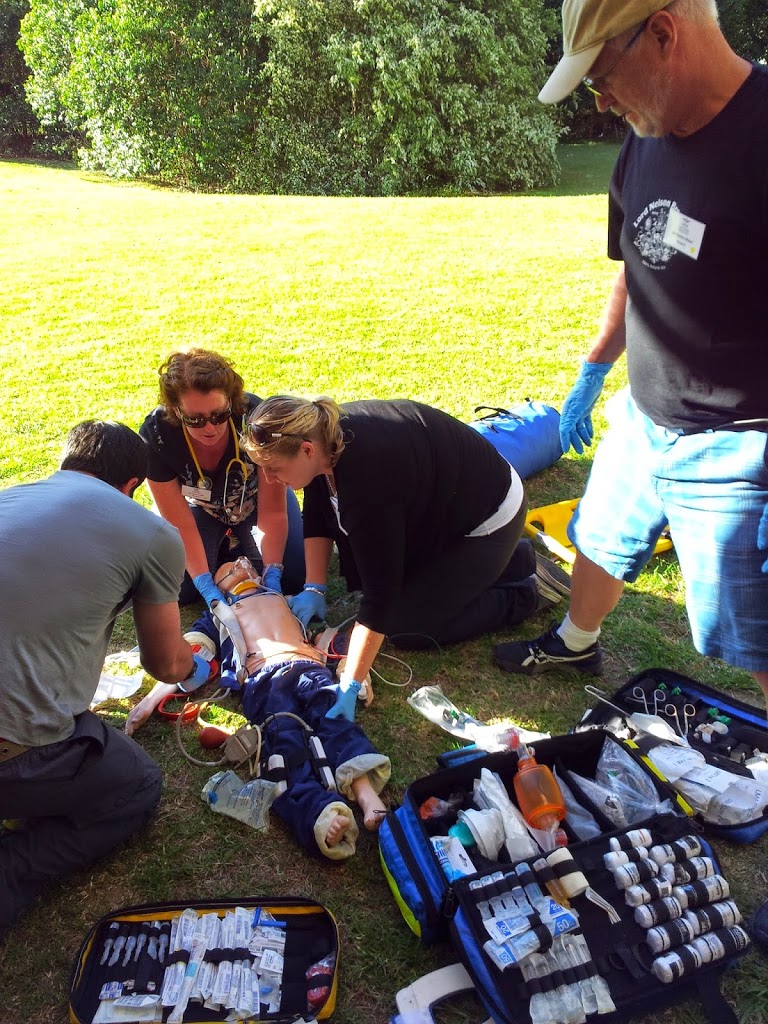 Pediatric Trauma drill
Next up, it was back to work. The RFDS
Aeromedical Retrieval Course is a full 3 day, hands-on primer on all things aviation/ pre-hospital emergency stabilization and transport of critically ill and injured patients. It culminates in an intense multi-casualty, nighttime moulage using live paramedic actors, recus. dummies and buckets of fake blood. Luke was very psyched to be able to audit most of the classes and was even allowed to be a patient actor. RFDS was really kind to include him, and even gave him a Certificate of Attendance! Perhaps a career changing experience for Luke?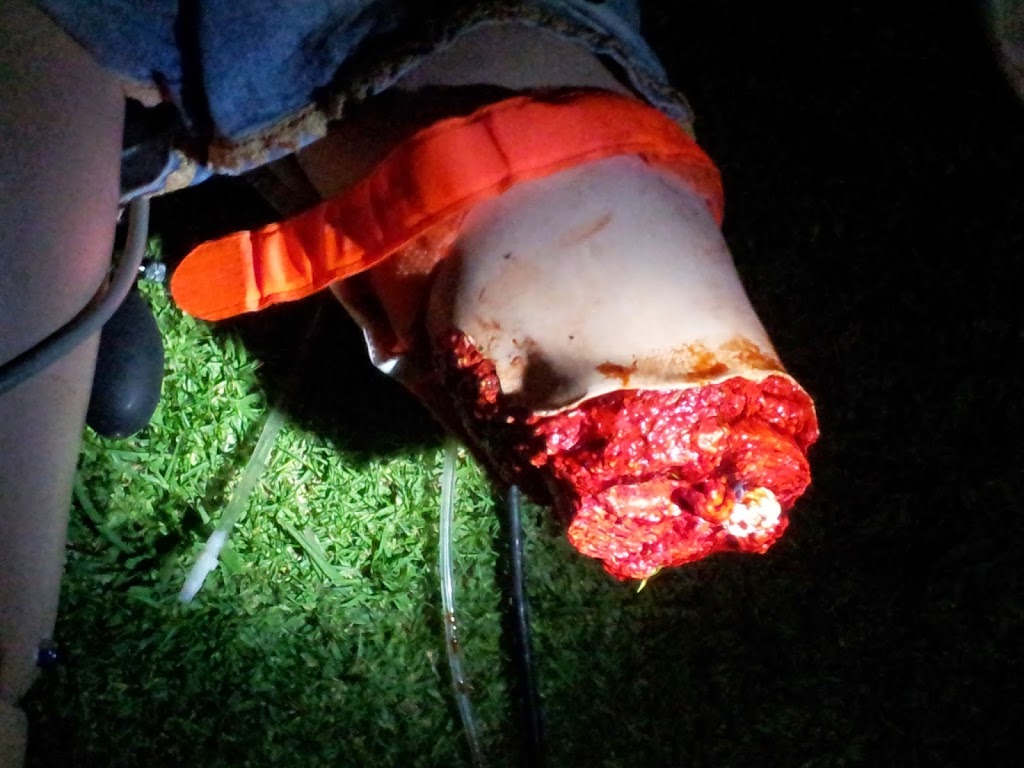 Amputation via Crocodile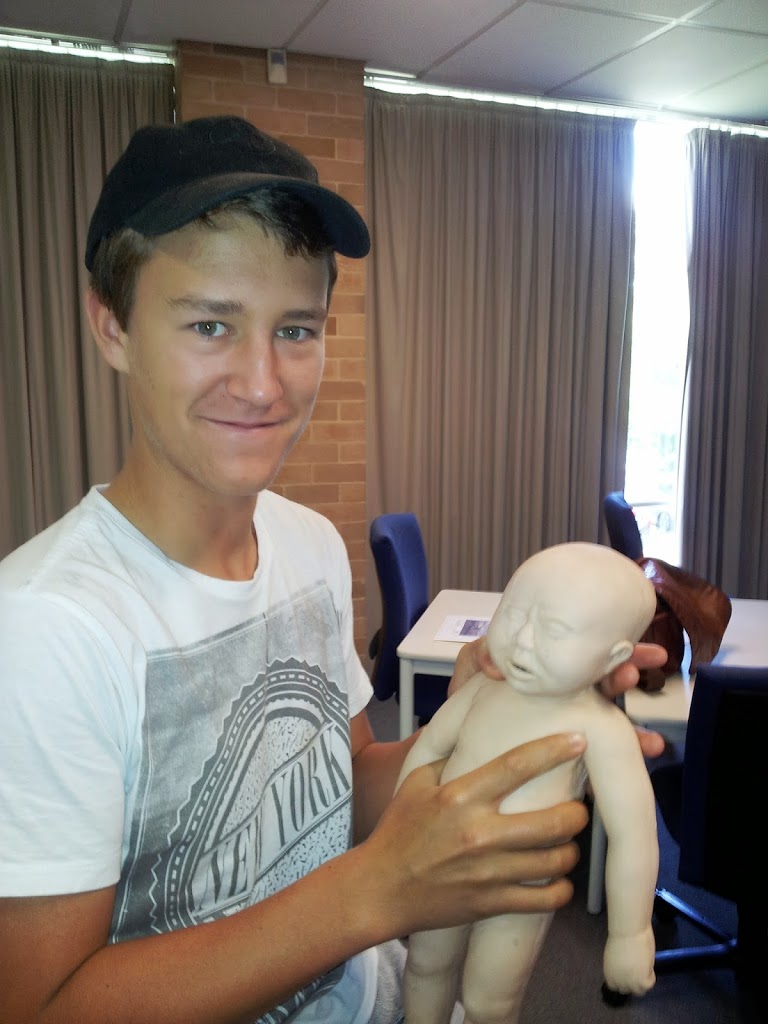 Luke delivering an alien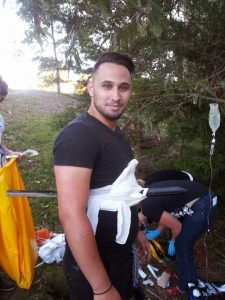 Impaled! A tricky one to sort out,,,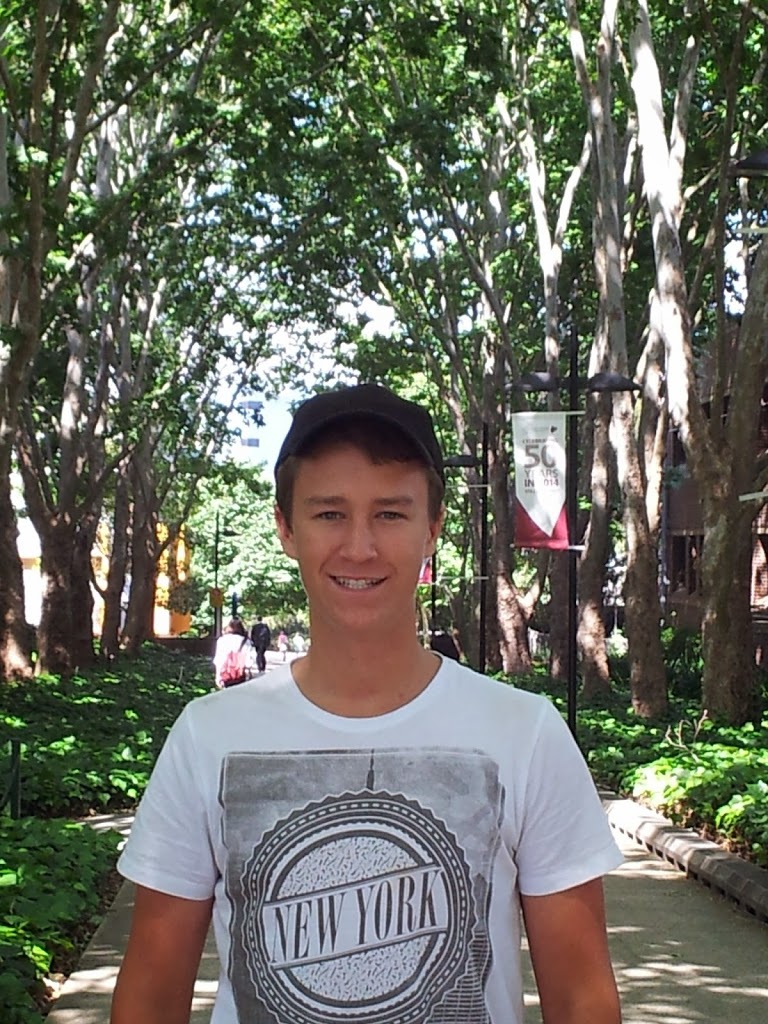 On MacQuarie University campus
Well, the course wrapped up without a problem Thanks to RFDS for being so welcoming of Luke as a participant. It was a real eye opener into the world of Emergency Medicine and EMS for him. Who knows, he might join the next generation of front-line lifesavers! Thanks to all friends, family and loyal DDU readers for coming along for the ride. I hope the trip kept you interested and informed as we continue to have new learning experiences, now heading into the final months of our third year down under. Best to all, near and far.. Luke and DDU.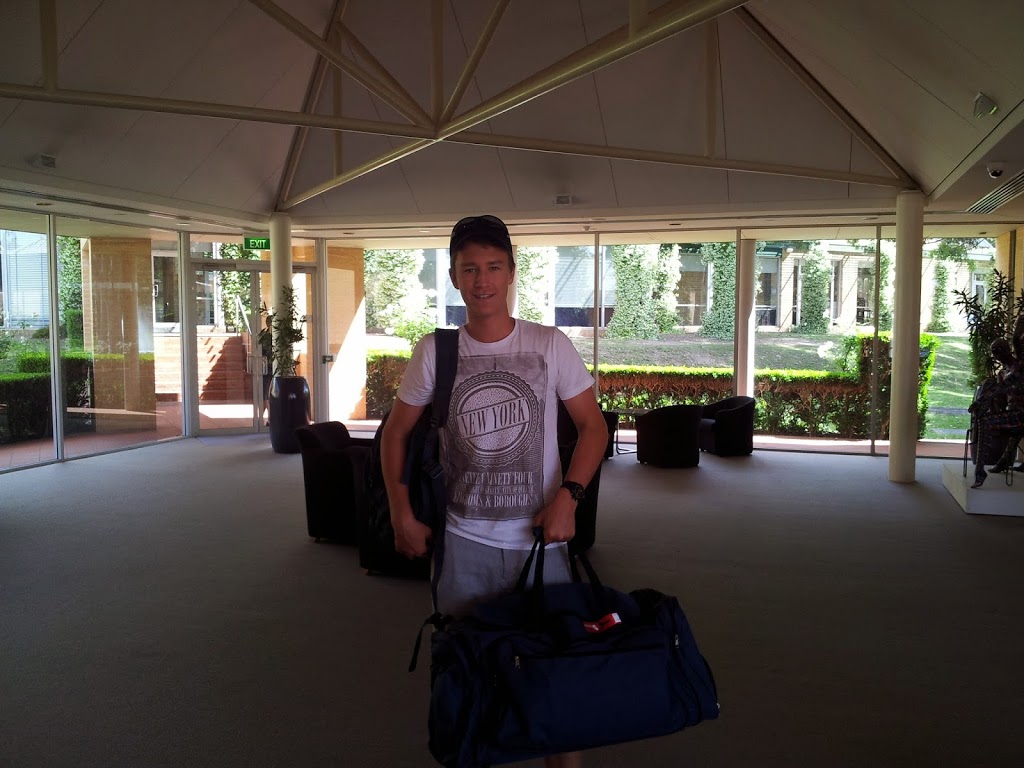 Packing up and out…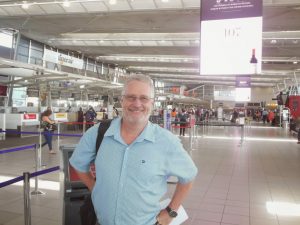 Heading home to Brisbane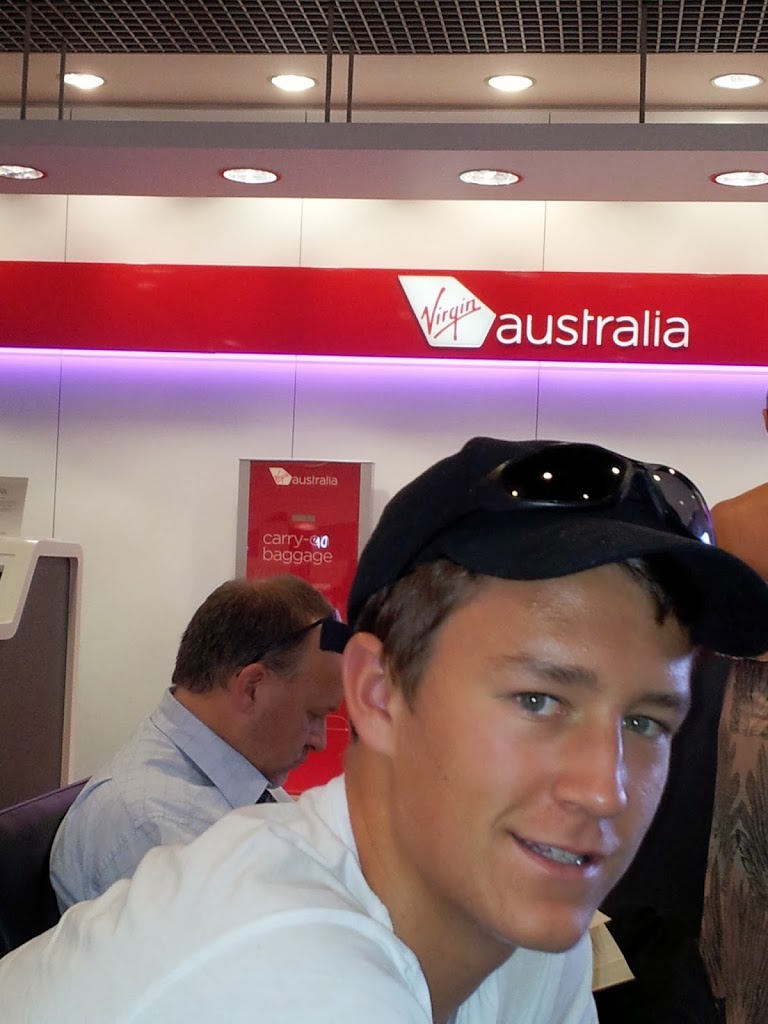 A seasoned traveler