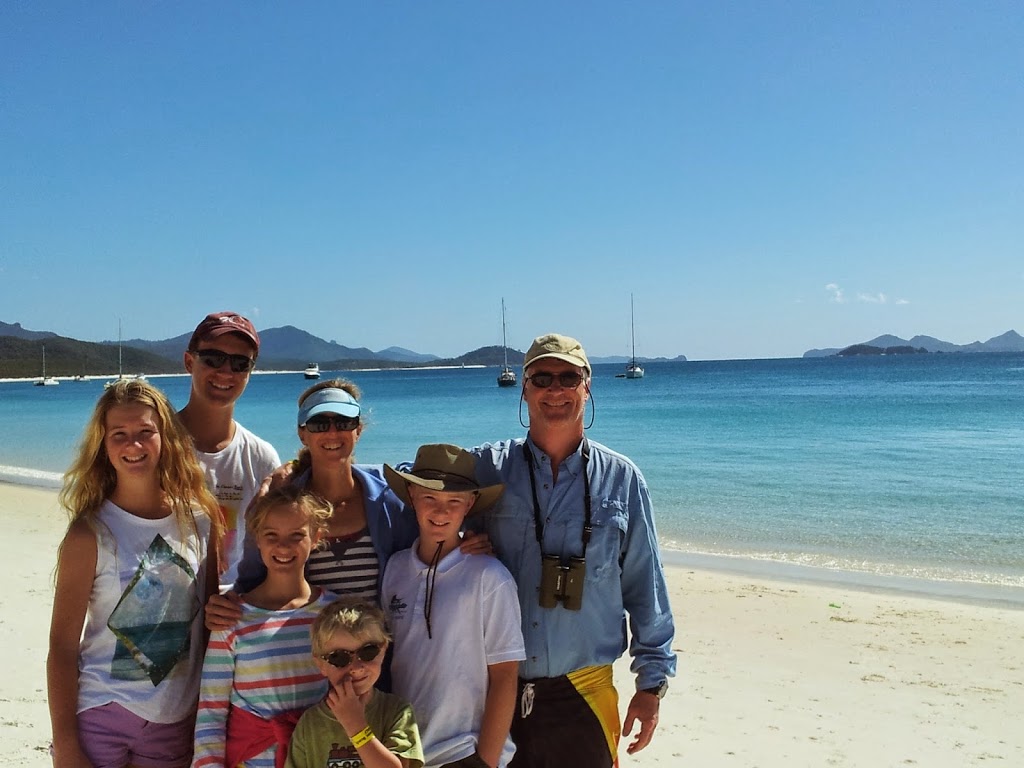 Nolan family hello, from Whitehaven Beach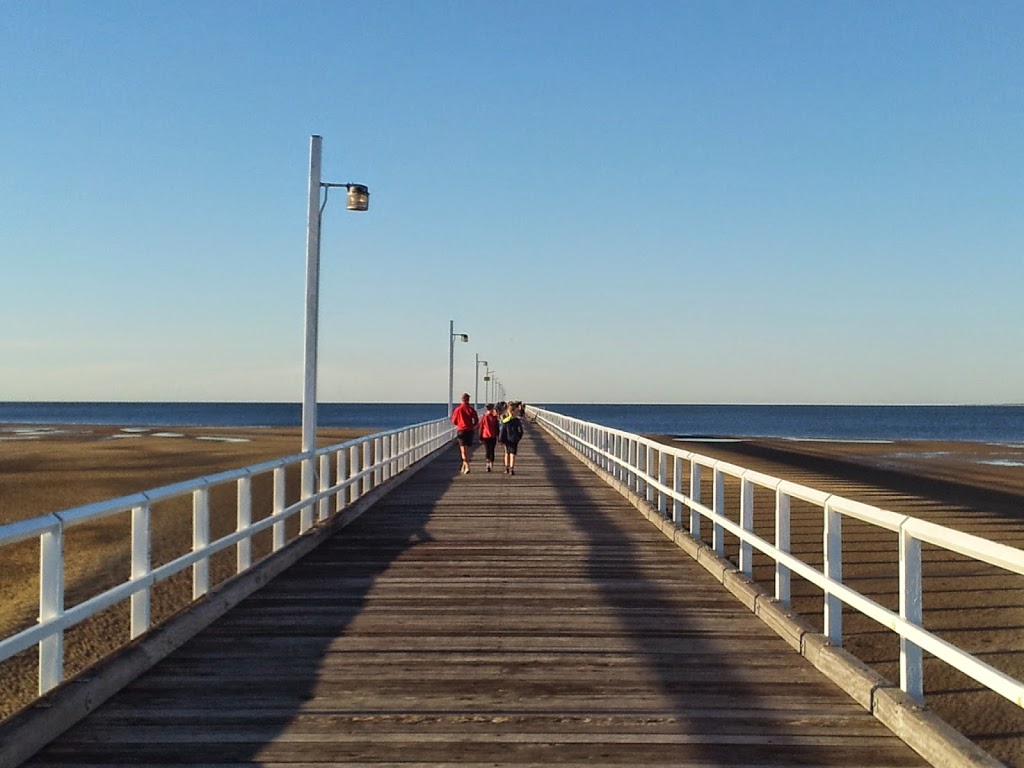 Urangan Pier, Hervey Bay
It's now winter in Australia. The kids had a two week winter break in July, so we headed north along the vast coastline of Queensland, to get to some warmer weather… I guess we're getting soft; mid-60's just don't cut it anymore..:-) ! Here, north means heading towards the equator and our destination the Whitsunday Islands. It turned out to be an epic 2500 km (1600 mile), 12 day adventure. We hope you enjoy the ride.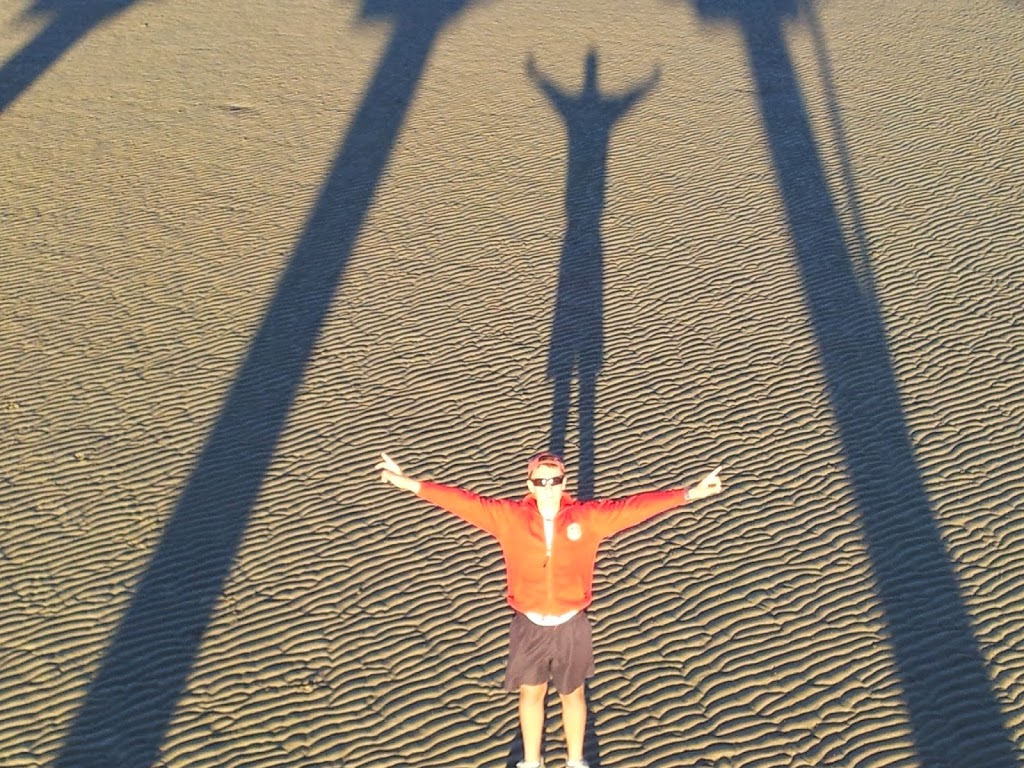 Pier Abstract…1984..?
Given that we were traveling with seven in a van, we broke the trip up into manageable bites, 20 hours of driving over three days. First stop, the whale watching center of Hervey Bay. The Urangan Pier, circa 1913-17, constructed of local hardwood and was over 1100 meters long at completion, and actually had a railroad line to carry coal and supplies. Now only 900 meters, it's been fully restored and is an impressive coastal landmark.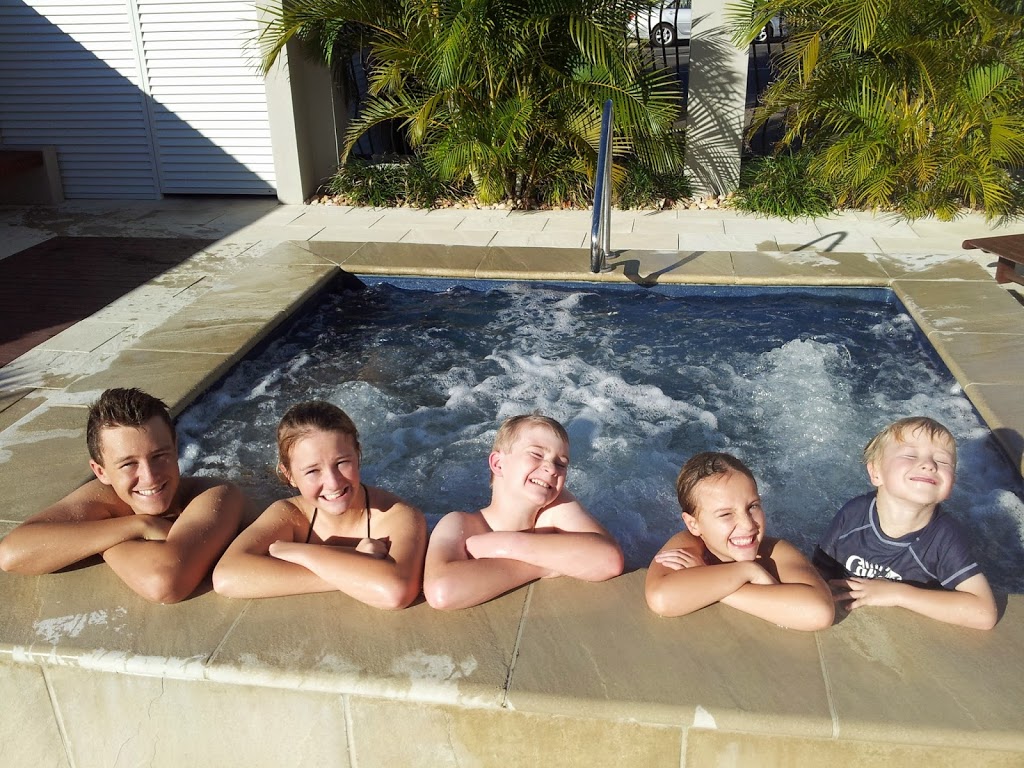 Vacation time…!
Next morning, it was up early and 9 hours north through the vast cattle country of central coast Queensland around Rockhampton. Winter is the dry season here, so we passed through hours of dusty brown savannah under flawless blue skies. Second night was spent out on the beautiful coastal peninsula near Yeppoon and Kinka Beach.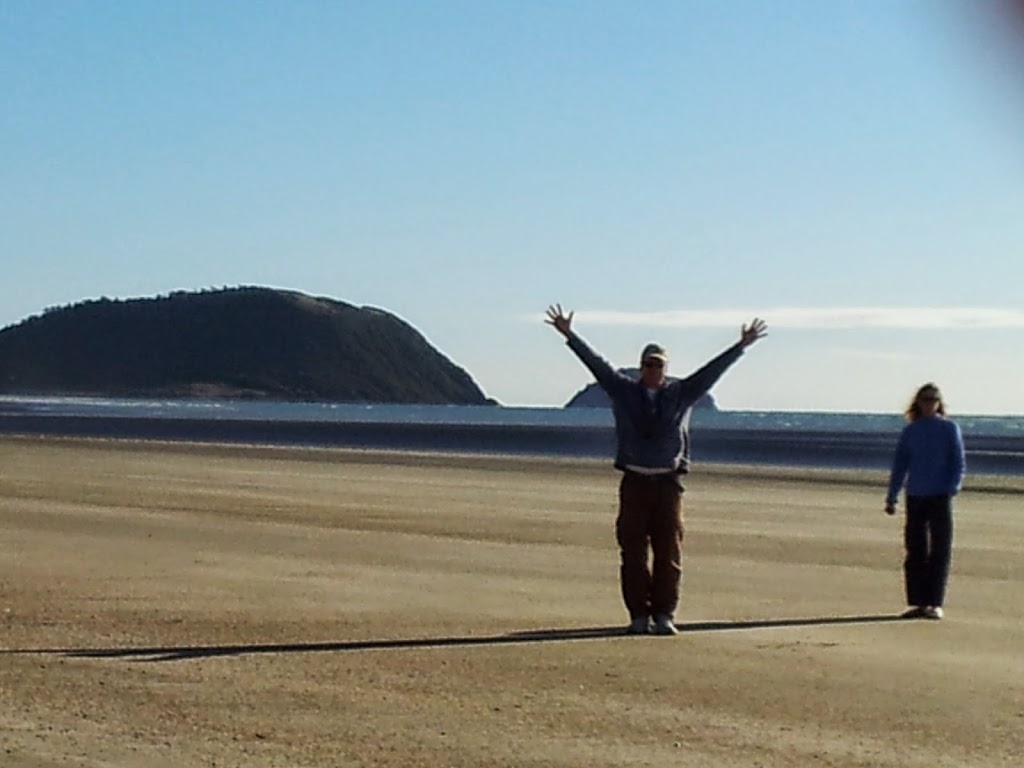 Kinka Beach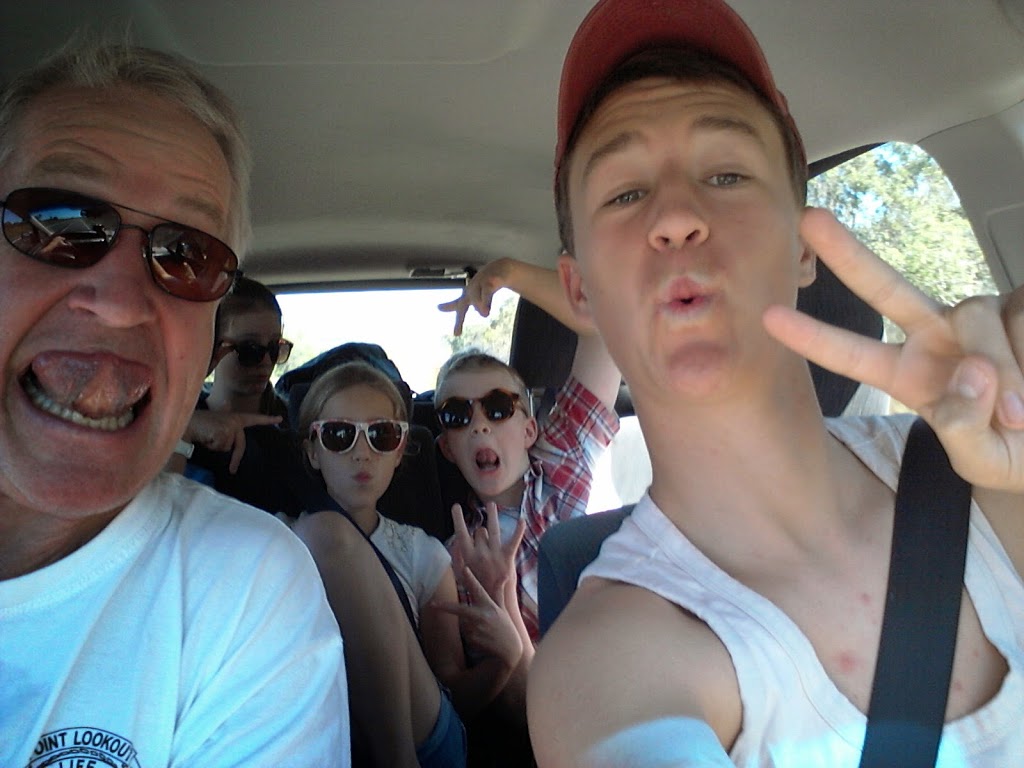 Breaking up the boredom at 110 km/hr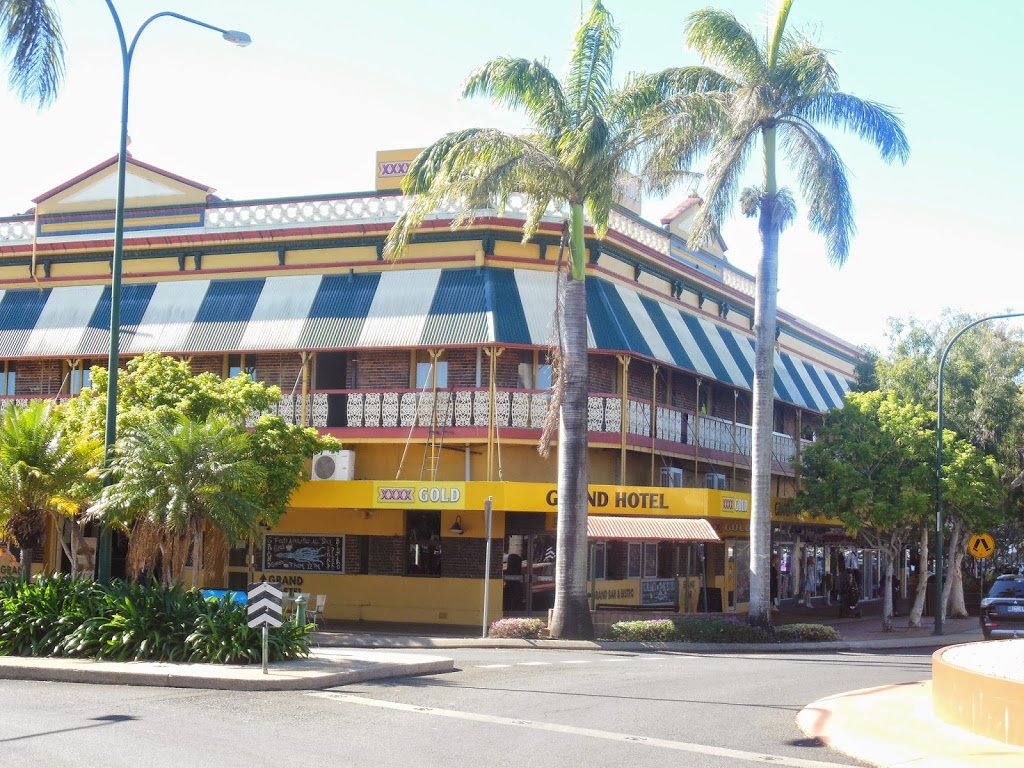 Bundaberg Country Pub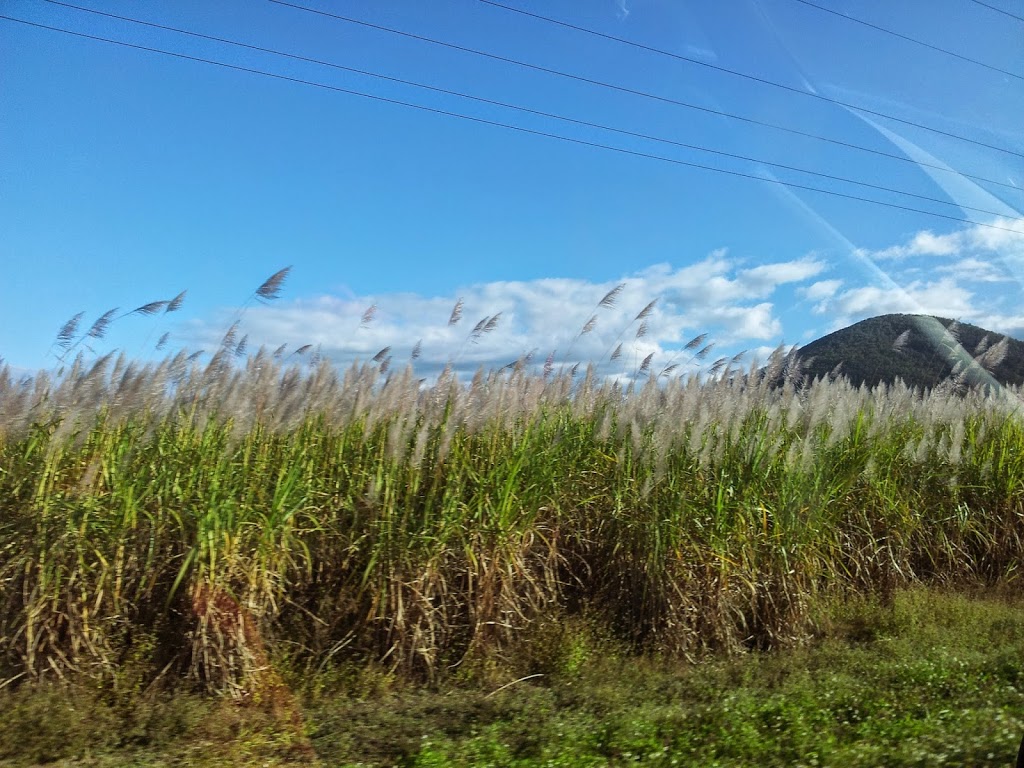 Sugar Cane fully ripe
It's amazing that much of the M1 coastal highway, the major north-south artery along the populous east coast from Sydney to Cairns, is still undivided two lane road. Especially north of Brisbane, you really have to be alert for cattle, kangaroos and oncoming tractor trailers! The plan is to complete a modern, four lane, limited access highway all the way to Cairns within the next 30 years. There is an enormous amount of construction going on. But it's a vivid reminder of just how young and vast this country really is.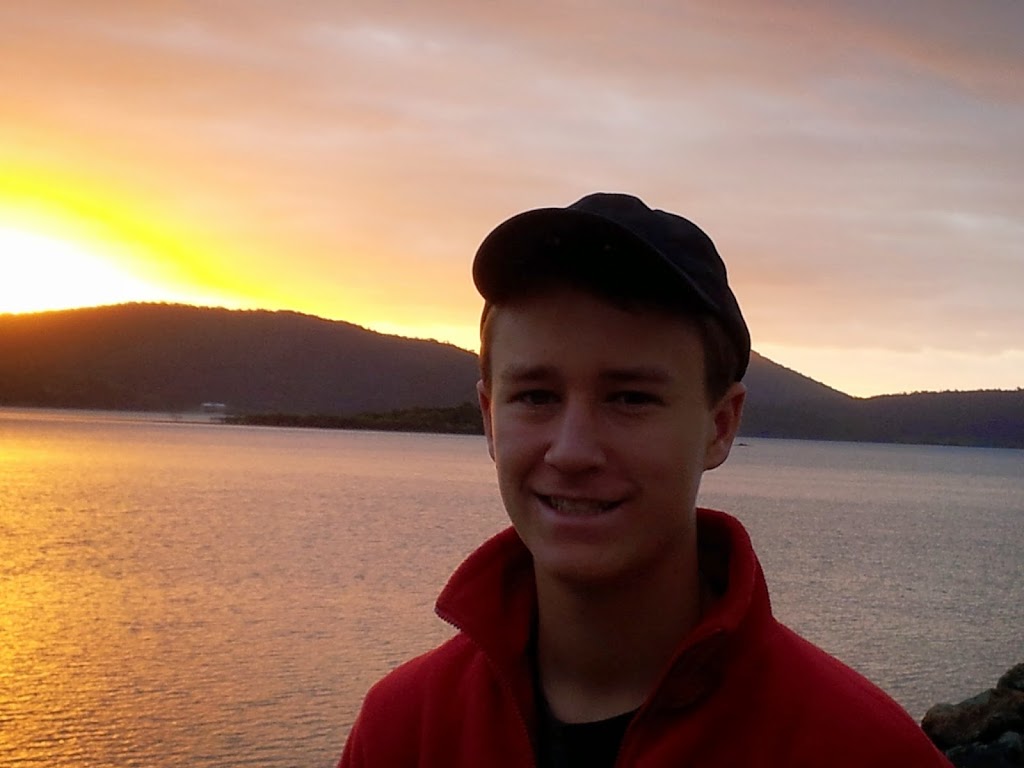 Luke at Airlie Beach
North of Rockhampton, the cattle ranges gradually give way to widespread sugar cane plantations. They grow, cut and harvest cane year-round up north, so you see vast fields at all stages of growth simultaneously. Small country towns can be located off in the distance by their distinctive sugar mill smokestacks. A different world than Brisbane!
Finally, we passed through the sugar capital of Australia, Mackay, and arrived at Airlie Beach, the jumping off point for the Whitsunday Islands. Although you are now about 1000 km north of Brisbane, you are still less than halfway up the coast to the northern tip at Cape York.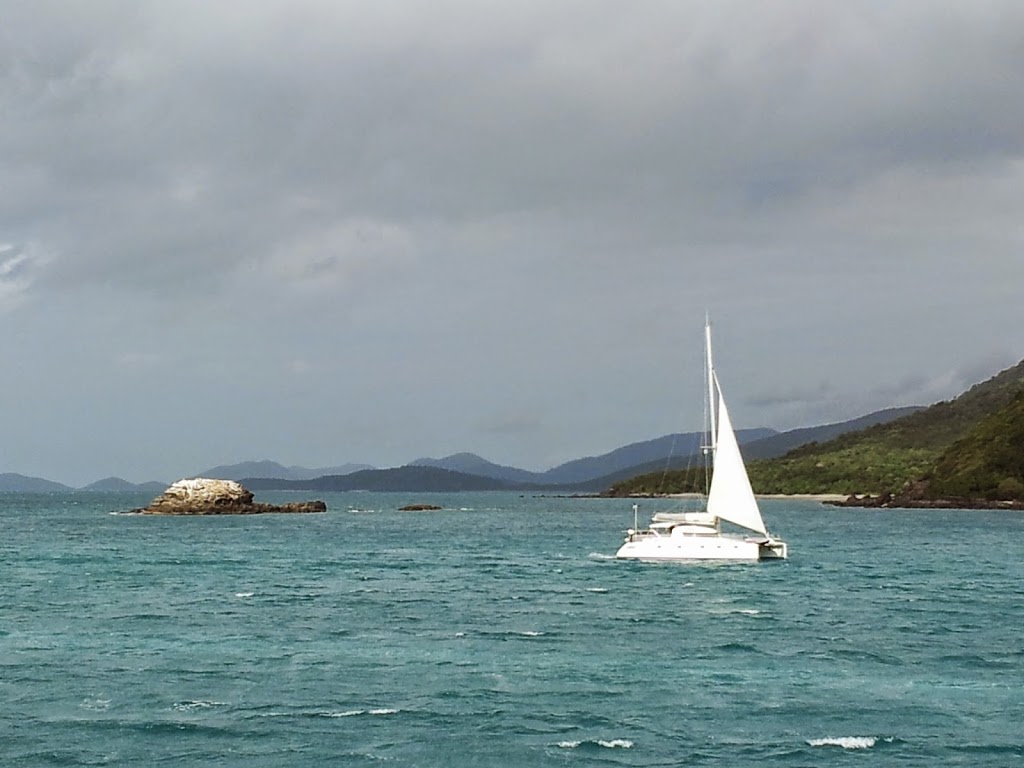 On the ferry to Hamilton Island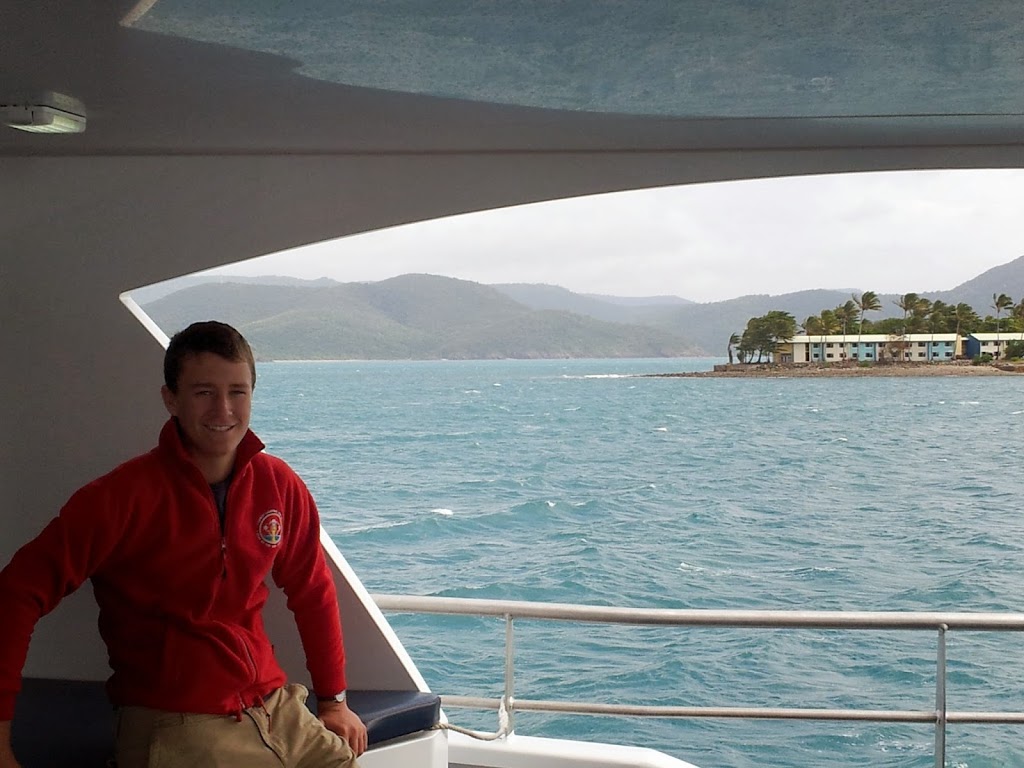 Passing Daydream Island
The 74 Whitsunday Islands are a major winter playground for Australians, and the international yachting fraternity. Only 6 islands have any development, the remainder are all protected as a National Park, and look very unchanged since Lt. James Cook named the passage he sailed through on Whitsunday (Pentecost Sunday) in 1770; during his epic voyage up the Australian east coast. The whole chain is protected by the Great Barrier Reef offshore, and the brisk SE breezes make for world class sailing through the complex archipelago.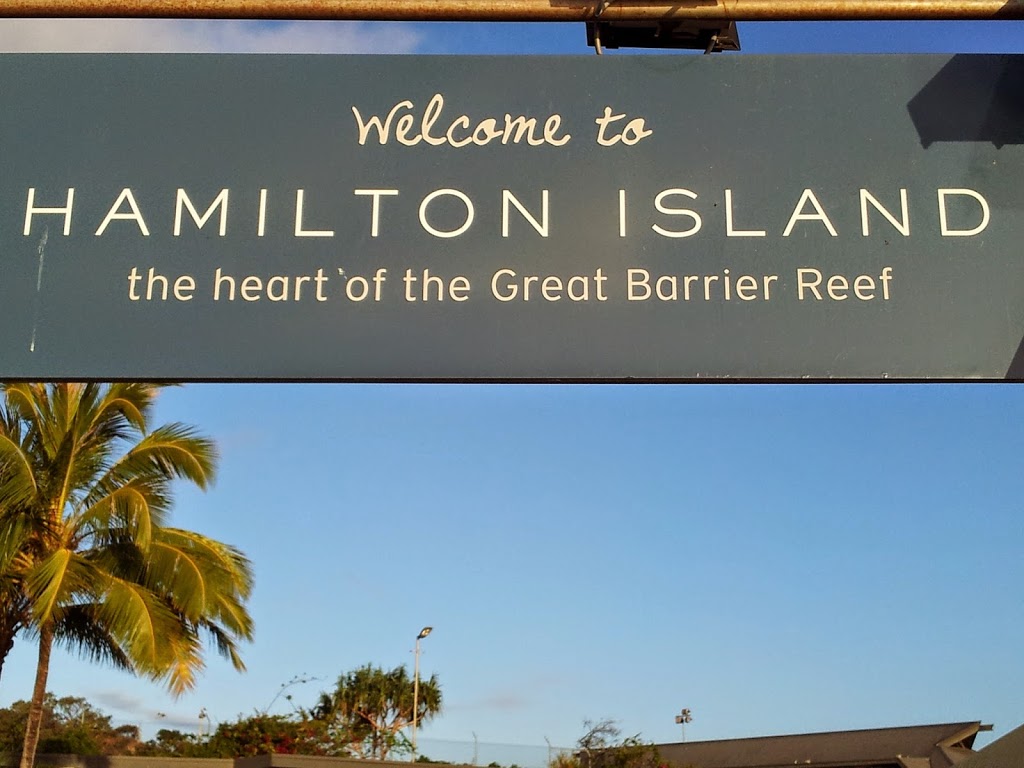 At last…Hammo!
The Nolan ladies, Catseye Beach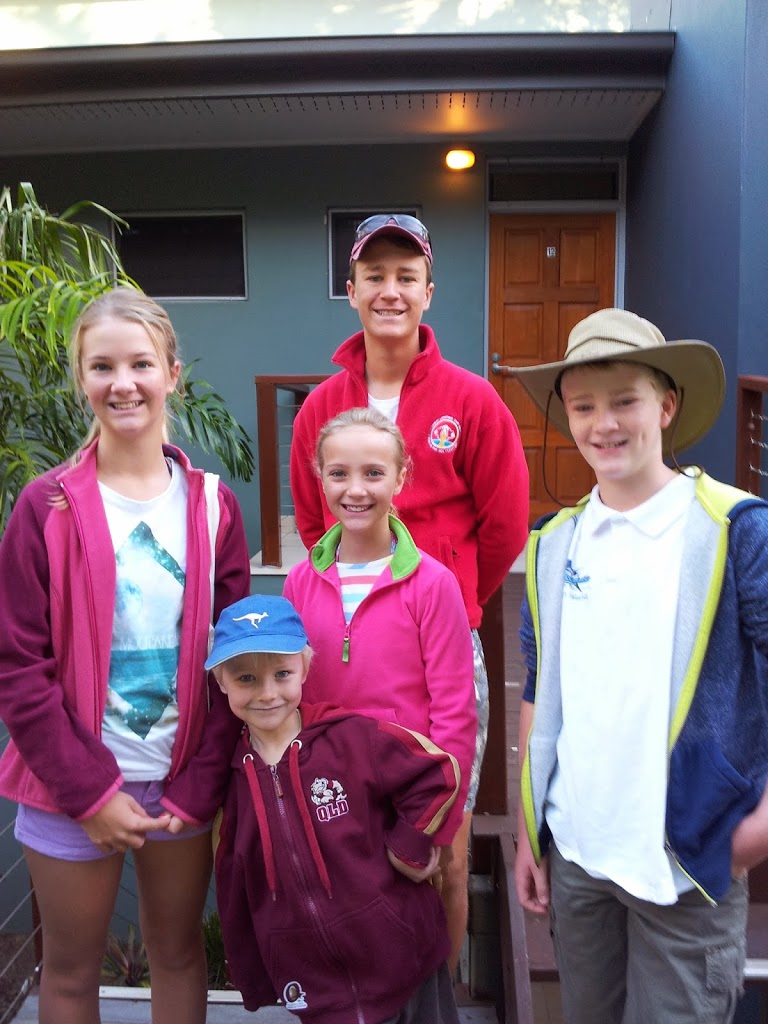 Outside of Blue Water Views Apts.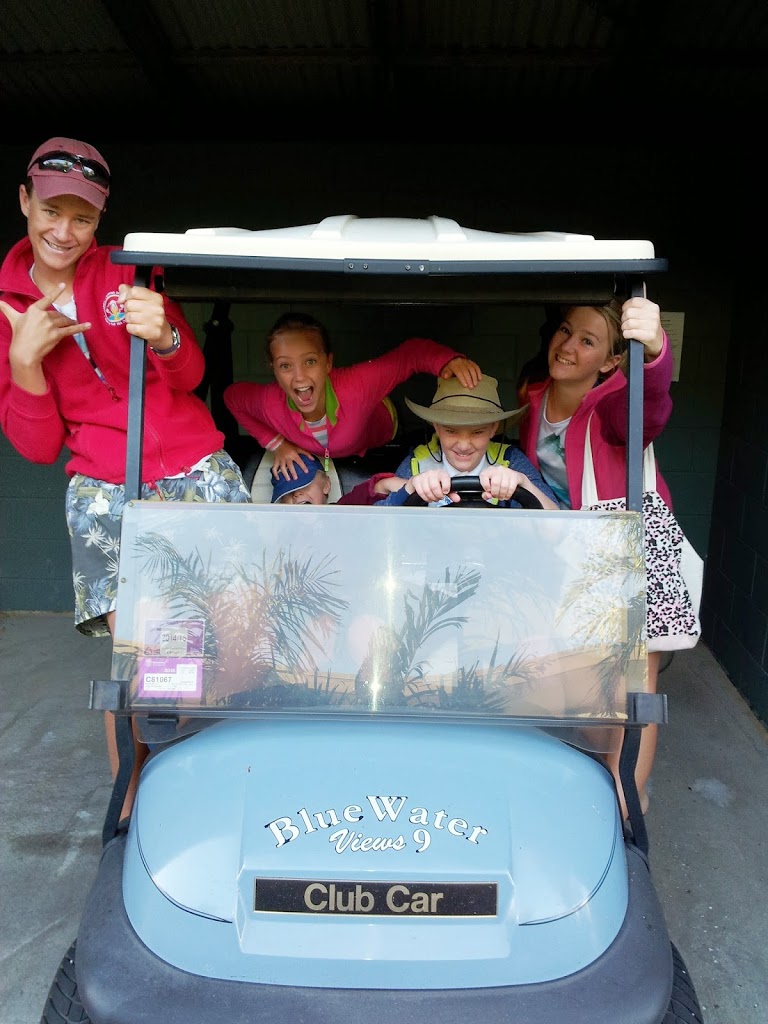 Student drivers!
Hamilton Island is the most well-known resort island, but even when fully booked out, only holds 10,000 people. Surprisingly, some pretty famous people have private homes out here including George Harrison and Angelina Jolie. We decided to rent a three bedroom condo for five nights, which came with a golf cart. No private cars are allowed on the island, which maintains a pretty relaxed vibe. The other great thing about getting a condo is that you have a full kitchen, so you can self-cater and not have to go out for every meal.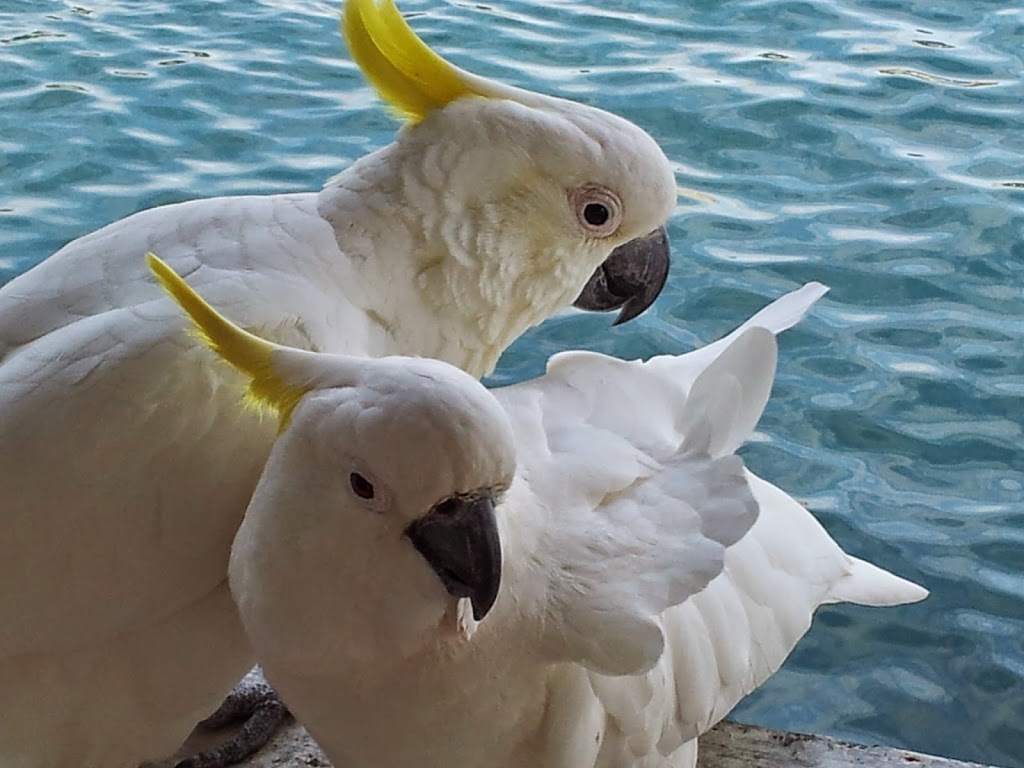 Local, wild Sulphur-Crested Cockatoos
The boys ad I fished nightly on a local pier, catching a variety of colorful reef fish…All released unharmed.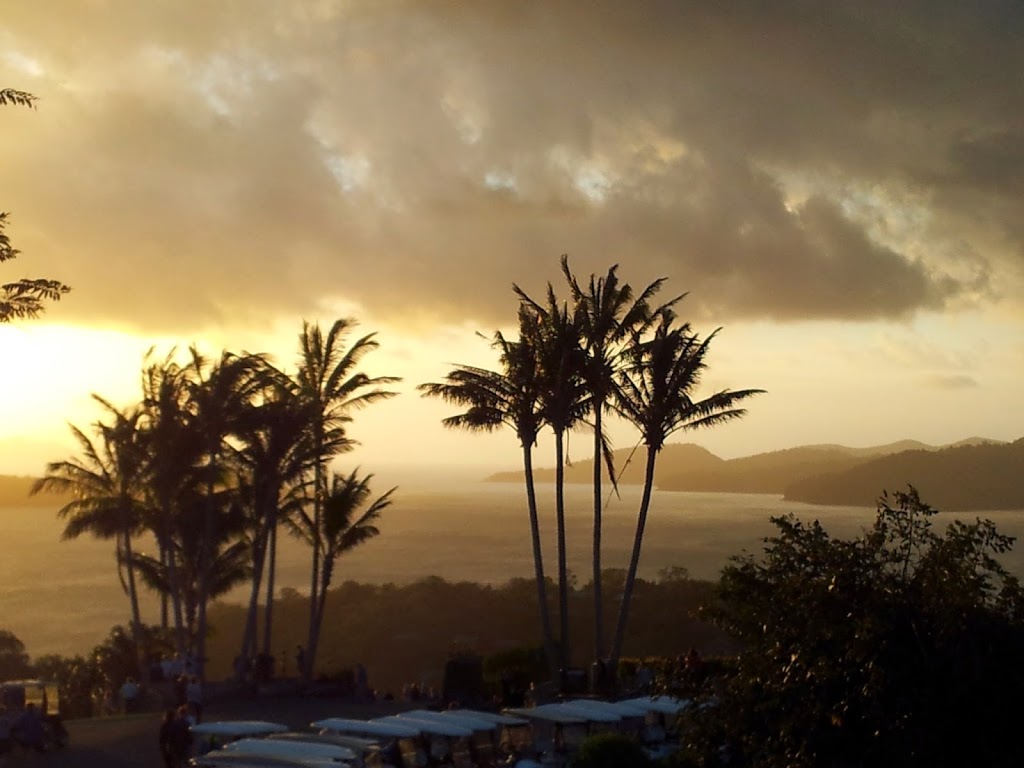 One Tree Hill : Sunset over Whitsunday Passage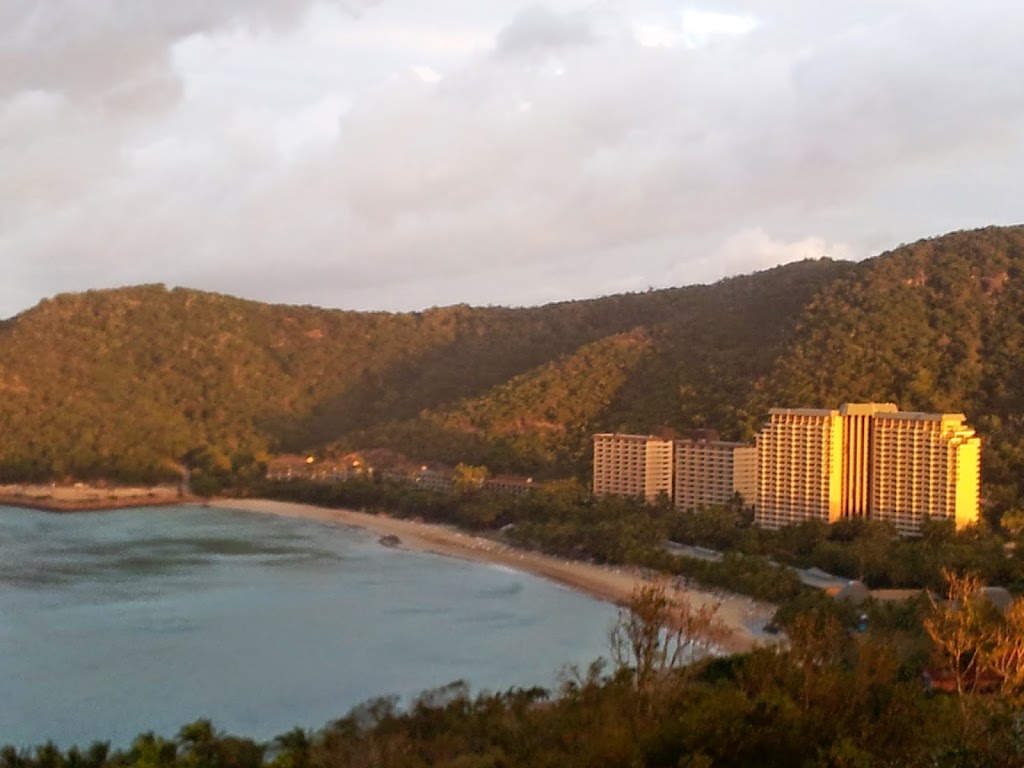 Resort Hotels on Catseye Beach
One area of the island contains the hotels. As a single company manages the entire island, you have access to all the hotel pools and facilities if you rent a condo, which are in a much more private area. So a win all around!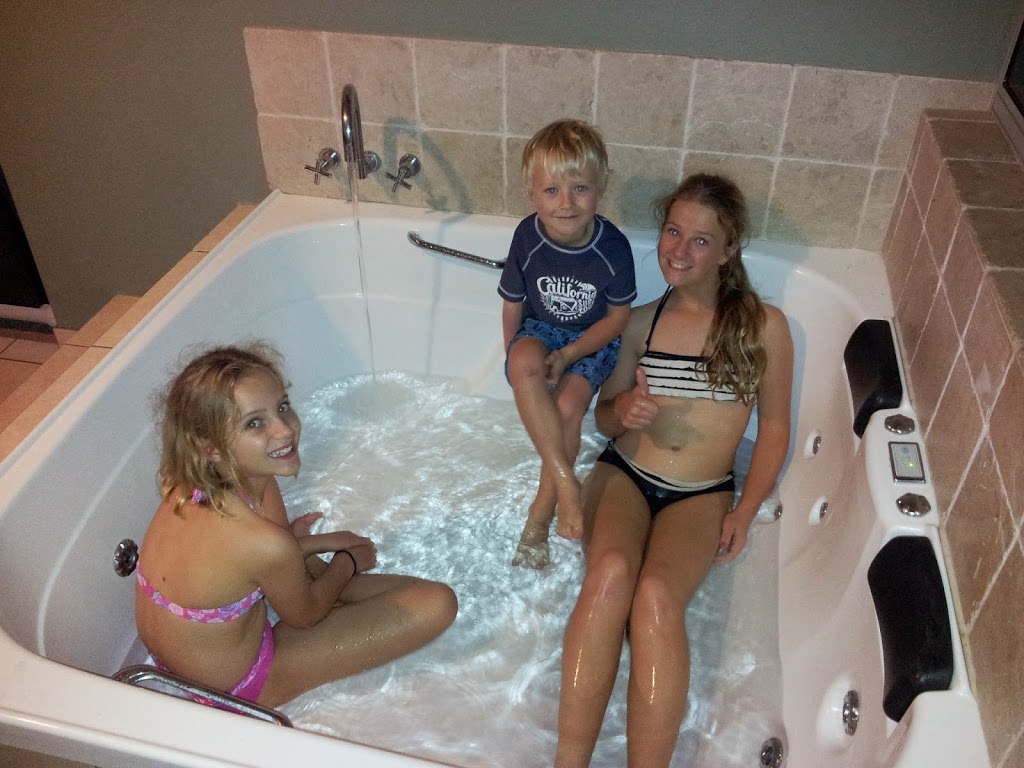 And a hot tub on the deck too!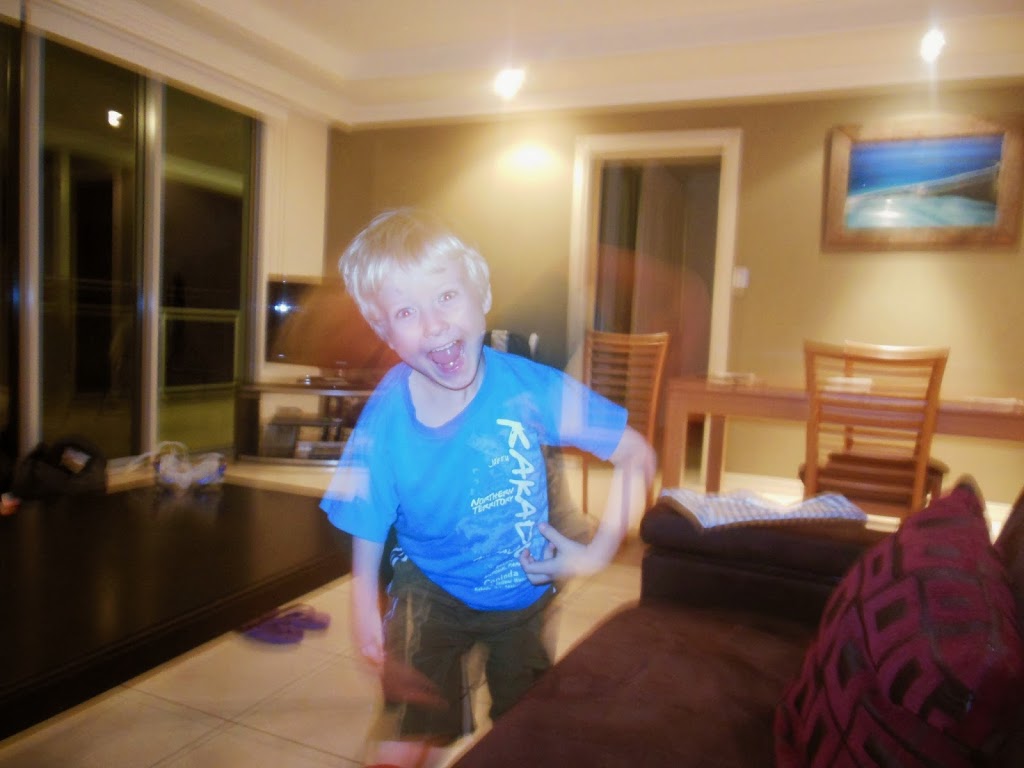 Owen?…..A ghost,…a mirage? A really bad hangover…?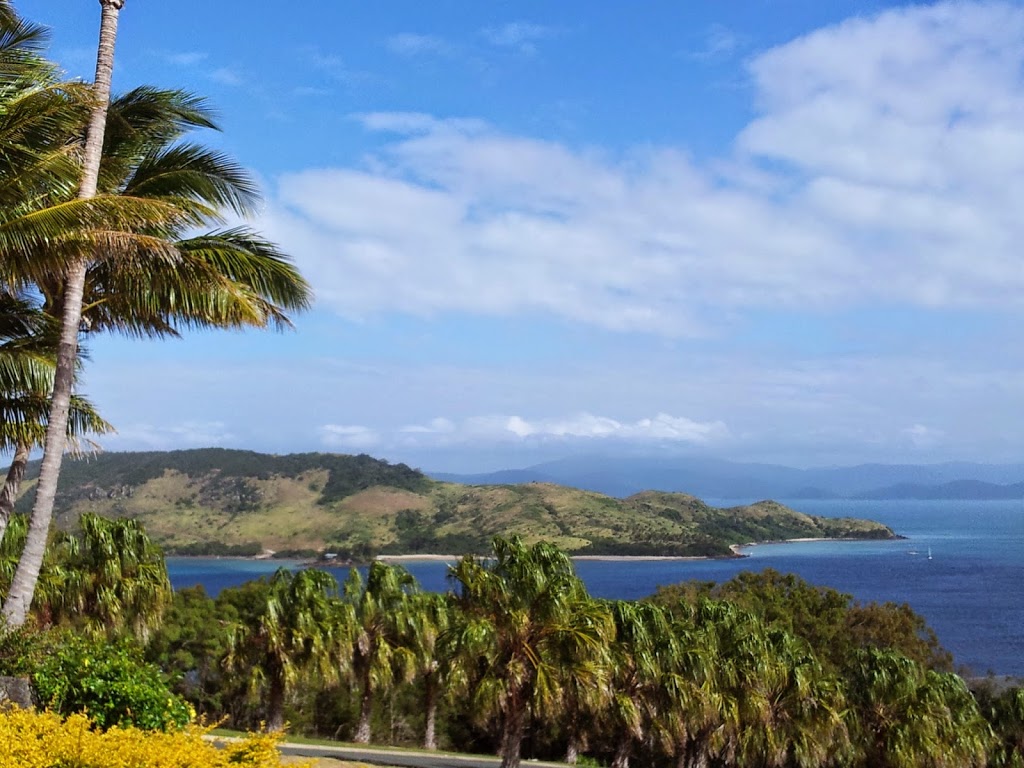 Dent Island from One Tree Hill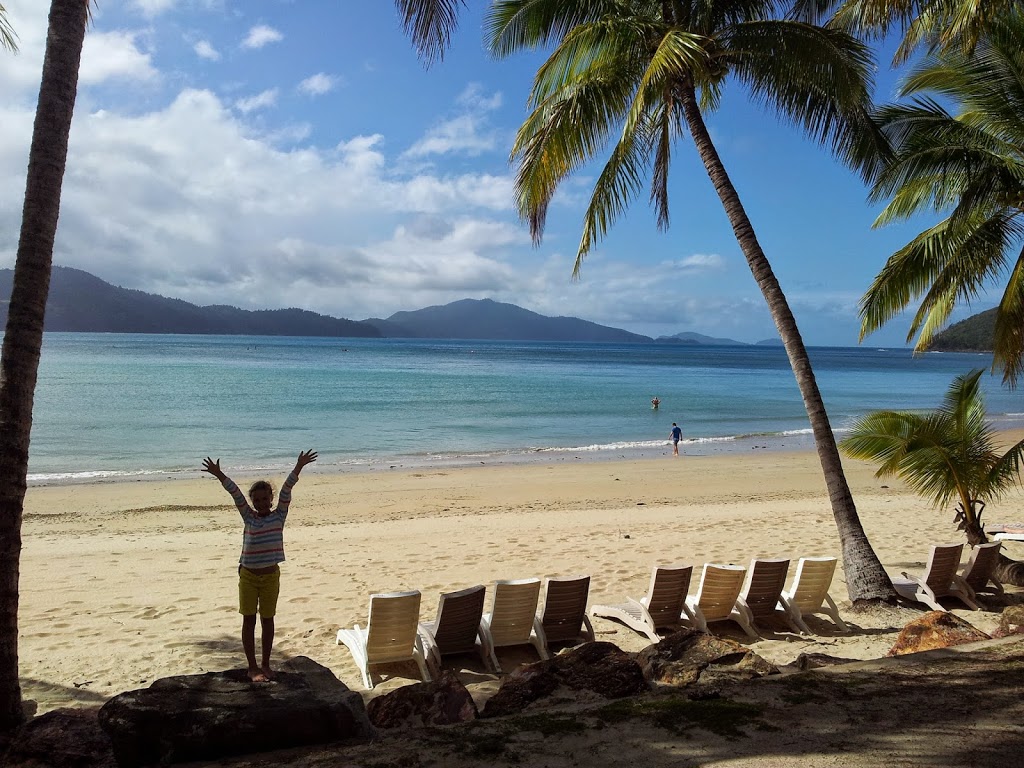 Catseye Cate…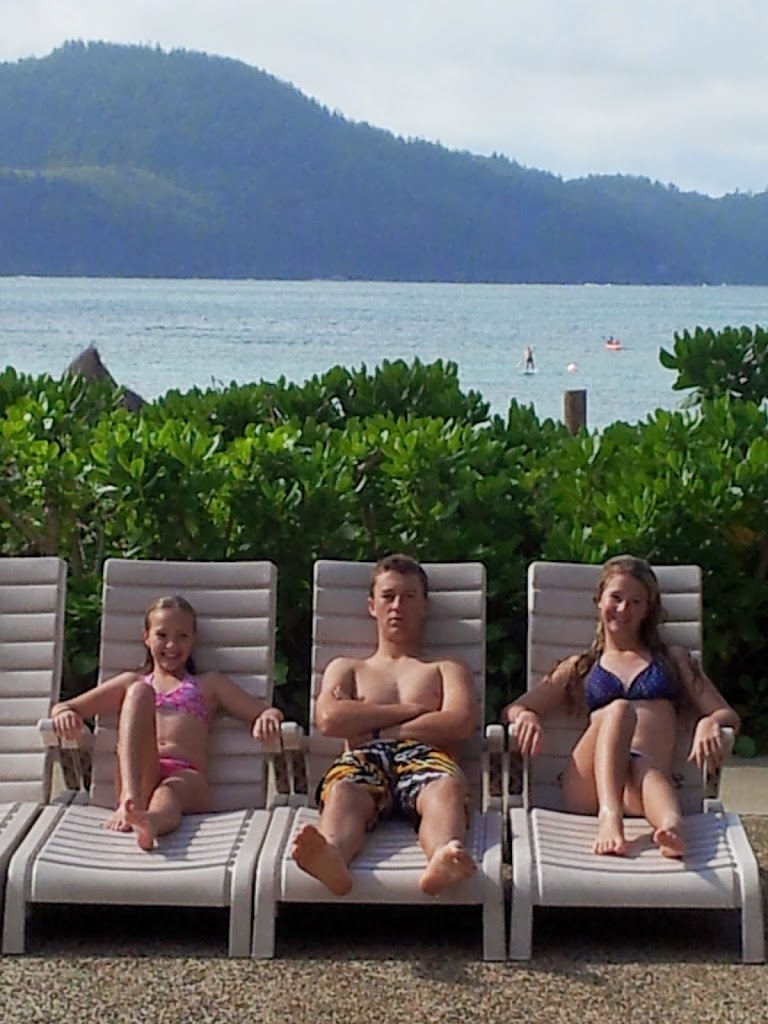 Cool teens… stylin'…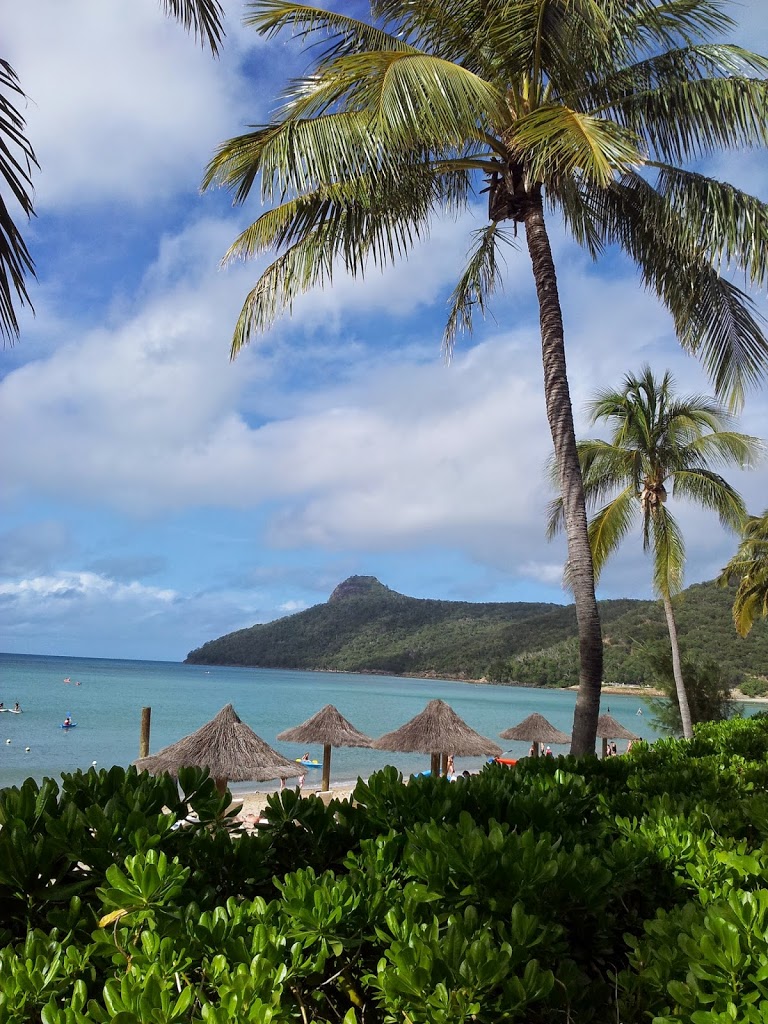 Passage Peak from Catseye Beach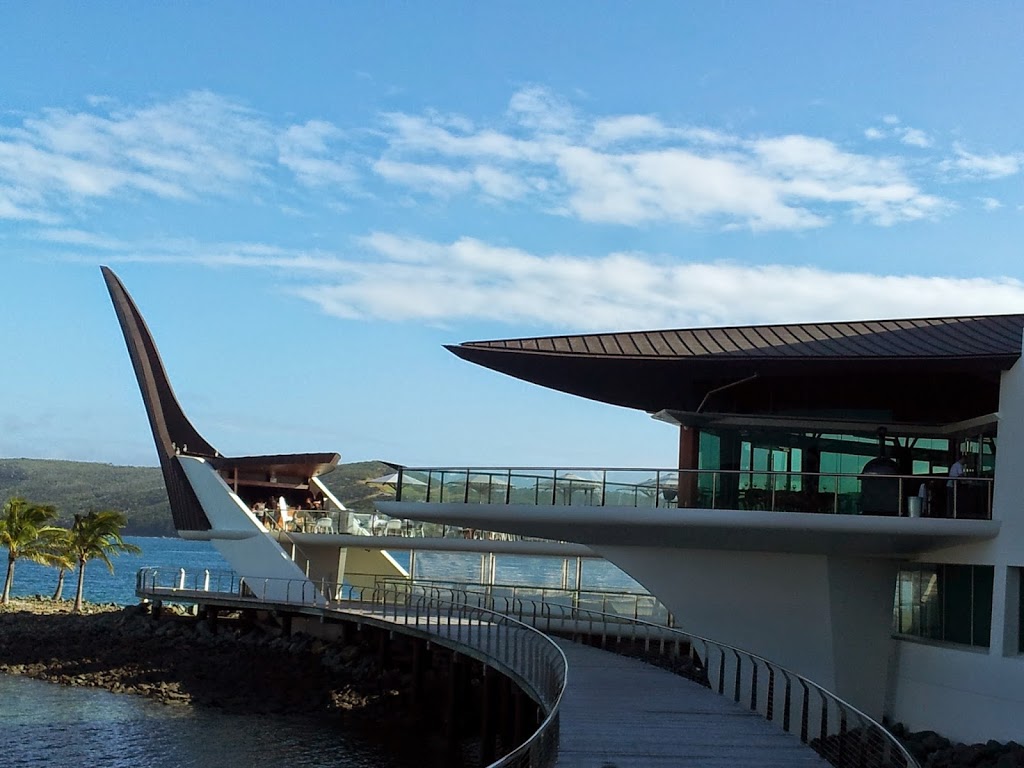 Hamilton Island Yacht Club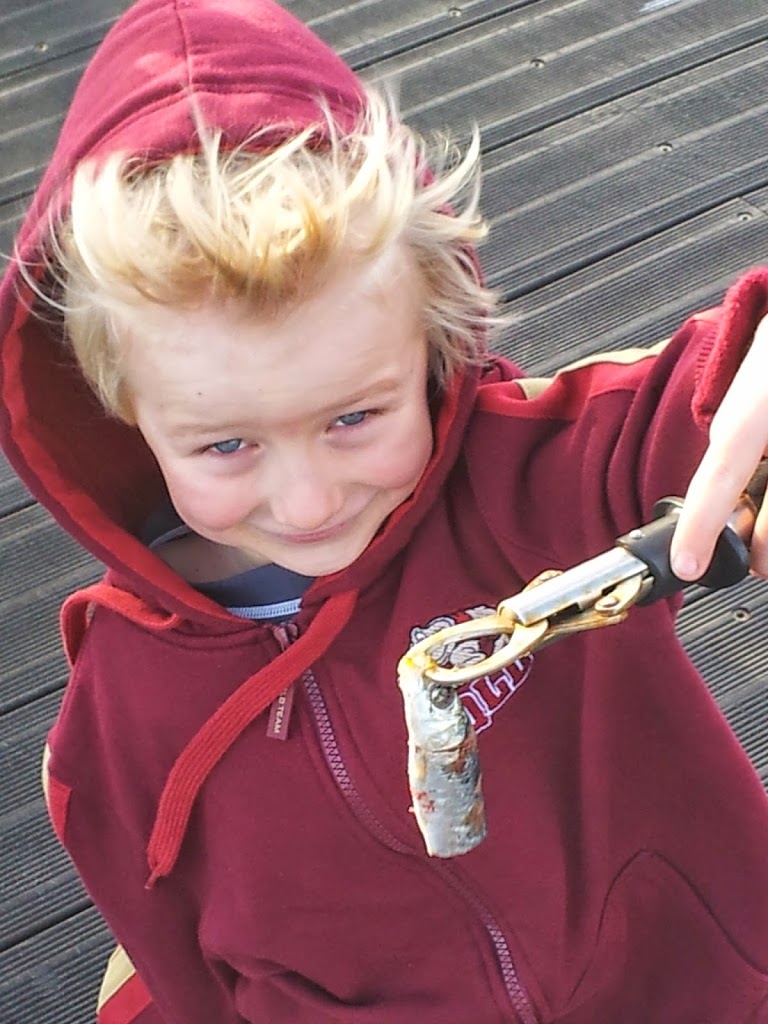 The bait boy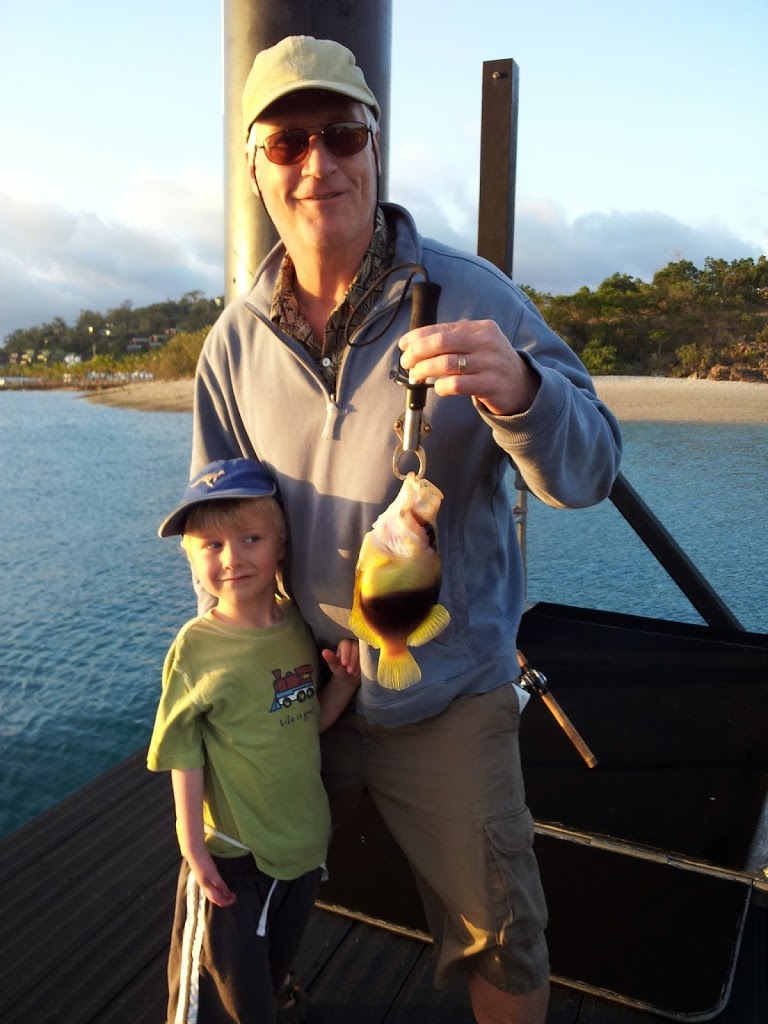 Uhhmm…Dad…
A reef jewel!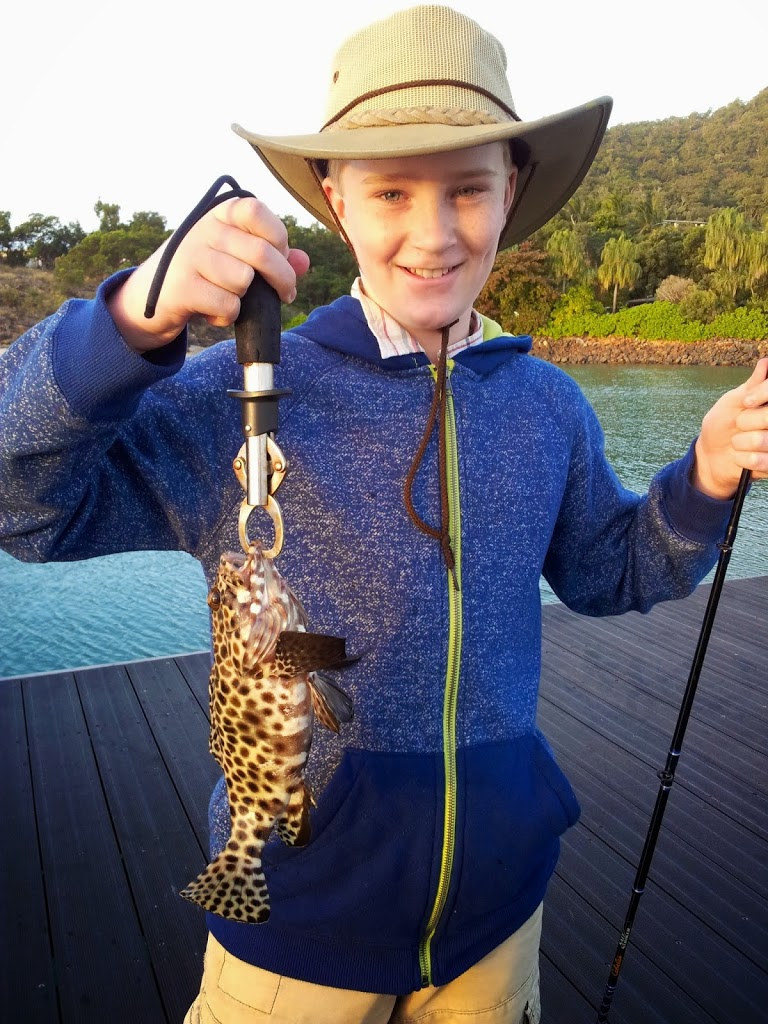 A nice grouper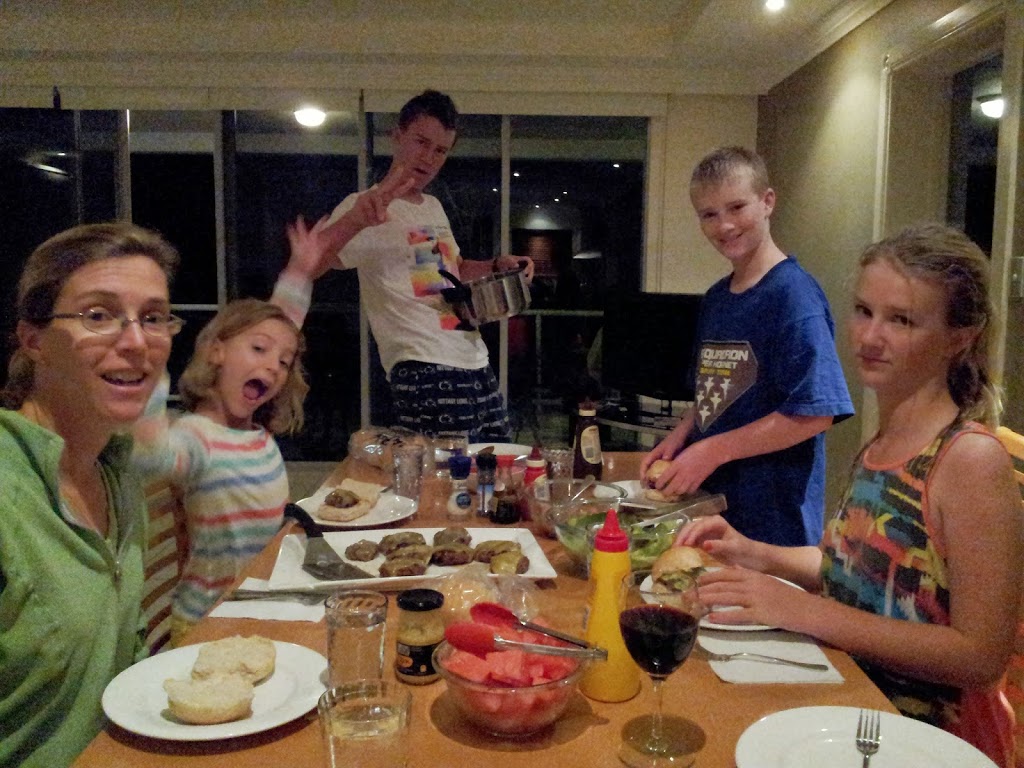 The Fourth of July BBQ
Hamilton Island is 70% undeveloped National Park, so there are some really great hikes right out the door. We took all the kids on the 6 km hike up Passage Peak. The views were stunning.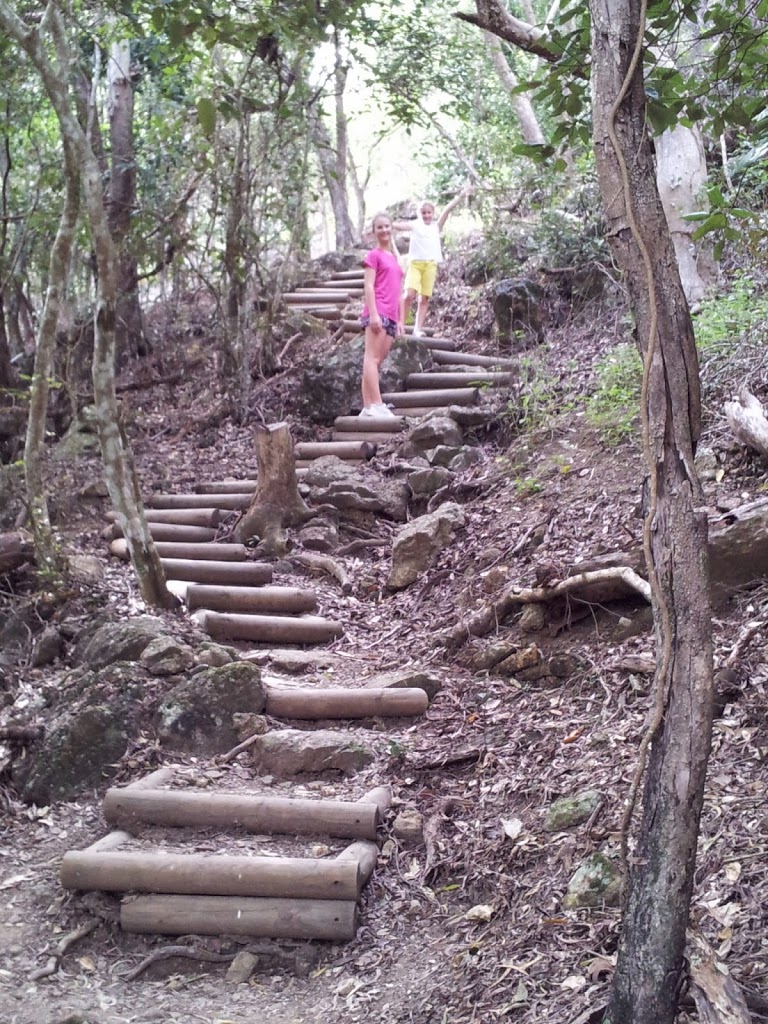 Cardio Challenge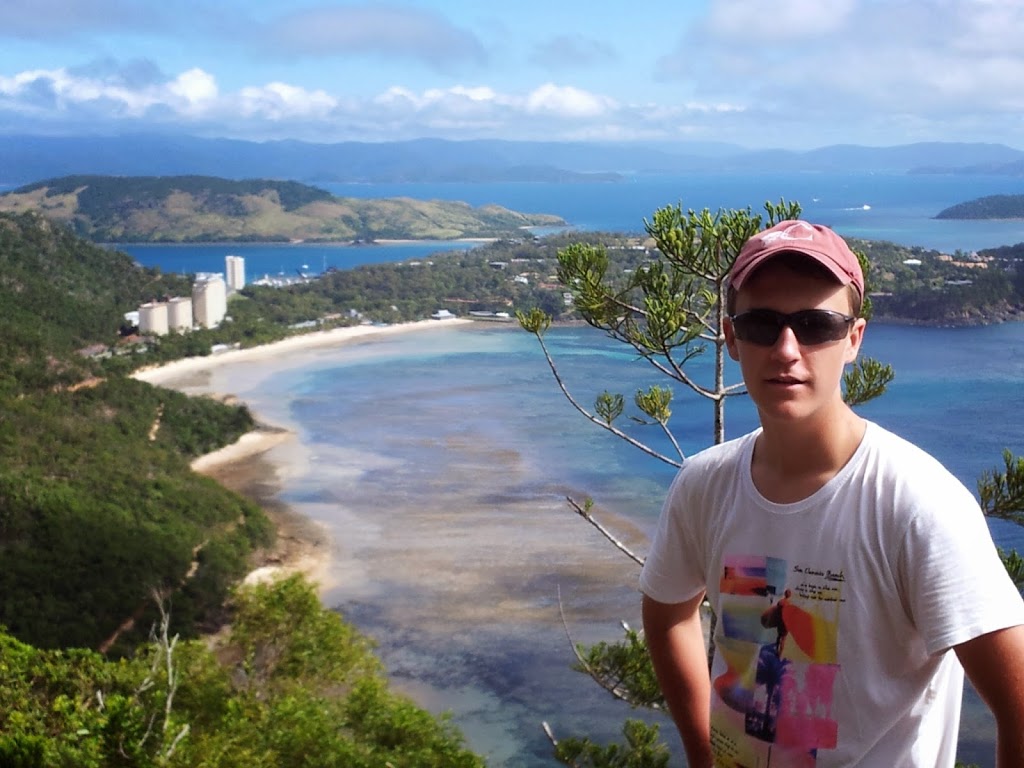 Looking down on the resorts below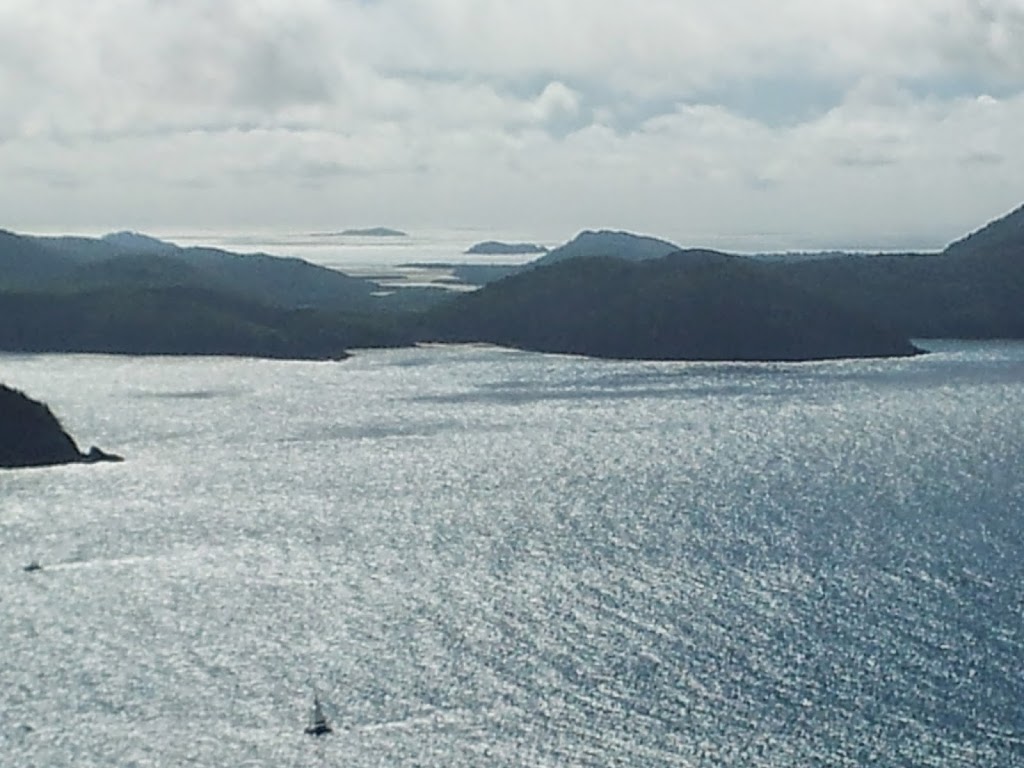 A silver-blue dream, Whitsunday Island beyond…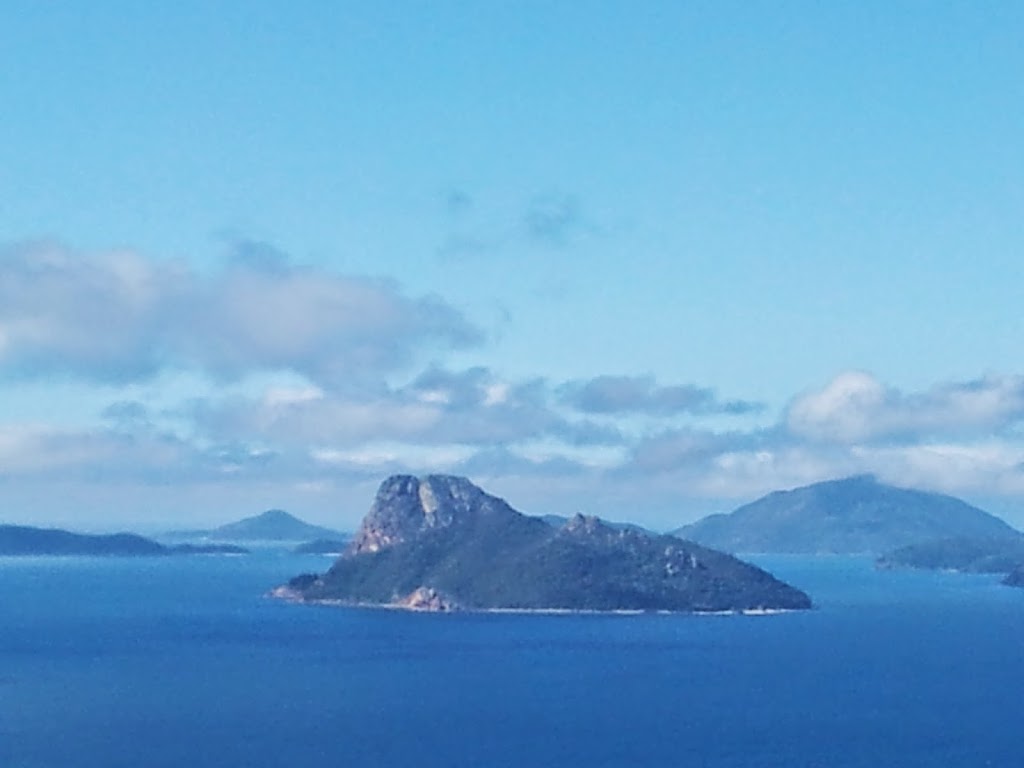 Pentecost Island
TheWhitsundays are surprisingly mountainous. This is because the entire region is an ancient flooded coastline. The rising seas now surround the once coastal mountain ranges.
With it's rocky ledges and Pine Trees, at times it feels, strangely enough, like Coastal Maine or Blue Mountain Lake in the Adirondacks…But then a parrot flies by overhead…so….not really…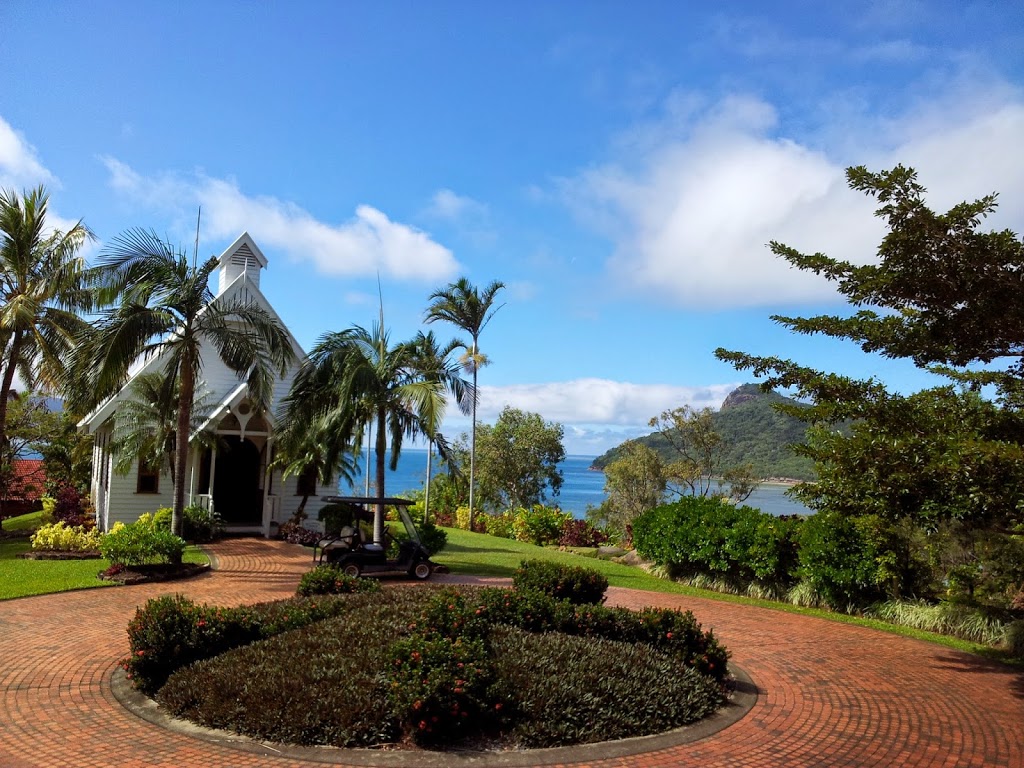 Island Chapel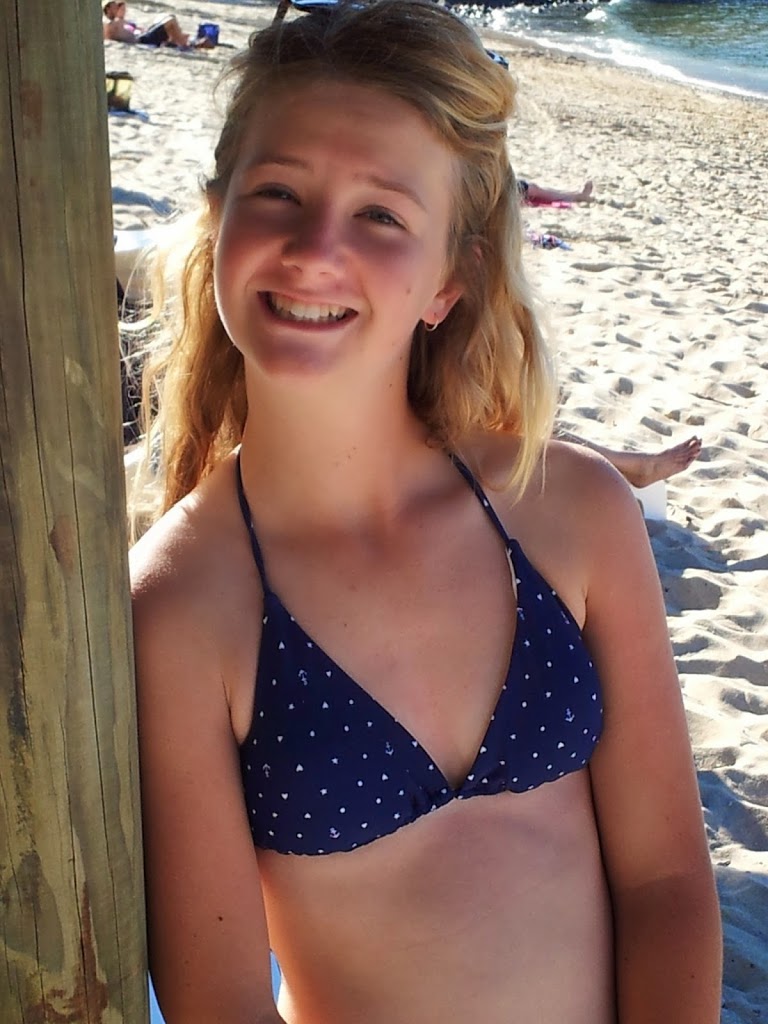 Claire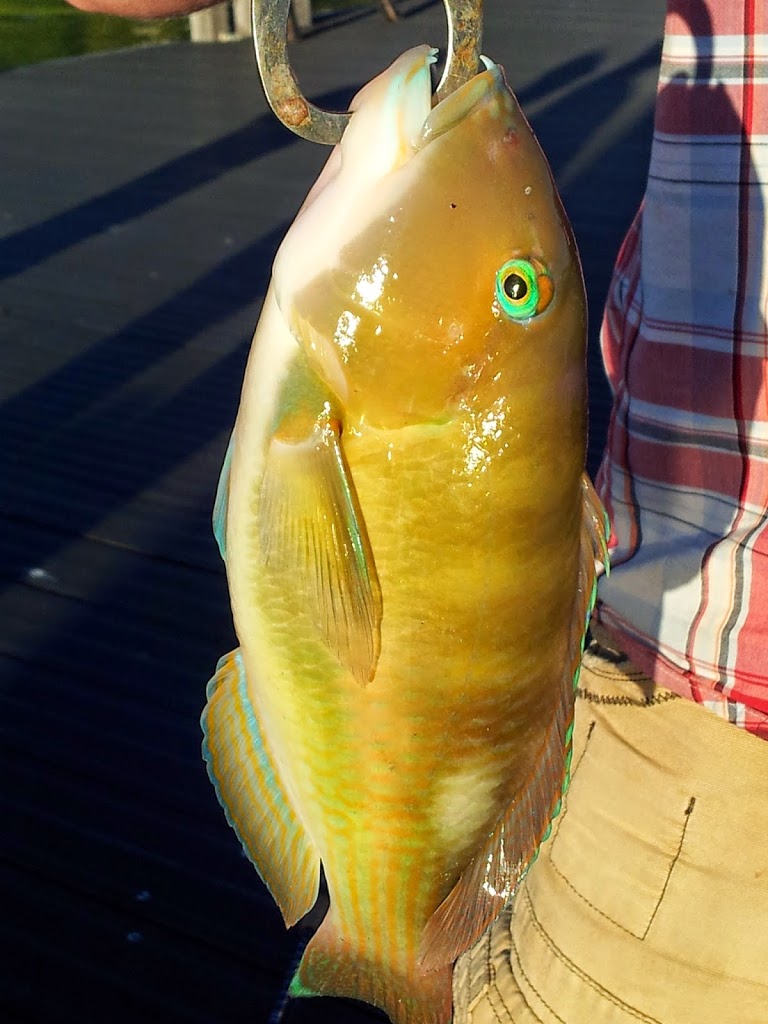 Parrotfish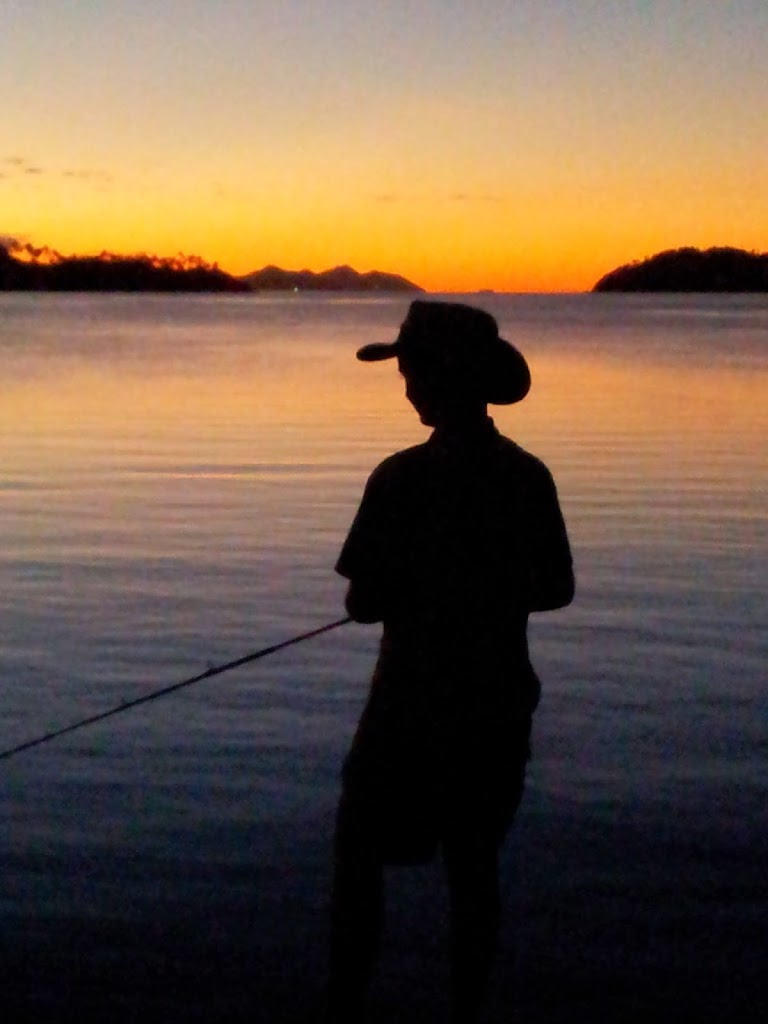 Waiting on a bite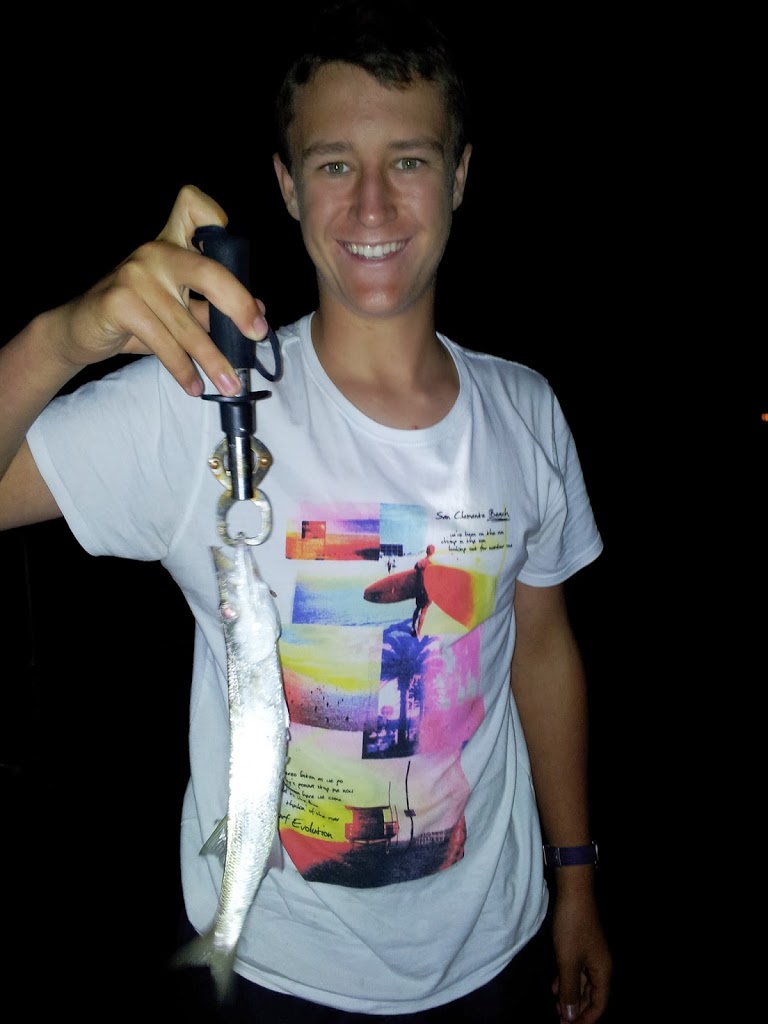 Yellow-tailed Pike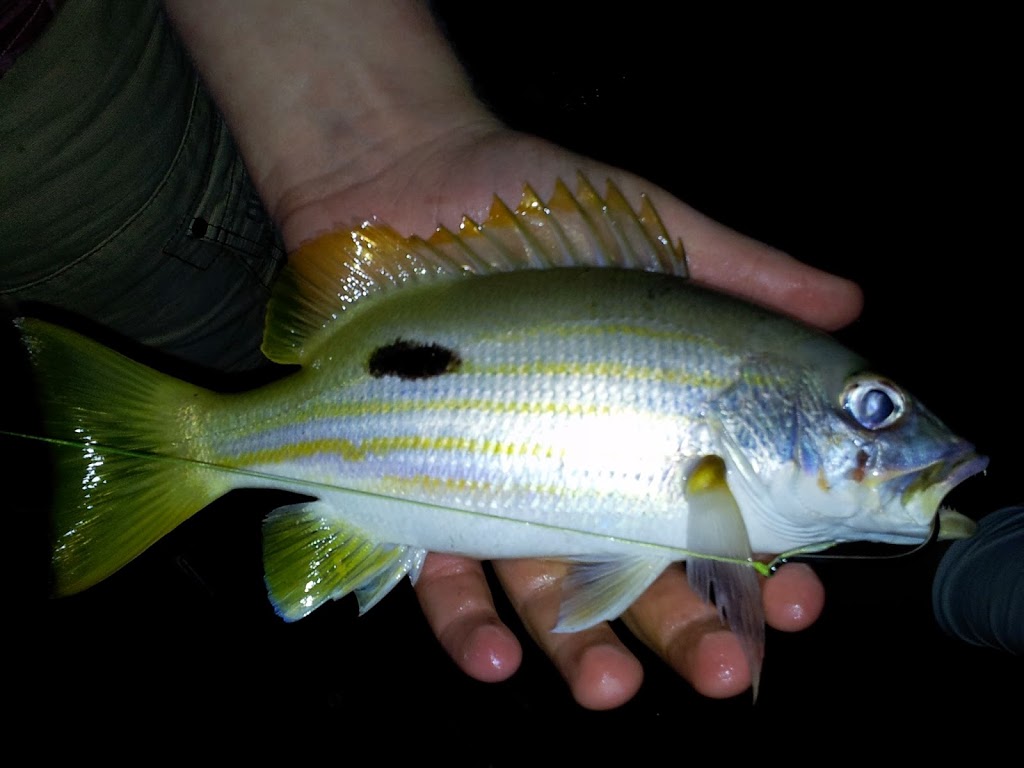 Moses Perch
Wedding Fireworks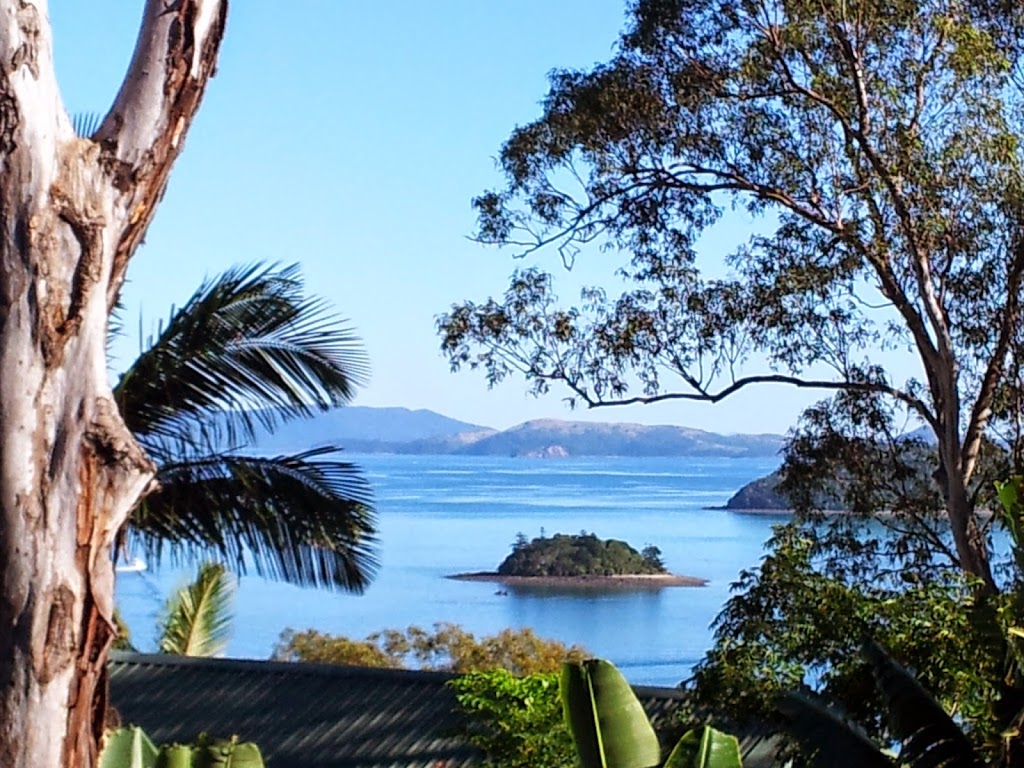 Morning view from Blue Water Views
We took the girls over to the Dent Island Golf Club for a tour and lunch. Build by the Oatley family, famous wine makers, for 45 million dollars, it might someday break even. But it's a stunning course on an otherwise uninhabited island. Highly recommended.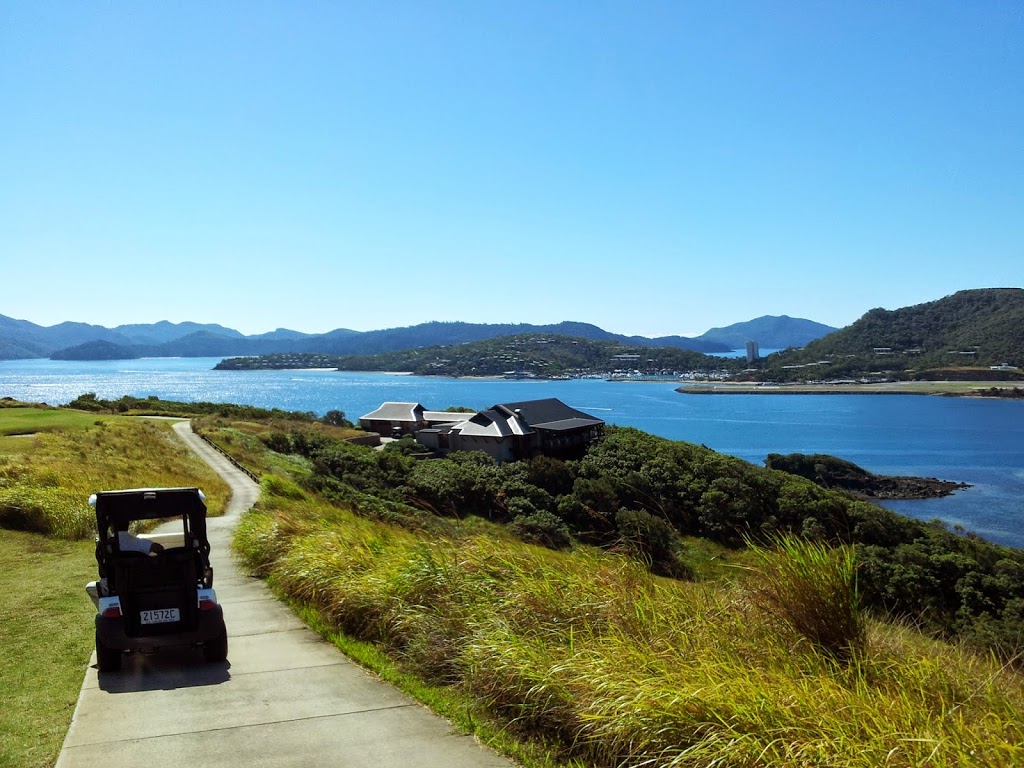 Looking over the Club House to Hamilton Island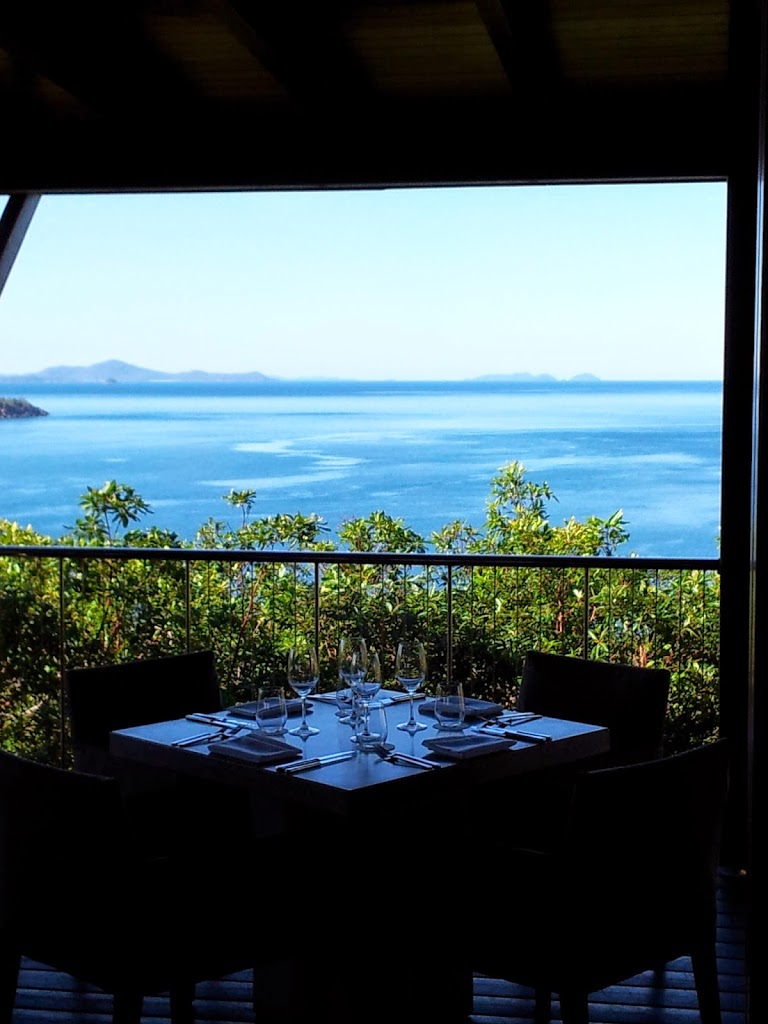 A stunning setting for lunch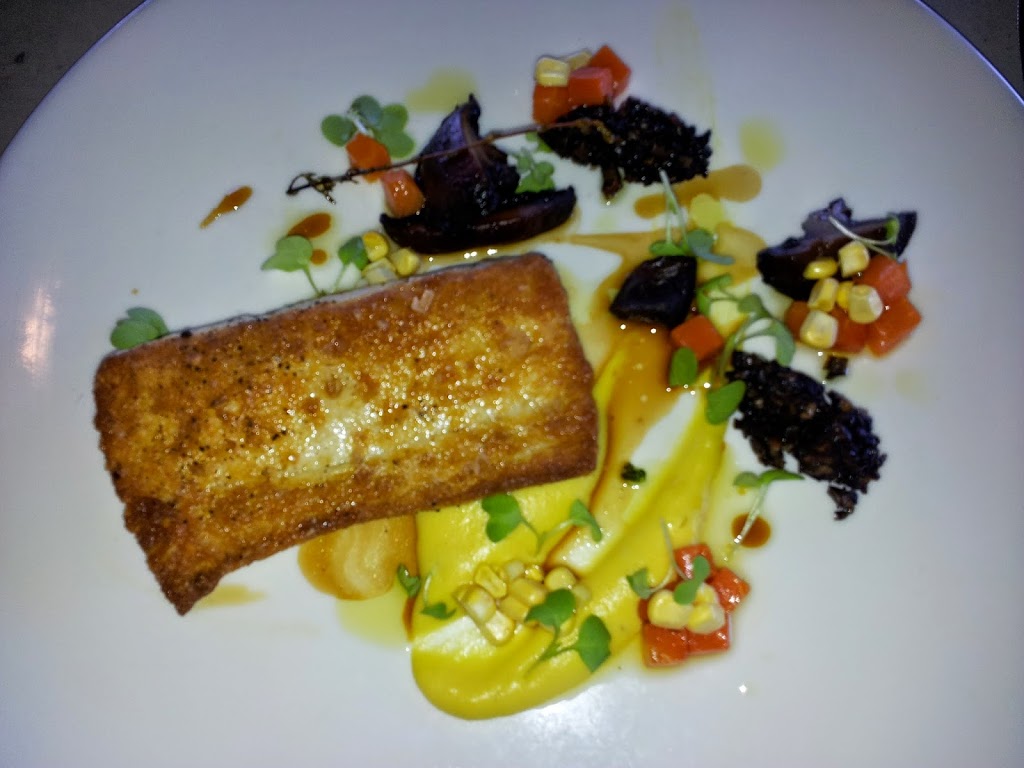 Local Spanish Mackerel, superb!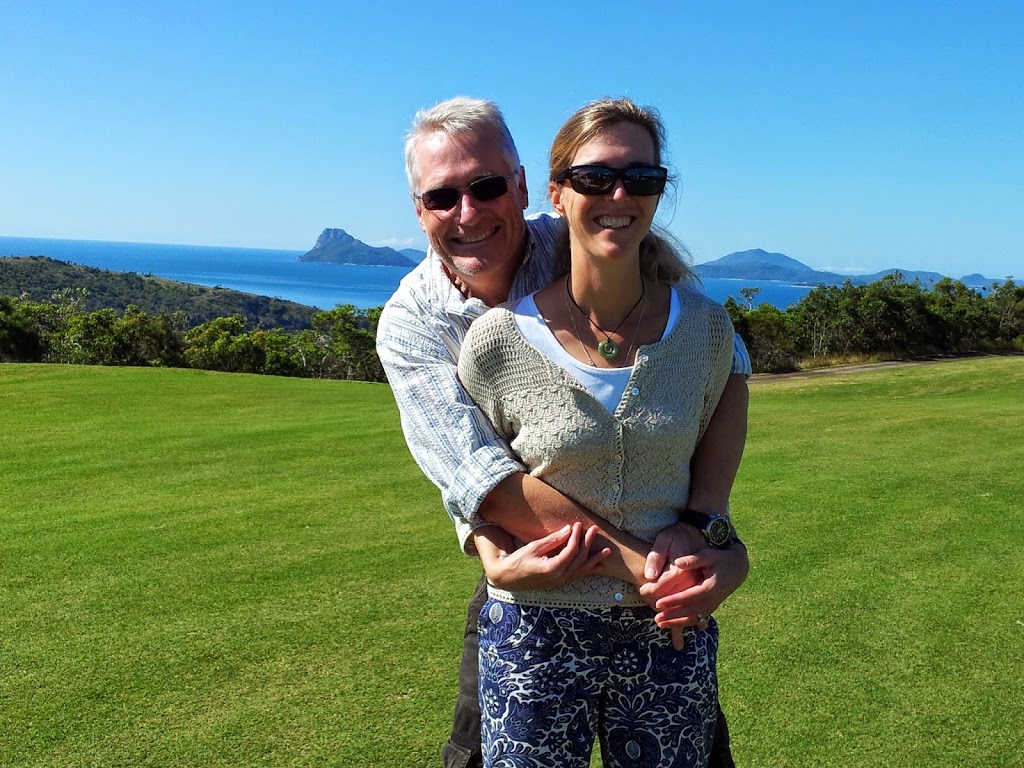 Gettin' frisky!
The Nolan Men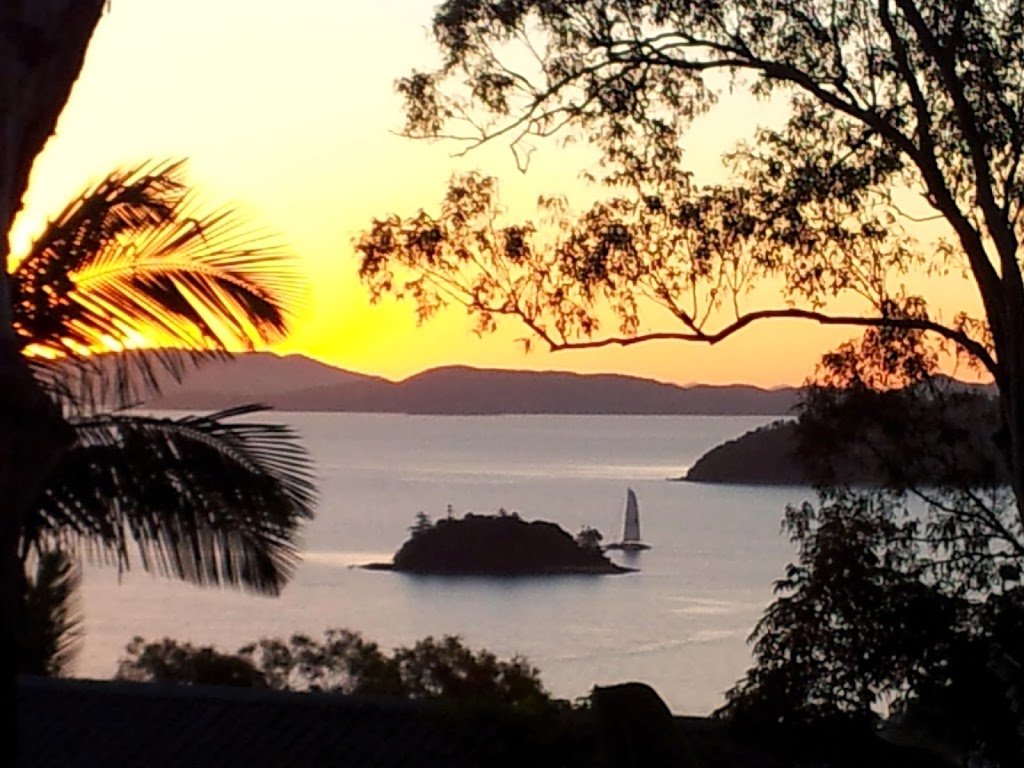 Sunset dream over Whitsunday Passage
One Tree Hill
The next morning, it was the boy's turn. Fishing charter out around the outer islands. The Spanish Mackerel were running strong and our hopes were high.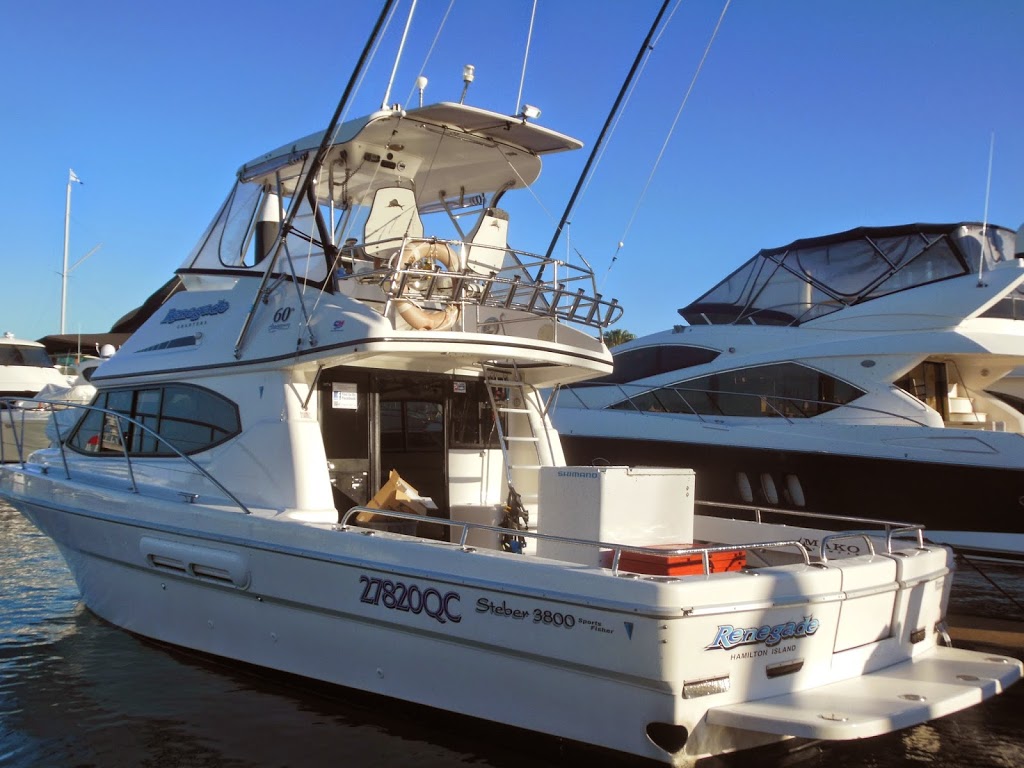 Renegade Fishing Charters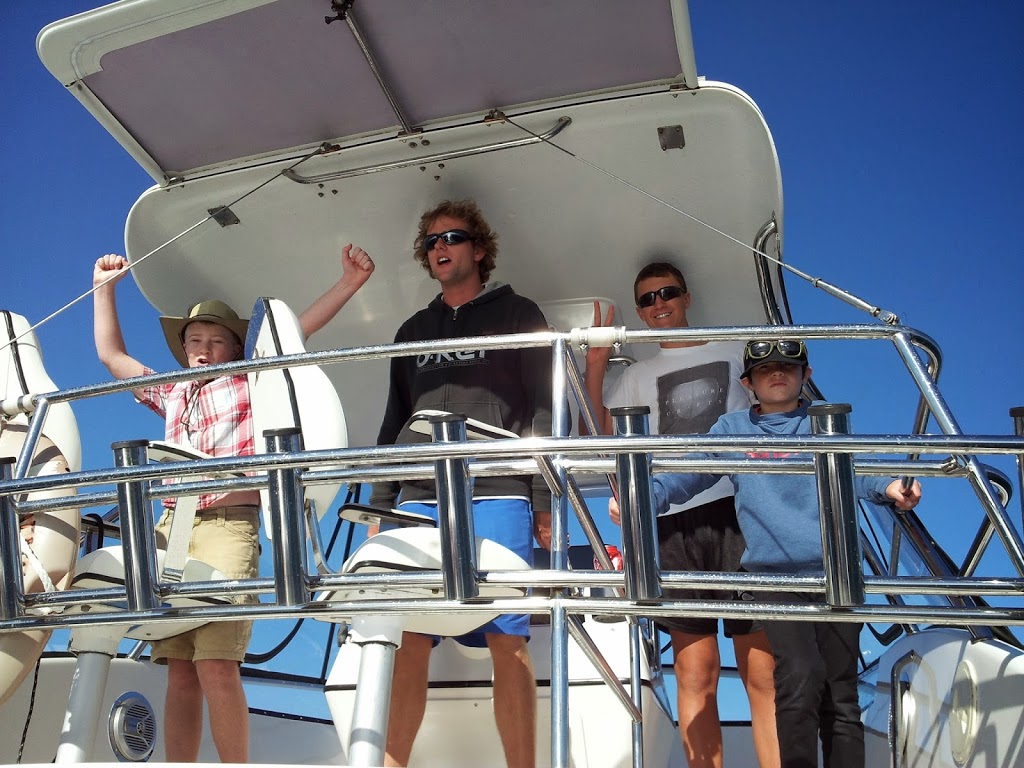 Up on the bridge, Psyched!!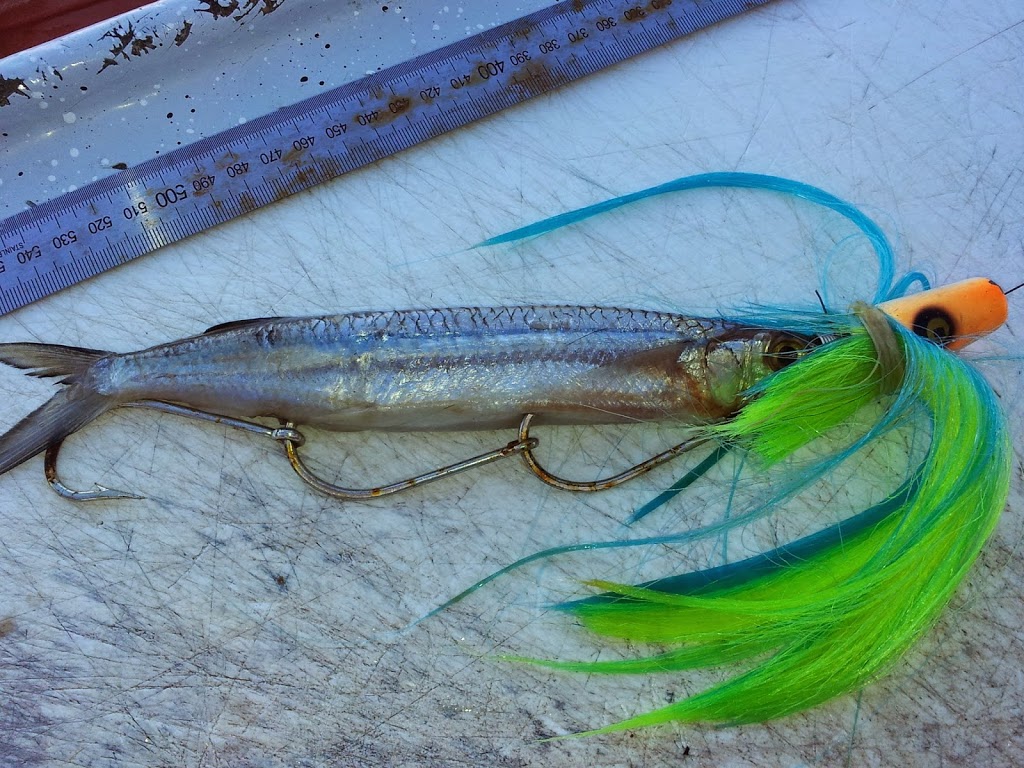 Interesting trolling rig, it has to be perfect
Unfortunately, though there were fish on the depth finder, they had plenty of real food and weren't hitting, so we switched over to bottom gear for some reef fish. The next day, the same boat landed 15 Spanish Mackerel! But that's fishing… you've gotta get out there to have any chance at all!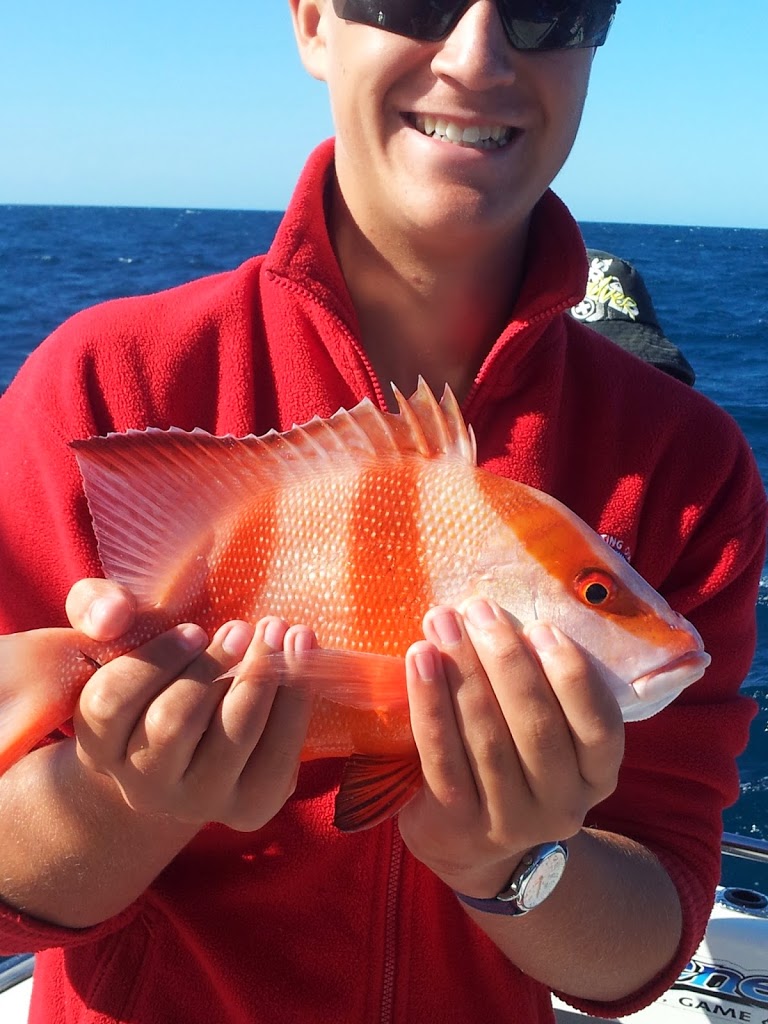 A small Red Emperor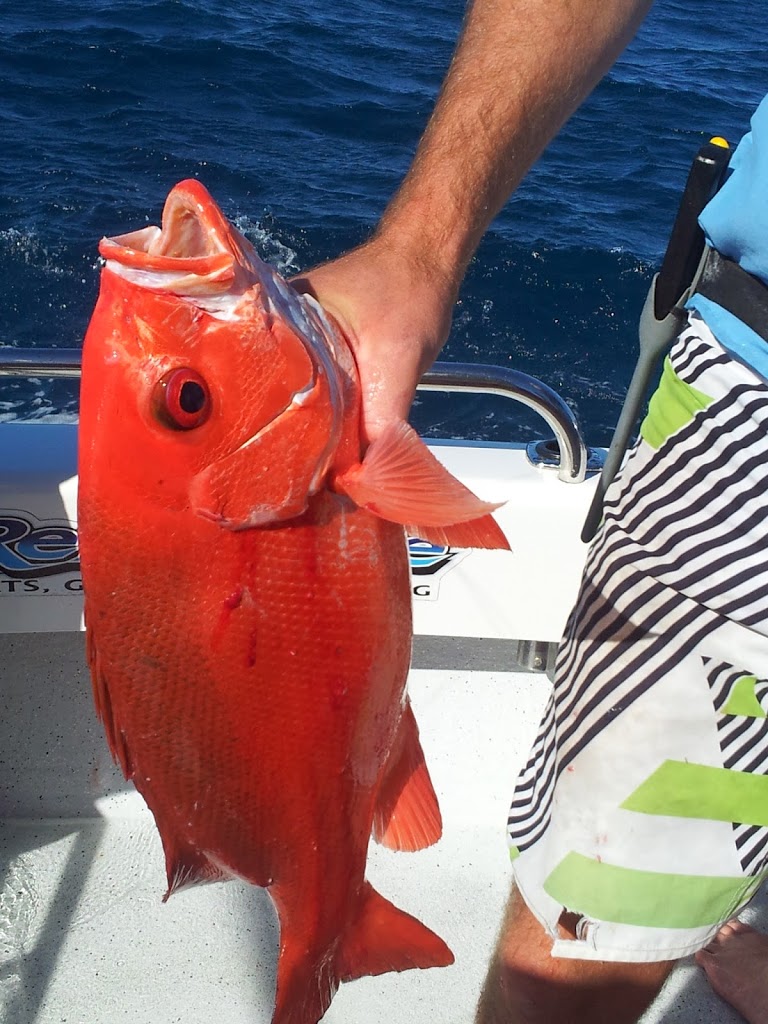 A nice Nanigai or Scarlet Perch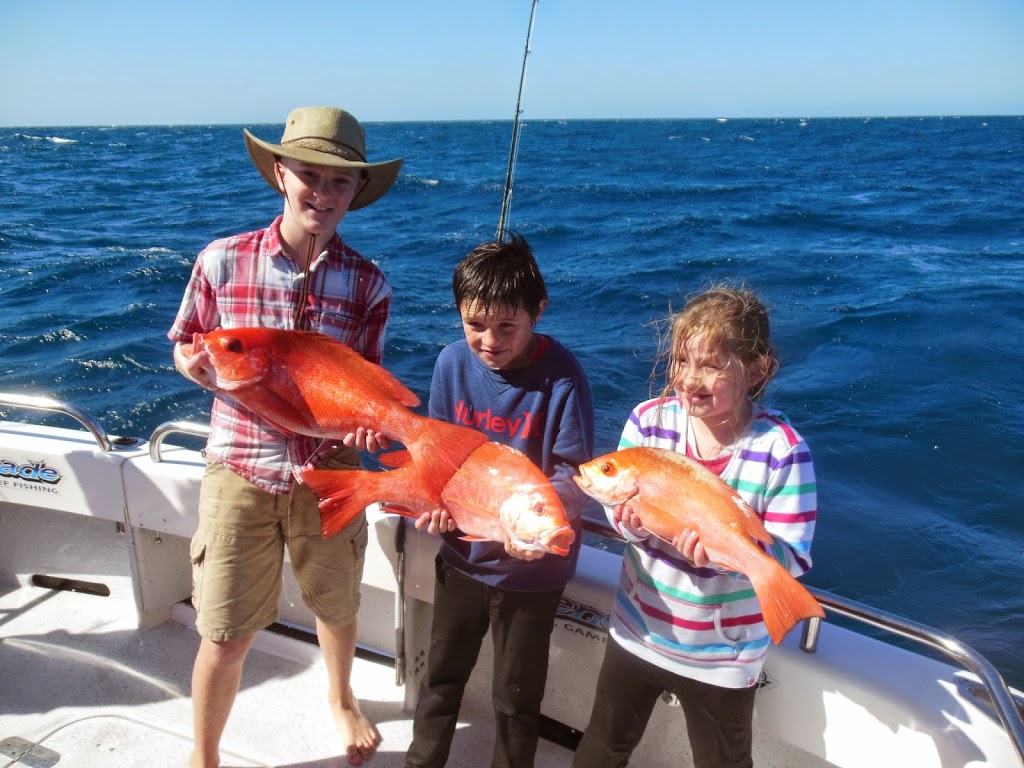 A nice catch of Nanigai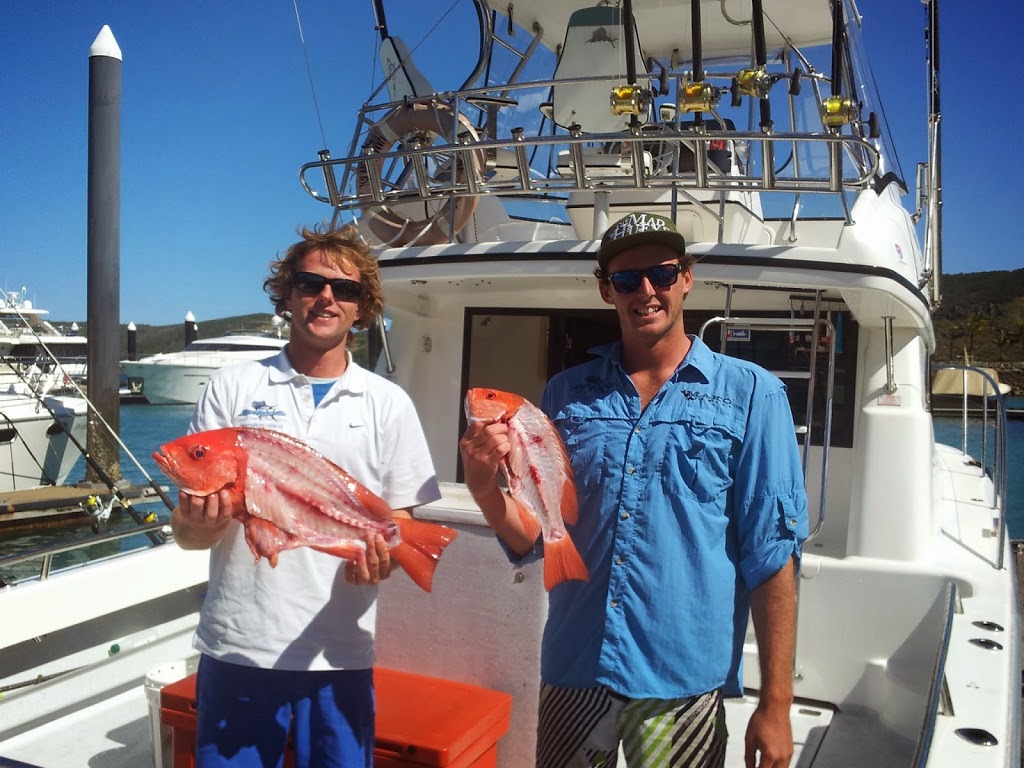 Renegade crew dudes. Great job guys!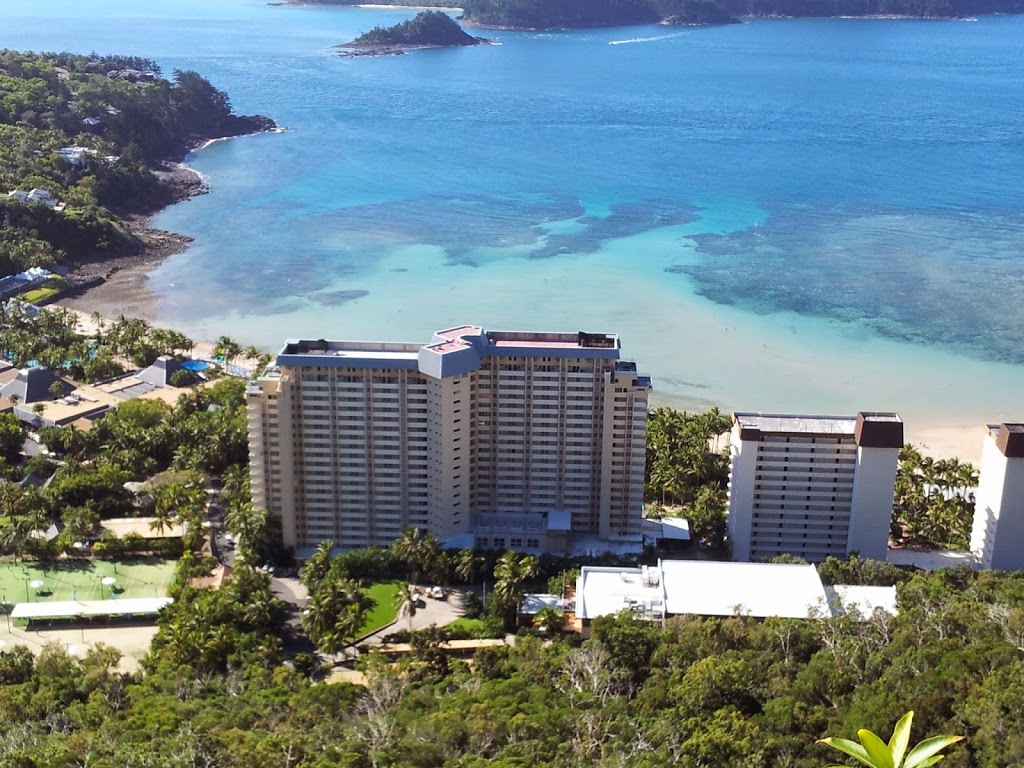 Hiking above the resort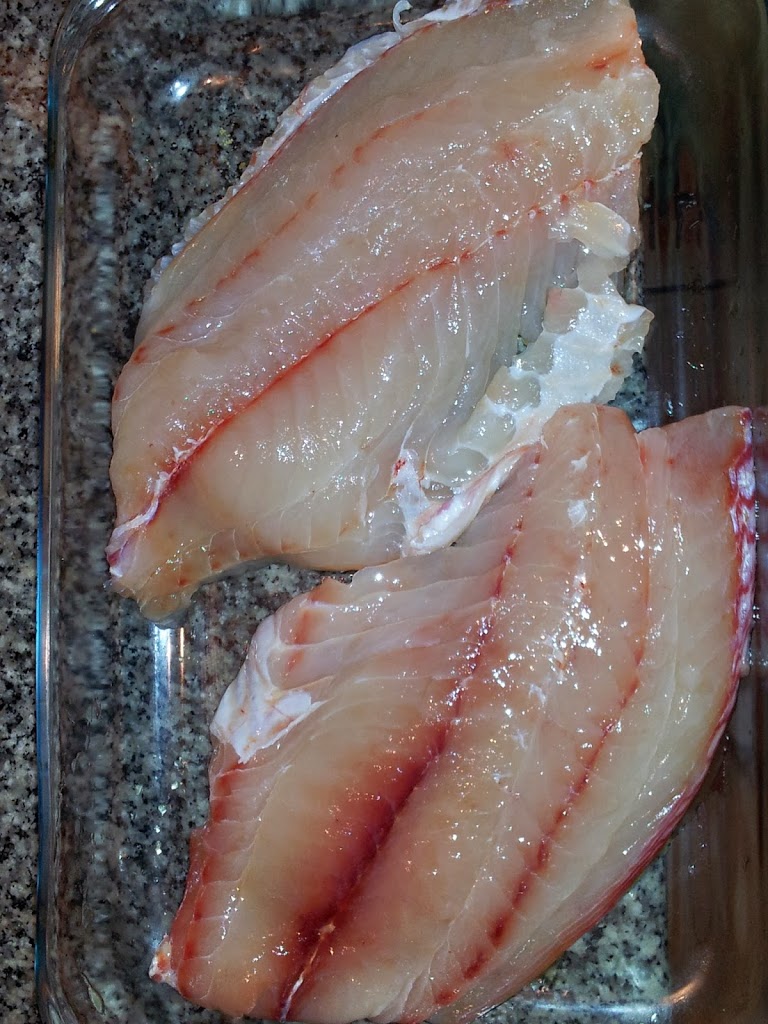 Nanigai filets for dinner- beautiful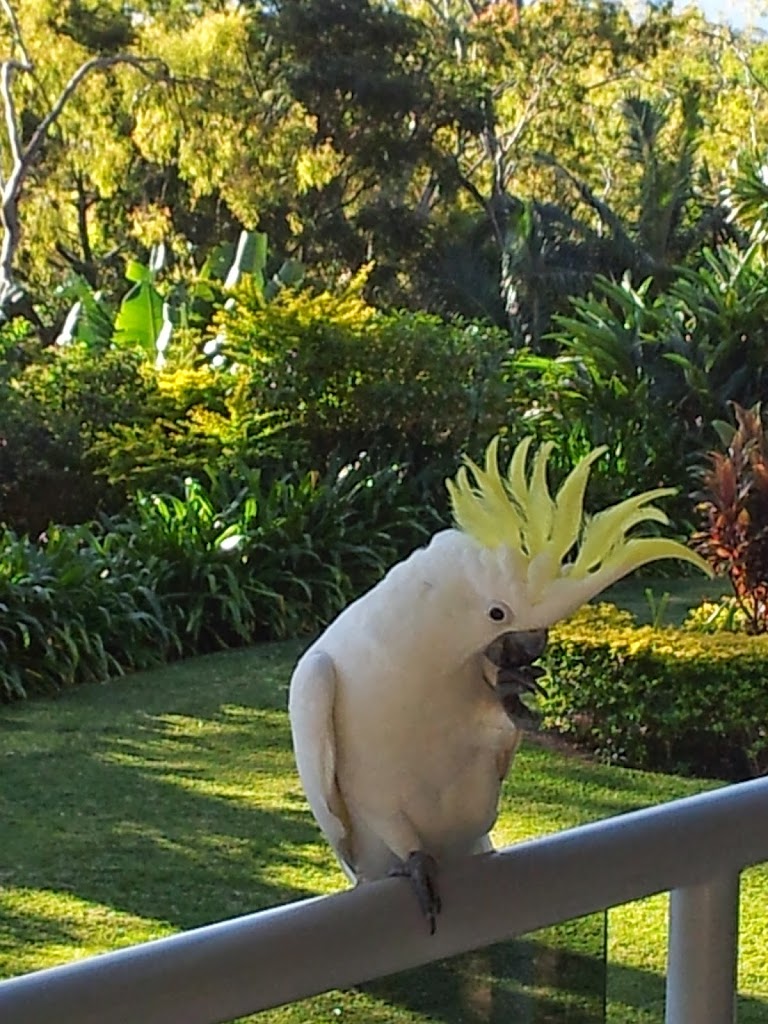 A Cresting Cockatoo
On our final day departure, we headed north on the ferry to visit Whitehaven Beach on the eastern side of Whitsunday Island. World famous for it's pure silica sand, it's considered one of the most pristine and beautiful beaches in the world. The only development is a few primitive campsites on the entire island! A good place to play Robinson Crusoe for sure…
The beach is really impressive, the sand like flour and the waters a crystalline aqua blue. You can polish your jewelry to shine in the tropical sun. Even though I was expecting just another beach, I must admit, it's a really, really fine one!
NB: he was Lt. Cook until his return to England, a national hero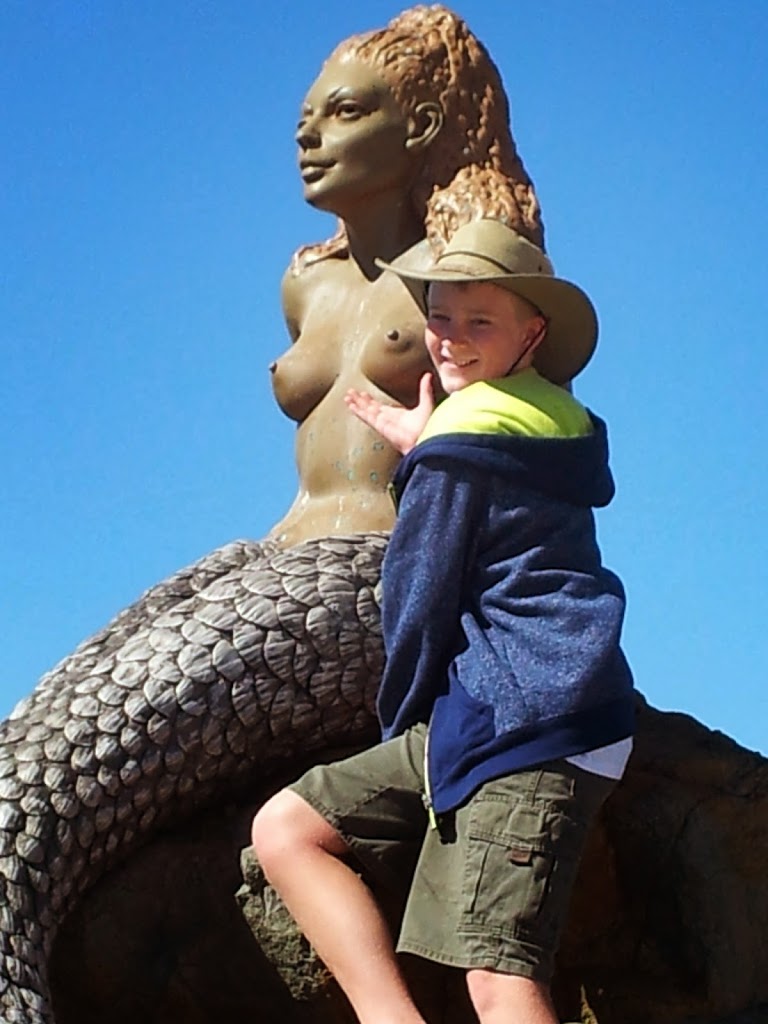 Cheeky Aidan…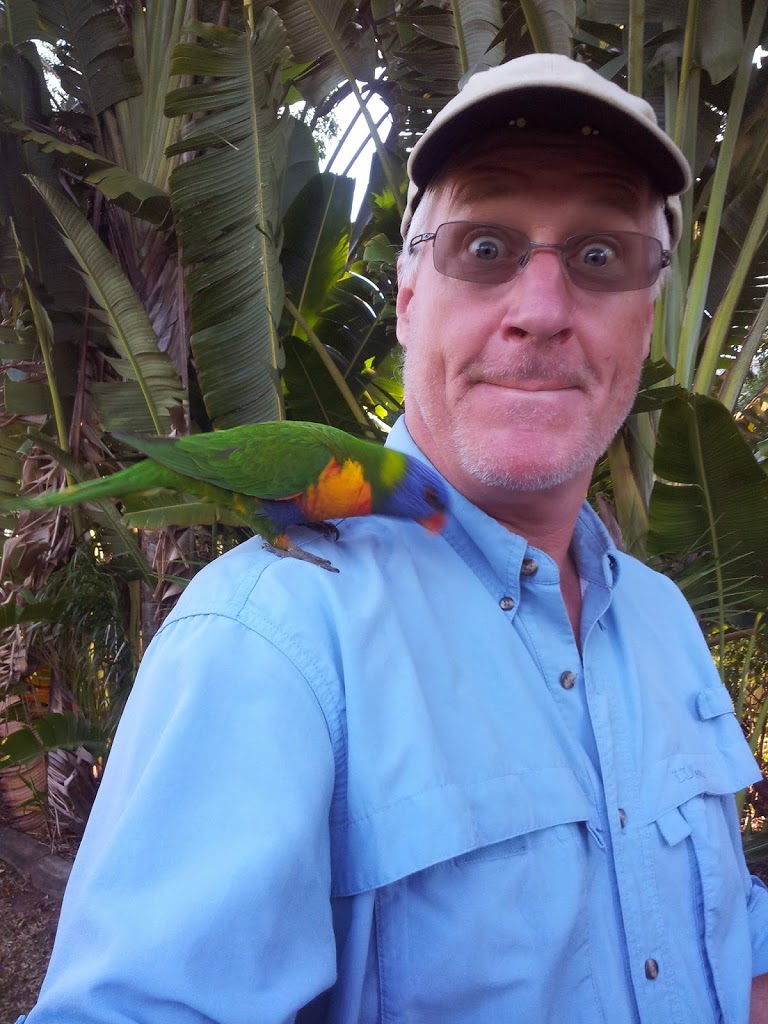 A wild and colorful friend
So, after five nights and six days, it was time to bid the Whitsundays a fond adieu and head out on the long drive south to Brisbane. All the kids were unanimous in naming this the best road trip yet.
On the return we stayed in Airlie Beach and were treated to a wild bird feeding; where the normally skittish and constantly in motion Rainbow Lorikeets got up close and personable.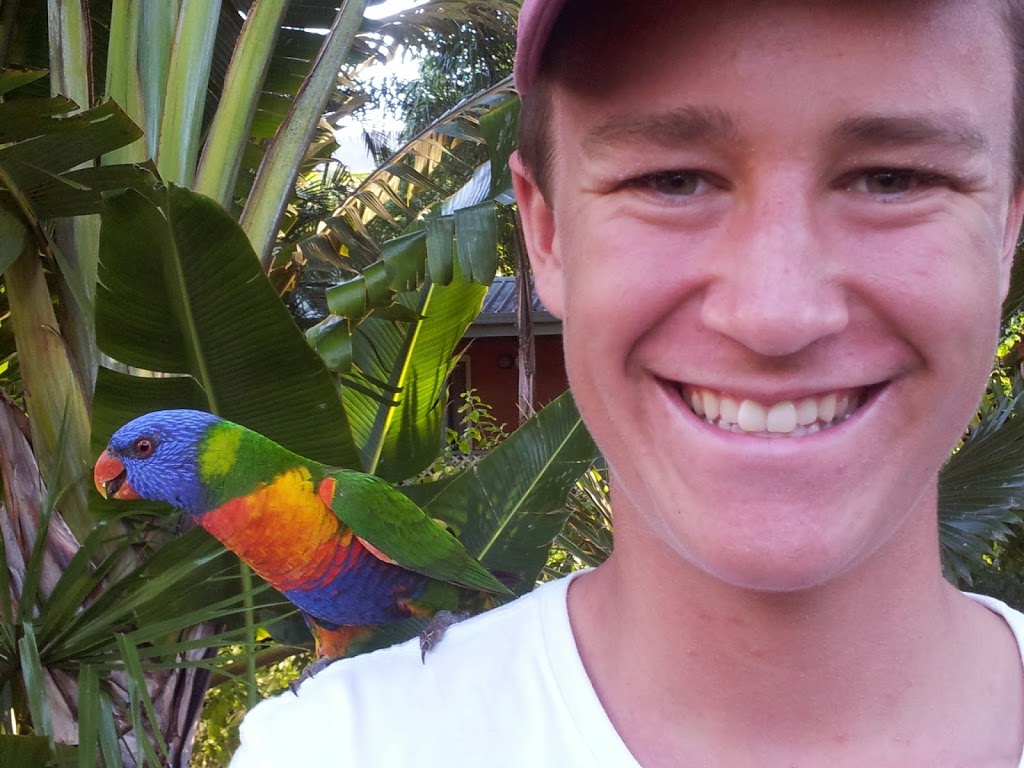 Why, Hello….!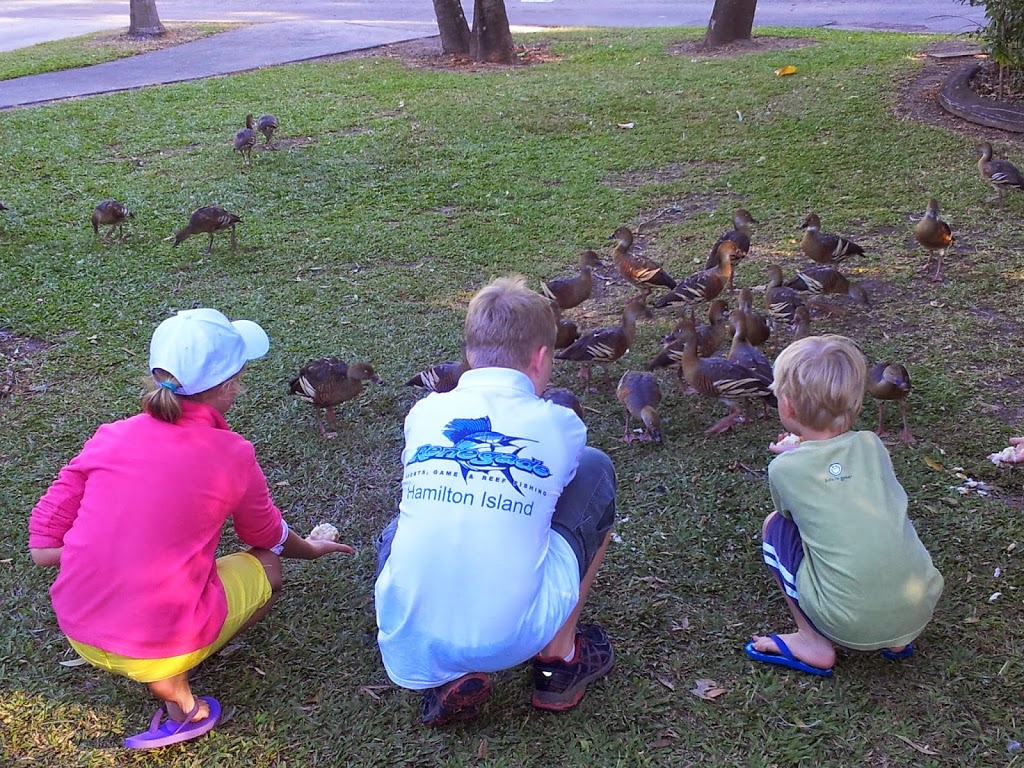 Local ducks too…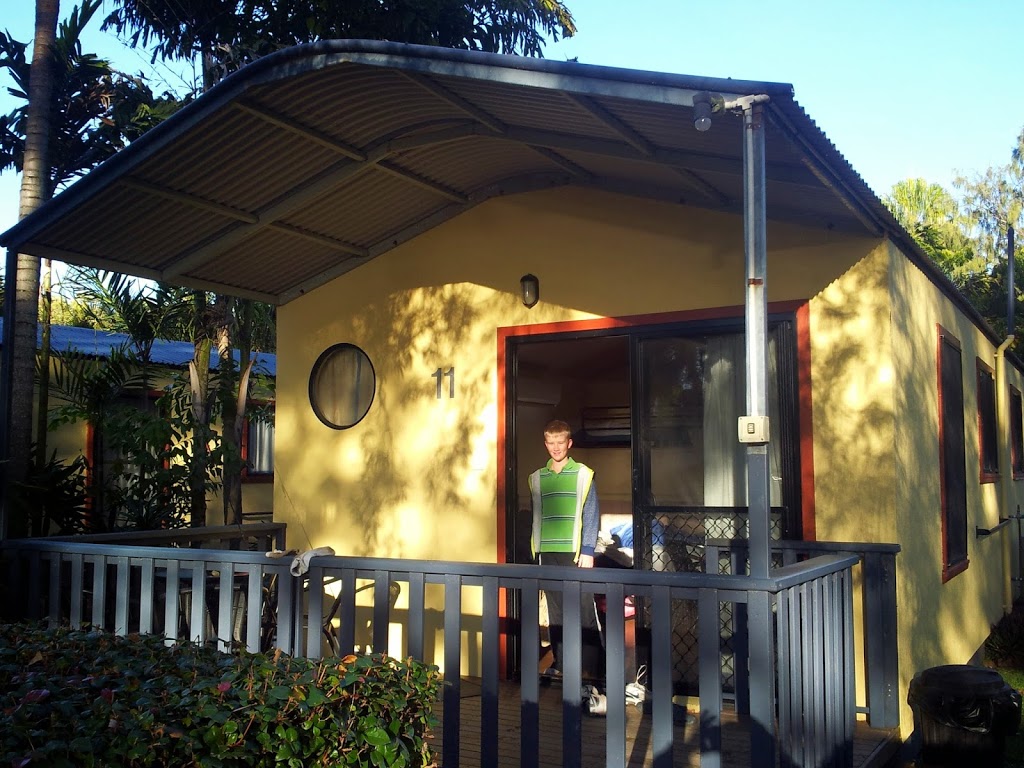 A typical cabin, available all over Australia
We spent our last night in the beautiful beach town of Noosa. It's a high-end resort surrounded by National Parks, wilderness coastline, surf breaks, rainforested mountains, lakes…oh, and the restaurants are great too. In short, it's got everything you could want except urban sprawl…Perfect!
In Noosa, we had a final Thai feast to celebrate such a safe and wonderful road trip together. Blessed indeed!
Next morning, we had time for a hike out onto the Noosa Point headland. A very beautiful spot indeed.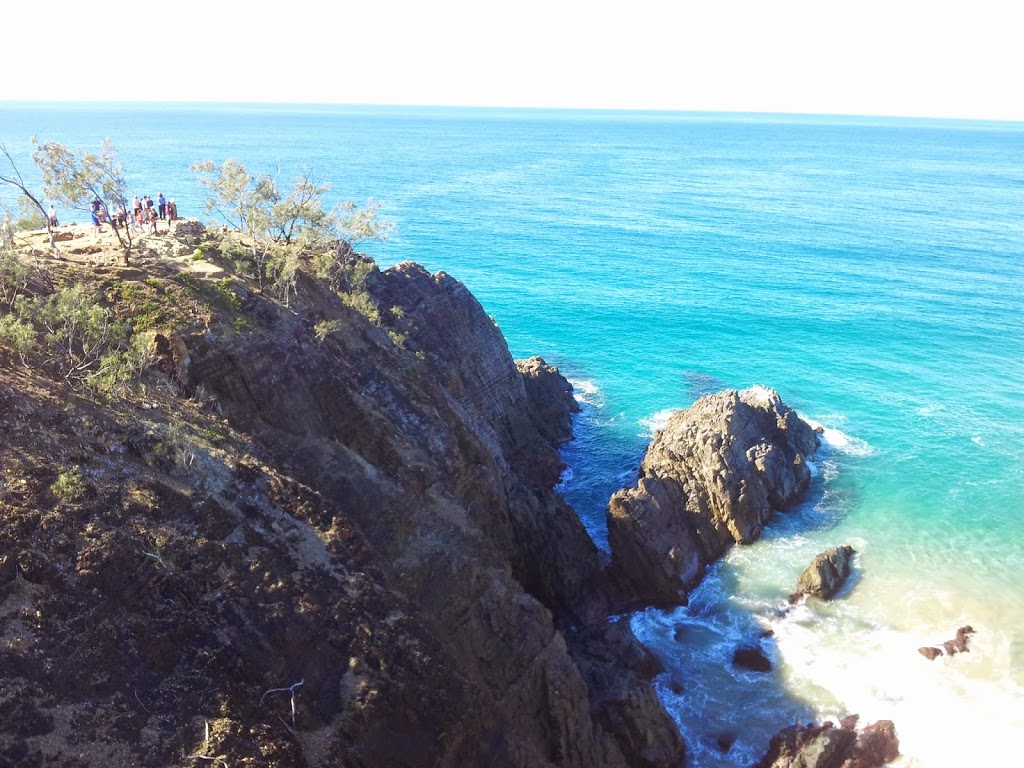 Hell's Gate, an impressive sea gorge on Noosa Point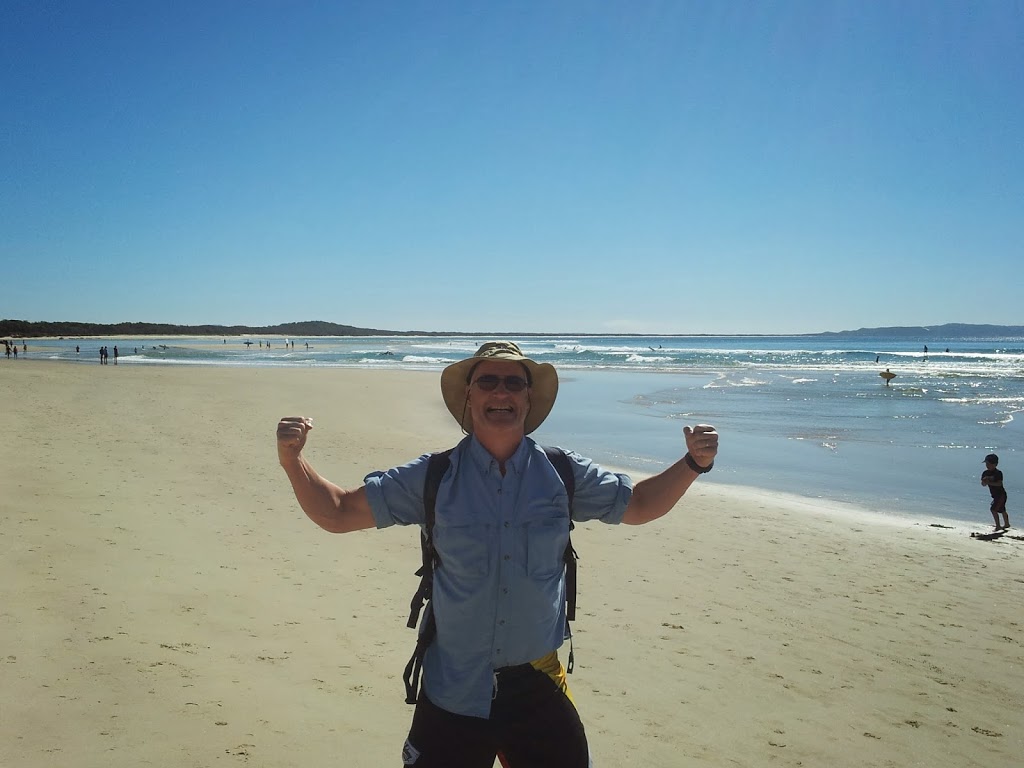 Spazzing at Noosa main beach…Not sure why…:-)
So, after Noosa it was a final 2 1/2 hours drive south, back to our busy daily lives near Brisbane. Reality calls…It was a long but interesting journey to drive the central coastline of Queensland. The distances are impressive, but we survived intact! Thanks for taking the journey with us, all friends and family, near and far. Next up, hopefully, will be a long-planned return to Sydney and spring hiking in the Blue Mountains. Stay tuned…docdownunder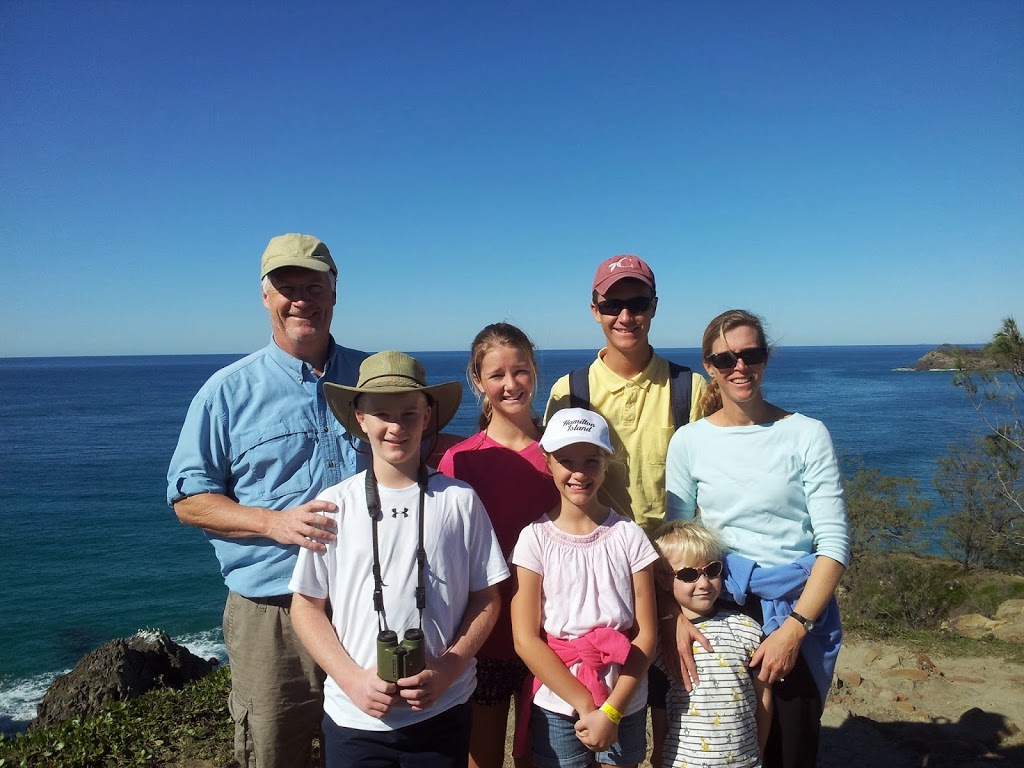 Hell's Gate , July 2014