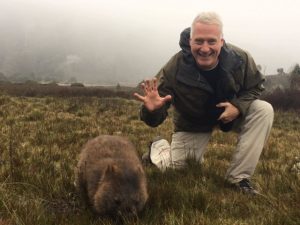 G'Day from Cradle Mountain/ Dove Lake Tasmania, with my wild wombat friend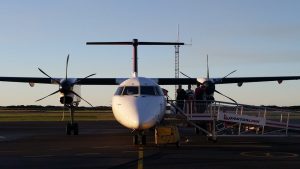 QANTAS link to jump over Bass Strait
I'd just returned from a locum stint in NW Tassie, the subject of my last DDU, when I got a call requesting a return engagement. Good $$, nice folks, functional ED in a beautiful place….easy to say "Yes"; and with a little advanced planning, even an opportunity to see some interesting new sights along the way.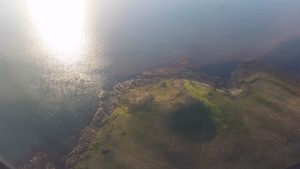 Northern coast of Tasmania
Devonport main terminal…2 gates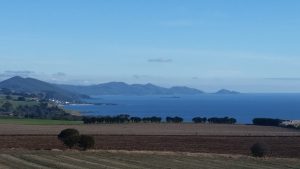 Rocky Cape NP, over tulip fields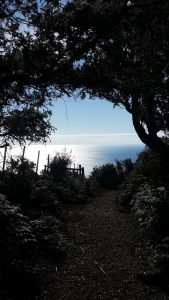 Clifftop walk at Table Cape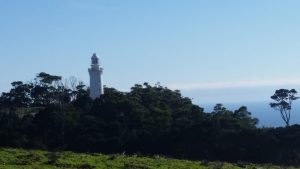 Table Cape heritage lighthouse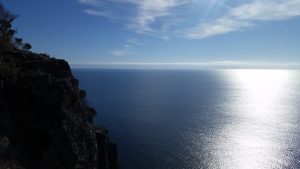 The platinum sheen of Bass Strait dominating the horizon
Another round of beautiful, sunny weather, with Bass Strait lying calm and brilliant under the crisp autumn sky. Locals informed me that the Strait's northern shores, that break onto the south coast of Victoria, are wild and deadly. Here, the high alpine mountains of Tasmania block the prevailing Southwesterlies, leaving the northern coastline in a large and calm lee. Surprisingly, more like a lake here than an infamously treacherous strait.
Wallaby on the edge of a farm field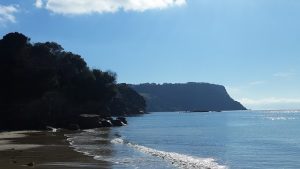 Table Cape
Another surprise is that NW Tassie grows the largest area of Tulip bulbs in the southern hemisphere, even shipping bulbs to Holland. In October the landscape is awash in multi-hued bands of Tulip flowers. Who knew?
Fossil Bluff, the lower grey band is half a billion years old…!
These small shells are over 20 million years old!
At Fossil Bluff, in Wynyard, there are three distinct layers of sedimentary and igneous rock that reveal the multiple volcanic epochs that shaped Tasmania. The grey underlayer is over 500 million years old! The sedimentary sandstone containing the fossil shell layer is around 22 m, and the overlying volcanic Basalt/ Dolerite soils that support vegetation are relatively young, at 13m years. Gives you a different perspective on old age I suppose!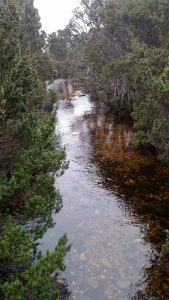 Dove Lake outlet stream
After working two busy evening shifts, I had a day off and made the drive to Cradle Mountain and the world famous Dove Lake, only 90 minutes of very rural, forested two-lane away. Unfortunately, it was also the only overcast day of the week. Mountain weather…you just plan and go. It still always a good time. The weather up there was much cooler, with a light mist falling all day. I had hoped to summit Cradle Mnt., but was satisfied with the beautiful 5 km hike around Dove Lake
The world famous view of Cradle Mnt above Dove Lake…just not today!..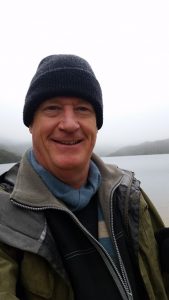 Your DDU- always happy in the field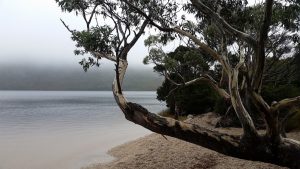 Gum and beach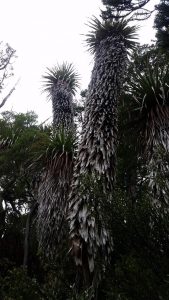 A type of heath- 20 ft tall Martian invasion!
From the NP setup, you can tell that in summer season this place gets mobbed….shuttle buses and cattle gates etc…On my visit, it was almost empty. Walking in the quiet, cool mist, the effect was magical; like walking through an alien terrarium filled with strange plants you've never encountered.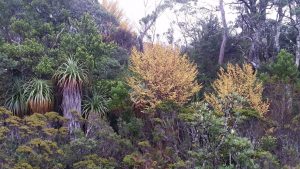 A botanist's dream landscape- very exotic, with a touch of foliage even
There's a beautiful boardwalk with overlooks and benches around the entire lake, likely to protect rare plants from being loved to death.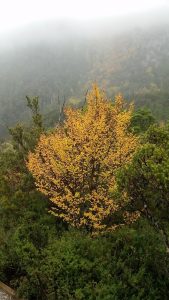 Fagus-or Mountain Beech foliage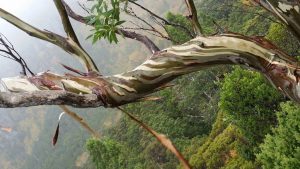 Gum detail- a eucalypt, the only hint you are still in Australia
Cloud cover lifting briefly over Dove Lake
While standing glassing the landscape, I heard a soft snuffling sound off in the bush. On investigating, only 10 yards off the trail there was a large Wombat placidly feeding on a Button Grass. My first wild Wombat! He (or she) let me walk right up and get a few close shots- totally ignored me…These impressively large, groundhog-like animals live in underground burrows, and are vegetarian grazers. About the size of a medium pig and similarly stout and muscular. Surprisingly, they are also marsupials, and thus, related to kangaroos.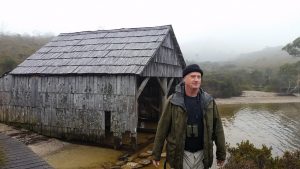 The Dove Lake boathouse, scene of 1000 calendar photos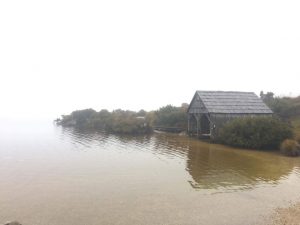 The million dollar shot…half price today…:-)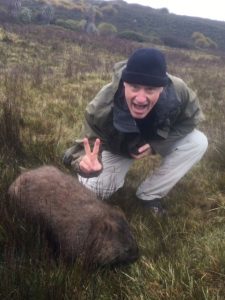 Another friendly Wombat, out on the Overland Track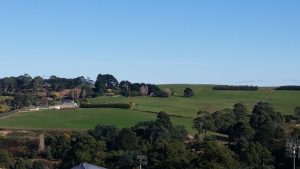 Farm fields above Burnie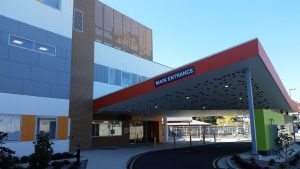 North West Regional Hospital, Burnie, TAS
After another two challenging evening shifts, with overnight call, I was free to explore. The plan was to drive to Launceston, the island's second largest city, in north-central Tassie, on the Tamar River; spend the night and following day, then fly back to Brisbane late that evening. Lots to see and do in these parts….let's roll…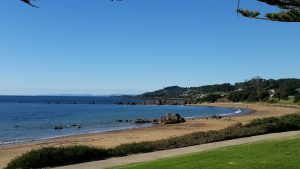 Penguin town foreshore park
Town namesake and mascot- the Fairy Penguin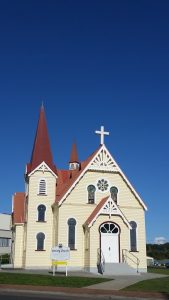 Heritage church, Penguin, TAS
Surprisingly, northern TAS is becoming a retirement destination for green-minded elders; drawn by the slower pace, lower cost of living and the benign, three season climate. There's also a robust local food, wine and seafood culture of very high standard. Like a maritime version of Vermont in some ways…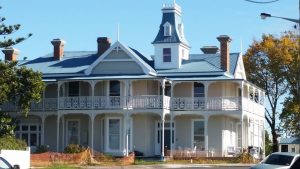 Devonport, TAS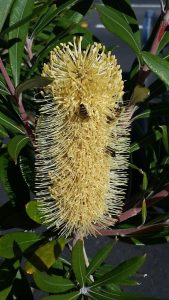 Banksia flower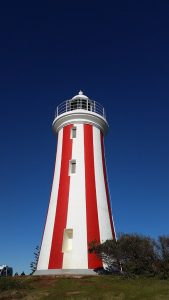 Devonport Lighthouse, Mersey River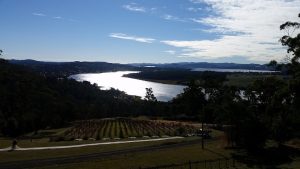 Tamar River valley vineyards
Turning inland, and 90 rolling, rural minutes SE from the NW coast lies the Tamar River valley and Launceston, a compact city of 90K; founded in 1806, very early by Aussie standards. Situated where the North and South Esk Rivers join to form the Tamar, it sits in a verdant, temperate agricultural basin; notable especially for being the perfect climate to produce outstanding cool-climate wines and fruit.
Right outside of the city limits lies the Tamar Islands Wetlands, an internationally significant migratory waterfowl sanctuary for birds traveling between eastern Asia and Antarctica. There's a beautiful visitor"s center, and extensive boardwalks out to blinds and viewing platforms.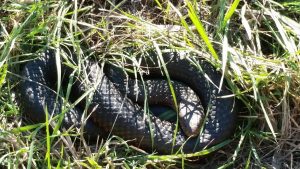 A Lowland Copperhead, large and toxic, but sunning peacefully.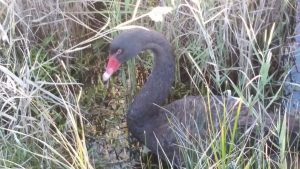 A Black Swan- they really do exist!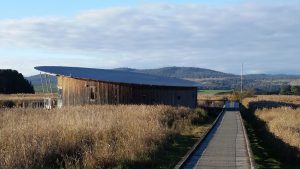 Tamar Islands Wetlands Headquarters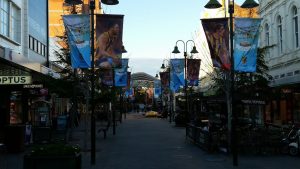 Launceston Pedestrian Mall
Launceston is one of the oldest and most intact city centers in Australia, containing a wealth of Colonial, Federal and Victorian heritage buildings. Most have been creatively re-purposed. Launceston has a growing reputation as a gastronomic destination- leveraging the Tamar and wider Tasmanian bounty into a thriving farm to plate food and drinking culture. A Tasmanian whiskey, Sullivan's Cove, was recently named the world's best whiskey in an international competition! Who knew?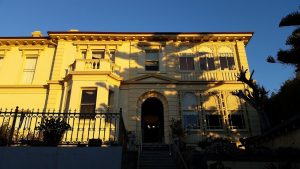 The Waratah Heritage B&B, c 1860's. My pad for the night..
I stayed in a heritage-listed house on the hill above the City Gardens; much more intriguing than a standard business hotel, and no more expensive.Well-used and homey, I found it ideal, with all it's quirky charm. A Waratah is a native shrub with a distinct, large red flower. It's the state flower of New South Wales.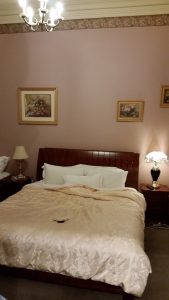 12 foot ceilings and a genteel, faded glory- perfect…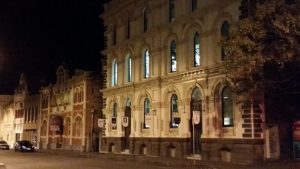 Evening street scenes, Launnie, TAS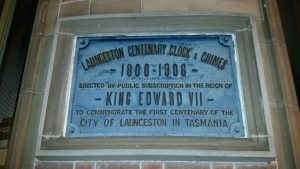 Interesting dedication sign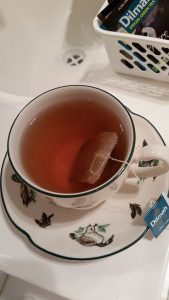 B&B Tea Party!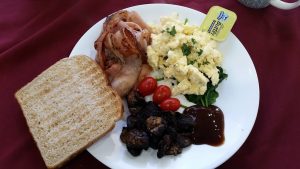 And a full-on, British fry-up before hitting the road, with HP Sauce even!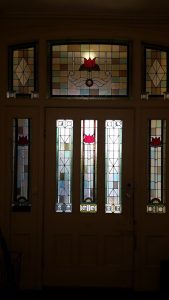 Waratah door detail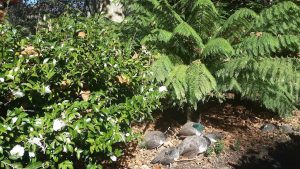 Tree ferns and roosting peacocks
Well-fueled and out on the road early, I was headed for Cataract Gorge, an amazing canyon complex, with extensive hiking trails, right outside of downtown.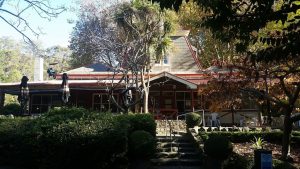 Tea House, Cataract Gorge
Cataract Gorge is a well-loved park and garden complex dating from the 1860's and a social center of Launceston. Very beautiful and well-maintained.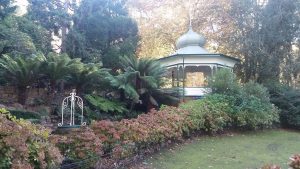 Victorian Bandstand in the gorge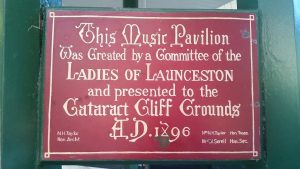 You don't mess with the Ladies of Launceston…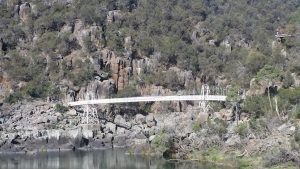 One of several impressive Victorian bridges over the river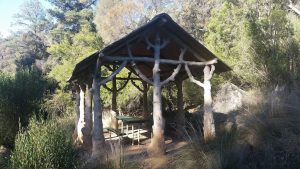 Hiker's shelter c 1925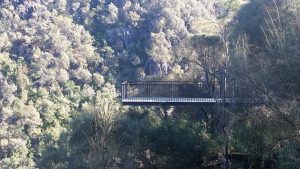 A newer cantilevered overlook up the Gorge
Another bridge further up the Gorge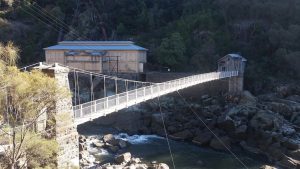 Duck Reach heritage power station
The weather was perfect for a hike; cool, crisp, sunny autumn day- like an apple ripening…
2.5 km up the gorge is a most unexpected find. In what I thought was an active power station, I found a museum to the first municipal hydro-power station in the southern hemisphere! It's a really engaging story of very early large scale electric generation.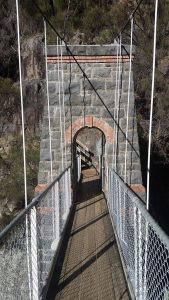 Original blue stone bridge pylon c 1886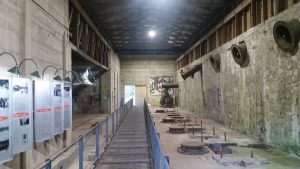 Interior of the museum
As you walk into this remote building, the lights come on automatically and a movie starts on a concrete retaining wall telling the story. Between 1915 and 1922, Launceston, then a city of some 20K, was the most extensively electrified city in Australasia! Who knew? The engineering was accomplished at a time when a debate actually occurred as to whether this new "electricity" might be a public health hazard. But English engineering and science prevailed and led the way for major advances in the wide-spread adoption of urban electrification world- wide, over the next several decades. All originating in this small, remote, provincial town; one that just happened to have the perfect natural setting for hydro-electric power generation. A really fascinating hike, for sure!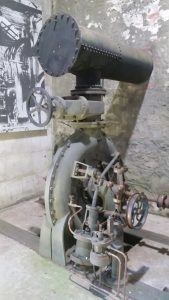 An original turbine
Original Power Plant crew; natty dressers all…
Given it's riverside location, the plant was destroyed several times over the years during catastrophic flooding, but repaired and used until it was finally supplanted in the 1950's by an upstream dam; but it's original innovation remains a point of Tasmanian pride. Modern power is generated by Tasmania's extensive network of hydroelectic reservoirs, all modeled after the original project at Duck Reach over 100 years ago.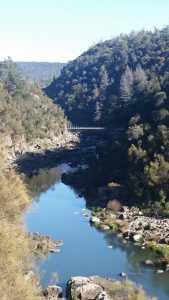 Back down Cataract Gorge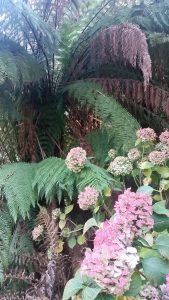 Hydrangeas and Fern Trees
The fine day was getting on…I had one final stop on my itinerary; lunch at the acclaimed Josef Chromy vineyards in Relbia, 10 km south of Launnie, right out near the airport, conveniently enough! Considered one of Tasmania's marquee food and wine destinations, it's a bucket-list type of place. The proprietor came to Australia as a refugee from the communist take-over of Czechoslovakia, as a penniless 19 yo, in 1950. Through hard work and perseverance as a butcher, he made his fortune and invested in Tasmania's then fledgling wine industry. He was involved in the start-up of many of Tassie's most renowned vineyards; finally starting the self-named Josef Chromy in 1993 at the age of 76. Everything about this operation speaks to impeccable standards of quality.
The actual dining room and cellar door are compact, elegant and quite low-key. They are famous for their 4 course lunch with matching wines; but I wasn't famished after the morning's hike, and was late for lunch to boot. Arriving at the nearly empty restaurant, Sarina, the Kiwi manager and Michelle, her seasoned waitress, had plenty of time to chat with a stranger all the way from Boston, Mass, USA. When I ordered the oysters and cheese platter, a light lunch, they laughed and said that's what they both would've ordered! What followed was a leisurely, memorable lunch and wine-tasting that comes with my highest recommendation.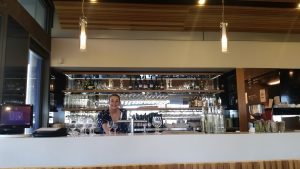 Sarina, manager and a real pro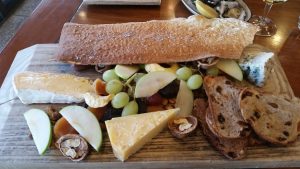 A light lunch…wow!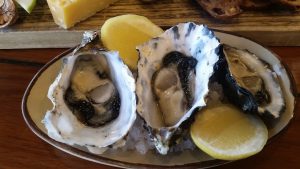 Moulting Bay Tassie oysters- beautiful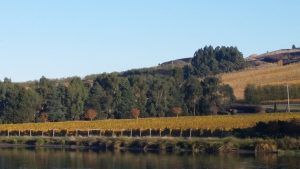 The scenery out the restaurant windows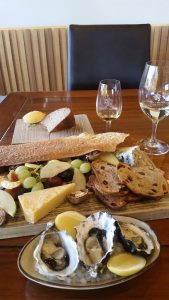 Beautiful food and wines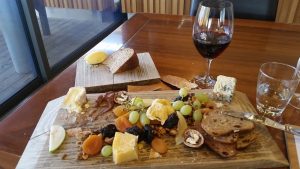 Halfway done and on to the Pinot Noir
To my taste, the cool climate wines were justifiably well-regarded, esp the Pinot and the Sav. Blanc. The Reisling, tart and a bit green, and the Merlot…errr, no…needs more heat…or something…
Go with the excellent Pinot as a sure thing…I will definitely return for the full-on lunch or the occasional themed dinner. Stay tuned to this station…:-)…Pictures to follow…
And thanks to Sarina and her wonderful staff for the lively chat and fortifying lunch…top notch!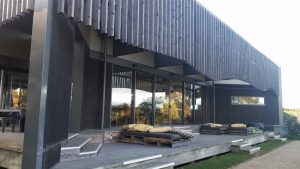 Outdoor lounging spaces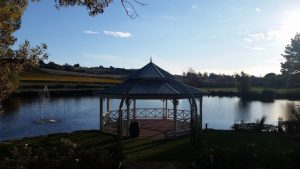 Wedding central in season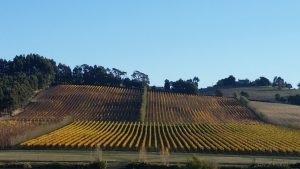 Late harvest Botrytis dessert wine grapes, unpicked as yet
Thus fortified for the trip home, I made my way to Launceston airport for the evening flight home to Brisbane.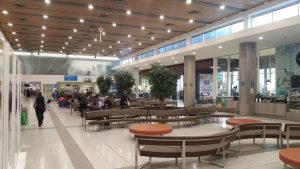 Launceston Airport, modern but compact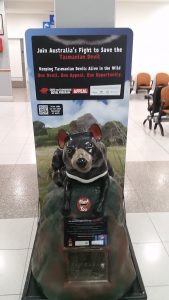 Not something you see in many airports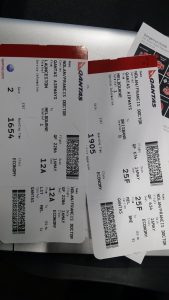 Two tickets to paradise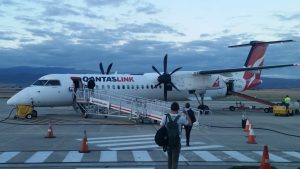 The ride home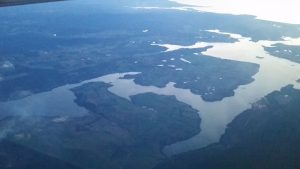 Tamar River estuary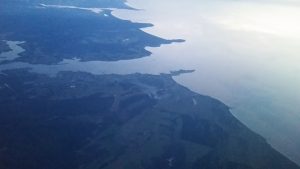 Low Head and the mouth of the Tamar onto Bass Strait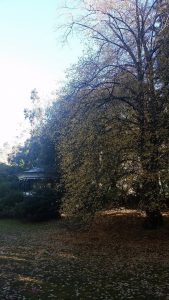 Cataract Gorge Garden foliage
So, flying north towards Brisbane in the gathering dusk, it was time to reflect on another successful trip. Lots of rural Emergency Medicine and a chance to further explore the wild, cultured, down to earth yet sophisticated island State of Tasmania. I believe this place is a real sleeper, and I think Tassie's remoteness works in it's favor going into the future; it's so pristine! And with so much packed into such a compact island, it's a wonderful place to adventure. In fact, I'm already scheduled to locum at Launceston General Hospital ED in early June. Please stay tuned and accompany me as we explore more of the wild and sophisticated sides of Tasmania! All the best, DDU, wandering ED doc for hire…:-)!!