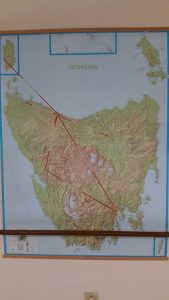 TASSIE- Australia's island state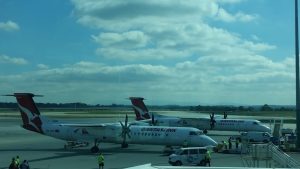 Commuter flight across the Bass Strait, Melbourne to Devonport
I had the opportunity do do a six day locums stint at an ED in rural NW Tasmania over Easter. They were desperate for coverage, and I needed an adventure, so why not?! It was about work, and kind of stressful to start and end a new job over less than a week, but was a great adventure indeed! I managed to get out and about some between shifts as well.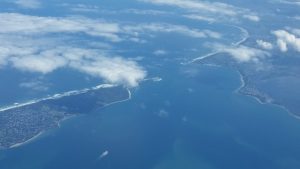 Entrance to Port Phillip Bay and the Mornington Peninsula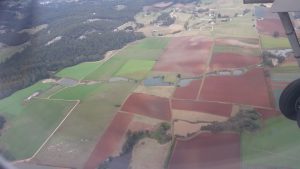 Fertile, well-tended fields of Tasmania
Tassie is Australia's Island state. It has a dark history as the repository of the worst of the recidivists during the British penal colony years, 1803-1853, when around 75 K convicts were transported here. It also has a very complex topography with jagged, glaciated peaks over 5000 ft, numerous rivers, and some of the largest and wildest temperate rainforest remaining in the Southern Hemisphere. I hadn't been since around 2013, and was keen to see the rural NW part of the state.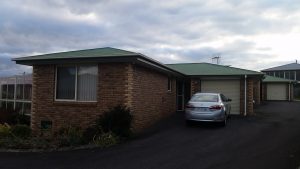 Nice house and car provided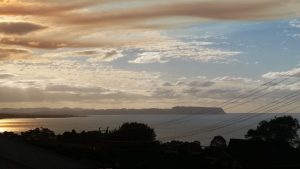 Sunset over Burnie and Table Cape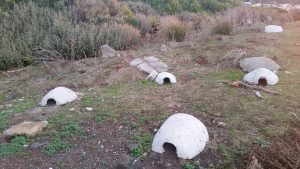 Concrete penguin nesting boxes.
Burnie, a town of 30K, is transitioning from a paper mill and industrial past into an arts and ecotourist center for the NW. They are famous for being a rookery for little Tasmanian penguins, which nest nightly right in town.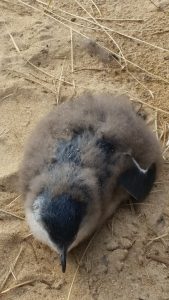 Moulting Little Penquin
April (Fall here) is moulting season, and the numbers aren't as high as in mid-summer. But I did manage to catch a glimpse of some as they troop ashore at dusk, after a day of feeding out at sea. Very cute little creatures, about seagull-sized.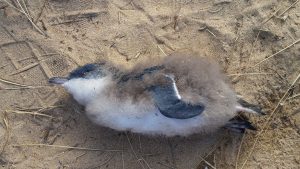 An unfortunate close-up, he's dead…
Tassie, called The Apple Isle, has been vigorously marketing itself as an adventure and eco-tourist destination world-wide. It also has a very deep and pristine local food and wine culture; being esp. highly-regarded for cool climate whites, pinot noir and champagne. Being an island in the middle of nowhere, the seafood is abundant, fresh and world class. Lying in the direct path of the southern "Roaring 40's", it was also in the direct path for sailing ships on the way to Sydney and the Australian East coast from Europe. Thus, it was one of the earliest settled parts of Australia, beginning in 1803. Hobart, the capital on the southern coast, is actually the second oldest Aussie city, after Sydney; and the state as a whole boasts the largest collection of intact heritage buildings in Australia. It's really an island that's full of surprises, and well worth a visit; even if it is pretty out of the way!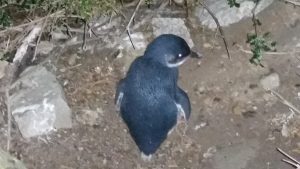 A live one, about to nest for the night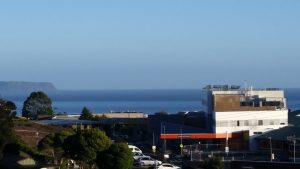 North West Regional Hospital
NWRH is the third largest hospital in Tassie, covering the entire NW quadrant of the state, as well as King (and other) islands in Bass Strait. It's a vital resource in this wild and sparsely populated region. Given it's isolation, it has a surprisingly robust sub-specialty base, and is new and modern.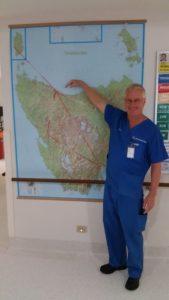 What am I doing in Burnie, TAS??!
Burnie, overlooking Bass Strait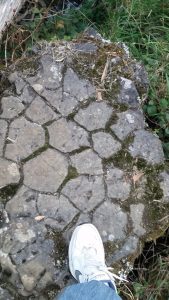 One afternoon I was able to visit Guide Falls, about 10 km inland from the coast. It gets rural and then wild, very quickly out there! Not a huge falls, but a very charming one. A unique feature is the extensive crenelated stone, actually Dolerite, that are ancient extrusions of lava magma.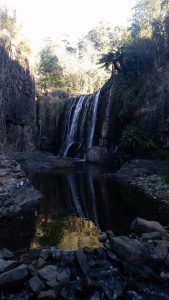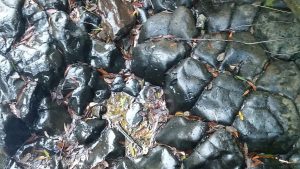 Water-worn Dolerite
Per Wikipedia, Tasmania has the world's largest deposits of Dolerite- so you heard it here first… It's like walking on neatly arranged pavers. Pretty cool really, for a bunch of old rocks….!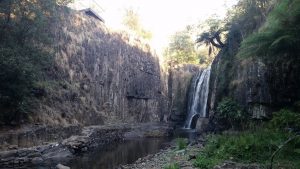 Guide Falls, around 30 ft high, ends in a blind Dolerite canyon
Dolerite wall of octagonal shafts all fused together
Even the trees feel wild and wind-twisted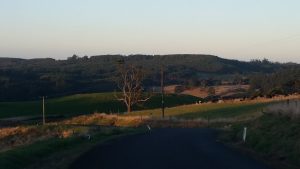 Tassie landscapes, well-tended yet also wild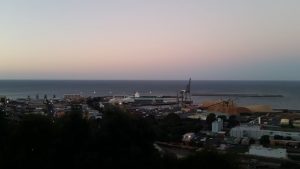 Burnie Port- a large wood chip producer
I had most of a day off between finishing at 1500 and having to be back for the evening shift at 1400 the following day. The weather was perfect for a drive. My destination, the heritage village of Stanley and "The Nut" a local coastal landmark, 70 km west.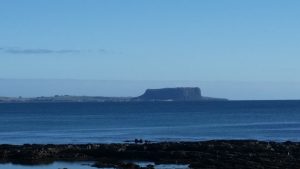 The Nut, a curious coastal mesa on Bass Strait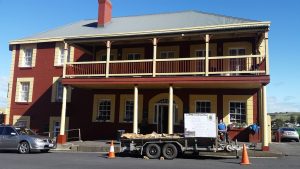 Heritage Building, Stanley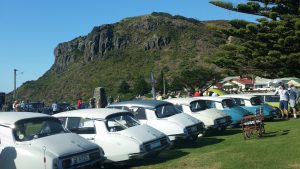 A Citroen rally, below The Nut
You can ride…
or hike…short and steep…I hiked…
The Nut is really unique and a major draw in these parts. A sheer, flat-topped, stone mesa sitting out at the end of a large, flat, crescentic spit of land. The views on a day like I had are 360 degrees and stunning. The tiny Heritage hamlet of Stanley sits right at it's base. The cemetery dates from 1824- pretty ancient by Aussie standards. What was once an isolated fishing village has been beautifully restored with nice shops and cafes. Quite a lively little place on the day I visited.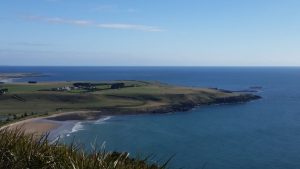 "Highfield", a heritage country estate at world's end….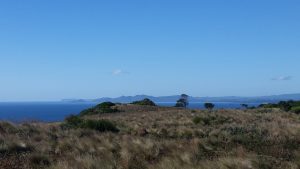 Windblown summit of the Nut, it's a 2 km walk around the perimeter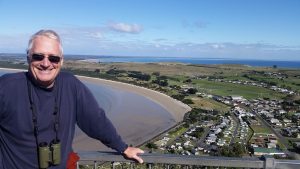 DDU feeling on top o' the world…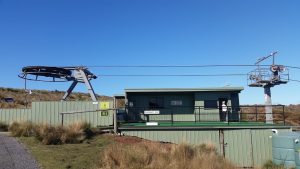 Tiny chairlift at summit
Still warm enough for palms!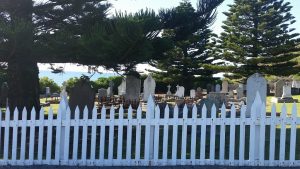 Heritage graveyard of the early settlers
For reference, Tassie is about twice the size of Switzerland (pop 8 million) and has about 500k residents; so 1/16 as populated as Switzerland!
Approx. 65% of the residents can trace direct lineage to the original 10K settlers, the "founding families". Until pretty recently, it was an isolated existence at the bottom of the world.
Around 45% of the entire island is protected parkland, including the vast World Heritage designated SW mountains and forests.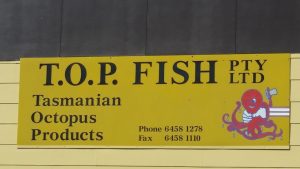 Not a sign you see everyday!
Taking some local advice, I detoured down a side road and ended up on Boat Harbor Beach- said to be one of the finest beaches in Tasmania. It really was stunning, with the clear Caribbean blue waters backed up by treeless grassy hills reminiscent of central coast/ Big Sur California. I was told it was also some of the coldest water you will ever swim in, but didn't test that theory out….!
So after two more late ED shifts that included some pretty serious rural-style trauma (involving Quad bikes, table saws and farm machinery…) It was time to wing it back home to Brisbane. The trip was great, the staff at NWRH skilled and really fun to work with. Thanks to them for making me fell welcome.
Say, this itinerant doc life seems to work out for me…Maybe I'll make a career out of it…!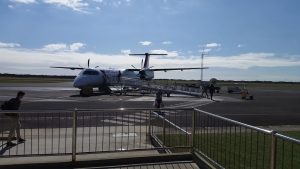 Devonport airport, where the cows watch you taxi…seriously!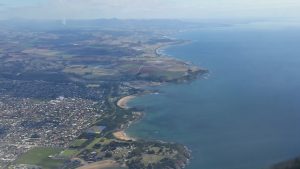 North coast of Tassie, and Devonport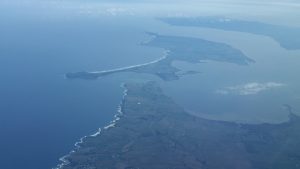 Mainland Australia, Victoria coastline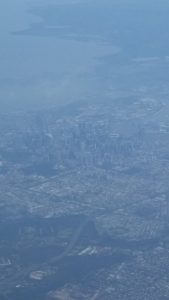 Melbourne CBD in the rain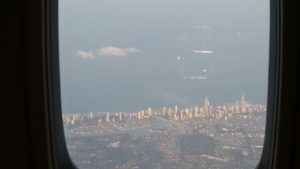 Gold Coast, Queensland in evening light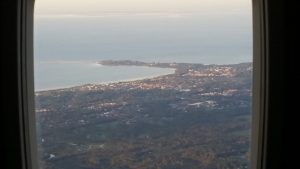 Wellington Point, Queensland, right near home…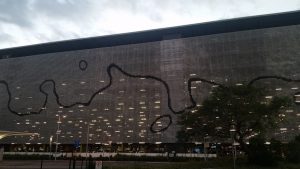 Brisbane International, home!
So, a new sort of adventure…Locums ED doc. I really enjoyed the experience, and might be scheduling some more soon. I've always liked my Emergency Med a bit on the wild and raw side…And there's plenty of that Down Under. Stay tuned as we explore the scruffy corners of this amazing continent together! Best, DDU