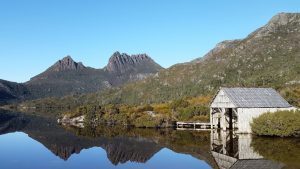 Cradle Mountain over Dove Lake, an iconic Tasmanian vista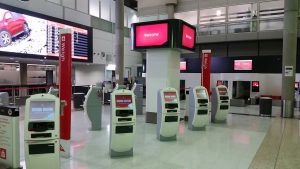 Brisbane- a modern airport, all self check-in!
At the risk of becoming redundant, it was back to Tasmania for me; this time to work EM at Launceston General, the second largest ED in the state. As usual, I took a few days beforehand to explore, and headed back up to Cradle Mountain NP, hoping for some good weather for photos and views. The weather cooperated and I had some fantastic hiking in the Tasmanian highlands.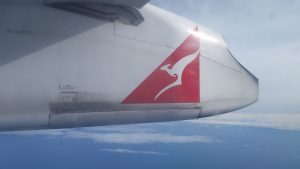 Frequent flier….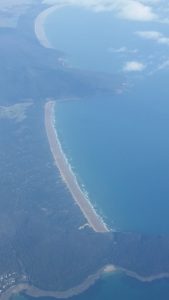 North Coast Tassie beaches and headlands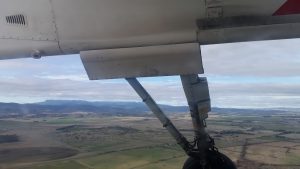 Wheels down for landing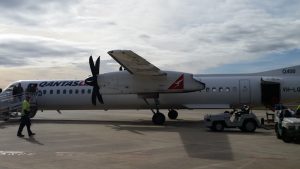 QANTAS link, hop over Bass Strait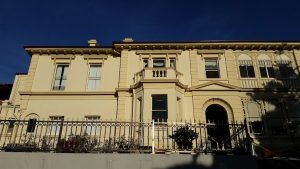 The Waratah Heritage B&B
I returned to the Waratah in Launnie for my first night, as it's a long winding road up to Cradle Mnt.; best done in the daylight. Also, better to stock up on trail food etc in the Big Smoke, as Tassie gets really rural, really fast.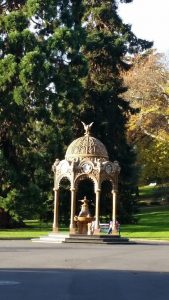 Launceston Park fountain
Launceston, pop 90K, has one of the most intact heritage downtowns in Australia. Settled around 1806, it's the third oldest city in Australia; begun soon after Sydney and Hobart. It was spared the worst of the 1960-70's urban renewal blight, unlike so many other cities world-wide. It's a small, safe, charming city that the locals take great pride in.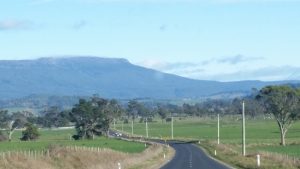 Country road heading into the Great Western Tiers
Next morning, it was up early, under favorable skies, heading west into the mountains; only a half hour out of Launnie. The rolling rural landscape looks similar, at a distance, to upstate New York or Vermont; deeply green, well-tended, agricultural; fields sprinkled with black and white mottled Holsteins. Brooding wilderness is never far on the horizon though…
I got a great deal on a room at the Cradle Mountain Hotel, right outside the park, 2 minutes from the visitor's center. About 400 m off the main road, and surrounded by bushland, it proved to be the perfect base for exploring the park. Being off season, it was pretty quiet, with the weather clearing and crisp; perfect!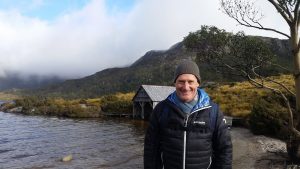 Feeling it…
Unlike my trip last month, which was a complete white-out (see my past DDU posting), I arrived at Dove Lake under a light, lifting ceiling; the mountains playing hide and seek with the rapidly shifting cloud cover – very magical…The anticipation was building by the minute…!
And then, suddenly, the summit ridges appeared as in a dream…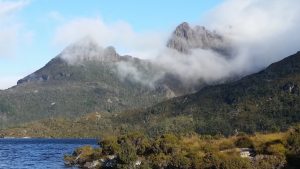 Mysterious mountain weather…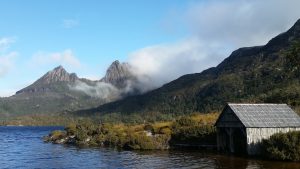 The calendar shot!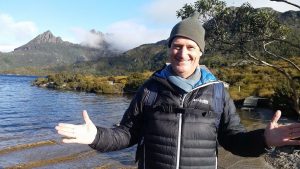 Nowhere I'd rather be….
The weather forecast called for clearing in the morning. I secretly hoped to attempt to summit Cradle Mountain, but tried to have no ego in the process. Just start out and see how far I was able to travel- one of the benefits of the wisdom that comes with age…I also knew I was pretty out of steep hiking shape. So I took off for a two hour shake down hike that afternoon; starting down the trail I'd need to take tomorrow to head towards the summit.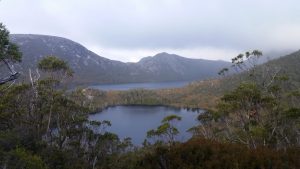 Dove Lake behind Lake Lilla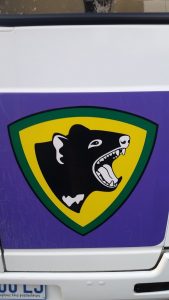 Tassie Devil- symbol of the Tassie Park Service
I felt pretty good, but didn't overdo it, just get my hiking muscle memory fired up. At Cradle Mnt. you need to take a shuttle bus into and out of the park. As it was quiet in mid-winter, I didn't want to miss the last ride out. After the warm-up hike, I went off looking for wildlife, wombats and local waterfalls. Beyond the iconic Dove Lake and Cradle Mnt. there's an extensive trail network, numerous other beautiful alpine lakes and waterfalls…There's much more here than expected. In fact, this park is just the northern tip of the vast series of parks and reserves that make up the Tasmanian Wilderness World Heritage Area. It runs unbroken except for a few roads about 200 km south, all the way to the SW coast of Tassie, and encompasses around 20% of the entire island landmass. I believe it's the largest temperate rainforest park remaining in the southern hemisphere, and still truly wild.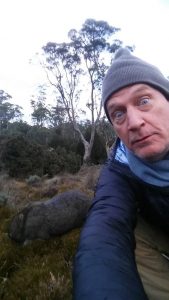 Wombat selfie redux!!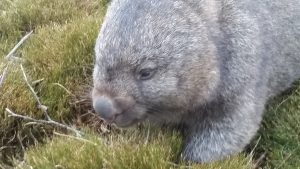 A very patient subject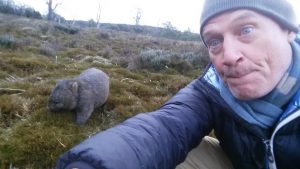 Say cheese Mr Wombie….!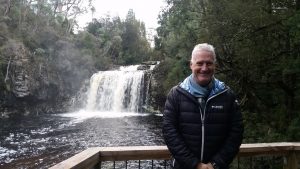 Pencil Pine Falls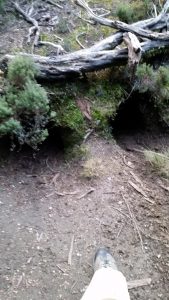 Wombat dens with foot for scale
Peppers runs a beautiful lodge right at the Park entrance. A lovely spot to have afternoon tea by the open fireplace after a long hike. Or to spend a few nights in wilderness luxury.
That evening, I attended the Devils@ Cradle nighttime feeding session. In season, you'd need to make reservations, but I just showed up. It was fascinating, and highly recommended. The facility is a Tasmanian Devil sanctuary, rescue and breeding program. If you are keen to see a live Devil, this is the best place on the planet to do so. They are highly elusive in the wild.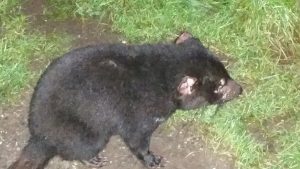 A rare stationary moment- about the size of a small-medium dog when fully grown
The 90 minute lecture and tour is really informative. They have around 40 devils in large outdoor, natural enclosures. As feeding time approaches, the damp, alpine air is rent by the eerie, evil squabbling of the little Devils. Well named indeed, as they sound horrendous..!
But, it's all really just a show; a way to establish dominance over the prey. They stand back on haunches, pale mouths agape, and squall and hiss in the darkness…Spine chillling…Kids love the show!
Devils are unique to Tasmania, and also for being strictly carnivorous marsupials, who are true independents. They establish no family groups, defend no territory and are essentially solitary individuals. They only congregate to breed and eat carrion. The squabbling over the spoils is truly epic! Devils @ Cradle is a must do if in this part of the world, and supporting a great conservation effort. The center also rehabs rare Eastern and Spotted Tailed Quolls, other carnivorous marsupials that are very threatened.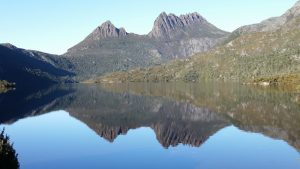 Mirror image of an Aussie icon
Up early and on the trail under flawless skies. The morning views of Dove Lake and Cradle Mountain were calendar worthy!
It was going to be an epic day…but no promises on summiting…Let's just start out, one step in front of another…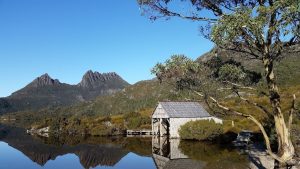 A stunning start to the hike
This iconic view really does live up to it's hype. The surrounding wildness, scale and balance of the scene is even more powerful than anticipated. Like the Matterhorn and Grand Tetons in my personal experience, all the pictures you've seen just can't capture the entire essence of the place. I'm drawn to such places, and am happiest to immerse myself and spend time.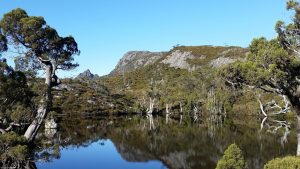 Marion's Lookout above Wombat Pool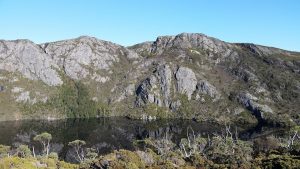 Climbing higher, Crater Lake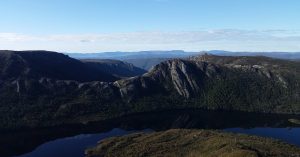 On Marion's Lookout. High above Dove Lake, Mt Hanson behind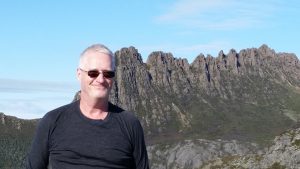 Your host at Marion's Lookout, Cradle Mountain ridge behind.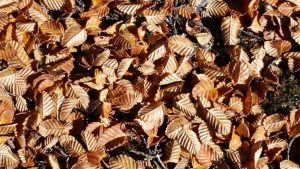 Deciduous Fagus (Beech) leaves, Aussie foliage…!
The weather was perfect. I had all the gear, time and food I needed. It was just a matter of tenacity and desire overcoming age, wear and tear. The round trip is about 14 km and gains over 2000 ft of elevation. And the downhill is always a knee-killer! Steady on, let's see how we go….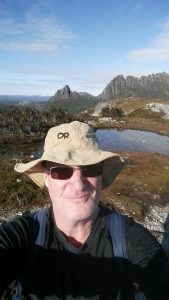 Feeling pretty good…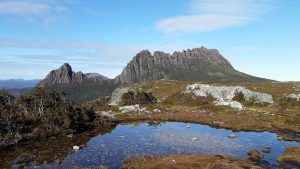 On the moorlands, heading for Kitchen Hut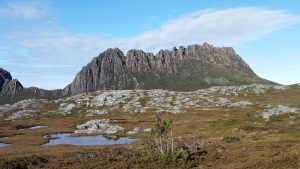 My destination-hopefully, if the old carcass holds up…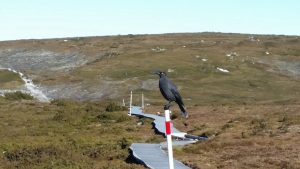 A Currawog, an alpine Raven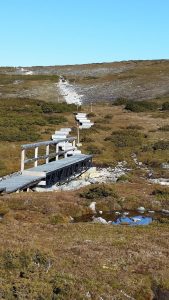 Over the moorlands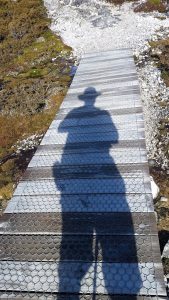 Trail ghost-dude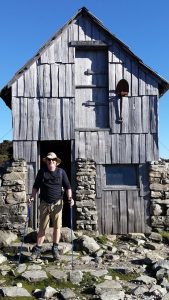 Kitchen Hut, emergency shelter. The upper shovel is to dig thru snow drifts to enter in winter!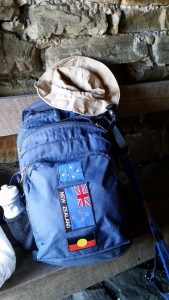 The whole kit bag
The summit is an enormous Dolomite extrusion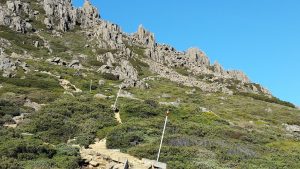 The trail higher is marked by snow wands, don't deviate…!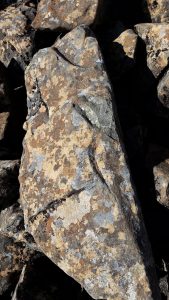 Unusual multi-colored lichens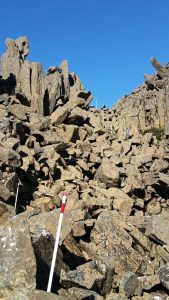 Steeper and treacherous
The summit ridge is a really unique jumble of Dolomite shards – not exactly boulders, more like pick-up-sticks. You have to be very careful not to slip between them. A fracture/ disclocated ankle up here would get really complicated quickly. In snow or rain it would be utterly treacherous. Tricky when you're leg tired and trying to move quickly…careful…with every step…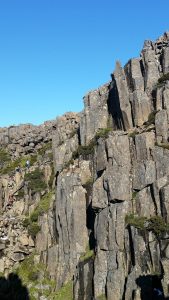 Hiker's on the backside of the ridge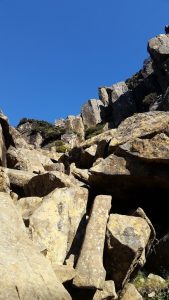 The "trail" ahead…gulp…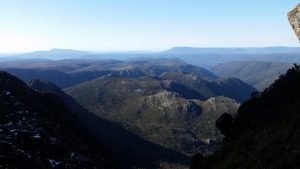 The sunless, icy backside of the ridge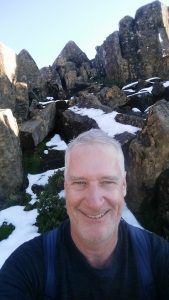 Digging deep, but feeling pretty good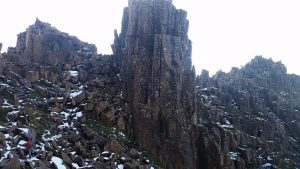 The cold, slippery backside of the ridge. See the two hikers lower Left?
Summit! Now I need to turn around and get off this thing…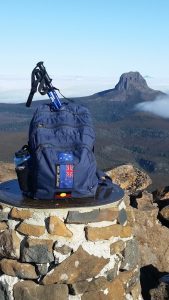 Barn Bluff in the background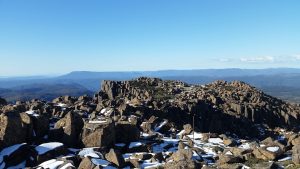 Cradle Mountains jumbled Dolomite summit. Tricky in snow…
I was pretty whipped, the views were stunning and the sense of accomplishment satisfying. But a big front was moving in quickly from Bass Strait in the North. Time to go; I spent maybe 10″ on the summit…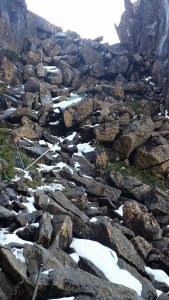 The way home….or to Mordor?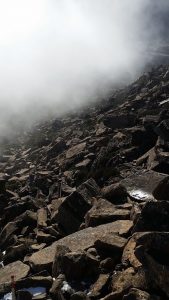 Whiteout front coming in fast…!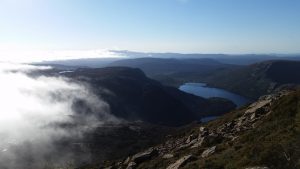 Marion's Lookout and Dove Lake beyond, the way back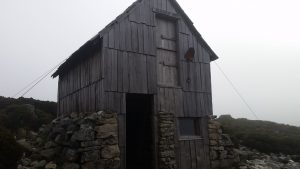 Kitchen Hut under different conditions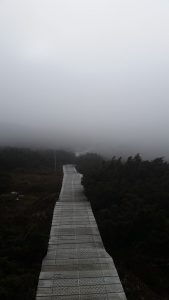 The moorlands socked-in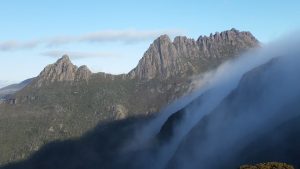 Mountain weather changes fast, creeping ground fog, ridge now clearing!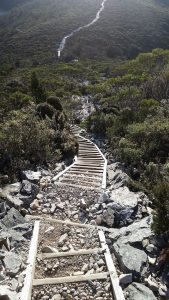 Cardio down climb….
I was going to miss the last bus out from Dove Lake, so I detoured north to the stop at Ronney Creek; longer, but flatter….it was a stunning trail, but most of it passed in a blur as I got into a trail lope and racked up the kms…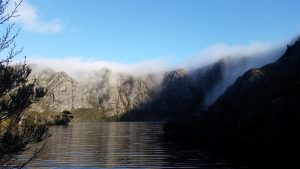 Crater Lake outlet with peaks in a mystical ground fog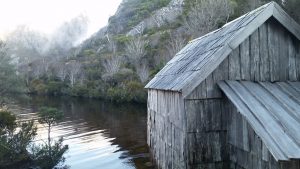 The less known Crater Lake boathouse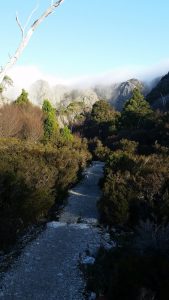 The trail back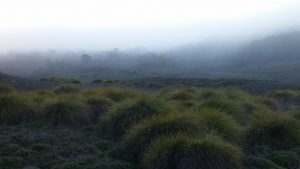 Button Grass plain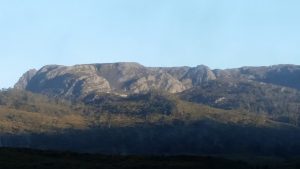 Looking back on the ridge I'd come down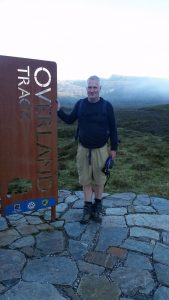 Tired but satisfied; 14 km and 6+ hours later…a great day hike!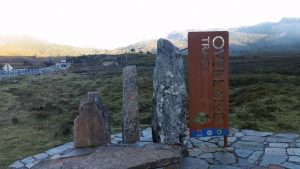 Ronney Creek, the start of the 6 day Overland Track- a bucket list item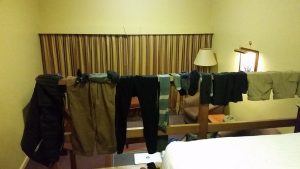 Drying gear in the room, same as it ever was…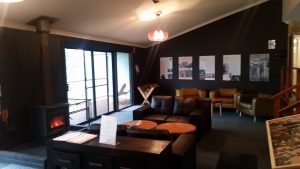 Cradle Mnt Hotel lounge with fireplace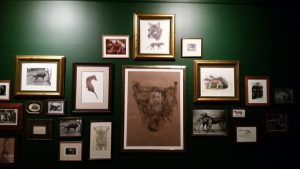 Thylacine art display- a powerful image of a lost Eden…
The hotel also has an attached art gallery, and a wonderful, permanent display on the Thylacine, or Tasmanian Tiger. The last one known died in a Launceston Zoo in 1937, and there are even primitive movies of it. A totally unique, striped marsupial canine- unlike any other creature in the world. Now considered extinct, but alive in the imaginations of many Tasmanians; lost in hiding under the trackless forests of SW Tasmania. Do you still believe…?
It's an intriguing idea, and a potent symbol of the lost wilderness heritage of Tasmania; holding a similar mythical status as the Bison to the plains of North America. There have even been movements advocating cloning the Thylacine back into existence….But, that may be unnecessary in the end…. If such a creature could still exist in the modern world, it would only be in a wilderness such as exists in SW Tasmania.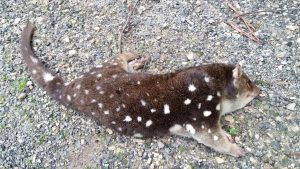 Related to the Tasmanian Devil, but even more rare
Driving the winding mountain roads back to Launceston, I spotted a large, spotted mammal by the roadside. I hit the brakes and turned around. Sure enough, endangered species roadkill… A Spotted Tailed Quoll; head trauma, fresh, looked like it was curled up asleep. A large, very aggressive and secretive nocturnal predator and now endangered, it's the closest I'll ever get to one in the field. Tragic as well, that there's one less in the world today.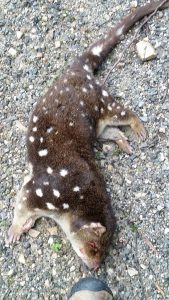 Spotted Tailed Quoll. Boot tip for scale
So after a few wonderful nights at Cradle Mountain, and still sore from the hikes, it was back to Launceston, and the justification for the trip- to locum at the ED in Launceston General Hospital. It's a bit stressful to show up in an ED full of strangers and basically be in charge. The crew was great and very competent; and at around 50K visits/ year it's big enough to have double Consultant cover, so I wasn't ever entirely on my own. As a musician, I liken it to playing with strangers…Everyone can talk whatever game they want. But when playing with strangers, there's nowhere to hide. Within several minutes, everyone knows exactly your level of play- you can't fake it…Same in an ED, you can't fake this game…everyone knows pretty quickly your level of play…..I like to think I held my own…
The hospital puts us up at the Quest downtown. It's a really nice apartment suite with full kitchen in a re-habbed heritage building. Pretty handy and sweet as…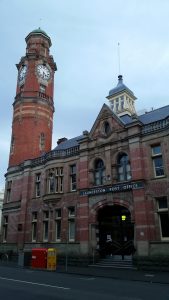 The Post Office clock tower, a Victorian landmark
Launceston's compact downtown is chockful of wonderful, intact heritage buildings; Federal, Georgian, Victorian, Art Deco. Many are refitted into restaurants and cafes featuring Tasmania's local bounty. An easy city to enjoy and explore.
LGH is a modern, regional tertiary hospital with all the services and mod cons expected. Subspecialty care like NICU, Burns, Neuro are sent on south to Hobart, or if really specialized, across Bass Strait to Melbourne. I did three 10 hour shifts, that, while busy and mildly stressful, passed uneventfully. I hope to return in future, as I love to explore Tasmania!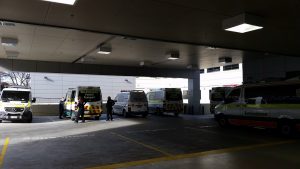 Capacious Ambo bay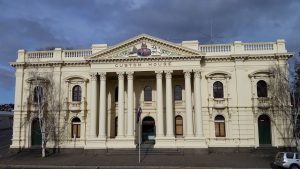 The original Customs House on the North Esk River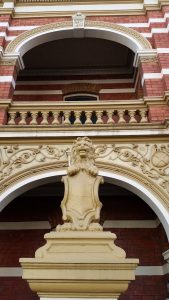 Incredible workmanship and detail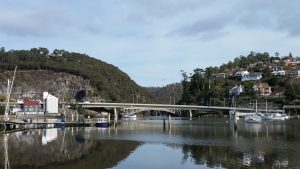 Bridges over the South Esk, Cataract Gorge behind
North Esk River Levee
James Boag Brewery building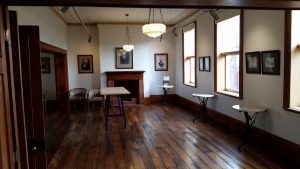 James Boag Brewery museum
Launceston, though 70 kms inland, began in 1806 as an important Van Deiman's Land (now Tasmania) colony port. It's sited where the North and South Esk Rivers join to form the Tamar River, one of Australia's longest navigable rivers. Thus, it's surrounded by rich, flat agricultural lands that guaranteed it's success as an important very early settlement. Tasmania, called the Apple Isle, still ships vast amounts of high quality agricultural produce to mainland Australia. It's a fascinating history of settlers carving a progressive, wealthy, agricultural community out of wilderness by sheer tenacity;
not unlike the settlement of the American West.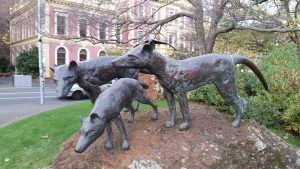 Thylacine statue, downtown Launceston
So, I'll end this Tasmanian trilogy with an image of a group of Thylacines. The symbol of Tasmania; an image of enduring wildness, and a lost, primordial Eden; one that still exists in large measure here in Tasmania. The Apple Isle; a place where colonial English horticulture resides alongside brooding wilderness. A place wild enough where Thylacines could really still exist. Do you still believe…?
I do….DDU 🙂