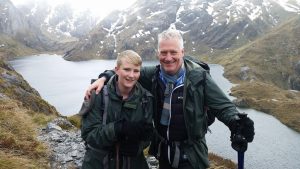 Aidan and DDU above Harris Lake- Routeburn Track, South Island New Zealand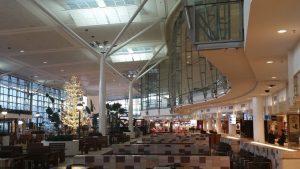 Brisbane International Terminal
I'd scheduled to attend the annual Australasian Emergency Medicine conference in Queenstown, NZ. Stephanie couldn't make it for logistical reasons, so Aidan, our 14 yo Huck Finn, happily played hooky from school to spend 10 days road-tripping with Dad in SINZ. Experiential learning…It turned out to be a fantastic father-son bonding experience.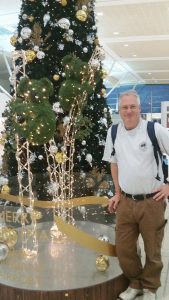 Christmas koalas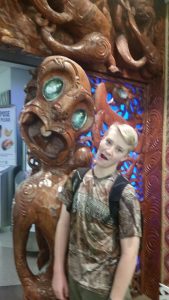 Aidan in-country, Auckland, NZ
Charming NZ weather
Past readers will remember how excellent I thought hiking the Milford Track (in January 2014) with Ultimate Hikes was.This was the perfect opportunity to schedule the Routeburn for three days prior to the conference. At 35 km over three days, including the entire second day above timberline, it's considered one of the finest of the nine Great Walks in NZ, and is said to be " 2/3 as long and twice as hard" as the Milford. We shall see dear readers…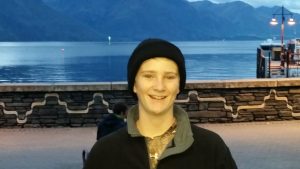 Aidan, downtown Queenstown, on Lake Wakatipu
Lake Wakatipu evening
Hike morning, 0530, from the hostel
We got into QT late in the evening and missed the hike orientation. Up at 0500 to make the bus down to Te Anau, a 2 1/2 hour ride. It was a bit early, pre-prime season in mid-November, the trails open only for a few weeks. Less crowded, but the risk being less settled weather. It was looking a bit iffy, with reports of snow and rain showers, especially in the big mountains to the south…right where we were heading…!
Showtime doc!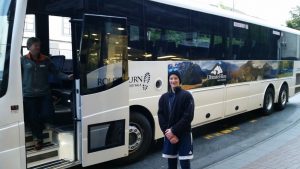 Private bus, nice ride…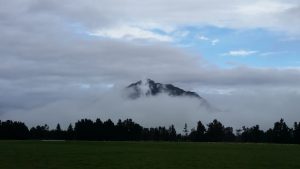 Clearing skies…?
Being early season, we only had 24 hikers along, making the trip pretty relaxed and open feeling. In high season, the 40 hiker limit is filled daily, months in advance. Ultimate Hikes was as remembered; friendly, encouraging and very smooth in all respects. I'll admit to being a bit apprehensive, contemplating hiking over 25 rugged miles with a light pack in cold wet weather…a bit too much to be considered "fun" ? I'm sure everyone was silently thinking the same thoughts as we headed south into the mountains…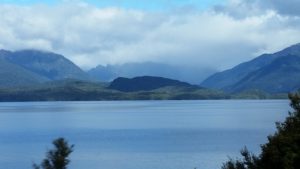 Wild and isolated Lake Te Anau
Above Lake Te Anau, under a light ceiling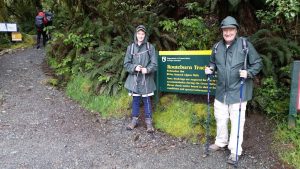 Starting out in the rain
Suddenly, the bus pulls into the trail head; in a blur of activity you become energized by the wet, cool breeze, and you enter the primeval forest…the hike begins.
Ancient New Zealand beeches
The sound of water is everywhere in this green, captivating world. Water music surrounds you and other concerns recede…You focus only on the trail ahead…Three days of separation from the outside world…. How perfect…. Parts of the Southwest New Zealand ( Fiordland) World Heritage area get over 7 meters of rainfall a year, more than the Amazon basin. It's very wet….plan for that and you're good to go.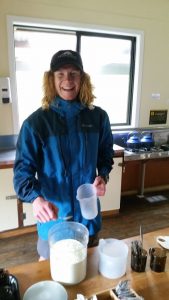 Guide Sam, morning tea, Lake Howden shelter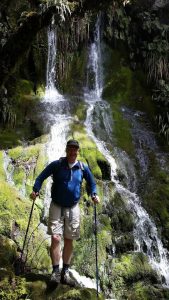 Hear the water music…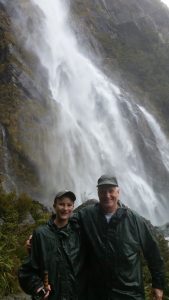 Earland Falls, very cold and very wet
Earland Falls, thunderous and bracingly cold in full flood, at 250 feet, is a highlight of the first day's gradual ascent above Lake Howden. By now, we are warming up and finding the rhythm of the trail.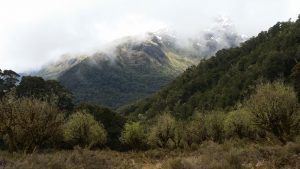 Regenerating Ribbonwood Trees in an avalanche zone, aka "The Orchard"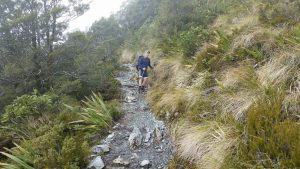 Aidan nearing timberline
After a steep down section we arrive at Lake MacKenzie Lodge, our stop for the night. The ceiling is lifting, holding out hope for clear summits tomorrow, but it's been 12 km, 5-6 hours in the cold and wet. Call me a wimp if you must, but a hot shower and a bunk will be much appreciated tonight!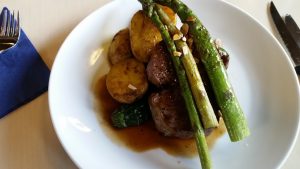 NZ eye filet with au jus, roast potatoes and asparagus…yes, please…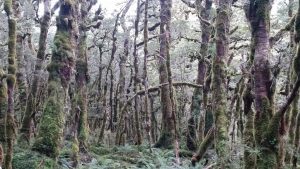 Lord of the Rings forest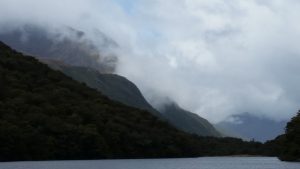 Lake MacKenzie evening
After a somewhat restless sleep we awake to a steady drizzle. This will be the hardest, most exposed day. Through hikers coming over the ridge are saying they walked through three days of clouds, and saw no peaks…beautiful, spiritual, but not ideal perhaps…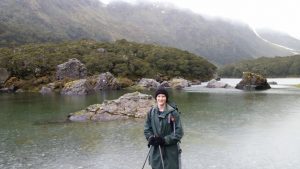 Lake MacKenzie morning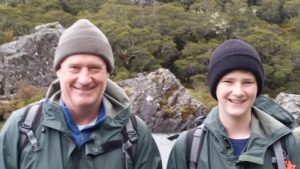 The boys, feeling pretty good
Guide Izzy, leading off the morning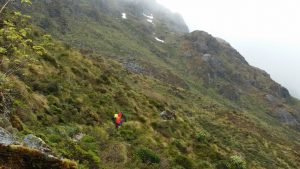 Exposed trail climbing out of Lake MacKenzie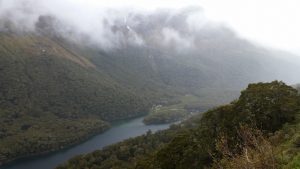 The lodge far below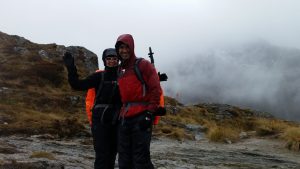 American newlyweds Ian and Joanne at Ocean Peak Corner
When we get over the ridge at Ocean Peak Corner, a stinging westerly wind, 20-30 km/hr, is spitting sleet into our eyes and burning exposed skin…It's a bit of a shock that abates once we tuck down onto the slightly more sheltered Hollyford Face. This is a long, exposed section above timberline that offers wild, stunning vistas as the ceiling lifts higher. Exciting and enlivening…!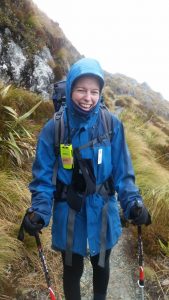 Guide Kate, rugged up and loving the elements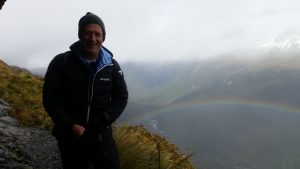 And then a rainbow suddenly materializes far below us, arching over the Hollyford River valley…!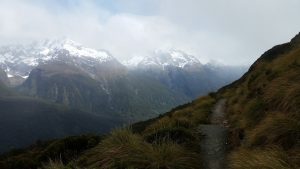 Glaciated peaks across the Hollyford Valley….mystical stuff…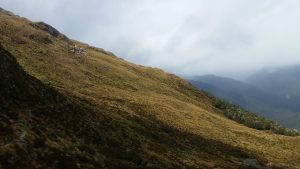 The Hollyford Face
The trail ahead to Harris Saddle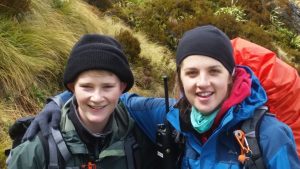 Aidan and Guide Brydie, a great team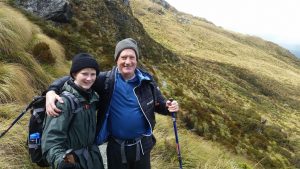 Aidan and Dadude, on the Hollyford Face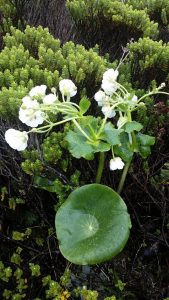 Mount Cook Lily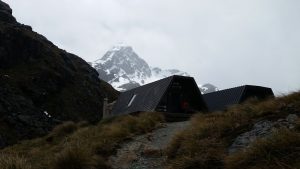 Harris Saddle shelters
Mount Xinicus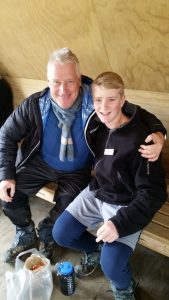 Feeling confident and psyched, Harris Saddle shelter
Moving out, weather moving in…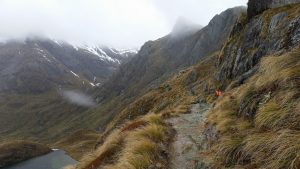 The trail above Lake Harris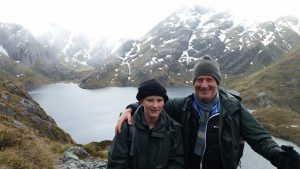 A great bonding experience with my buddy Aidan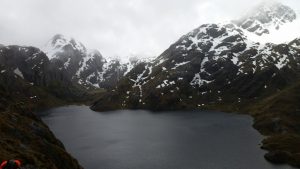 Lake Harris under rapidly changeable weather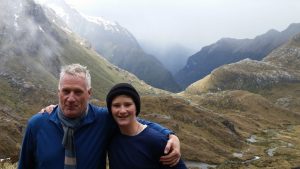 Lifetime memories…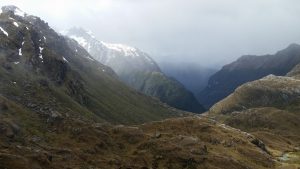 The way down, into the Routeburn Valley
The second day was a wild, challenging hike with sharp winds, rain, sleet and snow flurries. The rapidly changing weather, with sudden sun shafts illuminating the ragged peaks overhead added an unpredictable, exciting edge to the adventure. Much more dynamic and energizing than placid, clear blue skies. It was Aidan's first long hike above timberline- he was amazed by the austere environment and the high energy among the group…The start of a lifelong love affair with the high country I hope…Truly an ultimate hike!
High country, sub-alpine bowl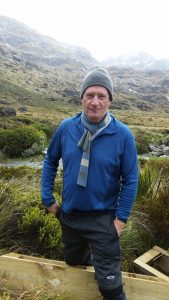 Nothing I'd rather be doing…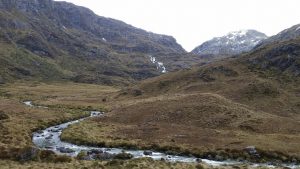 The origin of the Routeburn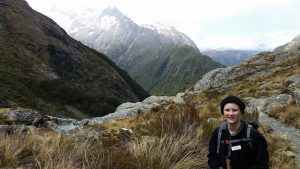 Hiking down into the Routeburn Valley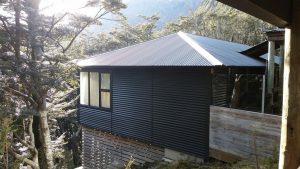 Our bunk for the night- sure beats a wet tent!
Night two was spent at the stunning Routeburn Falls Lodge, situated right below the falls, at timberline, and overlooking the famed Routeburn Valley. After a wild 12 km, 6 hour hike across the raw, high open ridges, it was a pleasure to contemplate a hot shower, warm bed…and, oh yes, NZ rack of lamb…with a central Otago Pinot Noir of course…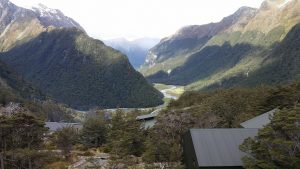 Looking down valley from the lodge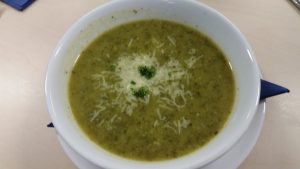 Warm kale soup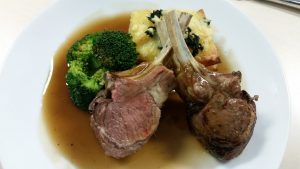 NZ rack of lamb…yes, please…!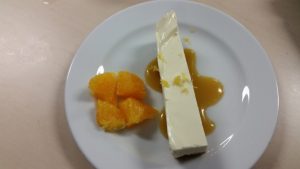 Orange creamy torte-thingy…yup…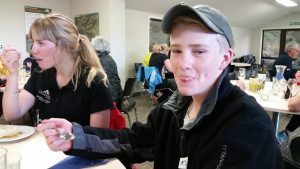 Izzy and Aidan experiencing calorie-loading bliss…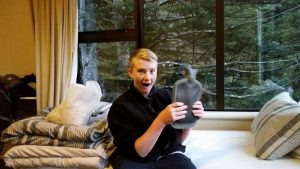 And even a hot water bottle for the sheets…really…!
Because the trip wasn't chock-full, Ultimate Hikes was kind enough to give Aidan and me a private room. That really helps if you're stuck with a snoring stranger… makes for a horrendous night, trust me…! Another reason to love Ultimate Hikes folks, they are simply the best…!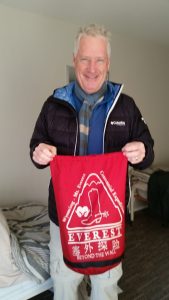 Cowboys on Everest, Dan Pryor…wherever you are…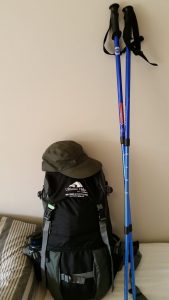 The whole kit-bag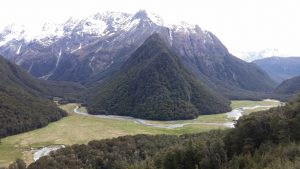 The Routeburn Valley
After 40 years of backcountry adventures, of varying levels of danger/ excitement, you might think I'd feel guilty about "selling out" on such a posh hike. Well, perhaps aging knees and wisdom have banished the purist in me- not in the least! Besides the aforementioned hot shower, bunk and tasty prepared meals and libations, the primary benefit of such an arrangement is the need to carry only 10-15 lbs of kit, allowing one to turn a potentially grueling ordeal into a mere skip down the lane…and after all, you still have to trek the miles, all by yourself…Highly, highly recommended…worth every penny…value for money…etc etc etc..:-)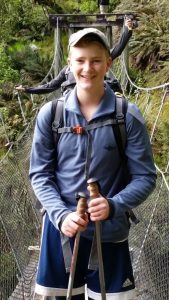 Swing bridge!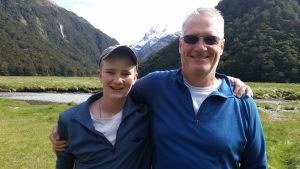 A real sense of accomplishment, Routeburn flats, day three
Izzy and Aidan in the Beech forests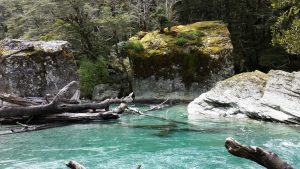 The Routeburn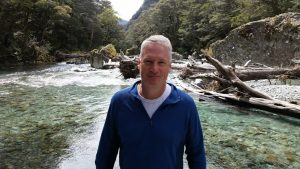 The old guy still got it, well, sort of….!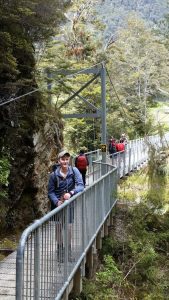 The final swing bridge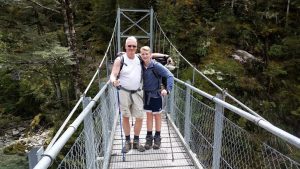 Mission accomplished
To make a special day even more memorable, Ultimate Hikes then takes the whole team to the famous Glenorchy tavern on the end of Lake Wakatipu for a summing up, certificate ceremony and a final farewell. It's been an amazing three day journey together. Challenges met and overcome, large and small; lifetime memories made.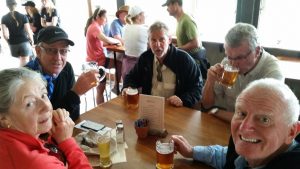 Catherine, Jeremy, Ric, Geoff and Rob- Cheers mates, well done..!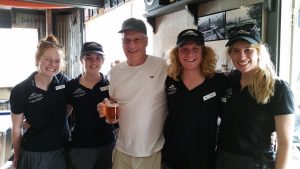 Our fantastic guides: Kate, Brydie, Sam and Izzy
Cheers mate, good on ya…!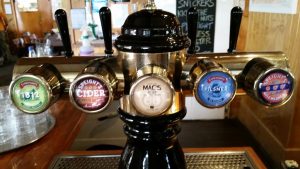 Keepin' it local, folks…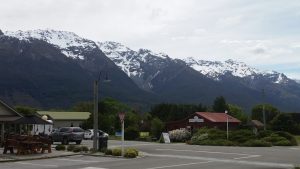 Downtown Glenorchy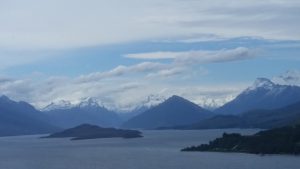 Lake Wakatipu from the bus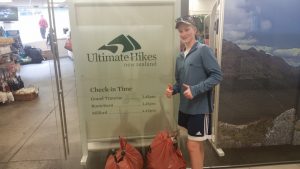 Back to reality, and cellphones, Queenstown
So, three days of tech-free, primordial bliss in the forests and on the ridges of Fiordland NP, South Island NZ. I had a few doubts about creaky knees and a gimpy L hip, that felt better after the hike than before! Aidan had never been on a multi-day hike, and was blown away; but may have to lower his culinary standards for the next several decades of road-trips with friends. For those readers contemplating a trip to SINZ, just "yes…" Please do yourself a favor and go, though plan to get a bit damp. For those with a limber step, a stout heart and a few extra coins in pocket; seriously consider enlisting Ultimate Hikes to assist in logistics, permitting and meal planning. It truly is a most excellent group of people, and a smooth operator. Both of my trips with UH has easily surpassed my expectations, and made what could have been a daunting trip to organize a mere skip down the lane. I have no financial interest in giving them DDU's highest recommendation as an adventure traveler's best friend and resource on South Island New Zealand.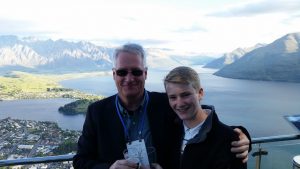 DDU and Aidan high above Queenstown, NZ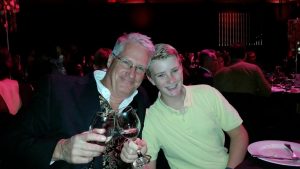 Celebrating a great accomplishment…
Until my next post from the vast southern hemisphere….
Happy trails, Doc Down Under and Aidan Nolan, Brisbane, Australia