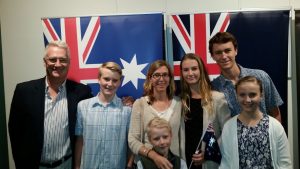 The newest Aussies- The Nolan Gang!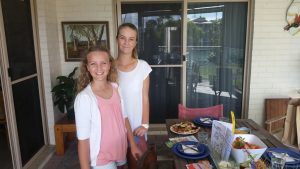 Mother's Day breakfast on the veranda
It's now April 2017, I've got a block of time off and I'm trying to catch up on some past news. The biggest by far is that way back in June 2016 we crossed a major milestone by becoming dual citizens of the USA and Australia. This is the end result of along road that ended in an outcome I had never expected or anticipated in my life. How did THAT happen?!
It's a long story full of surprising twists and turns. None more surprised at the outcome than me….except maybe Stephanie!
Basically, we came to Australia for a few year's sabbatical in 2012 on a 457 long stay (4 year) work visa; offered due to my advanced training in Emergency Medicine. After a year or so, the hospital came to me and surprised me by offering to sponsor us for Permanent Residency (PR) in exchange for 2 more year's commitment to them. I was happy to say yes, as I didn't want to move on yet anyway. PR turned out to be quite the hassle to obtain, including health checks with Xrays and lab work for all seven of us, fingerprinting and FBI background checks from back in the States for me and Stephanie, and around $3000 in fees.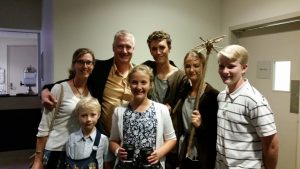 "Peter Pan" school play, Luke and Claire as the Lost Boys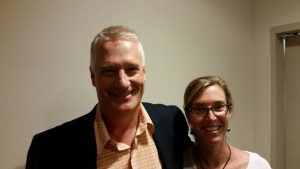 True Blue Aussie, mates…
What I didn't realize is that #1 Permanent Residency isn't really permanent (long story…)and #2 PR completes the really hard yakka towards Citizenship, so…..
Anticipation on becoming a little Aussie
Once you have PR, stay in Australia two more years and keep a clean record and you are eligible to apply for Citizenship, at nominal cost- though a lot of paperwork ensues. Adults then need to sit for a written 50 question exam, and on passing, be scheduled for a swearing-in ceremony. They're always held on Australia Day in 26 January, and then various other times and locations depending on demand. You generally attend in your home electorate, the Redland Shire in our case. In June, as our big day approached, excitement mixed with mild apprehension. It's a major commitment to swear allegiance to another country; many people have to surrender their native birthright to attain Aussie Citizenship. Luckily both Australia and the USA allow for dual citizenship, but there are some voting, tax and residency complications that might arise. That said, Australia is a wonderful, clean, progressive country with a bright future. Citizenship confers full rights to us and all the kids for life, without limitation. Also, a trans-Tasman agreement allows Aussies and Kiwis the right to live, work and retire in either country; thereby opening up opportunities to live and work in New Zealand with little limit as well. All in all, a no-brainer to say yes to.
Citizenship turns out to being a major, if unexpected, corollary benefit of our spending some years down under and simply growing to love the lifestyle and opportunities available in Australia. Stephanie had more misgivings, and even a touch of melancholy to be honest, but as I said to her, "We're not losing our American heritage, just gaining some Australian. All additive, nothing taken away…"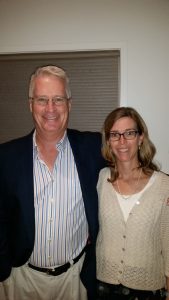 The Big Night…
At least that's how I felt. I'm sure it's a bit different for everyone, depending on life circumstances. Around 24% of the Australian population of 24 million people was born in a foreign country, which is higher than the USA. And historically, until very recently with the advent of cheap jet travel,, a move to Australia was invariably one way and permanent.
The ceremony itself was really touching and classy. 128 new residents with families and supportive friends almost filling the performance center auditorium. Dignitary speeches, a few local choirs, patriotic singalongs; it was a full evening, an event even… Very moving to become a full part of the dynamic historical flow that is the Australian nation. It's remarkable to consider what this country has been able to achieve; going from impoverished prisoners scratching out a wilderness living from crude bark huts in Botany Bay to the modern skyscrapers of Sydney Harbor in just over 200 years. A federated Commonwealth only since 1901. Truly incredible, and a lasting testament to the British genius for engineering and governance. I hope that the Nolan family can make some small contribution to the ongoing success of this venture!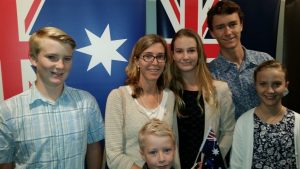 The Nolan Clan- Australia's gain!!
Australian, Queensland, Aboriginal and Torres Island flags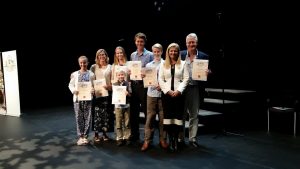 Proud new citizens of Australia, with the Mayor
In turn, we all got up to receive the handshake and official parchment document from the Redland Shire mayor, and also each got a potted palm to plant as a welcome to our new country. Very nice touch. We then went into town for a giant Chinese food banquet at the kid's request- The Happy Garden…indeed….
New citizens, and very lucky kids…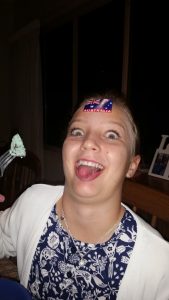 Cate getting giddy…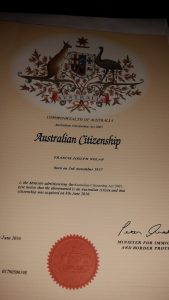 The official document-suitable for framing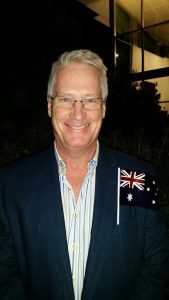 Proud Aussie-American. True (red, white and) Blue!
So, it was a night to remember. A defining moment in our adventure down under. Who knows how this trip, these paths taken, will impact and reverberate in our lives and the lives of our kids and grandkids for generations to come. It seemed like a good idea at the time, but like many things- the final repercussions and outcomes are simply unknowable. Good? Bad? It's uncertain, and I'm comfortable with that. For right now, we are dual, and that's very cool. So, be careful when taking your next step- you never know where you'll end up; but may your ride be interesting indeed!
Best to you all from our other home in the Southern Hemisphere.
DDU and the Nolan clan 🙂