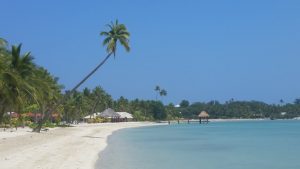 Paradise found…? Well, it's pretty darn close…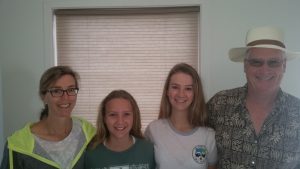 Pre-trip photo
Well, it was never even supposed to happen. Claire wanted to go somewhere exotic to celebrate her "Sweet 16th". Turns out there was a great Emergency Medicine conference in Fiji right on the big day, and I already had vacation scheduled. BINGO! Suddenly, we were on our way to Fiji, just over 3 hours East from Brisbane, Australia. Our first trip into the South Pacific, this was a "girl's trip", meaning deluxe with lots of food and lounging about. The boys stayed home in Brisbane with friends, another miracle of sorts…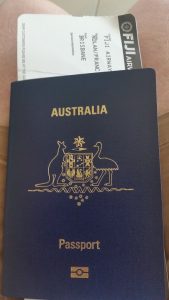 First trip on our new Aussie passports
Three hours east and you are in a different world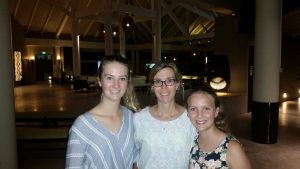 Girl's trip!!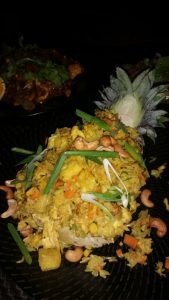 A rice-stuffed pineapple….yum!
The conference was held at Denarau Island, a multi-resort area just south of Nadi. Purists may sniff; it is after all, not the "real" Fiji. But as a quick getaway, it provides a very relaxing and even magical tropical escape. You first notice the warmth and relaxed attitude of the all-Fijiian staff. "Bula" means welcome…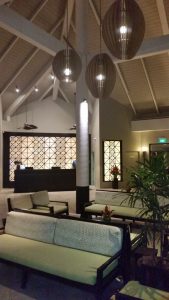 Radisson Blu lobby, all open air
You wake up to soft warm breezes and gently lapping waves, definitely full tropical. Over breakfast, Fijiian musicians serenade with their distinctly high, lulling harmonies accompanied by acoustic guitars and ukuleles. A great way to greet the morning…!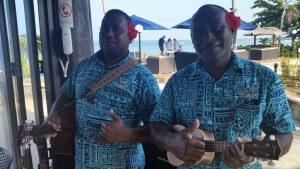 Setting the mood…play on brothers…..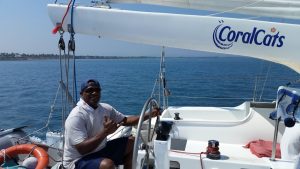 Moses, the skipper
Right off, we were booked for an all day snorkel and cat cruise with Coral Cats. They were #1 on Trip Advisor, so we booked ahead, anticipating a great day…. Stephanie stayed ashore to avoid severe sun exposure and perhaps a touch of sea-sickness. Perfect weather and we headed out to the Mamanucca Islands a few hours sail West of Nadi…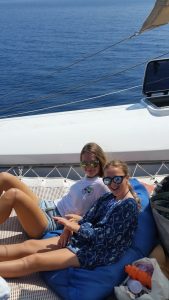 Chillin' and grillin'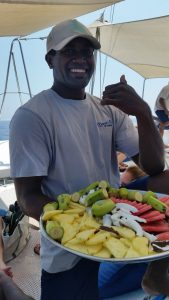 Fresh local fruit platter
After the first snorkel
The water was warm and calm, with good visibility-50-60 feet. Decent coral with little bleaching, lots of colorful fish, though nothing big…no sharks, rays etc…Beautiful experience…Then it was into Musket Cove for a Fiji BBQ lunch, a nice break and stretch.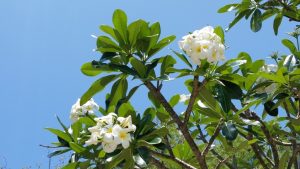 Frangipani blossoms
The multiple smaller islands and shallow, turquoise waters felt somewhat Caribbean, but with a distinct Polynesian/ Melanesian flavor….the South Pacific indeed!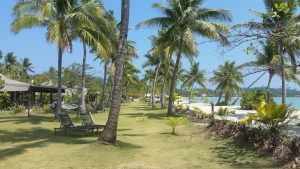 Musket Cove resort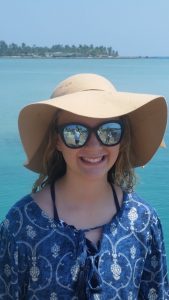 Cate, now 11 yo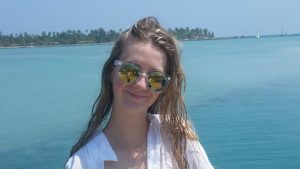 Claire, 16 yo tomorrow…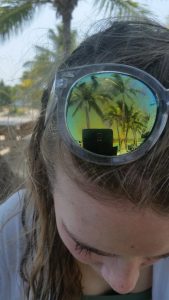 Island mind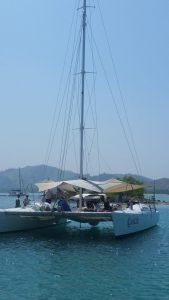 Our ride for the day…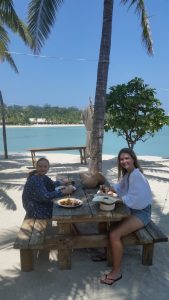 Tropical lunch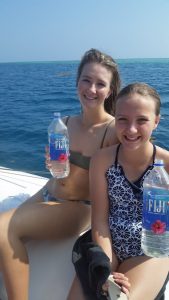 Loving Fiji!!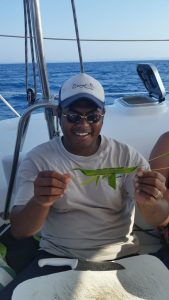 Dave with his incredible palm creations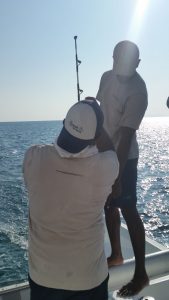 Setting the troll for the run home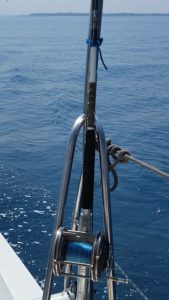 Anticipation…
After lunch, the second snorkel was even better. A long sloping coral bank, covered with soft coral forests, and some Staghorns, Shelves etc. Clouds of fishes of all sizes and descriptions, including larger Parrot and Triggerfish in the deeper reaches where the corals dropped out of site. Superb snorkeling experience…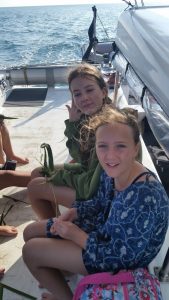 The run home to Port Denarau
The entire day was just so well-paced and handled. The crew, company, food, scenery, snorkeling and overall vibe was just one of gentle relaxation, exotic land and seascapes, with a bit of adventure to top it all off. Coral Cats, #1 for good reason and even better than hoped. Highly recommended if in Nadi/ DI.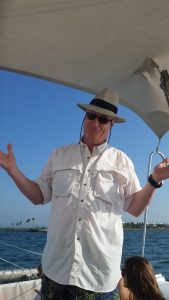 All great days must come to an end…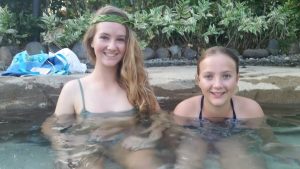 Back ashore for an evening dip…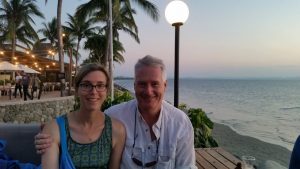 Linking up with Stephanie for sunset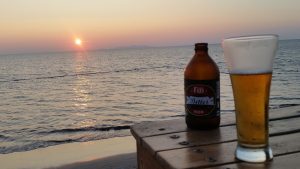 Fiji Bitter sunset, it really doesn't get any better folks….:-)…!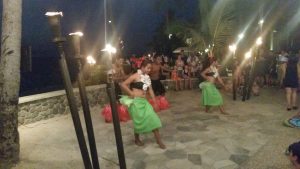 Traditional Fijiian dance and song under the stars
The resorts each have free nightly activities and are focused on traditional Fijiian culture. You can witness multiple performances, including full dress traditional "Meke" ceremonies that are only seen in more remote villages on special occasions. Cynics may feel it's staged, not "authentic". Whatever…I found it added a lot to a specific sense of place and enriched each evening.
No doubt, given more time and planning, much of the "real" Fiji can be found in the hinterlands, and especially on multi-day sails into the over 330 islands that make up the country. Perhaps the subject of a future DDU: a 14 day sail and snorkel/ dive trip through the Yasawa group? Sigh….one can always dream….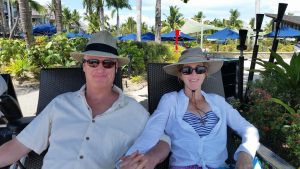 Relaxation, a vital component of any Fiji trip…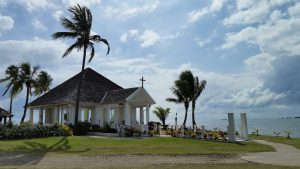 Wedding Chapel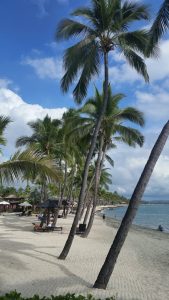 South Seas dreamscape
A unique feature of DI is that six high-end resorts are contiguous and share a mile or so of uninterrupted beachfront facing West and North. You can walk freely among all the beautiful gardens, pools and water features and use any restaurants etc that strike your fancy. There are no roads, cars or distractions between the lawns and the shore. At night the entire beachfront is subtly lit by gas tiki torches under swaying coconut palms and tropical flowers. Restaurants are open air, with some tables out on the sand…The overall experience is one of soft, green escape. A fantasy perhaps, but a pleasantly persuasive one.
I'm in….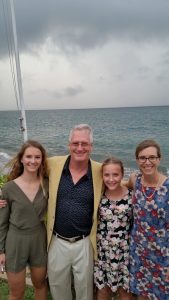 Claire's Sweet 16 Birthday party guests
A beautiful young lady on her big night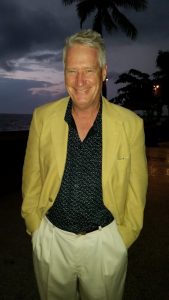 Proud Papa Nolan
Then it was time for Claire's sweet 16 birthday party. It all fell together like it was fated. We managed, with a little intrigue, to score a special birthday cake and have it delivered tableside, complete with Fijiian singing! A sudden tropical squall added to the excitement and soon gave way to a warm, humid evening under southern stars…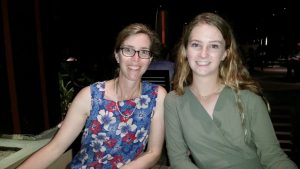 Celebrating Stephanie's big accomplishment too…!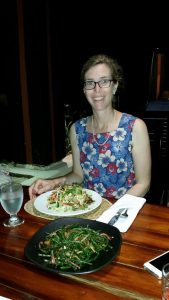 Aussie's best Mom!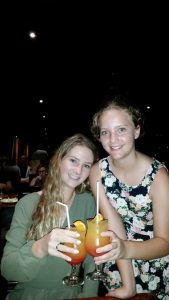 Sister's birthday mocktails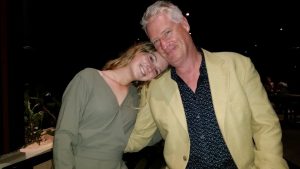 Happy Sweet 16, sweetheart Claire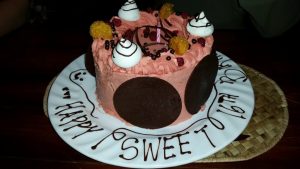 The miracle cake
Lifetime memories with our wonderful young ladies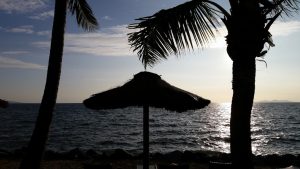 Another gorgeous day draws to a close…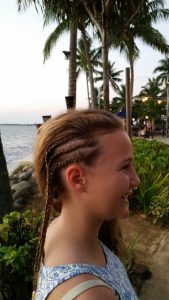 Cate gone troppo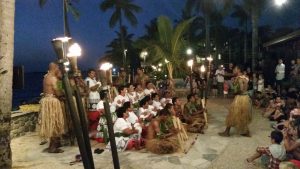 A traditional Meke ceremony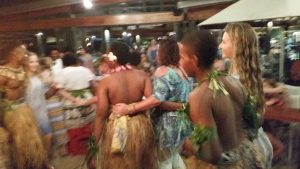 Girls dancing like a local…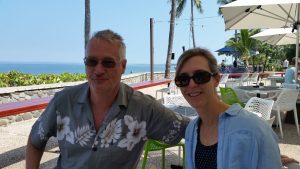 Another day in paradise
Oh, and the EM conference was great too! High level discussions, good content, nice snacks and afternoons off. Perfect balance!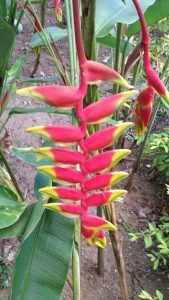 A ginger flower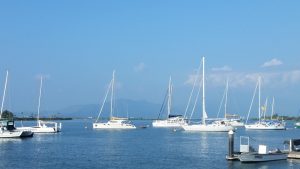 Port Denarau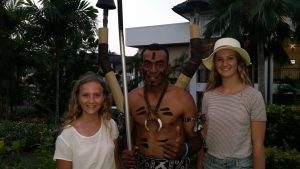 A (very) friendly local…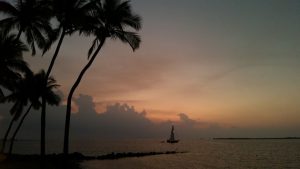 Returning to port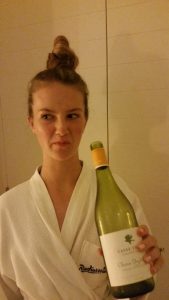 An acquired taste love….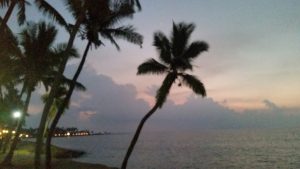 Last Fijiian evening, at least for a while…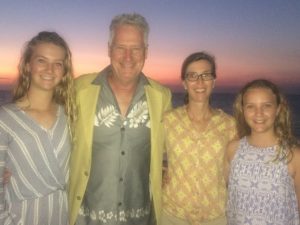 Final family sunset in Fiji
Suddenly, like all dreams, it was over…the sun rose on our last morning in Fiji. Up at 0500, a quick final look, a few snaps and into the waiting cab for Nadi airport and a return to reality… But it was a wonderful dream, one we hope to revisit someday…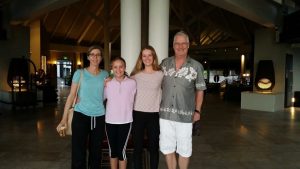 Hotel lobby goodbye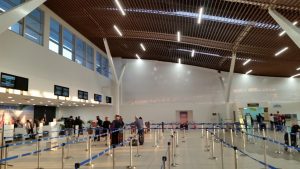 Nadi Airport, small but modern
So, that's the story of our adventures in the South Seas thus far. While paradise might not truly exist in this life, a reasonable approximation would be Fiji. As an entree, Denarau Island was perfect, hopefully whetting the appetite for future adventures further off the beaten track, in true Doc Down Under fashion. Thanks for joining again on the journey. I hope it was marginally educational as well as entertaining.
Until who knows when, I remain your faithful DDU. Still manning his duty station, now some years later, somewhere out in the South Pacific. Your kind comments and support always appreciated!
Vanaka, DDU