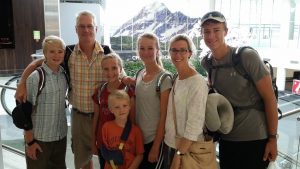 Nolan clan, Christchurch, NZ airport, January 2016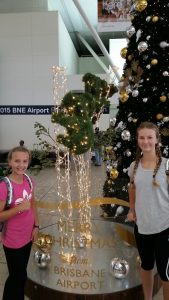 Koala Christmas bears, Brisbane
Everyone wanted to see New Zealand for a Christmas present. So, we planned an 18 night road trip covering both islands for January 2016. Trouble is, that's high summer season down here; camper vans, cabins etc all sold out almost everywhere, six months in advance. A tip for anyone planning this trip: you can almost always get a spot if all you're looking for is an unpowered tent space; you also have tons of flexibility, even at the last minute. So, we decided to do it old school; 7 people, two mountain tents, one Hiace Toyota van….New Zealand….. It was epic, and wonderful, if a bit cramped….!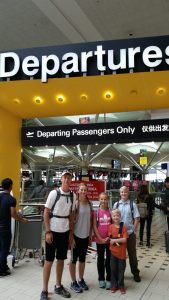 An exciting day!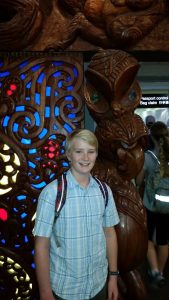 In country, Aotearoa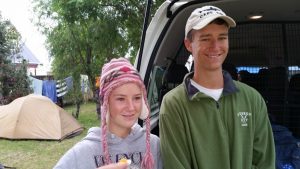 Summer in NZ, "It's a bit chilly…"
We started out east of Auckland on the Coromandel peninsula, a beautiful area with forested mountain ranges above wild beaches and bluffs. Not heavily touristed; it's more of a Kiwi family escape. Well worth checking out.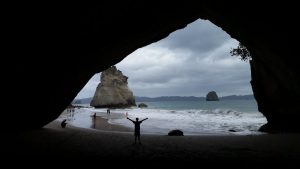 Cathedral Cove
Cathedral Cove is the most famous landmark on this coastline, and pretty impressive, but there are many other fascinating features in this part of the world.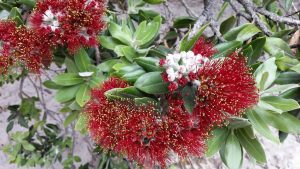 Pohutukawa tree, flowering at Christmas-time, a Kiwi icon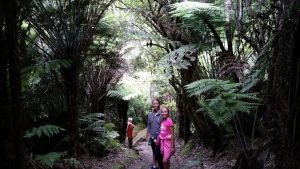 New Zealand rainforest on hike to Cathedral Cove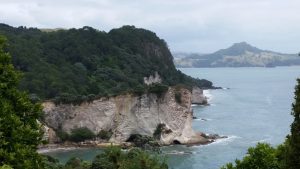 Coromandel coastline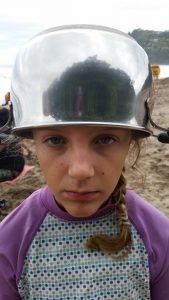 Camp duty Cate…
We stayed a few nights at Tiarua/ Pauanui. Beautiful small towns on a complex marine estuary. A small volcanic spire affords fantastic views of the surrounding landscapes.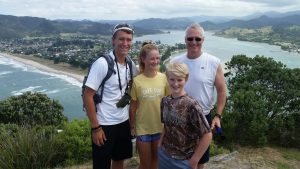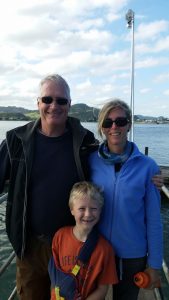 Owen, our baby boy…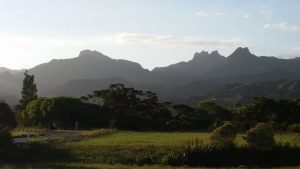 Coromandel landscape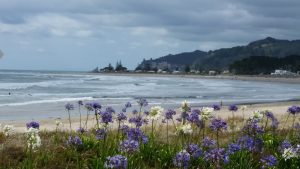 Beautiful, but not a 'stralian beach, mate…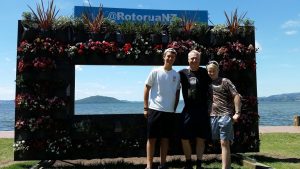 Lake Rotorua, a flooded volcano crater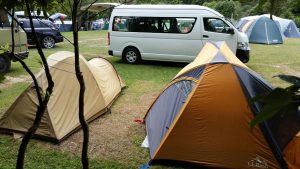 Our entire setup…keeping it simple folks
Rotorua is famous for hot springs, geysers, mineral springs and all things geothermal. Hopefully you will camp well upwind…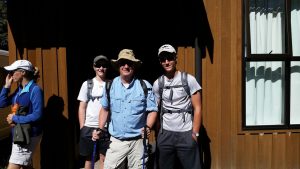 Tongariro National Park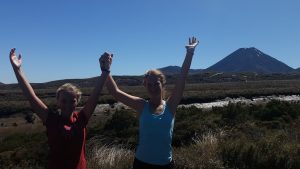 Daughters with Mt Doom
We then headed up to the high and wild Tongariro plateau. We initially planned to hike the stunning Tongariro alpine crossing; an 18 km trail up between two of the three volcanoes here. Brisk winds gusting to 50 km/ hr forced us to choose a lower, less exposed 14 km hike to some isolated lakes, and a perfect waterfall.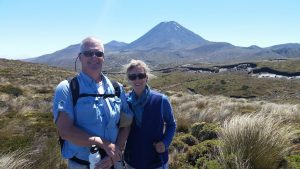 On the trail to Mt Doom with Stephanie! I carry the ring of power…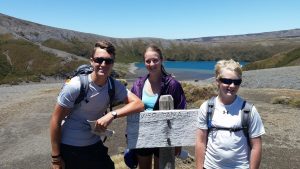 Lower Tama Lake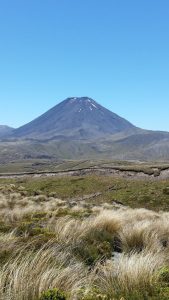 Mt Doom, aka Ngauruhoe, LOTR was filmed here
It's hard to capture the vast, wind-swept austerity of this place on film. In my 40 years of serious hiking, I have to say, it's an entirely unique and
intriguing environment. Well worth a detour and several days of exploring.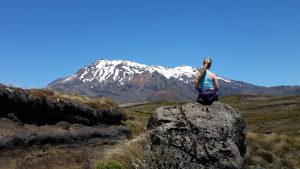 Claire and Mt. Ruapehu
Daddy, Daughtie and Doom…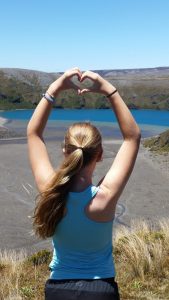 Kiwi Love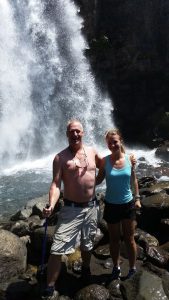 A frigid shower after a long hike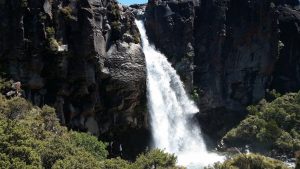 Taranaki Falls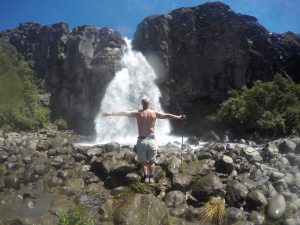 Feel the spray!
| | | |
| --- | --- | --- |
| | | Mt Ruapehu, active as recently as 1995 |
And now, a brief digression…due to a glitch with a camera SD card, I lost several hundred photos; from Tongariro twilight, thru Wellington (cool, arty place), the epic crossing of Cook Strait to the South Island by ferry under blue skies and calm seas (lucky, as they cancel the ferries when seas are running over 8 meters (24 ft)! Also Marlborough wine country (bucolic…) and hiking in the sublime Abel Tasman National Park. Further losses, Westport, Pancake Rocks and the Franz Joseph and Fox glaciers… the entire west coast of SI NZ; stormy, moody and mystical. No place to live perhaps , but certainly a wonderful area to explore…Alas, locked in the confines of my memory with no photos to share….For those planning on that well-worn trip; yes, just plan on crap weather and head out…you'll be well rewarded….. The photos pick back up climbing Haast Pass heading east and inland towards hip little Wanaka and Queenstown beyond.
Aidan fishing NZ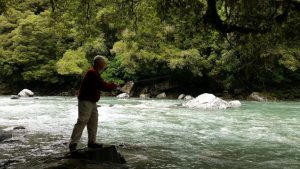 Ditto Dad, I lost a nice trout right here…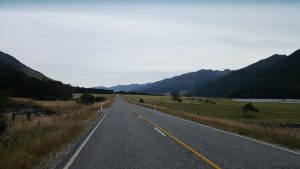 Over Haast Pass, heading for Wanaka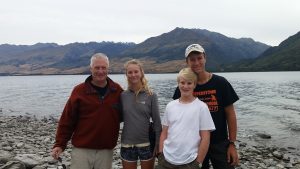 Lake Wanaka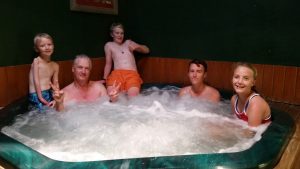 A well earned hot tub, Wanaka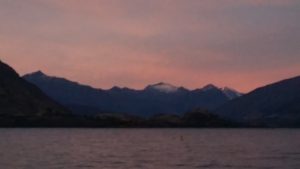 Alpenglow, Lake Wanaka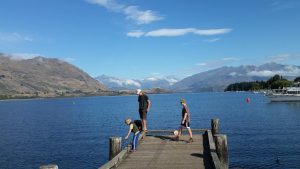 Wanaka morning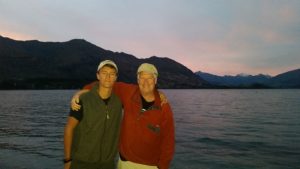 My #1 son and good buddy, Luke
Next morning , up early, around the lake for a 50 km drive to the end of the gravel road in Mt Aspiring NP. The landscape here on the Central Otago plateau is the polar opposite of the wet, wild and windy west coast, only 30 miles away….much higher, drier and ranchy. Very reminiscent of western Montana-love it!!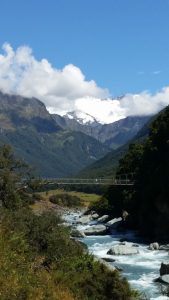 Swing Bridge start, a NZ icon
Our goal, hiking the Rob Roy Valley Track, a stunning, varied 12 km trek that's considered one of the best day hikes in NZ, and that's saying a lot! We headed out under perfect blue skies, and the hike did not disappoint…in fact, better than advertised.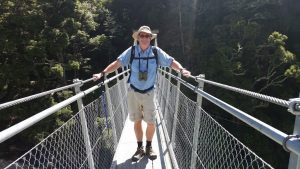 Gonna be a great day
After crossing the impressive swing bridge, the trail heads steadily up the valley through beech and fern-clad forest…Hobbit land comes to life…! Occasional openings in the forest canopy reveal massive glaciated peaks, shimmering in the intense sunlight, high above. Building plenty of anticipation to encourage you to keep moving ever higher…
The trail ends above stunted timberline in a huge glacial cirque. Plenty of open space to stretch out and have lunch with friends while being serenaded by the music of a hundred waterfalls, rivulets and rills. Truly a magical experience.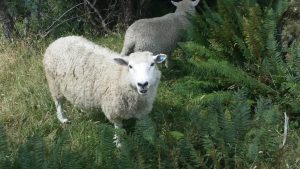 Hiking the NZ lowlands generally means sheep as companions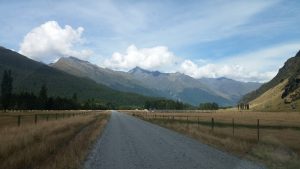 The road back to Wanaka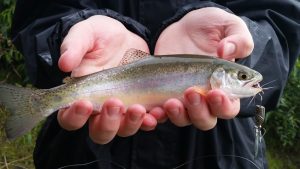 A SINZ Rainbow…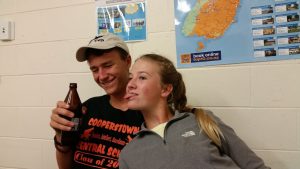 Bogan Aussie party people….stop….!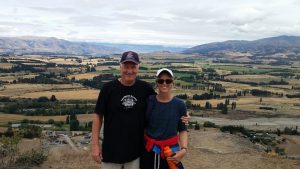 Ma and Pa atop Mt Iron. Right over downtown Wanaka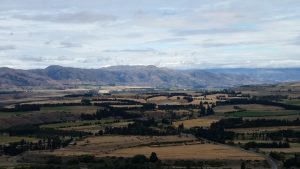 Central Otago from Mt Iron
Lake Wanaka
My excellent young men, Luke and Aidan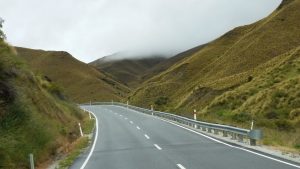 Cardrona Pass, the high road to Queenstown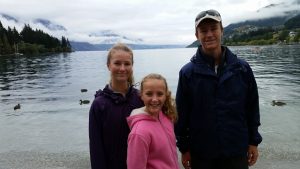 Lake Wakatipu foreshore, Queenstown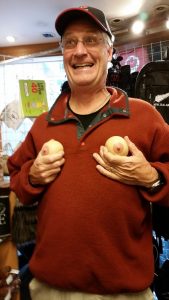 That feels…weird…!
Right outside of Queenstown is the birthplace of bungy jumping, since 1988, at Kawarau Bridge. The adrenaline pumping visitor's center is a mandatory stop. Though on this particular day, our teens deferred from making their leap of faith. Maybe next time…?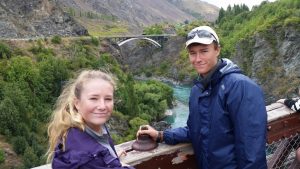 Uncertainty reigns….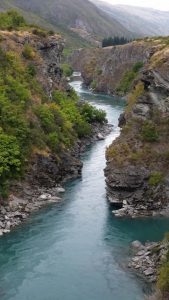 Kawarau Gorge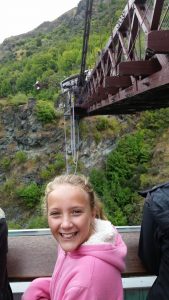 "I don't think so Dad…"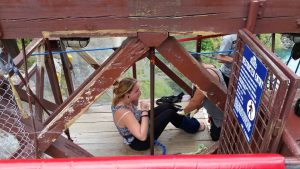 The next victim…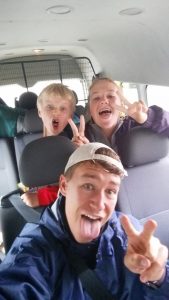 Relieved to be back on the road…!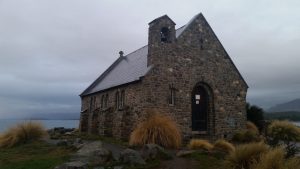 The Church of the Good Shepard, c 1935, Tekapo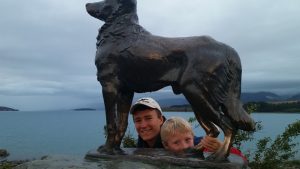 The sheepdog monument, Tekapo
Moving further north, the Central Otago plateau gives way to a vast inland grazing area known as the Mackenzie country. This region was settled by settlers from Scotland and is comprised of large, remote sheep stations.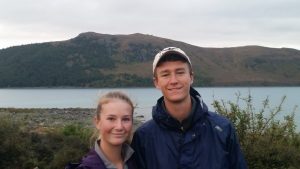 Claire and Luke with Mt John behind
Next morning dawned bright and dry. We hiked up Mt John for panoramic views of the surrounding Mackenzie country and to check out the telescopes operated by the University of Canterbury, due to the purity of the night skies in this region.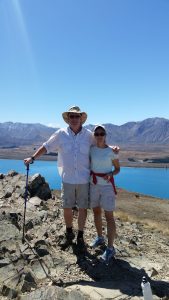 Best way to spend a day…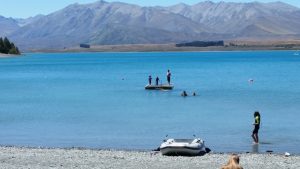 Lake Tekapo, ice cold, even in summer…!
Two hours north brings you to Christchurch and our destination. The city is recovering nicely from the devastating earthquakes of 2011. What were depressing vacant lots in the CBD, during my visit in January 2014, are now filled with foundations and rebar forms. Signs of life everywhere, but still a long way to go. Someone mentioned that the rebuilding of the Christchurch CBD was now the largest construction project in the southern hemisphere…I believe it!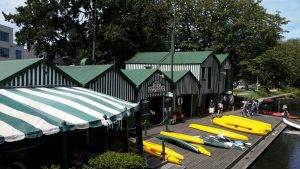 Avon River boathouse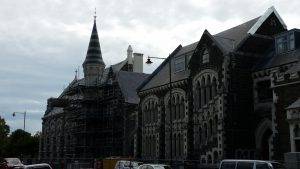 Ongoing restoration of a heritage building
The Botanic Garden sustained little damage, and is magnificent in full summer bloom in January down here.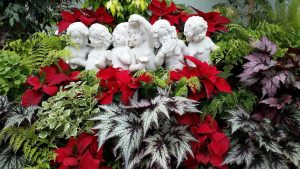 A Christmas display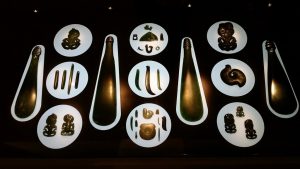 Maori Greenstone (Pounamu) implements
Equally impressive, and miraculously undamaged is the superb Canterbury Museum, on the Botanical Gardens grounds. One of the world's best regional museums, and free; it has extensive collections of Maori artifacts, Antarctic exploration and New Zealand bird life dioramas. Really exotic and highly recommended.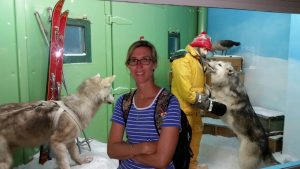 Antarctic exploration diorama, I believe they ate the dogs…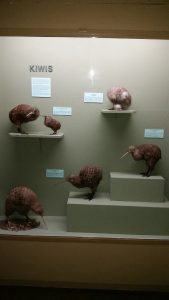 KIWIS!
So, finally, it was time for the end-of trip celebration. We saw and learned an amazing amount traveling rough together over 18-20 days. New Zealand is very different than Australia in almost every way, and we all took home memories that will last a lifetime.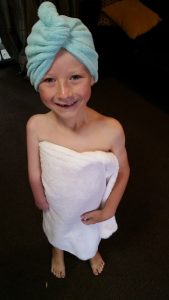 Last bedtime in NZ!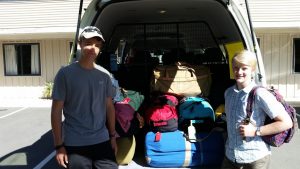 Packing it up for the airport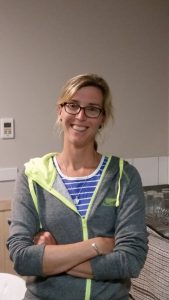 Stephanie, the one who pulled it all together!
Even after five months, the memories or our NZ trip are very fresh. So many common experiences shared; we all want to go back again soon. In fact, I just booked a hike on the Routeburn Track with Aidan for November 2016…Long story, but an epic DDU in waiting…If you are ever planning on traveling this way down under, I tell everyone that Australia and New Zealand, though neighbors joined by common heritage and language, are otherwise entirely different places. My advice is not to miss either, but to plan on spending adequate time, 2-3 weeks in each country, as a minimum….you could easily spend a lifetime.
Thanks again for traveling along with us; family, friends and fans of DDU wherever you are. Sorry for the drought…just busy, busy, busy living life down under with five kids…. Wishing you the best in your adventures, still reporting from my duty post in Brisbane.
Fondly, Doc Down Under.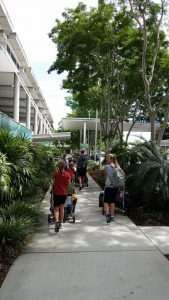 Back in Brisbane…it's so hot here…!