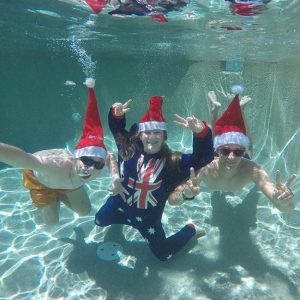 Merry Aussie Christmas, #3, from Aidan, Claire and Luke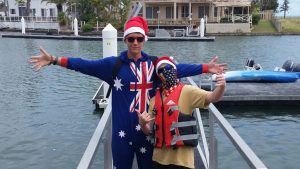 So here we are, still down under, heading into our fourth year…Looking back, I see that this is only my third DDU entry for 2015…WOW…just wow…….Time flies, and we are busy living life I guess. Lots has been going on, it seems maybe we're too busy for me to sit and write a bit…..All apologies friends and family. Anyway, a southern hemisphere " Merry Christmas" to you all from the Nolan family….:-O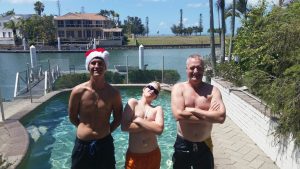 Muscle Beach…?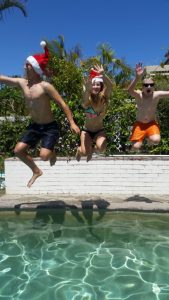 Flying Nolans!!
Our teens…
We had a nice Christmas dinner with several other American and Canadian families we've gotten to know. Played whiffleball out on the foreshore park in the 85 degree heat. Everyone feeling similarly displaced from family and familiar environments…
Dad, I'm starving…when's dinner…?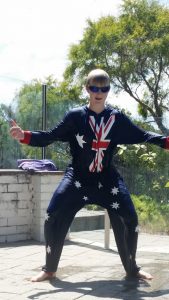 Groovy Baby,…!
Christmas elves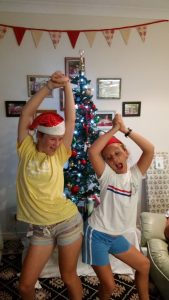 Christmas bump….
Santa's sista helpers..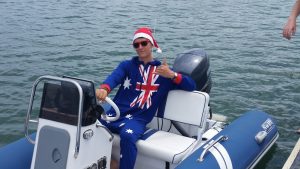 Christmas morning sleigh ride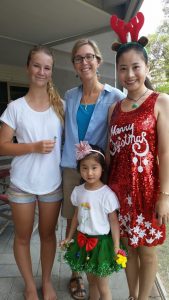 It's a universal holiday at this point!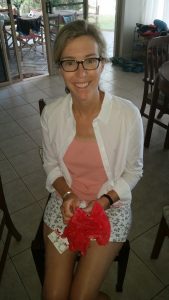 Stephanie, the girl that makes it ALL happen…!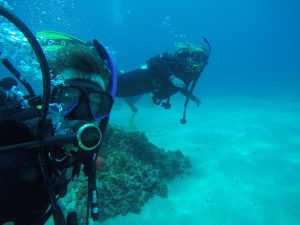 Luke and Claire on Manta Bommie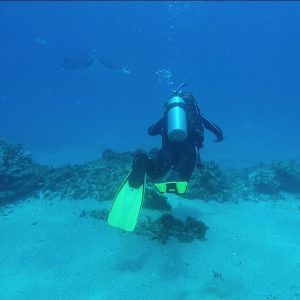 Claire getting close to a Giant Manta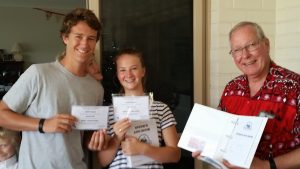 Divemaster Harvie with the Certificates
Luke and Claire also got their open ocean diving certificates, finishing up their last year's Christmas presents right on time…They did an amazing dive where they saw Giant Mantas, Lemon Sharks etc…So proud…! Look up KingofAqua on youtube to see Luke's video of the dive..Sweet as….!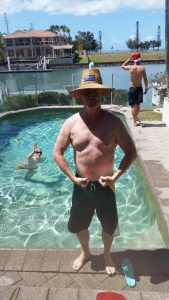 Some tourist…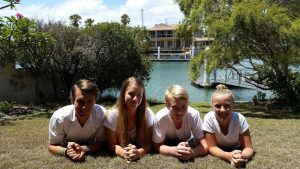 Luke, Claire, Aidan and Cate
Recording some new o.g.nolan tunes, nooo…!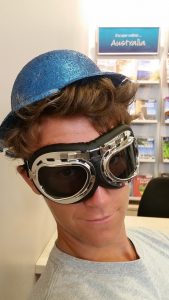 Road warrior…excellent.
So, working backwards from Christmas, Luke and I did a father/ son camping trip down the coast in Byron Bay, visiting some old favorite haunts and finding some brand new ones too…Really fun and laid back trip…Luke's developed into a most excellent road warrior.
Aussie countryside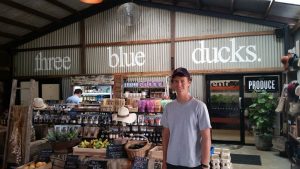 At The Farm , Byron Bay, NSW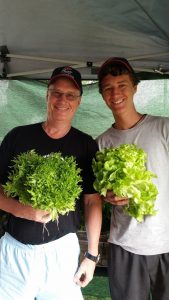 Amazing lettuce, Mullimbimby Farmer's Market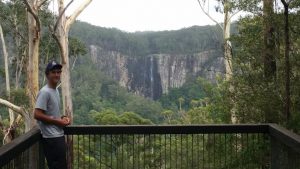 Minyon Falls, NSW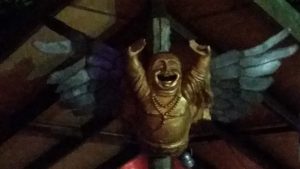 Flyingbuddahthinghy…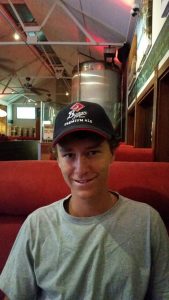 Byron Bay Brew Pub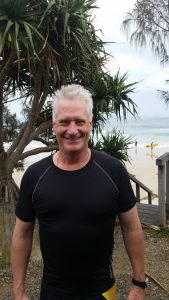 The o.g. at Wategos Beach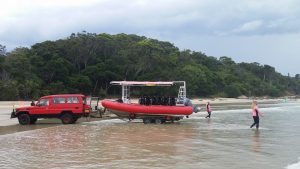 Julian Rocks dive boat
The Pass in a rainstorm
The Pass, Byron Bay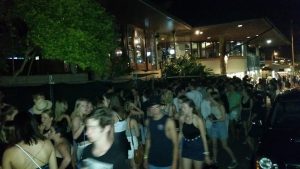 Schoolies week, night action, Byron Bay..(Gulp…..!)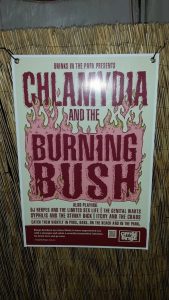 Don't miss this act!! NSW Public Health warning…;-O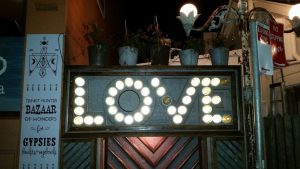 Mixed messages…
World's oldest (and most enthusiastic) schoolie…..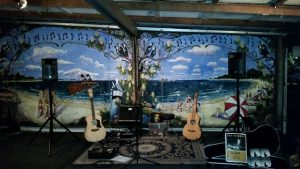 Hand painted stage mural, The Rails, Byron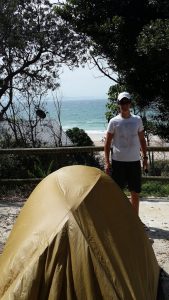 Keepin' it simple…home.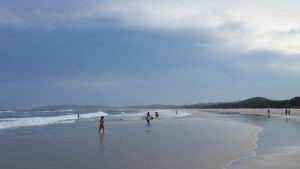 Morning beach scene, Byron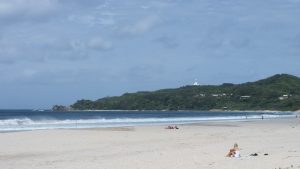 Byron Head and lighthouse
Traveling minstrel at The Rail (from Atlanta, Georgia!)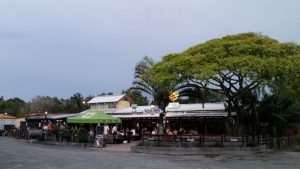 The Rail, Byron Bay, cool pub in the old train station
Now that's a beach….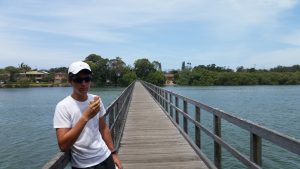 Wooden footbridge, Brunswick Heads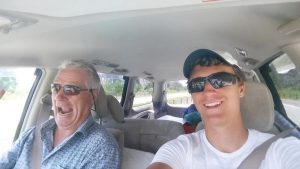 Roadtrip…!!!
Bruns Pub– our regular pit stop….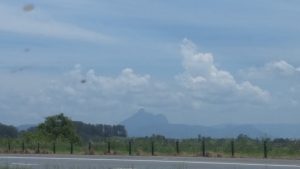 Sublime Mount Warning, Tweed River valley, northern NSW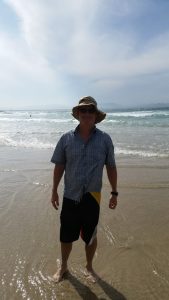 Doctor Beach Bum…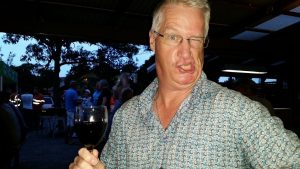 Cheers mate…and a Happy Christmas from 'Stralia…!!…..:-)
So, not that anyone has called or written to express concern……but, we are doing just fine thanks; as 2015 evolves into 2016 and beyond….Wishing you all the best of health in the New Year…We'll likely be here for a bit longer yet…stop in, say hi… Cheers! DDU