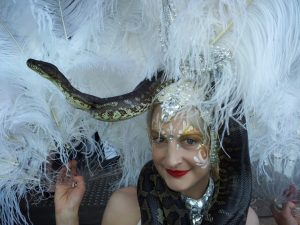 Welcome to "Rad"elaide…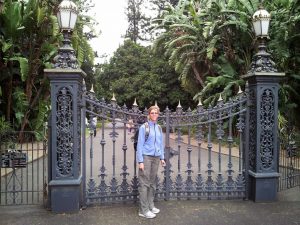 Botanical Garden main gate
Welcome to Cheers! Part 3. Thanks for staying around…Tonight's offering might be a little below my usual standard for scholarship and careful fact checking. I'm off solo to the South Island of NZ tomorrow at 0600, for 18 days. Bags packed, now only the waiting… I pick up Stephanie and the gang from New York the morning after I get back to Brissie. If I don't finish this installment now, it likely won't ever happen. So, lots of pix and captions. Hang on….!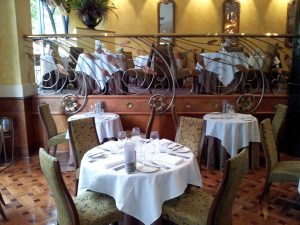 Sebel Hotel dining room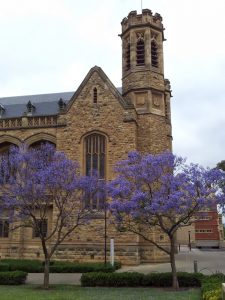 University of SA with Jacaranda Trees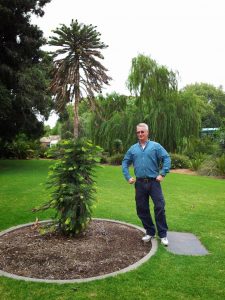 Living Fossils
I have to take a moment to comment on this weird looking tree. It's the botanic equivalent of finding a living T. Rex in 2013. Some botanists found a few of these specimens growing up a remote, tight canyon in the Blue Mnts of NSW, not 100 km from the Sydney CBD. This genus was thought extinct 100 million years ago or so….This tree was germinated from the seeds and grows in Adelaide, now truly a Jurrasic Park! Oh, and me…crap, I'm pushing 60…!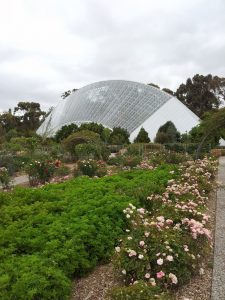 Bicentennial Dome, largest in the Southern Hemisphere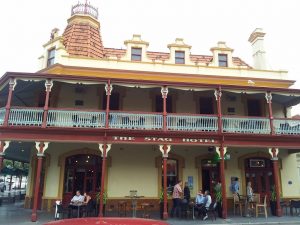 A classic Aussie pub on Rundle Street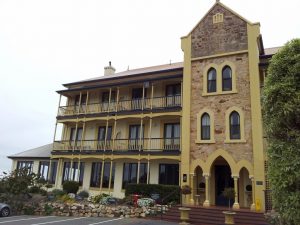 The Mount Lofty House
Stephanie could only stay one night in Adelaide. Had to get back and pack up the kids for their Christmas adventure back in NY. I dropped her off at the airport and spent the day exploring the Adelaide Hills, only 30 minutes east of downtown.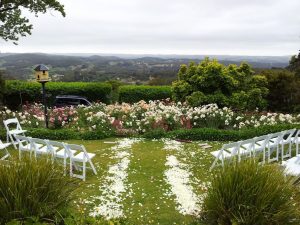 After the wedding vows…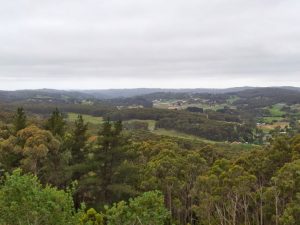 Looking east, into the hills. Higher and cooler than the coastal plain below
The Botanic Garden is beautifully maintained by volunteers. Entry is free with a goodwill offering if so moved. A gem of the area and highly recommended.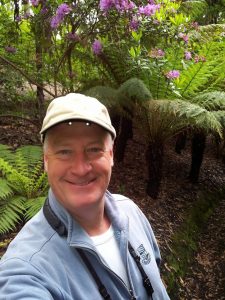 Fern Selfie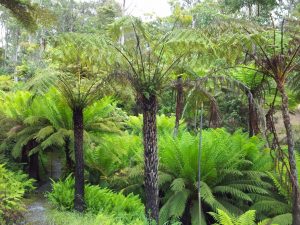 Fern Gully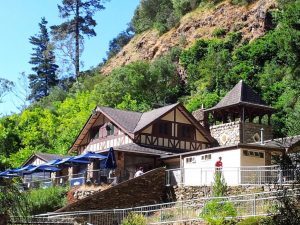 Heritage Cafe at Waterfall Gully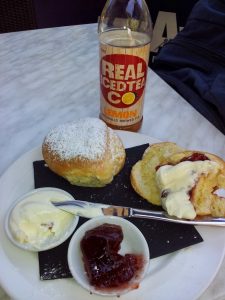 Devonshire (iced) Tea…
The weather began to clear as I drove off the summit of Mt. Lofty, so I took a windy side road up a dead-end canyon at Waterfall Gully. Aussies love their English-style Devonshire Tea; which is basically a fresh, soft, plain scone with strawberry jam and clotted cream on the side. Makes a great Sunday brekkie. The day being hot, I innovated with an iced tea, without raising any eyebrows. Thus fortified, I started up the 2 mile trail towards the summit, not sure how far I would get.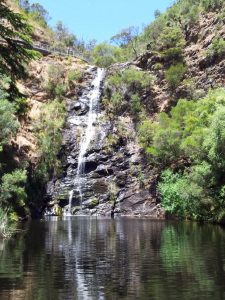 First Waterfall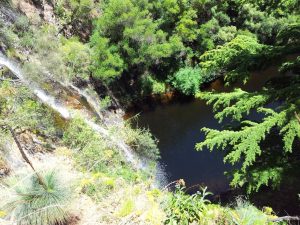 Above the falls
As is typical in Australia, the cool cloud cover lifted, and the heat was quickly a' risin'…This trail started to kick my butt….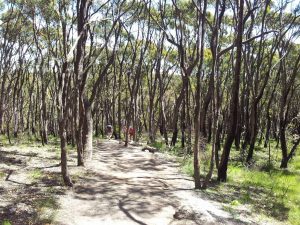 Stunted eucalypts nearing the summit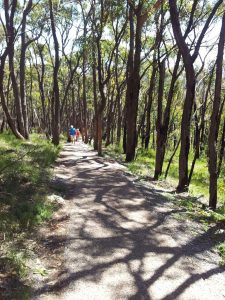 Feel the burn….
Adelaide below Mt. Lofty summit
I have to say, after all that wine-tasting, the last 500 meters or so was pretty tough. But success at last!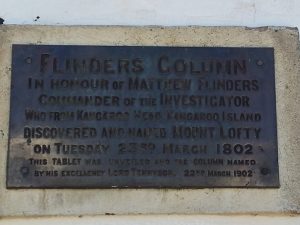 Matthew Flinders really got around these parts in 1802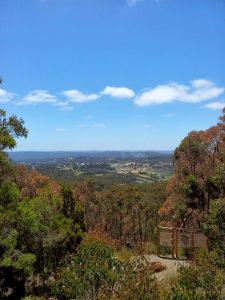 Clearing skies over the Adelaide Hills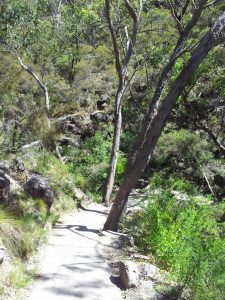 The way down
I was really lucky to hear a soft digging sound in the bush with dirt falling, on the descent. Hiking off the trail, (watch those snakes!), I came right up to a Short-eared Echidna, busily searching for dinner.. Pretty uncommon, a porcupine sized, spine-covered hedgehog..I stood right over him. Attempts to pop him out with a stick, to see his face , were met with more furious burrowing, so you'll have to be content looking at his butt!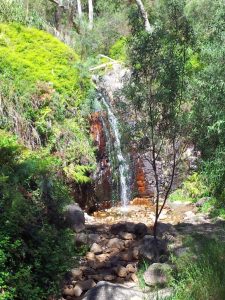 Second waterfall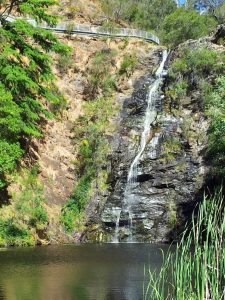 Trails end, four hot, sweaty hours later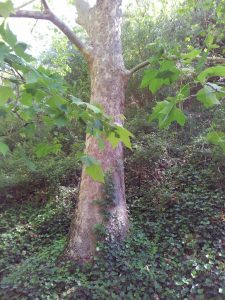 A large Sycamore, not native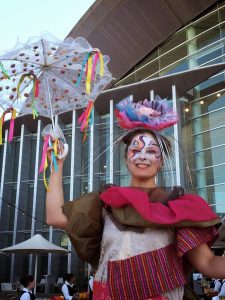 She's on stilts too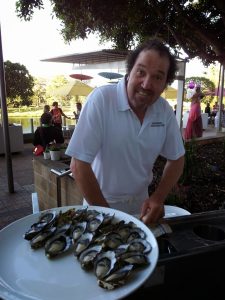 Local shucking talent
Opening night party was a superb blend of Adelaide Festival weirdness and sublime foods from SA. It was a mix and mingle on the back veranda of the convention center, on the Torrens River, right downtown. Oh, and the weather was flawless, not unusual in SA.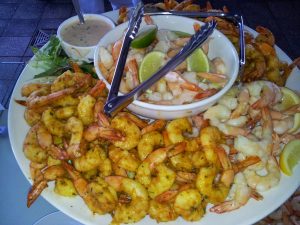 Aussie Prawns, not shrimp down here…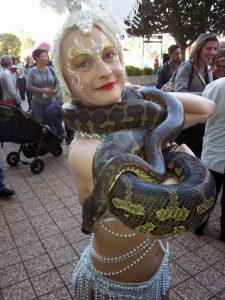 Yikes, it's Serpent Girl…!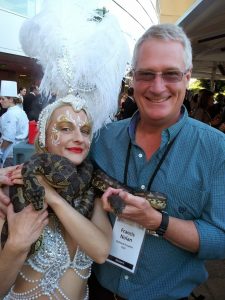 Meet my three new friends….
Goat Cheese with edible flowers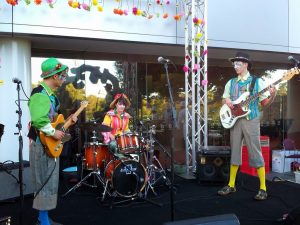 Band o' Clowns, playing Gypsy-swing jazz no less…!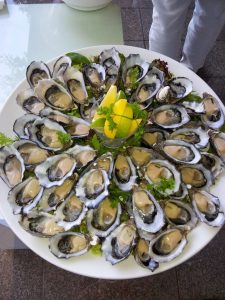 Local Coffin Bay Oysters– beautiful!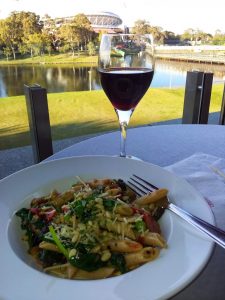 I'm pretty much OK right now,,,,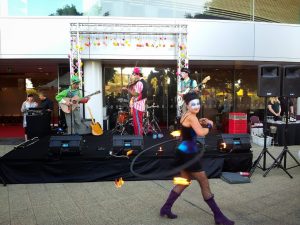 Who are all these people anyway….?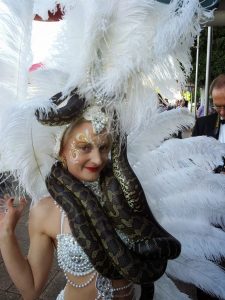 Oh no….she's back….!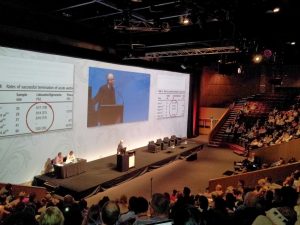 Lecture view, proof that some work was done…BORING….!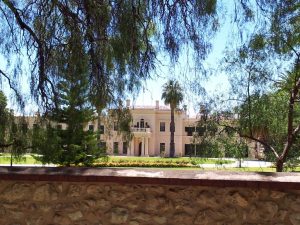 Governors House, nice pad….
WW1 Monument
There are WW1 monuments all over Australia, and the Aussies mourn that war in some ways more than WW2. The young nation, pop. around 7 million in 1914, had over 400,000 casualties in WW1. Over 60% of troops were either killed or wounded, an astonishing figure by any historic measure. Basically the British put them on the front lines as cannon fodder for the Empire, and Australia suffered a vastly higher % of casualties than any other Western nation. The losses in WW2 were comparatively mild , though Darwin was bombed repeatedly and there was a real danger of invasion by the Japanese.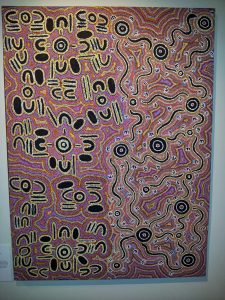 It tells a story, if you speak the language….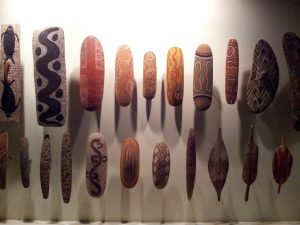 Aboriginal shields
Adelaide has several highly regarded museums, including the world's finest collections of Aboriginal and Pacific Island artifacts…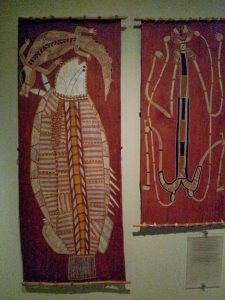 Bark paintings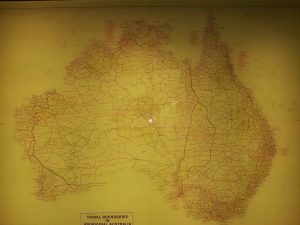 A map of Aboriginal linguistic dialects, hundreds of them…very complex…many now lost forever….
I almost missed the Pacific Island display. Over 100 years old, and brought to Adelaide by various missionaries and adventurers over many years, each island group has it's own display; beautifully arranged and encased in antique hardwood frames. Many of these traditions are extinct today. Eerie, primordial, a bit spooky. Highly recommended!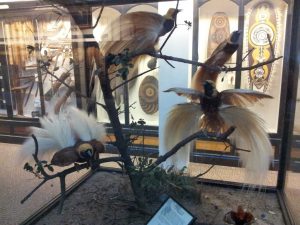 Birds of Paradise
Spear point detail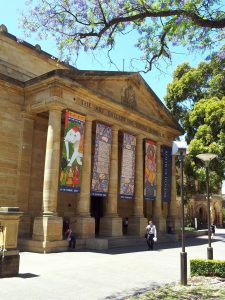 Art Museum of SA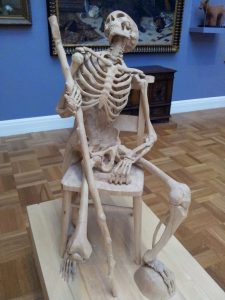 Wooden skelton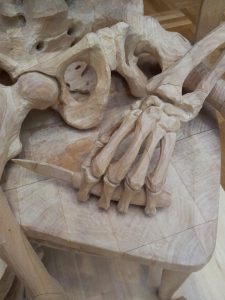 He carved himself….!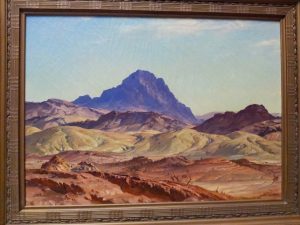 German born Hans Heysen, the finest painter of the SA Outback
In complimentary contrast to it's hipster-vibe reputation, Adelaide is also a city of colonial sandstone buildings and graceful English-style parks and gardens. A winning combo in my book!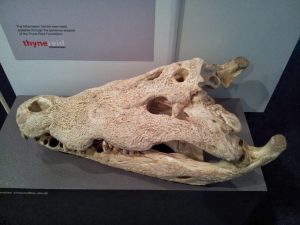 Saltwater Croc skull…a large one…!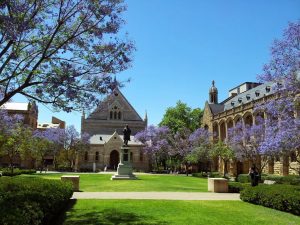 University of Adelaide with Jacarandas blooming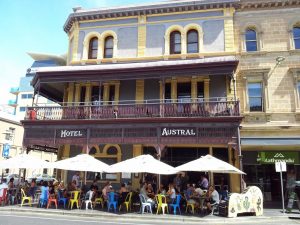 Another classic Aussie pub…let's get busy…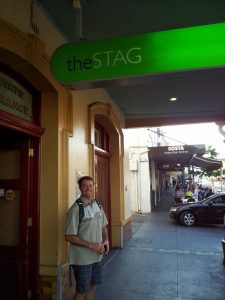 Indeed…Dr. Ross out on the town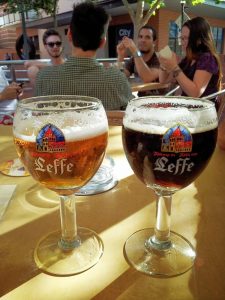 Real Belgians….on draft too!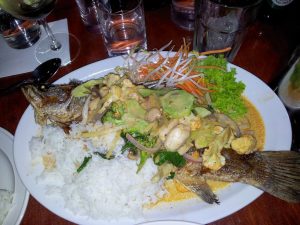 Thai style whole Barramundi
Mall sculpture, affectionately called "The Mall's Balls" by locals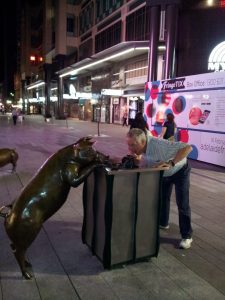 Piggin' out, late night Adelaide…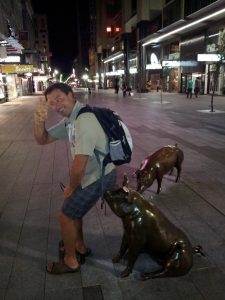 Dr Ross and his new friends…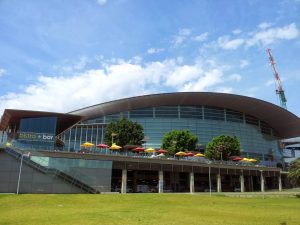 Convention Center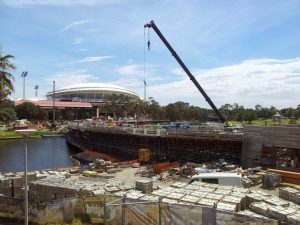 It seems the whole city was undergoing construction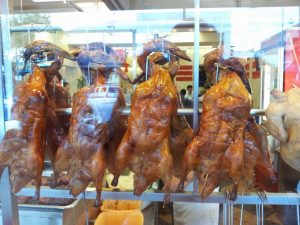 Peking duck window shot…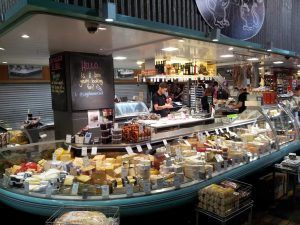 Adelaide Central Market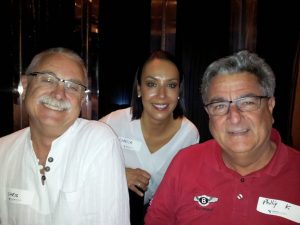 Another night, another "function…"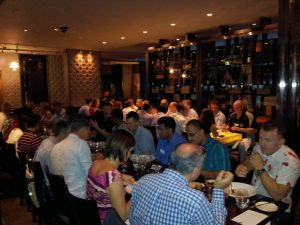 Tough work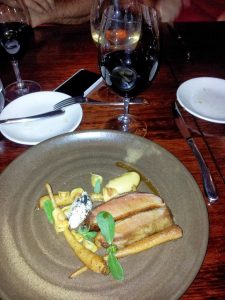 Duck n' Wine…OK by me…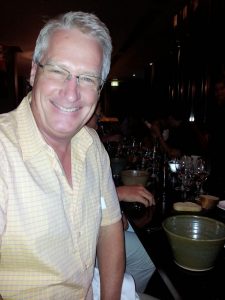 What was that you were saying…?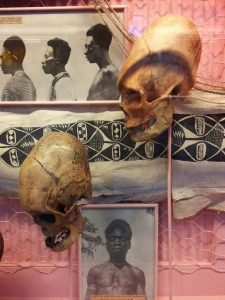 X Ray of my head, the next day….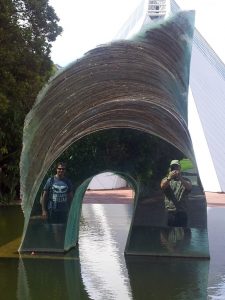 Botanical Garden art shot,,,Steady…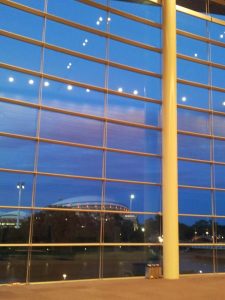 Convention Center detail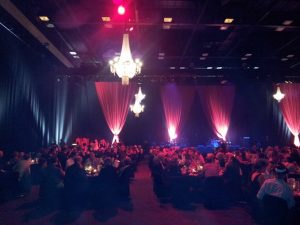 Final night, closing dinner. Honestly, I left early,,,Got to give it a rest Dr. Nolan…!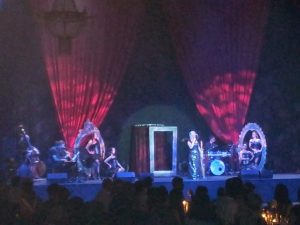 Roaring 20's Theme, band etc…Me, too Pooped to Pop…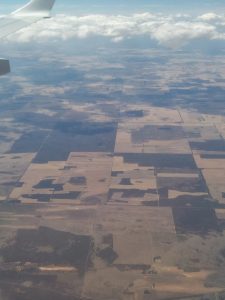 Endless Aussie plains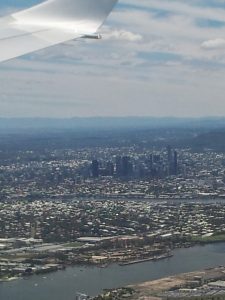 Coming home to Brisbane
The Lucky Country indeed!
Well, there, we made it! Thanks for staying with me thru all three installments. I hope you enjoyed the trip and learned a bit about SA, a unique corner of this fascinating continent. Believe me, I'm learning all the time…Now I can head off to NZ with a clear mind and conscience…..No "homework" waiting for me on my return.
I've never been to NZ, and this trip will start and end in earthquake- ravaged Christchurch, get an update on their rebuilding progress; head down the wild and windy west coast, then up into the central Otago/ Queenstown region, before touring the Mt Cook National Park.
A particular highlight, and a bucket list sort of experience for me, will be a five day side trip to hike the 55 km Milford Track. Wish my aging knees well. I think they are up for this……In any case, it sounds like an epic multi-part DDU from Aotearoa, the "Land of the Long White Cloud" is in the offing. Until then, Cheers! All the best in 2014 from down under. DDU