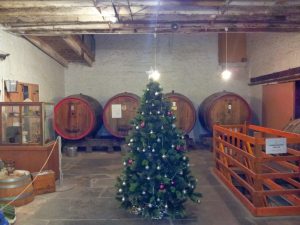 Aussie Christmas, Sevenhill Cellars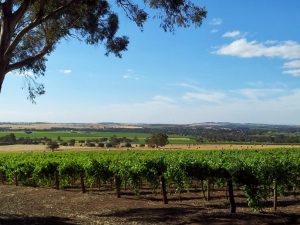 View west from the Blickinstal B&B
Coming north through the Adelaide Hills, the windy roads straighten and flatten out and you arrive in an entirely different landscape, the broad, open, sunny and fertile Barossa Valley. This is the epicenter of the SA wine industry, which was begun by Prussian/ German immigrants in the 1840s. Many of the wineries are still owned and worked by the 6th Generation of the original settlers.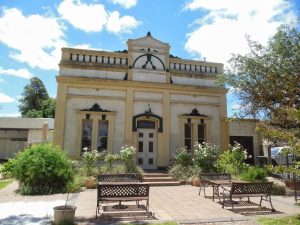 Heritage Building, Williamstown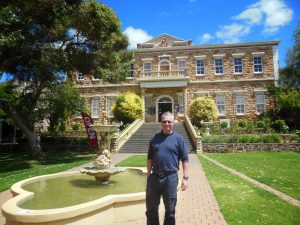 Chateau Yaldara
Although the Barossa is home to many of the giants of the Australian wine industry; Jacob's Creek, Wolf Blass, Peter Lehmann, Penfolds and Kalleske, it never feels crowded or overly commercialized. It's a very large landscape, full of wonderful food and wine opportunities, but adamantly rural, similar to Sonoma in California. Arriving in early summer, mid-week, we had the place almost to ourselves.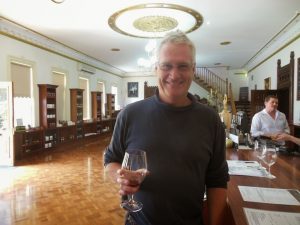 Getting down to business, Chateau Yaldera
One feature that gives the Barossa such a distinct ambience are the many stone heritage buildings built over 150 years of settlement from the local bluestone. Beautiful stone churches stand sentinal in every hamlet.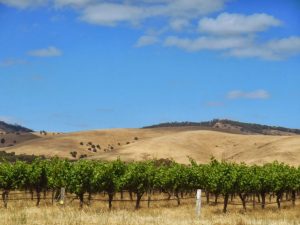 Irrigated vineyards backed by golden hills.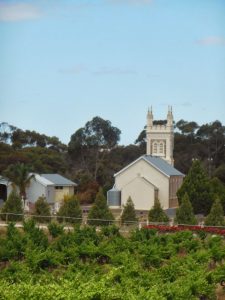 The famous German church at Gnadenfrei, surrounded by vines
Gnadenfrei vineyards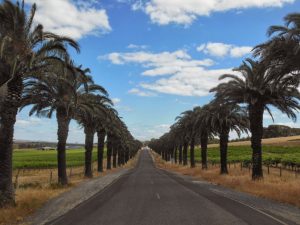 The rows of palms leading to Seppelt Winery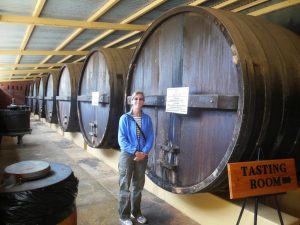 Tawny Port casks from the 1930's
The Seppelt Winery, est 1851, is an Australian icon. The family made it's fortune shipping fortified wines, Ports and Sherrys, throughout the British empire at it's zenith. They still produce fortified wines and possess the world's largest collection of ancient wines, with an unbroken lineage back almost to the founding of the winery. They are famous for their DP90 Tawny, which is only released when it is 100 years old!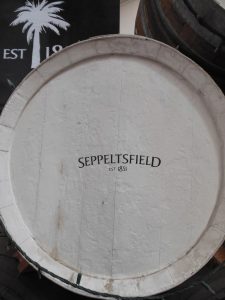 Barrel detail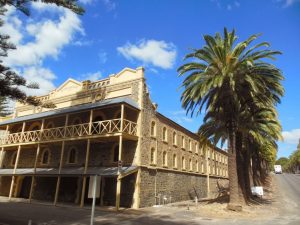 Seppelt Winery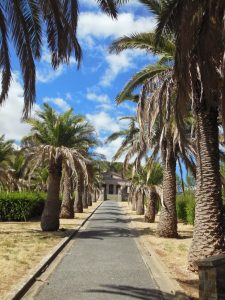 The pathway to the relatives
Generations of Seppelts are buried in the family crypt, a Grecian-style mausoleum that sits on a beautiful knoll above Seppeltsfield, the family…..town!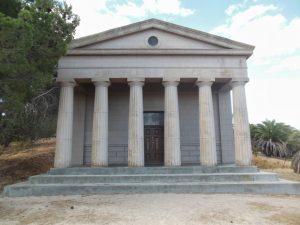 Seppelts Mausoleum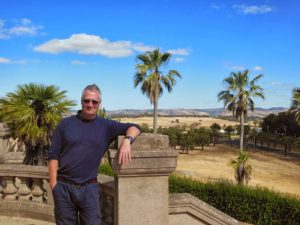 View over the valley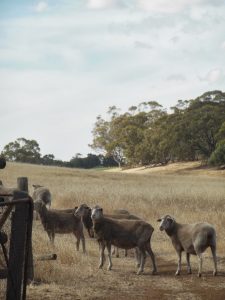 Shorn for summer…lambchops..!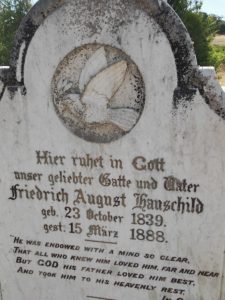 Settler's gravestone, many in German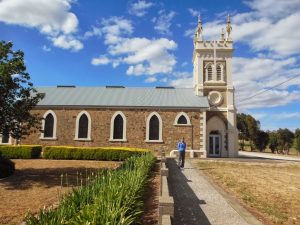 German church, Gnadenfrei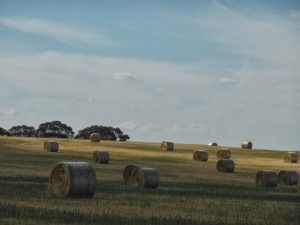 A working agricultural landscape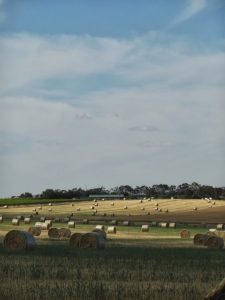 Wheat harvest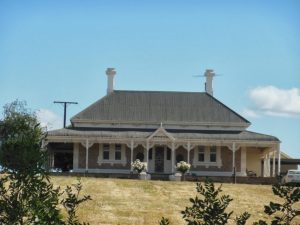 Restored heritage farmhouse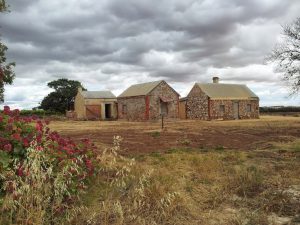 A rare, unrestored farmhouse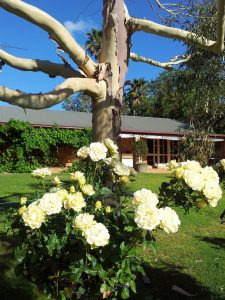 Blickinstal B&B garden and gum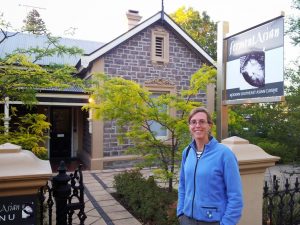 Ferment Asia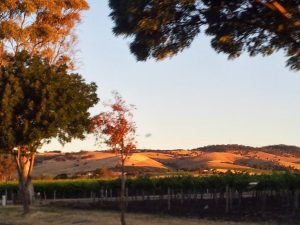 We had dinner in Tanunda at a fabulous Asian fusion restaurant, set incongruously in an 1840's German farmhouse. It's an interesting place…
Driving home in the evening, the golden hills deepen dramatically as the sun sets over the verdant valley floor. Magical…!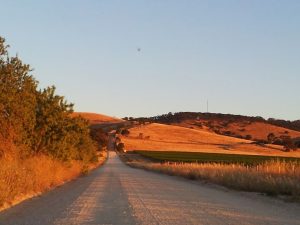 The road home to Blickinstal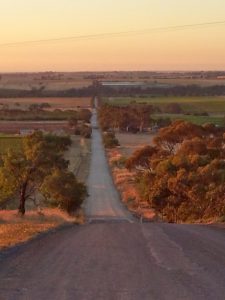 The road towards Tanunda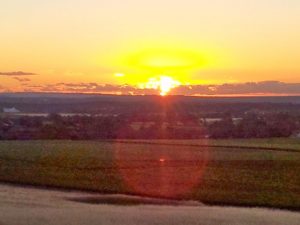 Barossa Valley sunset
Next morning, we were up early to hike the gravel road that snakes up onto the hills that back up behind the B&B. The sense of mystery just pulled you along, higher and higher, and we soon found ourselves in a different world. Wilder, tumbled and rumpled…nothing like the manicured vineyards below.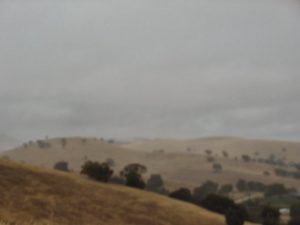 A misty morning rain
We started out in a refreshing, misty rain, but in these parts rain never lingers. The sky cleared as we moved higher, and the heat began to rise.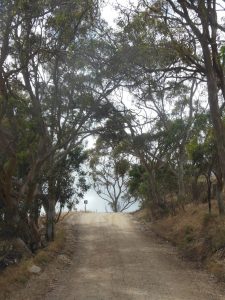 The road ahead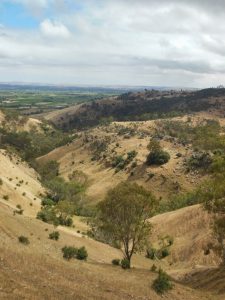 A rough back valley, no grapevines here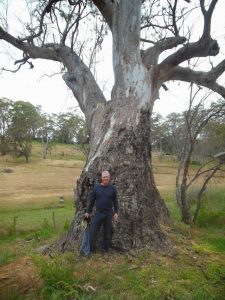 Ancient Eucalypt, aka "Gum"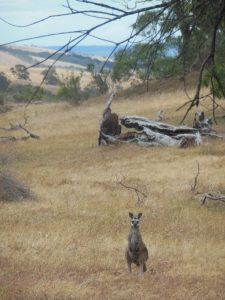 A curious local
As we moved higher into the bush, the birdlife became amazing in numbers and diversity. Sudden bursts of rocket-fast Lorikeets, a multi-colored blur, hoarse calls of Cockatoos and Galahs, hawks riding thermals overhead. On this five mile walk, we had some of the best birdwatching we've experienced in Australia, which is really saying a lot!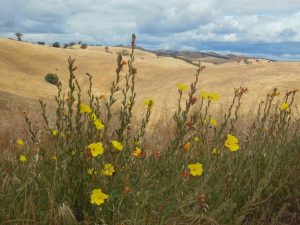 Wildflowers..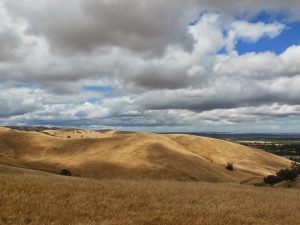 The subtle play of light on prairie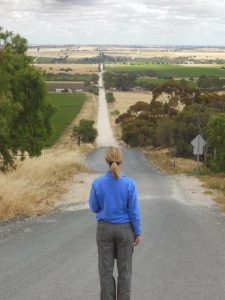 The road back down to reality…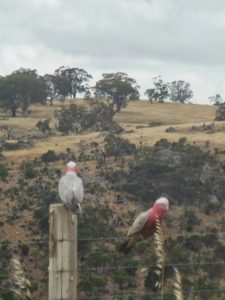 Galahs willing to pose patiently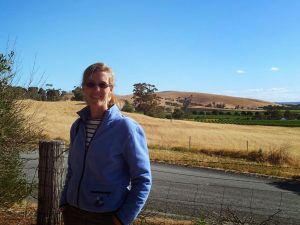 A satisfying hike…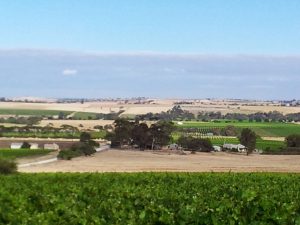 Blickinstal B&B vineyards, overlooking Tanunda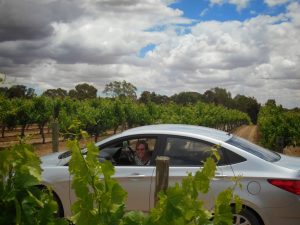 Stephanie, in the vines
Soon enough it was time to hit the road, moving further north, another 1 1/2 hours to the Clare Valley. Higher, cooler and famous for its white wines, esp. Rieslings. But of course, always time to stop at a few wineries along the way.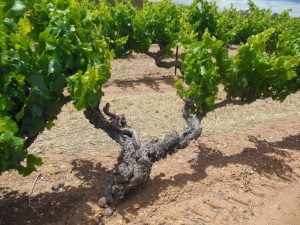 Old vines, self supporting
Australia, being so isolated, has some of the oldest commercial
vines on the planet. In fact, after Phyloxera and other diseases decimated vineyards in Europe, grafts of some varietals were sent back from Australia to their countries of origin to help re-establish the vines.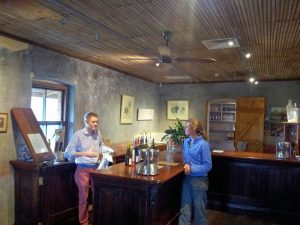 The tastemaster is actually English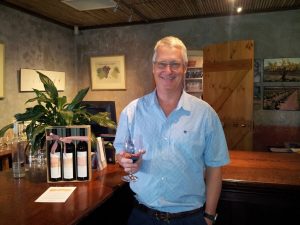 The William the Conqueror Shiraz was a real eye-opener!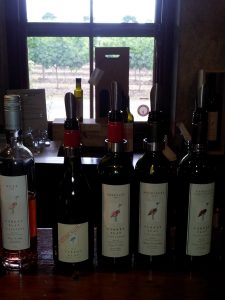 Turkey Flat also makes an excellent Grenache Rose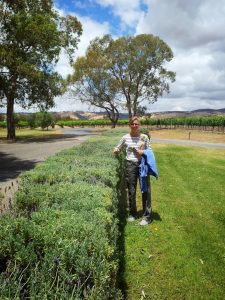 Dense lavender planted as a hedge and pruned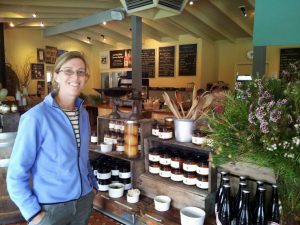 Stephanie at Maggie Beer's Farm Shop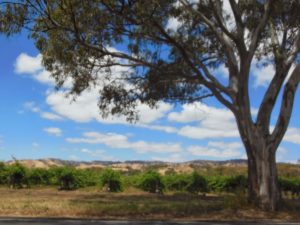 Leaving Barossa vineyards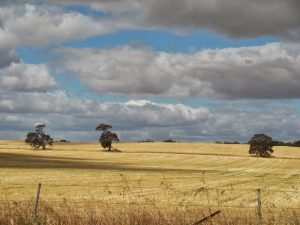 Recently harvested wheat field
We took a rural side road north though undulating, extensive wheat and barley fields, now being harvested. Bleached almost white under the intense sun, I actually had to put on sunglasses because it was hurting my eyes. Driving on a two lane blacktop for miles, the effect is hard to capture on camera, but like being immersed into a vast golden tapestry, that you drive over and around for hours. Very uniquely beautiful experience….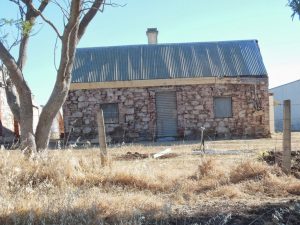 A fixer-upper
Signs of past wealth, middle o' nowhere, SA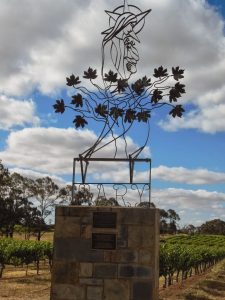 Marian vineyard sculpture
A Clare Valley must see is the Australian landmark of Sevenhill Cellars. The oldest winery in the Clare Valley, and one of the oldest in Australia, it was founded by the Jesuits in 1851 and is still run by them as a parish and retreat center. We learned that Sevenhill makes 80% of the sacremental wine used in Australia; as well as a wide range of highly regarded, world-class varietals.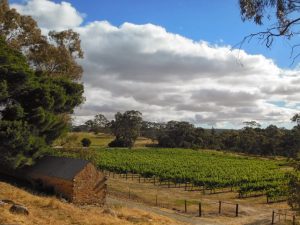 Sevenhills vineyards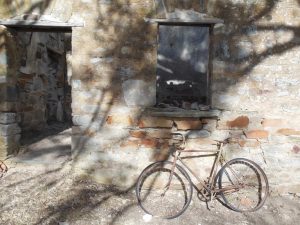 Post bushfire ruin, with bicycle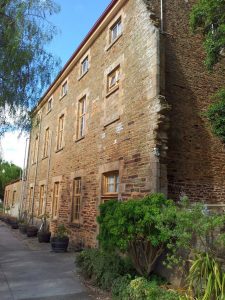 Retreat Center
The spacious grounds and European-styled stone architecture feel very non-Australian, and it's hard to believe you are in rural South Australia at all.
Sevenhill is most famous for it's arched stone-ceilinged wine cellars, which are from the 1800s and unique in Australia.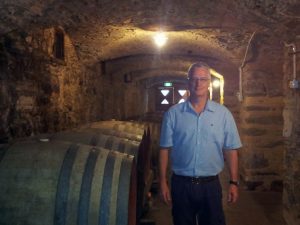 Am I really still in Australia…?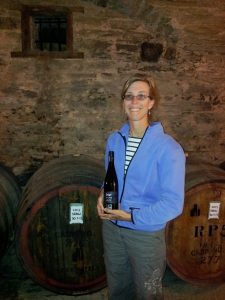 A bottle of the local drop….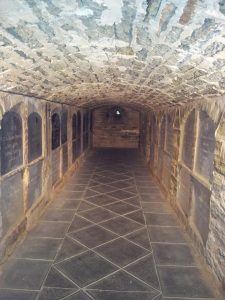 Final resting places
It gets even more unusual, as adjacent to the wine cellars and under the church are the crypts where the Order has buried it's brothers since arrival.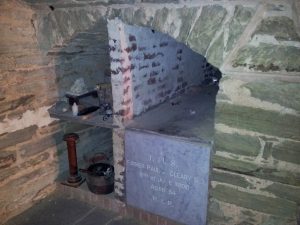 Room for three more….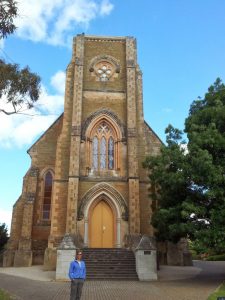 Saint Aloysius Church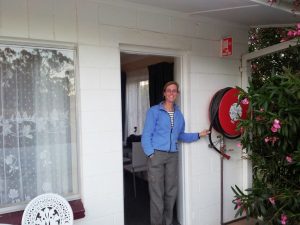 The Clare Valley Hotel Baby…!
After the monied, somewhat posh Barossa , Clare Valley came as a bit of a surprise. Firstly, as you drive up the main route north, it's hard to tell you're in a valley at all; kind of low and rolling. Also, while you see some vines, it feels much tighter and more forested than the open expanses of the Barossa. And the main town Clare, feels like a down to earth working ag town. Nothing fancy at all, just all the services you need. So after all the upscale food and wine since landing in SA, we embraced it. Had dinner at the Clare Hotel downtown, among all the local farmers and their wives. Pork roast dinner with roasted root veg, and the salad bar for $9.95…which is a screaming deal in Australia,, believe me, less than McDonald's. And it was awesome….And funnily enough, this country pub had a world-class wine list of high-end SA wines; $7 a glass, filled generously, almost to the rim. I commented to the bartender, that I'd been eating and drinking half, for twice the price, all week. He seemed very pleased….
Tucking into dinner, Clare Hotel.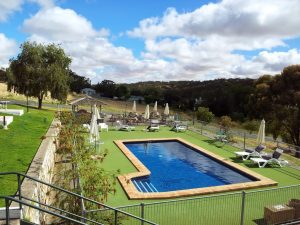 Clare Valley Hotel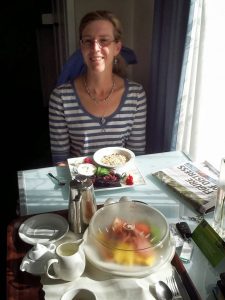 Clare room service
The Clare Valley Hotel was similarly down home. When told the room came with complete cooked breakfast, the matronly Aussie owner asked if we'd like it in the dining room or brought to our door. I asked what the charge was for room service and she just laughed and said, "No worries, we'll just bring it over." Which they did, and right on time.. My kind of place…!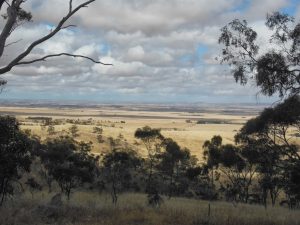 Escarpment overlooking Clare Valley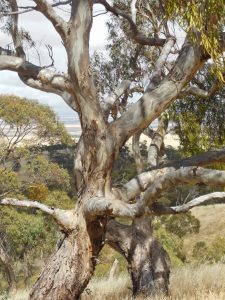 Gum detail
After our awesome brekkie, we got out on a hike where you could get a better idea of the vastness of the Clare region. As always in Australia, more vast, strange and intriguing than expected…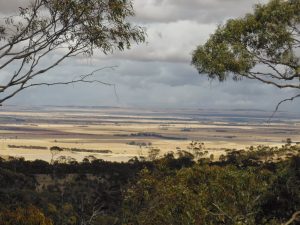 Golden plains of SA
Getting onto the back roads, we explored some of the wineries for which Clare is world famous, esp. the Polish Hill River and Watervale areas.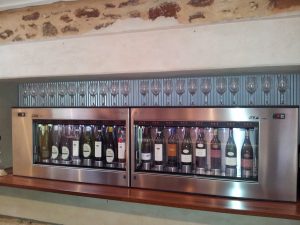 A high-tech, closed wine dispenser. Just press the button!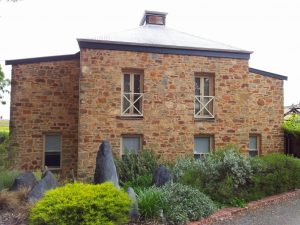 Pike's Winery Heritage building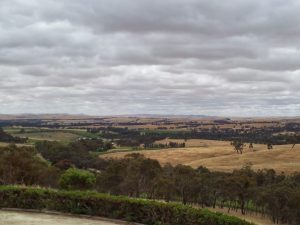 View from Paulette's Winery
Country road to Mintaro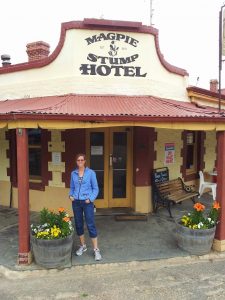 The famous Magpie and Stump, Mintaro
We took a back road to the heritage-listed hamlet of Mintaro. Very much lost in time, it's becoming something of a destination on the wine-tourist path. Surprisingly, many of the buildings are not yet fully renovated. But it is a fascinating glimpse into the not-so-distant past of SA.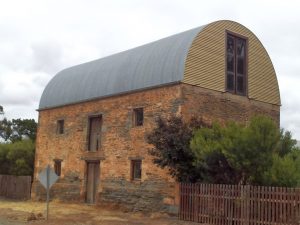 A slightly odd renovation…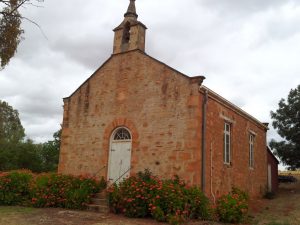 Country chapel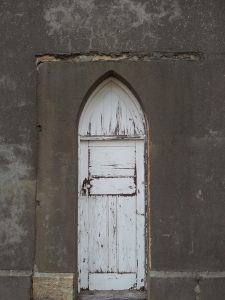 Slate walls and door detail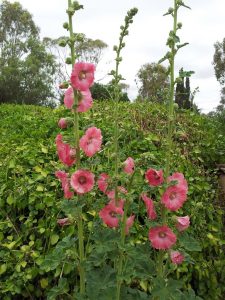 Holleyhocks!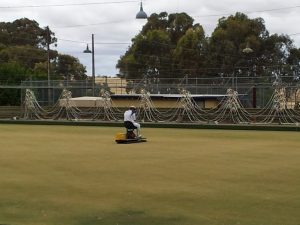 Trimming the lawn bowls lawn,the scooter flows back and forth sideways…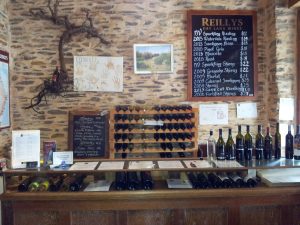 Reilly's Winery, Mintaro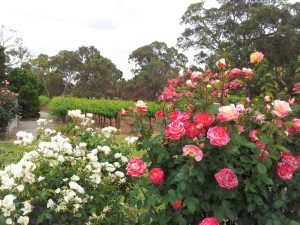 Roses everywhere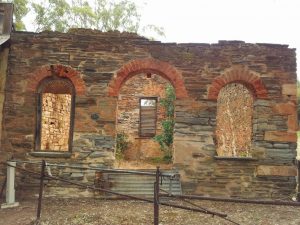 A fixer-upper…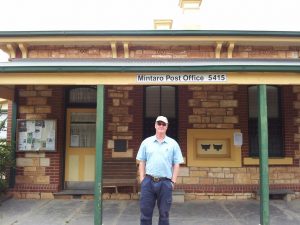 Pretty quiet out here…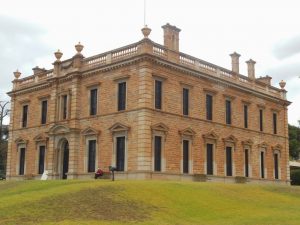 Martindale Hall
A major feature near Mintaro is the stunning Martindale Hall, an intact English Pastoral estate from the 1800's. It's been featured in several movies and earns it's upkeep today as a high-end B&B. Unfortunately, time was tight, Adelaide waiting two hours further south. Perhaps on the next visit….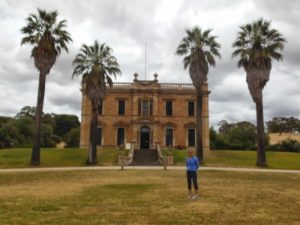 Princess Stephanie welcomes you…
Martindale Hall stables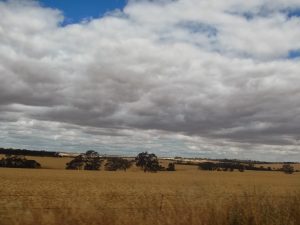 SA wheat fields, outside Adelaide
So, back on the road it was, heading south into Adelaide and, finally my Emergency Medicine
conference, and a bit of honest work…! Cheers! Part 3 will take you on a tour of "Radalaide", a fascinating, hip city and the Adelaide Hills for some hiking, or bushwalking, as it's called in Australia. January will find the good doctor hiking on the south island of New Zealand, including the famous Milford Track. Surely, the stuff of an epic DDU series. Stay tuned!
I'm finishing Cheers! Part 2 on Boxing Day, after a solo Aussie Christmas, very festive….but eerily quiet without the kids… Stephanie and they are back at Fairview Farm for seven weeks. If you are in Cooperstown and reading this installment, please call and try to stop in to say Hi. Until our next meeting, I wish all family, friends and loyal readers a wonderful, healthy New Year in 2014. Cheers! DDU